Nashville Hot Smoked Cream Cheese is fire, in a lot of ways. One, it's super spicy. Two, it's cooked with fire. Three, it tastes absolutely delicious! I thought I'd give this trend a whirl with my own, taste of home, twist. Two blocks of cream cheese and my Nashville Hot Chicken seasoning kick things off. We brought it back home with some local Nashville Hot Chicken and finished with a drizzle of honey. This one was spicy… even for me, but oh so good I kept coming back for more. Keep reading for the fiery details below.
Smoked Cream Cheese, Hot Chicken Style
You may have seen this smoked cream cheese trend making its way across the different forms of social media. I, of course, saw it and thought I'd actually jump on the trend this time. As with any trend, it's fun to find a way to make it your own. That's when I had the idea of pairing it with some Nashville Hot Chicken. It just felt right to give it a try being a Nashville local, plus I have my own Nashville Hot Chicken seasoning with Spiceology so it felt like a good blend of me and my city.
Anyway, I did really love how this Nashville Hot Smoked Cream Cheese turned out. I started with two regular blocks of cream cheese. It's important to note that I pulled this cream cheese straight from the fridge. This helps the cream cheese blocks to hold their shape while seasoning it. Next, I placed a drop of oil on each side and used a brush to spread it over the surface of the cream cheese. Then, I used a sharp knife to score the top of the cream cheese rectangles. This will help the cream cheese soak in more of that smoky flavor throughout the cooking process.
Got the need for cheese? Try out my Skillet Queso recipe here!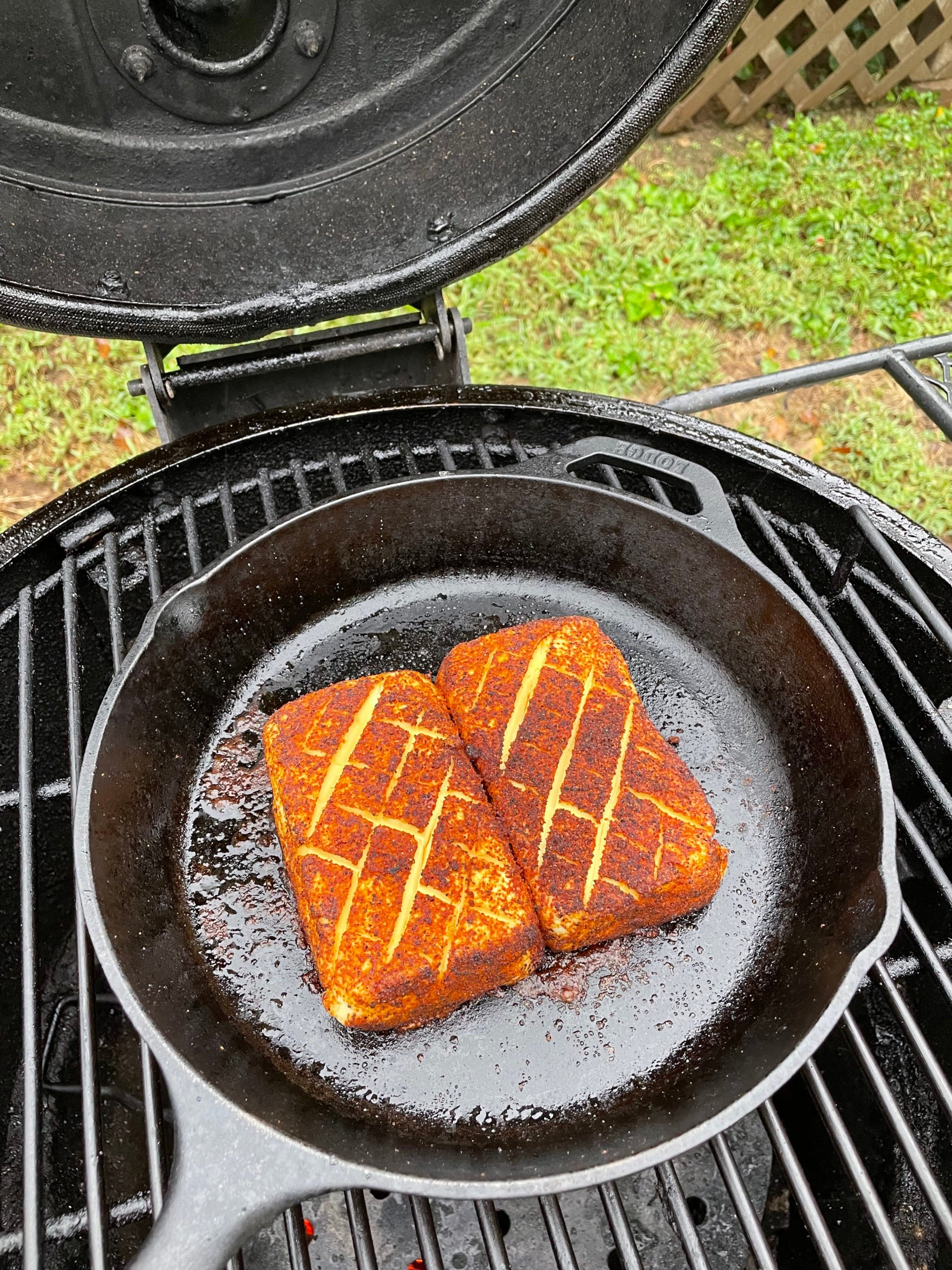 The last step for our prep work is seasoning. I used my Nashville Hot Chicken seasoning from one of my original Spiceology lines. This seasoning does bring the heat… but maybe not all the heat. There are definitely rubs out there that bring more spice, but I wanted this rub to be approachable for anyone that wanted to try some hot chicken. Alas, it was fun using it in a different way for this smoked cream cheese and helped bridge the gap between the cheese and hot chicken.
Making Nashville Hot Chicken
Speaking of hot chicken, it's probably time that I told you my secret for the hot chicken used in this recipe. That is, I didn't cook it… *gasp*
When you live in a city known for hot chicken, it's hard to not go to one of the world famous restaurants for it. That said, I have done hot chicken recipes before. You can check out those hot chicken recipes here if you'd like. Here's another one. However, this time around I decided to go to one of my local favorites and order some of their hot chicken. This way, I could focus on smoking the cream cheese.

How to Smoke Cream Cheese
It's easy! Simply preheat your smoker to 275F and place your seasoned cream cheese in an oiled skillet. Take that skillet and place it in the smoker for about an hour and a half. You'll know the cream cheese is ready to go once it softens up on all sides. About 15 minutes before the cream cheese is done, add your sliced hot chicken and chopped pickles to the skillet. Place it all back in the smoker to finish up cooking. Then, remove the skillet from the smoker and it's time to enjoy! I garnished my Nashville Hot Smoked Cream Cheese with a drizzle of honey and served with some salt and pepper kettle chips. Best enjoyed with friends and family! Cheers!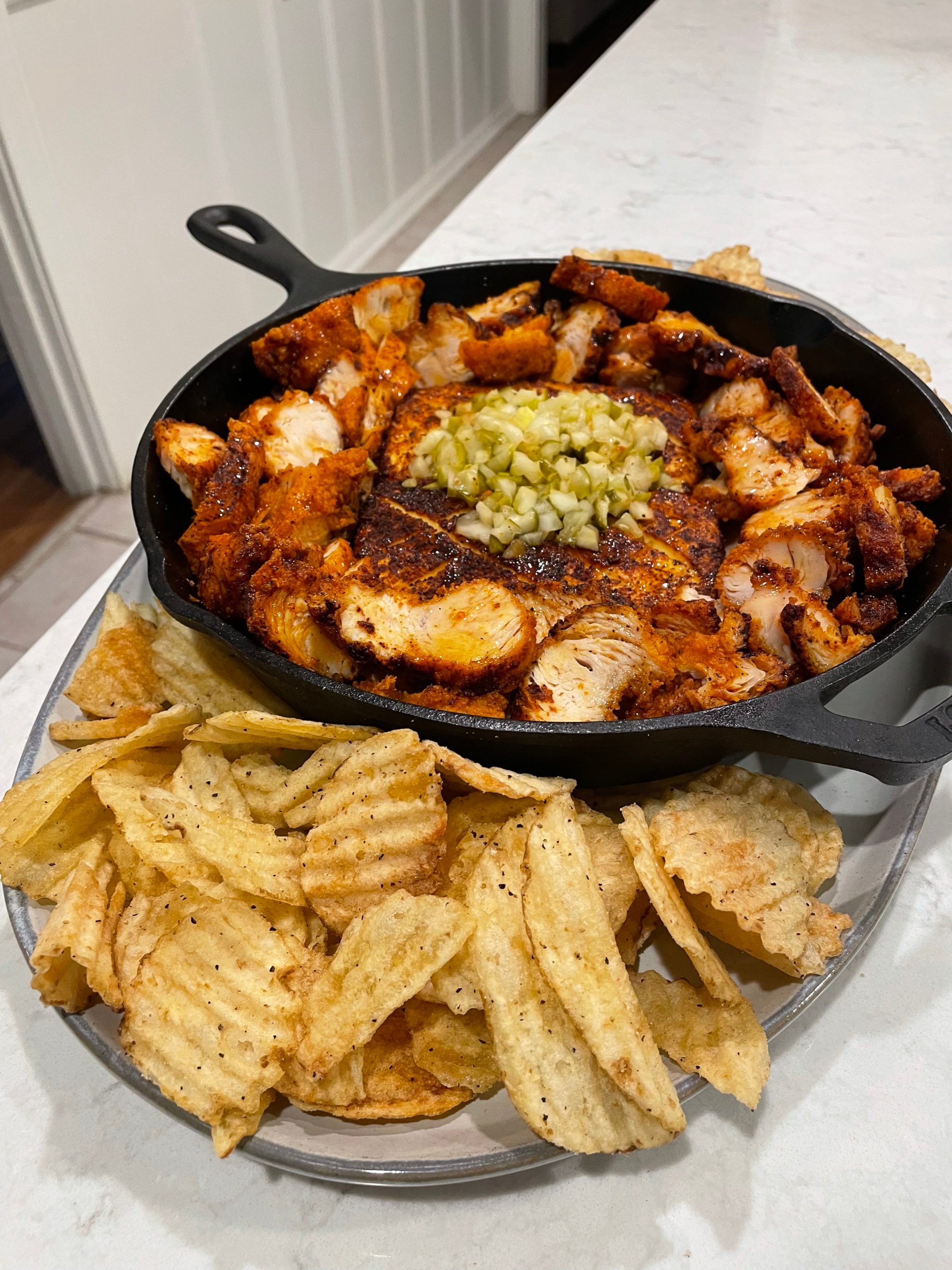 For more delicious recipes check out my cookbook, Food X Fire!
Need more spice in your life? I've got you covered, check out my seasoning line here!
Nashville Hot Smoked Cream Cheese
This Nashville Hot Smoked Cream Cheese will have your whole family running back for another bite, and possibly a glass milk.
Ingredients
2

x 8oz Blocks of Cream Cheese

1

tbsp

of my Nashville Hot Chicken Seasoning

6

Tenders of local Nashville Hot Chicken

chopped

2

tbsp

of Pickles

chopped

1

tbsp

of Honey

for garnish

1.5

tsp

of Canola Oil

Thick Cut Wavy Chips

for dipping
Instructions
Preheat your smoker to 275F for indirect cooking. Add some wood chips or wood chunks for additional smoke flavor if you like.

Make a crosshatch scoring pattern on one side of each of your cream cheese blocks. Lather with canola oil then season with my Nashville Hot Chicken seasoning. Grease a cast iron skillet and place the cream cheese blocks, scored side up, next to each other in the center of the skillet.

Add the skillet to your smoker and cook for 1.5 hours until the side of the cheese is very soft.

Make your own or snag some local hot chicken! Slice each tender up and set aside. Dice up some pickles while you are at it too. About 20 minutes before the cream cheese is done, add the chopped chicken to the skillet around the cheese. Add your diced pickles on top of the cream cheese. Finish cooking and pull off the smoker once done.

Serve your skillet with a drizzle of honey on top and chips on the side. Enjoy!