Maui is Wowee-ed by these Grilled Ribeyes! Okay, maybe that's a bad dad joke, but these ribeyes were seriously delicious. After seeing my friend @bamagrillmaster make a similar recipe, I knew I had to try it myself. I marinated them overnight and seasoned them with Spiceology's Maui Wowee Blend. This pineapple and teriyaki seasoning is the perfect blend for a summer switch up when it comes to grilling.
Maui Wowee Marinade
It's not often that I marinade ribeyes, but it definitely paid off in this Maui Wowee Grilled Ribeyes recipe. Spiceology's Maui Wowee seasoning blend has a sweet pineapple flavor, paired with teriyaki, sesame and even a kick of chilis. I knew I wanted to use it on my ribeyes, and thought I'd create a marinade to match that flavor profile and help accentuate the flavoring.
First, I went to work on the marinade. I started with a base of soy sauce and then added in a generous amount of pineapple juice. I was actually pretty stoked about having pineapple juice as an ingredient in the marinade. The acidity helps tenderize the meat. It's like knowing something is already tender and delicious and then making it even more tender and delicious! Toss the remaining marinade ingredients into the bowl and mix together.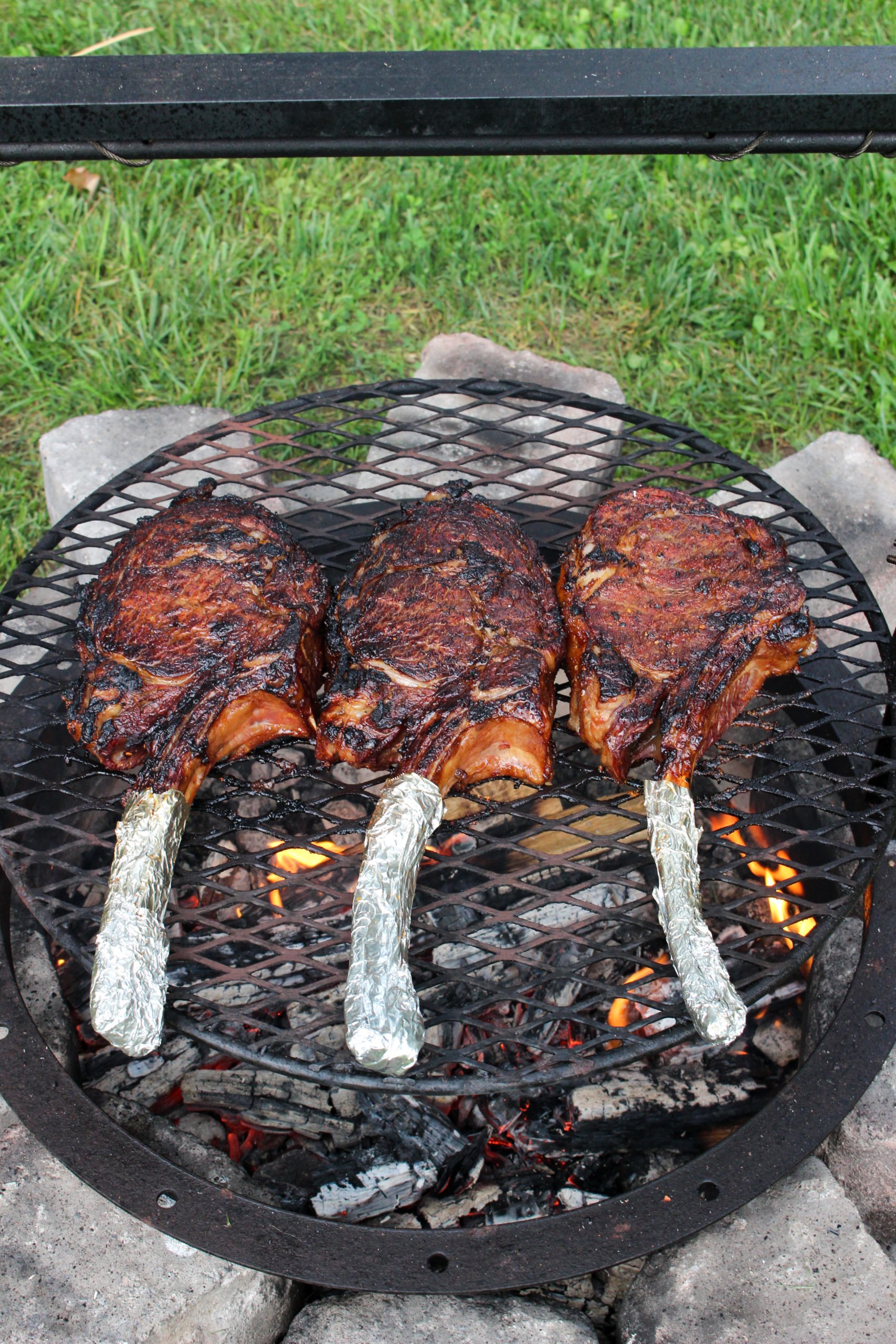 Ribeye Submarine
I was about this far along in the Maui Wowee Grill Ribeyes process when I started to wonder how I was going to submerge these three massive ribeyes into the marinade. It's important that the entire chunk of meat is coated in the marinade for at least 4 hours, and I honestly didn't have a container large enough to hold all three ribeyes. Not a problem I've had to face yet, but luckily I found a solution.
My solution? Ziplock baggies. I know, I was surprised too. I ended up dividing my mixed marinade evenly across three bags. Then I put one ribeye in each bag and pressed all the excess air out of the bag before zipping it shut. It's worth noting that I could not completely close the bag due to the large bone sticking out on one side. I just closed it as tight as possible and mixed the marinade all around the beef. I then set them each on a large cooking sheet and put them in the fridge for the night. The following morning, I woke up and went to flip the steaks over. This allows the top side of the steak to also be completely submerged in the marinade for over 4 hours. It may not have been the most ideal situation, but sometimes you just have to make it work.
Wowee! Look at those Grilled Ribeyes
When dinner time comes rolling around, start your fire and grab those ribeyes. I removed them each from their ziplock bags and used a paper towel to lightly pat them dry. Now, they're ready for our Maui Wowee seasoning. Lather and even coat all over each ribeye, making sure to cover the top, bottom and edges.
From here, place them each on the grill. I used a low and slow technique for my grilled ribeyes. I had a medium temperature on the grill (about 350 degrees Fahrenheit) and cooked each side somewhere between 10-15 minutes. Remember, everyone likes their steaks a bit different. I always opt for a medium rare, but if you'd prefer it some other way that's fine! Cook it to your liking.
Maui is Wowee-ed by these Grilled Ribeyes
Pull your ribeyes from the grill once they've finished cooking. Let them rest for about 10 minutes and then it's time to serve them. When it comes to slicing, I like to remove the bone first, then slice away and dig in! Best enjoyed with friends and family. Cheers!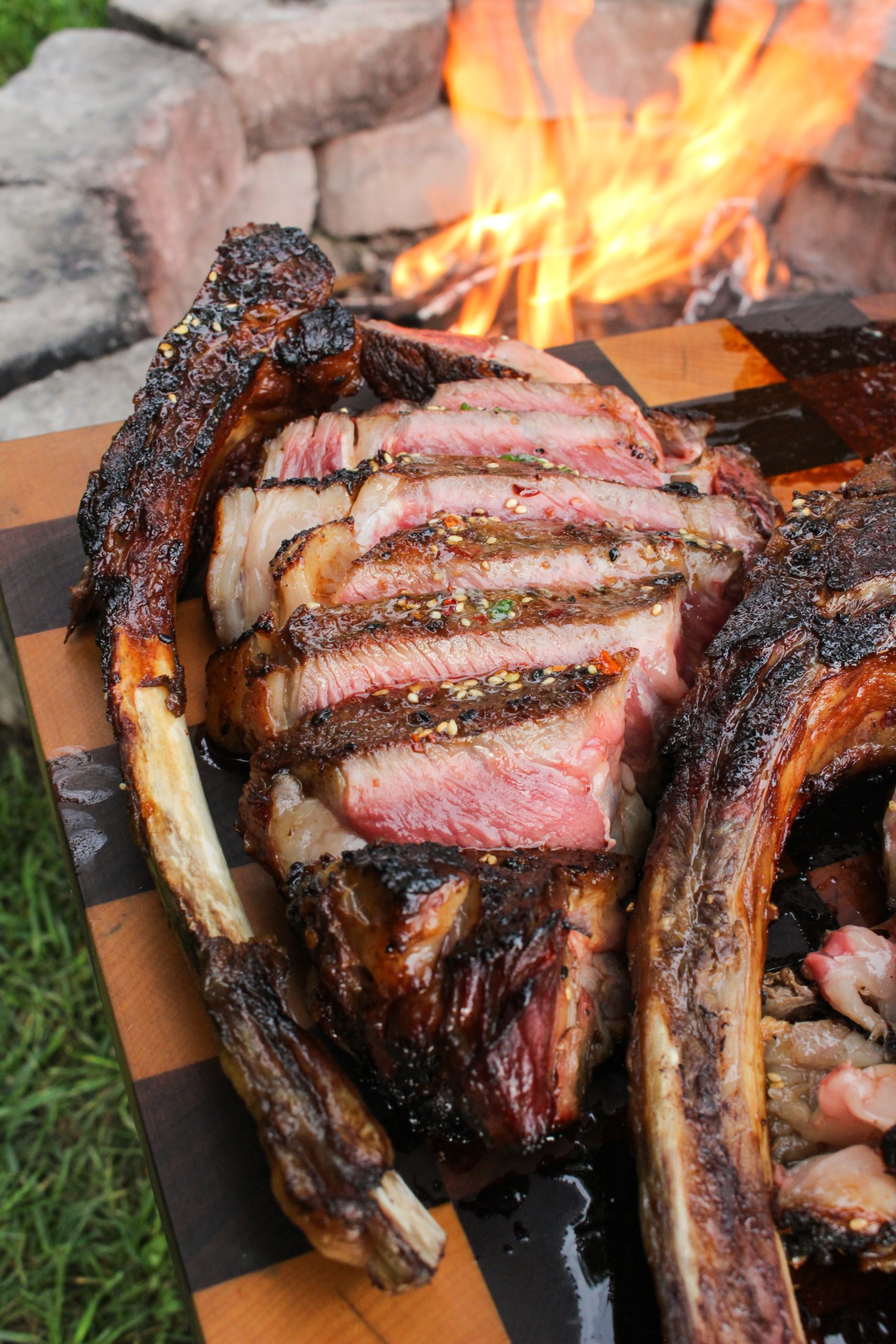 Maui Wowee Grilled Ribeyes
Maui Wowee Grilled Ribeyes for a fun, savory and delicious dinner! This pineapple and teriyaki seasoning is the perfect blend for a summer switch up when it comes to grilling.
Ingredients
Steak:
2-3

Ribeyes

bone in

2

tbsp

of Maui Wowee Seasoning
Marinade:
1

cup

of Soy Sauce

½

cup

of Pineapple Juice

¼

cup

of Rice Wine Vinegar

¼

cup

of Bourbon

2

tbsp

of Black Garlic Sauce

1

tbsp

of Garlic Paste

1

tbsp

of Ginger Paste

1

tsp

of Sesame Oil
Honey Chili Butter:
½

cup

of Softened Butter

1.5

tbsp

of Honey

1.5

tsp

of Red Chili Flakes

1.5

tsp

of Toasted Sesame Seeds

1.5

tsp

of Chopped Scallions
Instructions
In a bowl, mix the marinade thoroughly. Divide the marinade into three food safe bowls or bags. Add your tomahawk steak to the marinade and set in the fridge for at least 4 hours but ideally overnight. Make sure to flip the steaks about half way through the marinade.

In a bowl, mix all the ingredients for the Honey Chili Butter. Add the butter mixture to a piece of parchment or plastic wrap. Roll into a "log" and set in the fridge for at least 2 hours to harden.

Preheat the grill to a medium high temperature (around 350F). It is useful to have a grill that raises and lowers in order to prevent burning and control heat.

Add your steak to the grill to cook for 10-15 minutes per side or until it reaches 120F internal for medium rare. Once it is done, pull out the butter, slice up and add some on top to melt while the steaks rest for 10 minutes.

Slice the steaks up and enjoy!