Sometimes you just need to have a big, ridiculously delicious sandwich. The Mega Armadillo Egg delivers that with an incredible punch of flavor. Roasted poblanos, melty cheese, crispy bacon… there's not much else you'd need other than someone to share this with. Or stretchy pants, which is what I'd go with.
What Makes this Armadillo Egg Mega?
Smoked Armadillo Eggs are a classic appetizer, originating from Texas. Core ingredients would include a cheese-stuffed jalapeno, ground beef, and then it's wrapped in bacon. Just like most recipes, you'll find an incredible amount of variations with the cheese, chiles, or the cooking process. It doesn't matter which recipe you come across because it will likely be delicious.
The Mega Armadillo Egg is no different. Simple seasoning that focuses on the flavors of the ingredients themselves. Upgrading the dish from a smaller jalapeno to the roasted poblano is the power move, demanding a larger dish that transforms it from a bite-size snack to a behemoth. We serve ours on a fire-toasted roll, topped with slaw and crema. How will you eat yours?
Know Your Mega Armadillo Egg Options
Creating this Mega Armadillo Egg recipe requires some intuition on your part. Every poblano will be slightly different size, your bacon might have different thickness, and perhaps you might put extra cheese inside. You'll find the recipe below that will be exceptionally close to the right amount that you'll need to accomplish success. For example, it would be a good idea to have a little extra ground beef around.
One of the ingredients used was Oaxaca cheese. This is a melty, white cheese with similar properties of mozzarella string cheese, and flavor hints of Monterrey jack. It happens to be one of the main cheeses used in Mexico for quesadillas because of those qualities. It's also a go to for many other melty recipes. Oaxaca cheese is not widely found across the world so please feel free to substitute with a similar type of cheese, perhaps one of the two just mentioned.
Feeling spicy? Try using anaheim chiles, or hatch chiles instead. The poblano chiles are typically more mild with heat. You will likely need less meat if you use smaller chiles.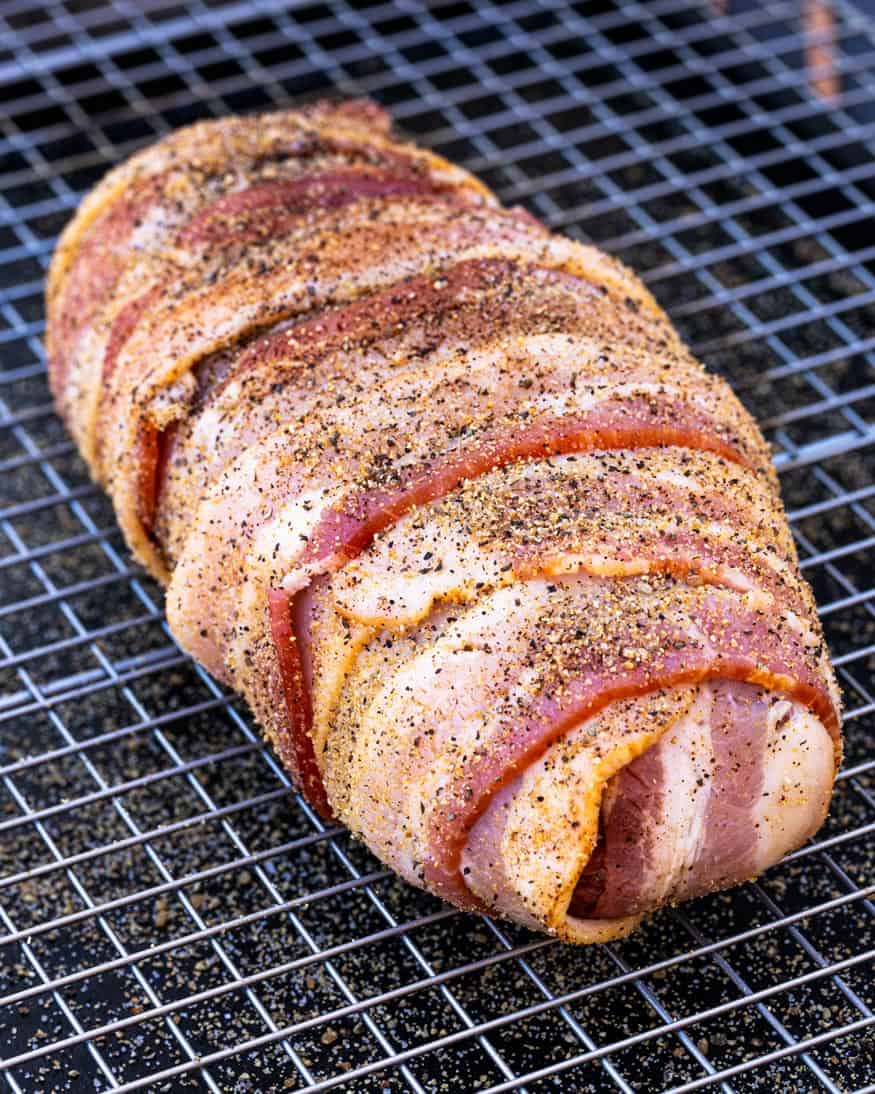 Mega Armadillo Eggs Need Bacon
If you'd like to prep this recipe ahead of time you definitely can. You just have to be willing to char some poblano chiles. We like to char the chiles and then get down to business. Then we hone in the temperature of the smoker to 250F afterwards.
Smoking this large armadillo egg is quite simple: You'll start at 250F for 90 minutes and check on it. If you like crispy bacon, this is where we can get it crispier. First, turn up the heat to at least 300F. Alternatively, you could move it closer to the fire source to crisp up further. Don't worry, the ground beef inside is not going to dry out if you accidentally cook it a little longer than planned. Focus on the bacon and the Mega Armadillo Egg will be perfect.
Mega Armadillo Egg
Sometimes you just need a ridiculously delicious sandwich. The Mega Armadillo Egg delivers that with an incredible punch of flavor.
Ingredients
1

poblano chile

1

lb

ground beef

80/20 or leaner recommended

1

pack of bacon

12oz

4

oz

Oaxaca cheese

or sticks of string cheese

2

tbsp

black pepper

2

tbsp

garlic powder

1

tbsp

kosher salt

1

tbsp

dried Mexican oregano

1

tbsp

paprika

1

cup

cabbage

thinly sliced

3

radishes

sliced into matchsticks

¼

cup

cilantro

chopped

Juice of 1 lime

Salt & pepper to taste

Sandwich roll

Crema

optional

BBQ sauce

optional
Instructions
Preheat your charcoal grill or smoker for indirect grilling, aiming for 250F.

Char to poblano over the fire, rotating until the skin is blistered on all sides. Place into a plastic bag immediately and allow it to cool before peeling off the skin.

Slice open the chile carefully down the side, removing the stem and the seeds. Take the cheese and cut into long strips, placing them inside the poblano. Fold the sides over so the cheese is inside the chile.

Take the ground beef and press it into a cutting board in the shape of a rectangle, roughly larger than the size of the poblano in length and long enough to cover the chile with. It should be about ¼" thick, maybe more.

Place the stuffed chile on the beef and carefully fold the beef over the chile completely, closing up any seams. Tip: Use plastic wrap on the cutting board to roll the beef around the chile.

Mix the spices together and season the beef on all sides.

Wrap the beef covered chile with bacon. It will likely take 8-10 slices of bacon due to its size. Season the bacon with more of the spice blend.

Place the bacon wrapped armadillo egg on the smoker and close the lid. Smoke until the internal temperature reads 165 F, which takes 90 minutes to 2 hours.

Prepare the slaw. Chop up the ingredients and mix with the lime juice, adding salt and pepper to taste. Set aside.

Check the mega armadillo egg. If you want crispy bacon, increase the heat in your smoker or place the egg closer to the flames. Allow it to crisp for a few minutes.

Toast the roll if desired. Assemble the sandwich with the slaw, mega armadillo egg, and top with crema or BBQ sauce. Slice right away for melty cheese!