Time for an egg recipe! However, this isn't just any egg recipe. It's a Smoked Chorizo Armadillo Eggs recipe, and ironically it doesn't contain any eggs. I teamed up with Cowboy Charcoal to cook this Texan inspired dish to perfection. These "eggs" consist of a cheese stuffed jalapeno, encased in chorizo, wrapped in bacon and covered in a spicy barbecue sauce! Sound like a mouthful? That's because it is, but it sure makes for one delicious bite! Let's talk more about it below. 
What Is An Armadillo Egg?
You might be wondering what armadillo eggs are and why this non-egg dish goes by that name. Well, let me explain. An armadillo egg is a jalapeño that has been deseeded and is stuffed with cheese. The jalapeño is then encased in sausage and wrapped in bacon. It's said that the bacon wrap around the jalapeño stuffed sausage looks like an armadillo shell, thus giving this dish it's unique name. 
Recipe Ingredients
For the Armadillo Eggs
Pork Chorizo Sausage
Bacon
Jalapeños 
Cream Cheese
Shredded Cheese, like cheddar cheese
Spicy BBQ Sauce:
Ketchup
Apple Cider Vinegar
Soy Sauce
Chipotle Puree
Hot Sauce
Agave Nectar
Step By Step Instructions
I started this recipe by cleaning and deseeding all six of my jalapeños. Then, in a large bowl I mixed together cream cheese and shredded cheese, just like if you were making jalapeño poppers. Cream cheese is a great option for a recipe like this because it's soft and malleable. I added in the shredded cheese to bring sharpness and texture to the filling, but you could stick to just cream cheese if you like. Now these armadillo eggs are ready to be covered in sausage. 
Chorizo was my sausage of choice for this recipe. When given the option, I always opt for chorizo. One by one, I carefully wrapped and pressed the spicy pork sausage around the cheese stuffed jalapeños, into an egg shape. How much chorizo to use is really up to you! If you want larger "eggs" then use more chorizo, or if you want to enjoy these as more of an appetizer then use less chorizo for smaller "eggs". 
The last step for this Smoked Chorizo Armadillo Eggs is to wrap them in bacon. It's basically a proven fact that anything wrapped in bacon is inherently better. These chorizo armadillo eggs are no different! I used two to three slices of bacon per armadillo egg and secured it with a toothpick.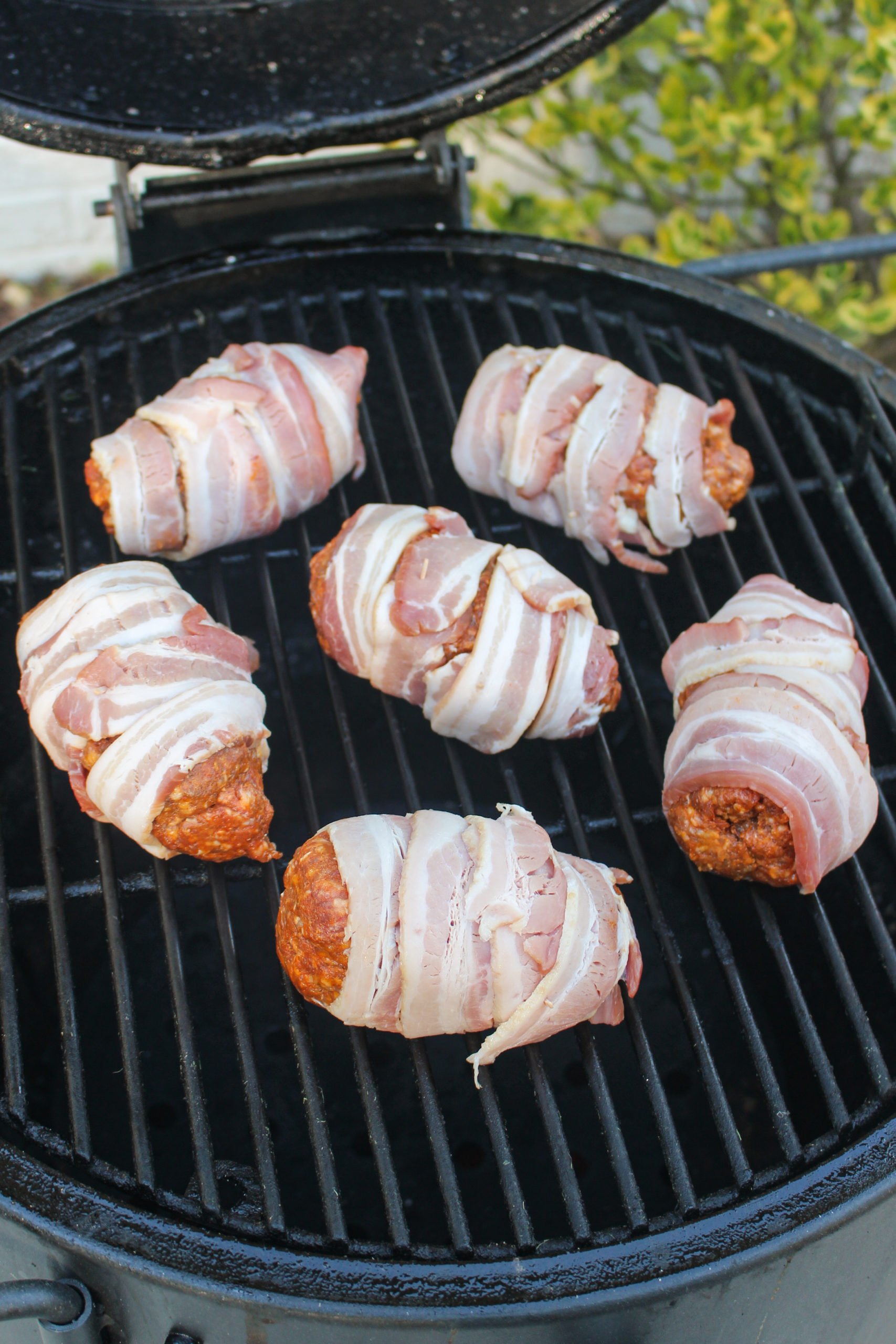 Now that the armadillo egg assembly is complete, we will move to the smoker. It's so important to preheat the smoker before cooking on it. You wouldn't try to cook anything in your oven without preheating it, so don't try it with your smoker either! I filled my charcoal basket to the brim with Cowboy Charcoal and watched those orange embers bring this smoker to life. Wait until the smoker reaches 250 degrees Fahrenheit and then add the chorizo armadillo eggs. 
While the chorizo armadillo eggs are smoking, let's make the spicy barbecue sauce! All I did was toss all the barbecue ingredients into a cast iron sauce bowl and stirred them together. It's best to do this early in the cooking process so that the sauce has time to combine.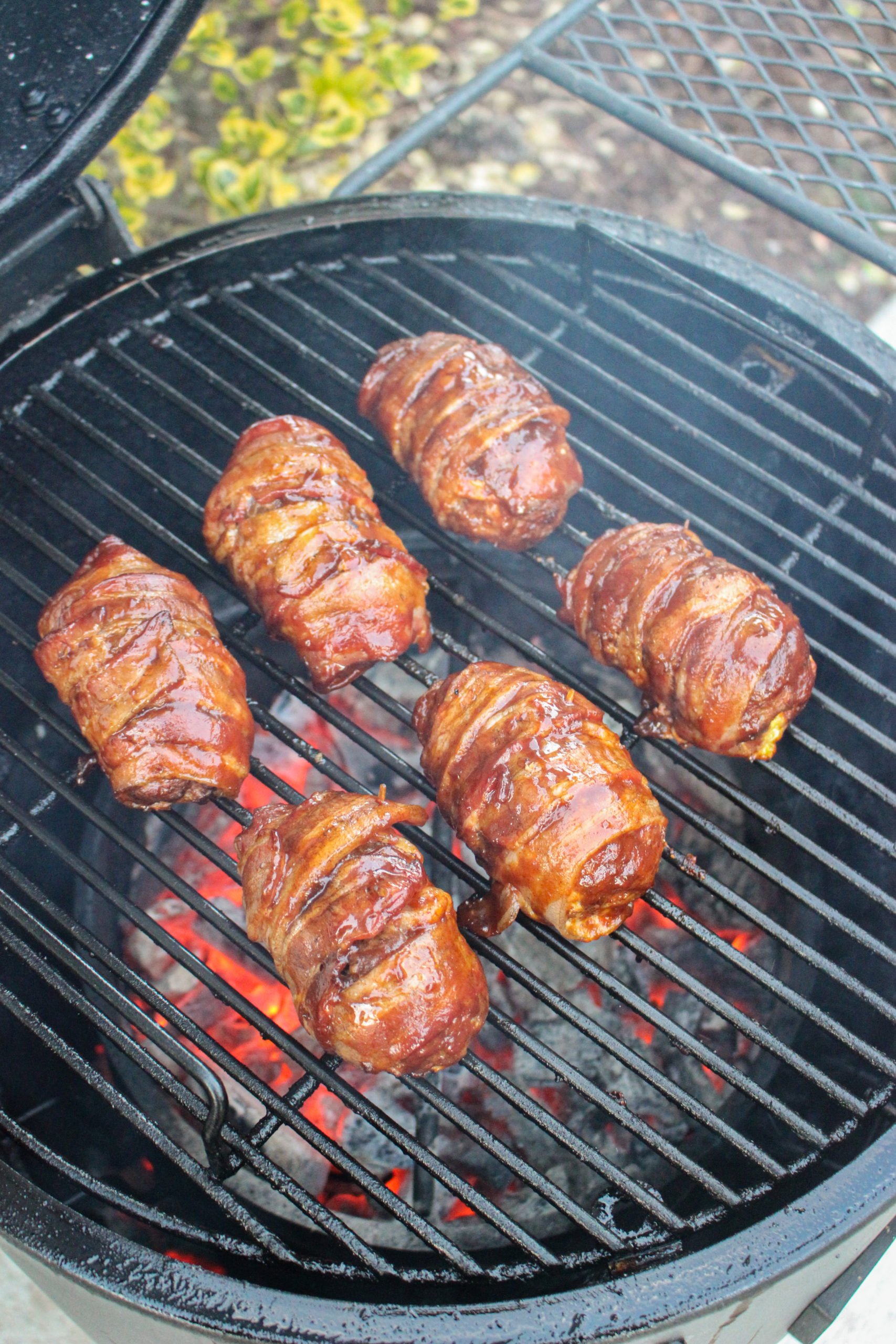 Cook the armadillo eggs until they reach an internal temperature of 165 degrees Fahrenheit. It took a little less than two hours for my eggs to reach that temperature. Before pulling them from the grill, use a basting brush to coat each egg in that spicy barbecue sauce. Then, I actually removed them from the grill, pulled up the coal basket within the smoker and placed the eggs back on the grill for a final sear. This will help crisp up that bacon on the outside, and who doesn't love some crisp to their bacon?! 
After the final sear, I gave each egg one more coat of barbecue sauce and then pulled them from the grill. I served them each individually and loved slicing them right down the middle to reveal the cheesy jalapeño on the inside. Such a fun recipe, and even better to enjoy with friends and family. Cheers!
Print Recipe
Smoked Armadillo Eggs Recipe
It's a Smoked Chorizo Armadillo Eggs recipe, and ironically it doesn't contain any eggs. This Texan inspired recipe never disappoints.
Ingredients
Armadillo Egg:
1.5-2

lbs

of Ground Pork Chorizo Sausage

15-20

Slices

of Bacon

6-8

Jalapeños

cored and seeded

1.5

cups

of Cream Cheese

1

cup

of Shredded Cheese
Spicy BBQ Sauce:
½

cup

of Ketchup

2

tbsp

of Apple Cider Vinegar

1.5

tbsp

of Soy Sauce

1

tbsp

of Chipotle Puree

2

tsp

of Hot Sauce

1.5

tsp

of Agave Nectar
Instructions
Begin by mixing together the cream cheese and the shredded cheese. Add that mix to the cored & seeded jalapenos. Stuff them completely full. Taking a large handful of chorizo, encase each jalapeno in ground chorizo until completely covered. Do not add too much as this will cause you to have to cook longer. Finally, wrap each Armadillo Egg in 2-3 slices of bacon making sure to secure them with toothpicks. Set everything to the side until ready to cook.

Preheat a grill with Cowboy Charcoal for indirect cooking at 250F. Add some wood chips or chunks for added smoke flavor.

Add your armadillo eggs to the smoker to cook for 2 hours or until they reach 165F internal on the ground meat. Try to prevent flare ups as the bacon will want to cause them. About 30 minutes before the eggs are done, add a basting skillet with all the ingredients for the Spicy BBQ Sauce to the smoker. Let that blend together until the eggs are done.

When the eggs are done, glaze each one in BBQ sauce and pull off the smoker. Crank up the heat in the smoker to 400F. Sear off each Armadillo Egg for 30 seconds a side to crisp up the bacon. Pull off and rest for 2-3 minutes

Finish by glazing all sides with more BBQ Sauce and enjoy!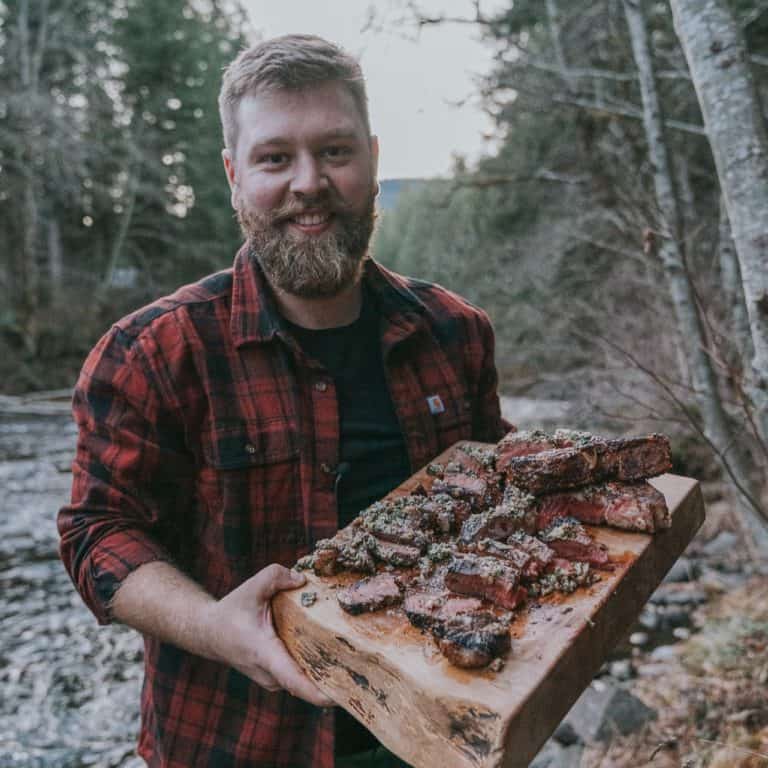 Derek is the driving force behind Over the Fire Cooking. He started cooking with live fire in 2016 and decided to start a social media page so his friends and family could follow the journey. Fast forward to today and Over the Fire Cooking has spread across multiple platforms with millions now following Derek's fire cooking journey. He's a southern fellow who enjoys everything from classic BBQ to Central and South American inspired dishes. Whatever he's cooking up, it's guaranteed to be so freakin' delicious!