'Tis the season for large family gatherings and a plentiful feast to feed them all. Now that turkey day is over, our minds and appetites switch gears back to beef (or if you're like me, you secretly always stayed geared towards beef). Prime Rib is my favorite holiday feast centerpiece, and this year we did it big! A tender, juicy and fat marbled hunk of prime rib wrapped in halved bones and smoked for a perfect medium rare slice. I call it: The Shotgun Prime Rib.
Shotgun Prime Rib
What makes it a Shotgun Prime Rib? Well, it really just comes down it it's appearance. The idea behind this cooking method is that you take halved bones and tie them around the prime rib with the bone marrow side in. It just so happens to make the prime rib resemble something of an ammunition cylinder on a gun.
However, there is a method to the madness. That method is that as the bone marrow becomes soft and melts it also ends up basting the prime rib as it cooks.
Is this exactly how it plays out? Well, yes and no. Does the bone marrow coat the outside of the prime rib as it cooks? Yes. Is there also marrow that melts down and falls out of the bottom of the bone? Yes.
Want more with bone marrow? Check out my Grilled Bone Marrow with Garlic Parmesan Crust and Tomahawk Beef Short Ribs recipes!
So, this Shotgun Prime Rib is a few things. It's a delicious, smoked, tender and juicy prime rib recipe. It's also an eye catching, fun way to present your entrée. Also, let's not forget it's an opportunity to have some fun with bones and bone marrow. Let me continue.
Bones for your Shotgun
If you've never cooked with bone marrow before, you're really missing out. As the bones cook in the smoker, the marrow becomes soft. Part of the fat becomes liquid and melts, but other parts of it take on a butter-like texture. This is why it can function as a baste for our Shotgun Prime Rib.
We can also to do a plethora of other things with the bone marrow. You can scoop it out of the bone and place it directly on top of a steak for extra flavor. You could scoop the bone marrow into a bowl, mix it with your favorite spices and herbs and use that as a steak topper. Another popular alternative is to simply cook the bone marrow, top it with some flaky salt and enjoy it straight from the bone.
For more prime rib recipes, check out Peppercorn Herb Rotisserie Prime Rib, Herb-Encrusted Prime Rib and Smoked Hanging Prime Rib recipes!
For this recipe, I placed a foil tray under the Shotgun Prime Rib as it cooks. This will catch all those buttery drippings and we can use it to further baste the prime rib. Alternatively, you could also use those drippings to make an au jus or a cream sauce. BUT, whatever you do, don't let those drips go to waste!
Bone Marrow and Prime Rib
You know what happens when you take an already fantastic cut of meat and pair it with rich, melty bone marrow? You elevate both items and they become a whole new delicious dish together. Hense, out Shotgun Prime Rib.
All I had to do was season the prime rib (with my very own Mesquite Peppercorn Lager Rub… #forthewin!), and wrap it in bones. Place it on the smoker for 3 hours and then pull it to rest. It's honestly a pretty easy recipe and is sure to stun your family and friends. So, what are you waiting for?! Fire up that grill and let's get cooking. Cheers!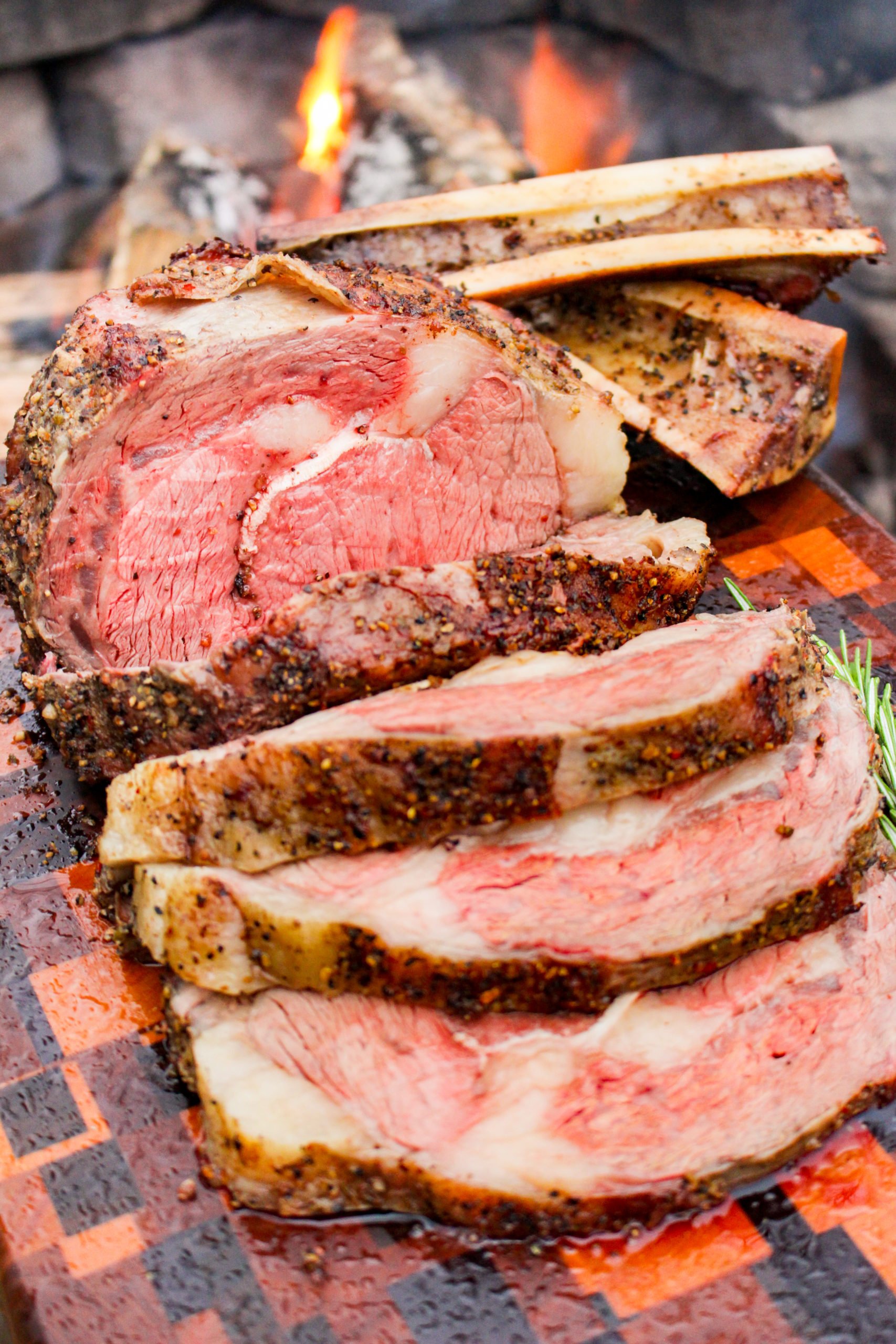 For more delicious recipes, check out my cookbook Food X Fire!
Needing more spice in your life? My spice line can help with that. Check them out here.
Shotgun Prime Rib
Shotgun Prime Rib for a bang of an entrée!
Ingredients
Prime Rib:
1

x

4 Bone Prime Rib

remove the bones

1.5

tbsp

Canola Oil
Bone Marrow:
10-12

Bone Marrow

canoe cut

1

cup

Kosher Salt

2

gallons

Water
Instructions
The night before cooking, add your kosher salt and water food safe brining bucket or bowl. Mix until the salt has dissolved, then add the bone marrow canoes. Making sure everything is submerged, cover the bucket and place it in the fridge for at least 12 hours. This will draw out all the impurities, but feel free to change the water every 4 hours to make the bones extra clean!

Next day, grab your prime rib and make sure the bones have been removed. Trim any excess fat then lather it down with canola oil. Begin thoroughly seasoning with my Mesquite Peppercorn Lager seasoning or your favorite steak seasoning (salt, pepper & garlic would work too). Grab your bone marrow from the fridge and drain it out. Cut yourself three butcher twine strings about 2 feet in length. Lay your prime rib on its side so that it is vertical. Begin placing the bone marrow canoes, marrow towards the meat, around the outside of the prime rib. They should be standing vertical with the prime rib and covering all the outside meat as best as possible. Next, carefully tie your three butcher twines around the bones in order to tightly secure them to the prime rib. Tie at least one in the middle, one at the bottom and one at the top of the bones so that they stay very secure. Once everything is tied tightly, add just a little more seasoning to cover any spots that have lost some and set aside.

Preheat your smoked to 275F for indirect two zone smoking. Add some wood chips or wood chunks for additional smoke flavor.

Add your Shotgun Prime Rib to the cool side of the smoker and let cook until it reaches 120F internal (about 2.5-3.5 hours). If you want, add a drip tray underneath the prime rib in order to catch all the drippings for a sauce after. Once the prime rib has hit temperature, pull it off and let it rest for 30 minutes.

When fully rested, cut off the trussing strings and pull off the bones. Slice your prime rib, serve and enjoy!
Nutrition
Serving:
1
Prime Rib
|
Calories:
677
kcal
|
Protein:
5
g
|
Fat:
73
g
|
Saturated Fat:
1
g
|
Polyunsaturated Fat:
1
g
|
Monounsaturated Fat:
3
g
|
Trans Fat:
1
g
|
Cholesterol:
1
mg
|
Sodium:
22710
mg
|
Potassium:
5
mg
|
Vitamin A:
195
IU
|
Calcium:
59
mg
|
Iron:
4
mg