I have been having fun blending grilled steak and pizza together into recipes. I have always loved making skirt steak pinwheels, and had the idea of topping them each with some pizza sauce, mozzarella and pepperoni. Melty gooey cheese topped onto a savory steak pinwheels just makes me get hungry! Plus when cooked on the Oklahoma Joe's Blackjack Kettle Grill, these Skirt Steak Pizza Pinwheels might blow your mind.
Post Sponsored by Oklahoma Joe's
Prepping your Skirt Steak
The first key to making this epic recipe is getting the skirt steak right. I like to use a wooden mallet over some parchment paper to flatten the steaks until they are under ½ inch. This really helps to even out the surface area of the meat and makes for a tighter pinwheel. Once you have your skirt steak ready, we will season generously with salt and get to prepping the pinwheels.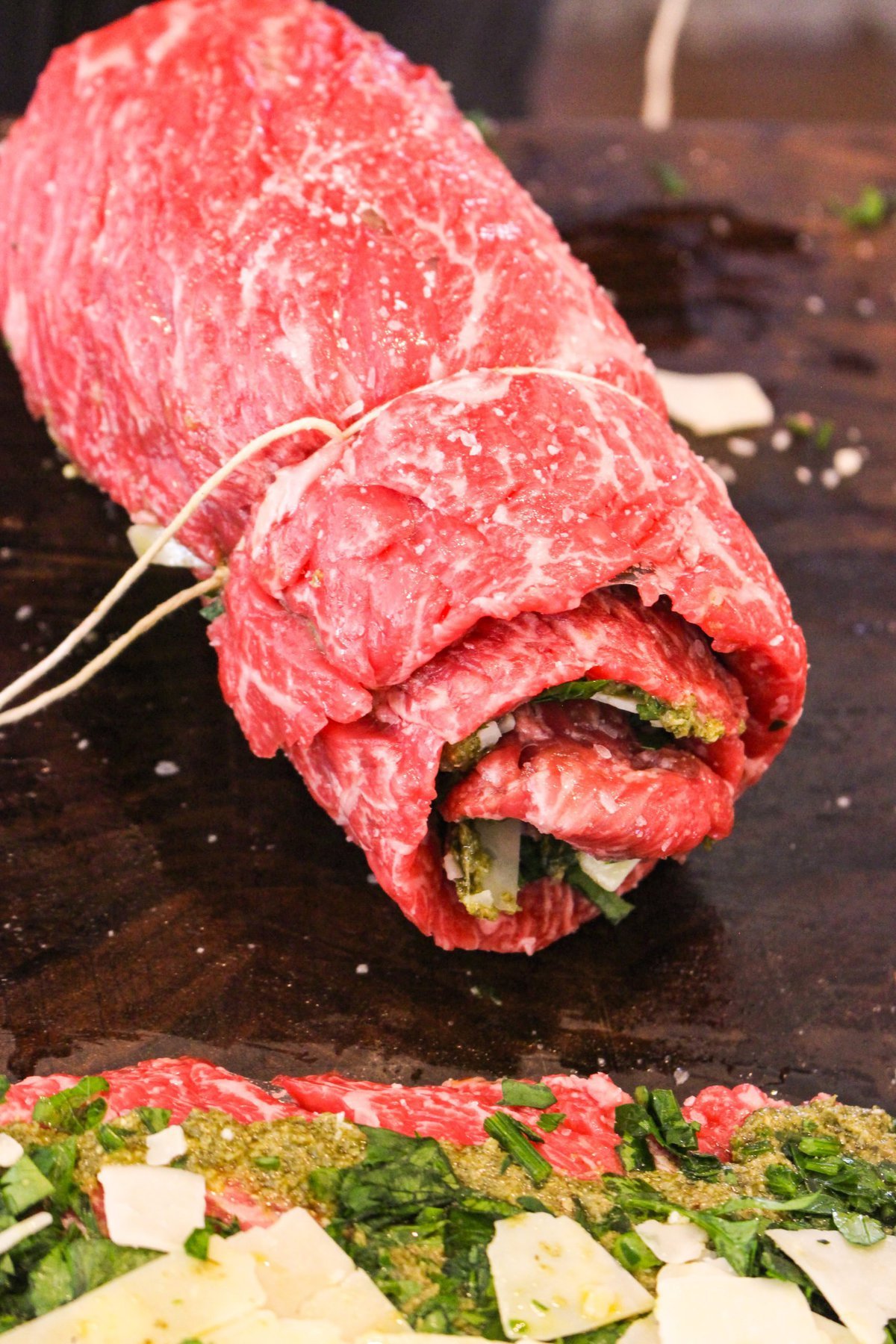 I use a base of classic basil pesto topped with chopped parsley and shaved parmesan for my filling in the pinwheel. You are welcome to add whatever you like, but I really enjoyed these flavors. The pesto is a nice herbal savoriness on the steak with a fresh parsley finish and gooey cheese to make these Skirt Steak Pizza Pinwheels extra delicious. Once we fill the steaks, we will roll them up, tie them in two different places and slice in between the ties. This will leave us with two large Skirt Steak Pizza Pinwheels that you are welcome to trim and finalize.
When you have finished making all of your Skirt Steak Pizza Pinwheels, it is time to get the Oklahoma Joe Blackjack Kettle Grill hot!
For more skirt steak recipes, check out my Braided Skirt Steak, Cheesy Skewered Skirt Steak with Salsa Verde and Loaded Steak Fries.
Grilling these Skirt Steak Pizza Pinwheels!
I really love using the Blackjack Kettle Grill because it can hold that high heat for searing while also having ample amounts of room to slowly cook these pinwheels. By using a two zone heat method, I will sear off both sides of the Skirt Steak Pizza Pinwheels on the hot side of the grill and then pull them over to the cool side to finish. I am looking to cook these steaks to about 120F internal. Once they hit about 105-110F internal, I will open up the Oklahoma Joe and start topping them.
We will start with a dollop of classic pizza sauce on each pinwheel. Do not be excessive because the sauce will just simmer off the steak. Next, add a handful of mozzarella cheese and a couple slices of pepperoni. Now that our Skirt Steak Pizza Pinwheels are made we will close the lid. This allows the steak to finish cooking and the cheese melt. When done, pull these guys off and let them rest for 10 minutes.
For more pizza inspired recipes, check out my Matambre A La Pizza, Pizza Sausage Skewers and Flap Steak Pizza.
Slicing & Serving Our Skirt Steak Pizza Pinwheels
Once the Skirt Steak Pizza Pinwheels are fully rested, it is time to serve! Slice these guys up and serve with whatever you like. This is a quick and easy recipe for some backyard grilling fun all thanks to the Oklahoma Joe's Blackjack Kettle Grill. Crush this recipe below and tag us on social if you make it. Cheers!
For more delicious recipes, check out my cookbook Food X Fire!
Needing more spice in your life? My spice line can help with that. Check them out here.
Full Length Recipe Video on YouTube!
Print Recipe
Skirt Steak Pizza Pinwheels
Skirt Steak Pizza Pinwheels for a protein forward pizza!
Ingredients
Steak:
2

Whole Skirt Steaks

1.5

tbsp

of Kosher Salt

1

tbsp

Canola Oil
Filling:
4-6

tbsp

Pesto

1

cup

Chopped Parsley

1

cup

Shaved Parmesan
Pizza Topping:
1

cup

of Pizza Sauce

1

cup

Shredded Mozzarella

10-12

Pepperoni Slices
Instructions
Begin by laying your skirt steak out on a cutting board and covering it with parchment paper or plastic wrap. Using a heavy mallet or food mallet, hammer the skirt steak until it is less than ½" thick. Next, lather your steak with oil and generously season with salt on all sides. Place 1-2 tbsp of pesto down onto one side of the skirt steak. Spread that out evenly. Next, add a layer of chopped parsley followed by a layer of shaved parmesan. Carefully roll the skirt steak up lengthwise to create the pinwheel. Secure the roll with two strings and slice between them to make two separate pinwheels. Repeat this with the rest of the skirt steak for all of the pinwheels.

Preheat your Oklahoma Joe's Blackjack Kettle Grill for a two zone high heat temperature (around 400F).

Add your pinwheels to the hot side of the grill to sear for 1.5 minutes per side or until they have developed a nice crust. Once they have a nice crust on the outside, pull the pinwheels over to the cool side of the grill to cook until they reach 120F internal (about 10-15 minutes more). About 5 minutes before the steaks are done, add a dollop of pizza sauce and a handful of shredded mozzarella to the top of each pinwheel. Top the cheese with 1-3 slices of pepperoni and close the lid to let the cheese melt and the steaks to finish cooking. When the steaks are done, pull off and let rest for 10 minutes.

Serve with chopped parsley and enjoy!
Nutrition
Calories:
288
kcal
|
Carbohydrates:
3
g
|
Protein:
27
g
|
Fat:
18
g
|
Saturated Fat:
7
g
|
Polyunsaturated Fat:
1
g
|
Monounsaturated Fat:
6
g
|
Trans Fat:
1
g
|
Cholesterol:
76
mg
|
Sodium:
1931
mg
|
Potassium:
421
mg
|
Fiber:
1
g
|
Sugar:
2
g
|
Vitamin A:
1115
IU
|
Vitamin C:
12
mg
|
Calcium:
252
mg
|
Iron:
3
mg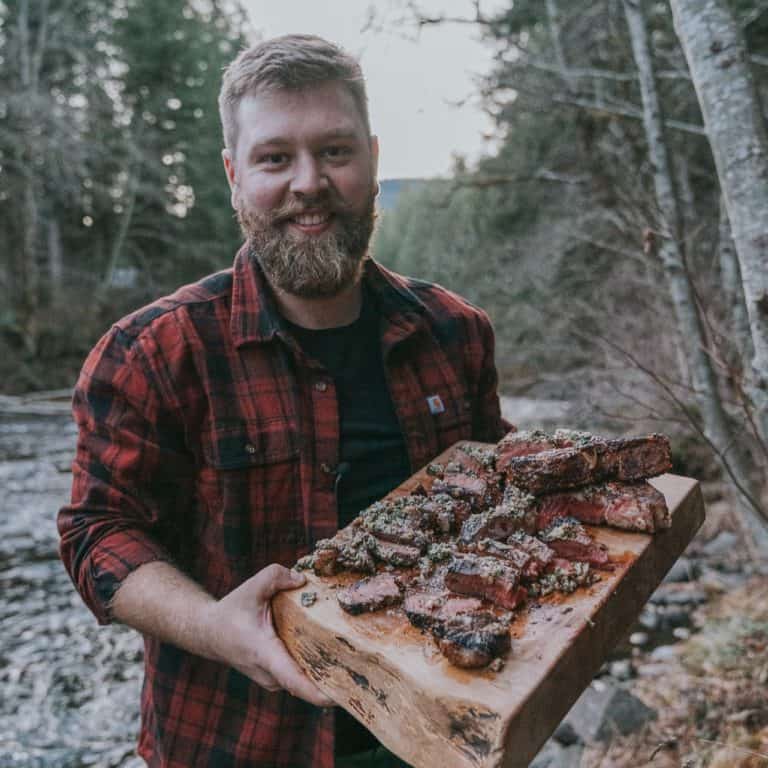 Derek is the driving force behind Over the Fire Cooking. He started cooking with live fire in 2016 and decided to start a social media page so his friends and family could follow the journey. Fast forward to today and Over the Fire Cooking has spread across multiple platforms with millions now following Derek's fire cooking journey. He's a southern fellow who enjoys everything from classic BBQ to Central and South American inspired dishes. Whatever he's cooking up, it's guaranteed to be so freakin' delicious!