If you're looking for a delicious appetizer or game day recipe, it doesn't get any better than Smoked Shotgun Shells. Beyond being the most amazing smoked appetizer, they also make a great main dish. Get ready to swoon over these bbq sauce-smothered bacon-wrapped shells loaded with pulled pork, cream cheese, two types of cheese, and chopped jalapeños.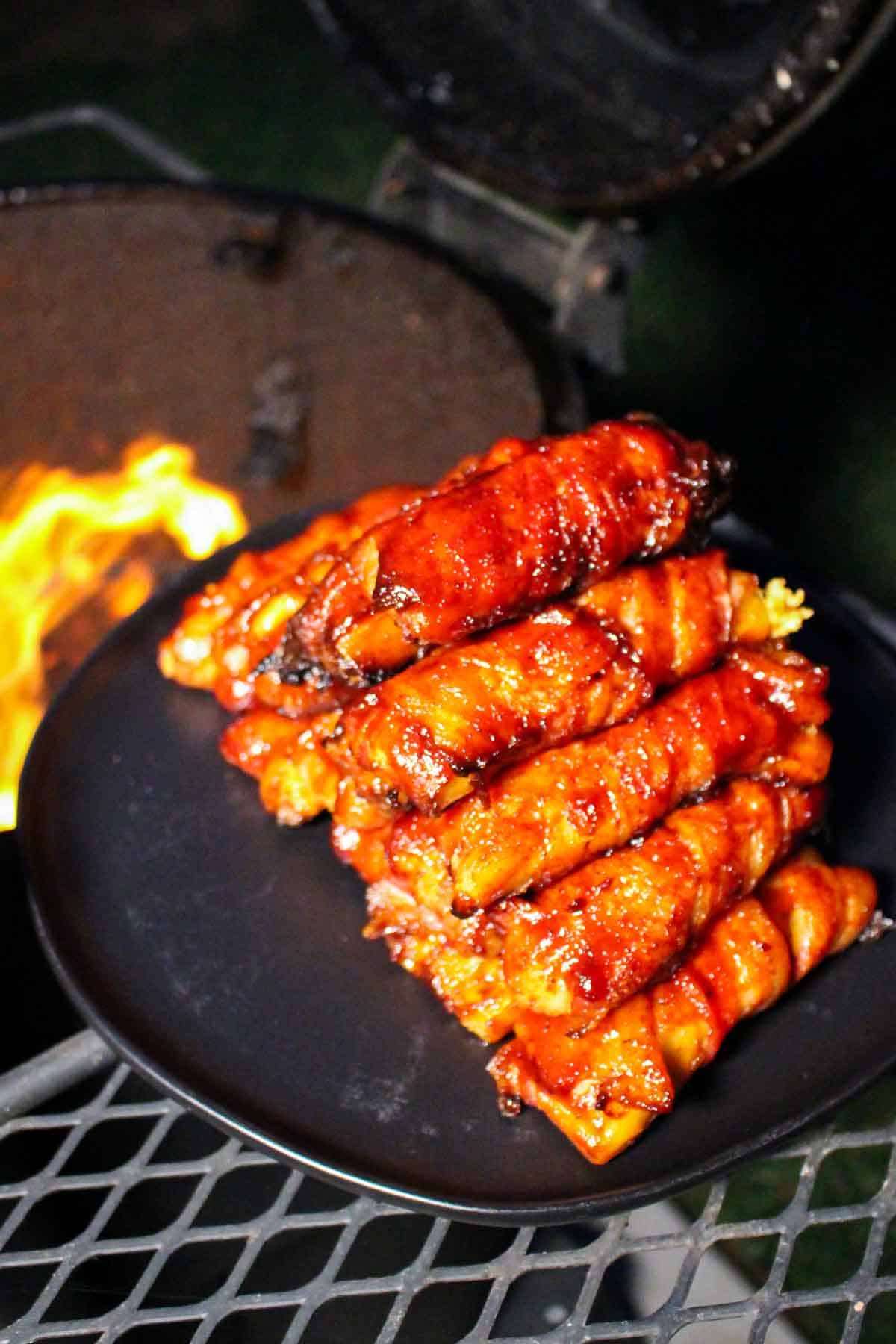 Why You'll Love Smoked Shotgun Shells
When it comes to what to make in the smoker, bacon-wrapped shotgun shells made with manicotti pasta are always a good idea! Whatever the occasion, nothing quite hits the spot like some pulled pork with a melted cheese mixture and a barbecue sauce glaze! This recipe is a must for anyone who loves stuffed shells and best of all, crispy bacon.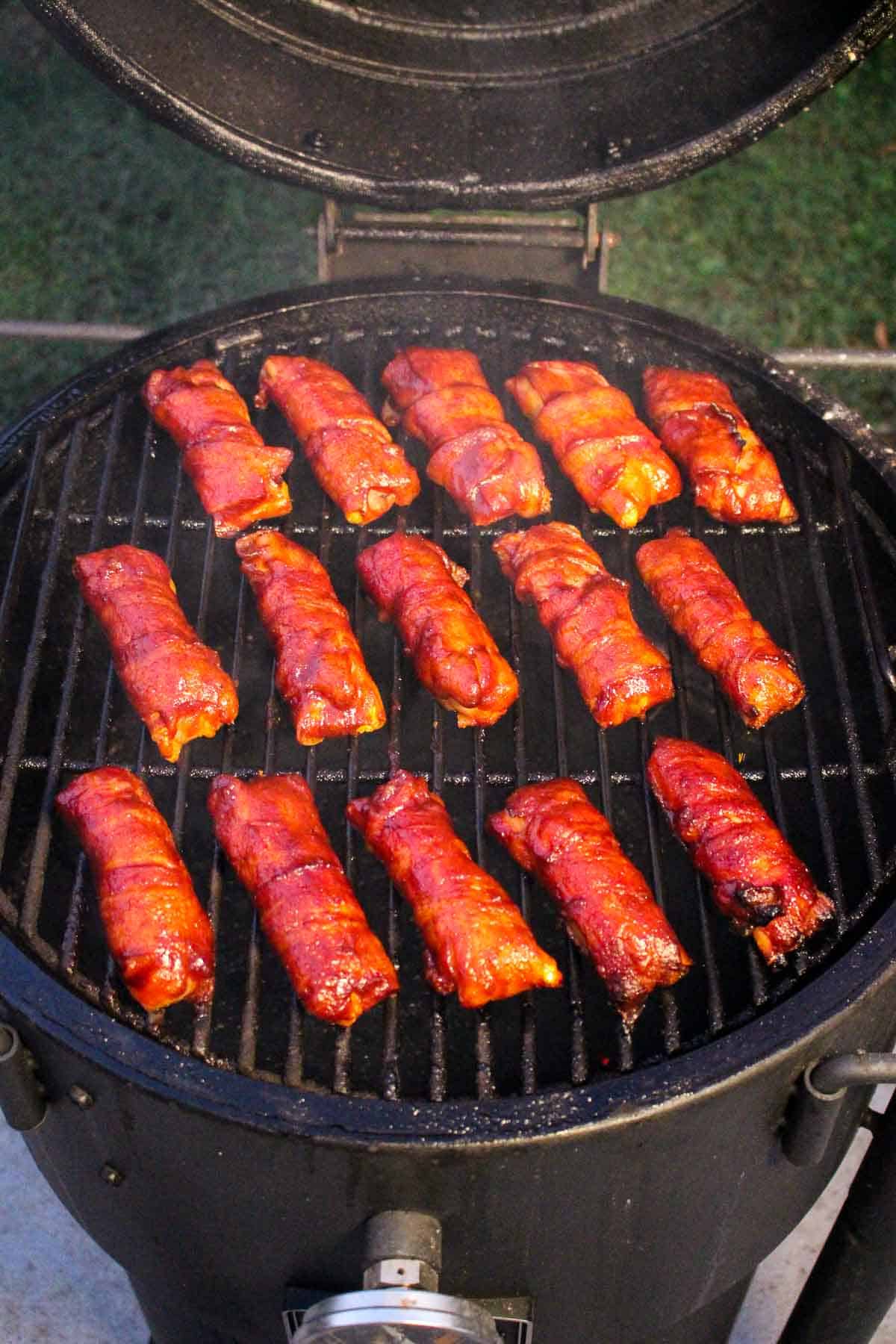 Smoked Shotgun Shells Recipe Ingredients
Manicotti Shells – You can easily find uncooked manicotti shells at your local supermarket or find them online.
BBQ Seasoning – My all-purpose beer-infused barbecue rub blend covers all my favorite flavor profiles to make this recipe pop with unbelievable flavor.
BBQ Sauce – For this bbq shotgun shells recipe, a slathering of my Ultimate Guinness BBQ Sauce over the shells is pretty unbeatable!
Bacon – For the crispiest melt-in-your-mouth bacon, make sure your slices of bacon are thin, not thick-cut bacon, for wrapping around the shells.
Pulled Pork – If you need some ideas about how to make the best pulled pork on the smoker, check out my Pulled Pork Sandwich Recipe. This is also a great recipe to utilize leftover pulled pork, if you've got some!
Cheese – This recipe blends cream cheese, sharp cheddar cheese, and Monterey jack cheese to create a perfectly balanced blend. It'll melt in your mouth alongside the tasty shredded pork and bacon. You can also add in some mozzarella cheese if you'd like!
Jalapeños – When it comes to the jalapeños, you can make them as spicy (or not) as you wish. The more seeds in the peppers, the spicier your Smoked Shotgun Shells will be. If you don't love spice, remove all of the seeds. If you really don't like spice, just skip the jalapeños altogether.
If you are a big jalapeño fan, check out my Jalapeño Chicken Drumstick Poppers, Bacon Wrapped Jalapeño Cheese Fatty, or Bacon Wrapped BBQ Jalapeño Poppers!
All in all, the combination of rich and spicy smoky pork flavors with a creamy cheese blend and the crispy texture of bacon is unbeatable!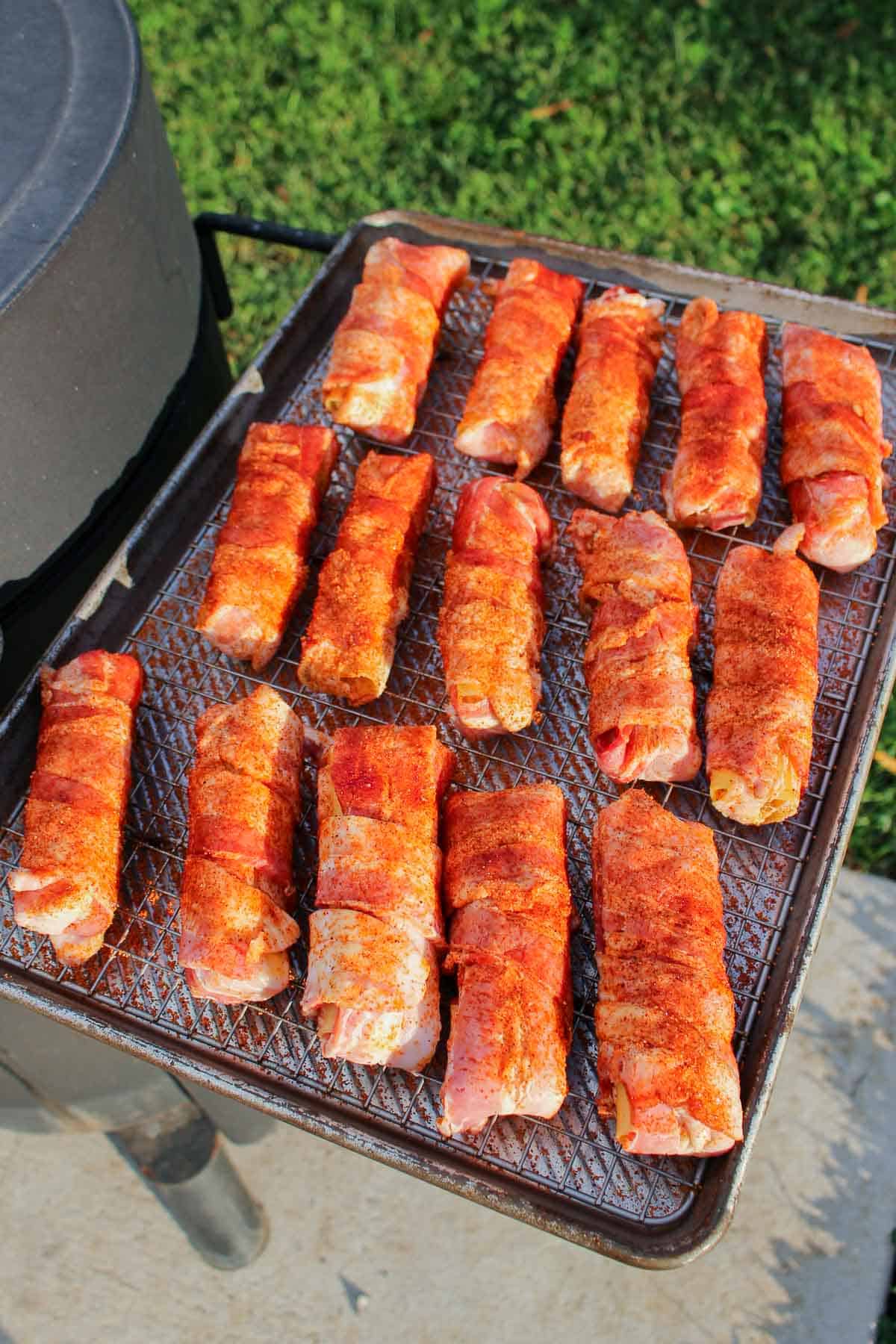 How to Make
The Shells
Get ready to make the tastiest stuffed shells ever! Here's how it's done.
Start out by parboiling the manicotti shells, a key step to avoid annoyingly crunchy shells, so don't skip it! After bringing a large pot of water to a boil, add in the manicotti shells. Let the pasta cook for just 1-1.5 minutes. Then pull them out and letting them cool on a wire rack placed on a sheet pan.
Important Note
The shells should have a bit of flex to them, but not be completely soft. We have to find a balance here of the shells being sturdy enough so that we can stuff them, but soft enough that they'll finish cooking on the smoker. It's a Goldilocks situation.
Next up is the rich, flavorful, and oh-so-creamy pork cream cheese filling for these smoked shotgun shells! In a large bowl, mix together the finely chopped pulled pork, plain cream cheese, shredded cheddar cheese, your favorite BBQ seasoning, and diced jalapeños.
After mixing the cheese filling, transfer it all into a large plastic zip-lock bag. With a pair of scissors, snip off a small corner of the bag to turn it into a piping bag.
Squeeze and pipe the filling into the pre-cooked pasta shells. Make sure to distribute the cheese and meat mixture into the entire shell so that all of the pasta shells are equally full.
Pro Tip #1
I found it was easier to fill one side of the shell until the mixture made it to the middle, and then fill the opposite side the same way.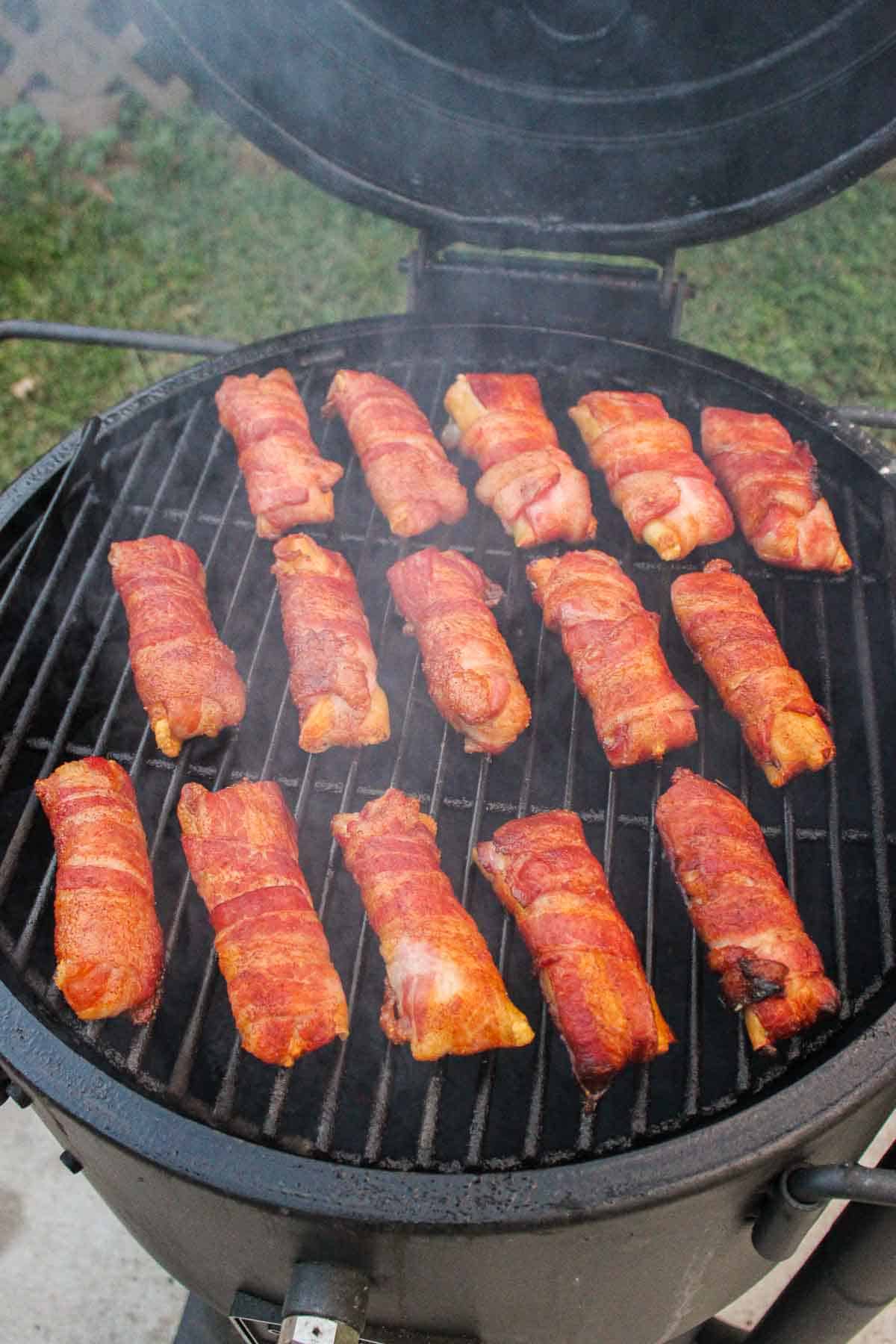 Pro Tip #2
Cooked manicotti shells can be delicate. Make sure to stuff them gently so they don't tear. You can always use the end of a wooden spoon to stuff them if you have fat fingers like me.
Bacon Wrapping
Next, lay two slices of bacon out so they resemble the number "7". lace the filled pasta onto the top strip of bacon. Then make sure each piece of bacon covers the side holes.
Roll the pasta up with the other slice of bacon so that it covers the pasta completely. Then repeat with the remaining pasta shells. Again, you'll need two slices of bacon per shell!
Finish your assembly by sprinkling the outside of the shells with the BBQ rub or seasoning of your choice. Place them on a baking sheet covered in parchment paper in the refrigerator and let them chill for 2-4 hours. The longer the better so that they have can set!
Smoking Shotgun Shells
Next up, it's time to cook. First, preheat your smoker to a temperature of 250ºF for indirect cooking. Feel free to add in some wood chips or chunks. This will kick the smoky flavor of your shells up a notch.
Pull the shotgun shells out of the fridge and place them carefully onto the preheated smoker. Cooking time is 1-1.5 hours or until the bacon is darker and crispy.
Lastly, glaze the outside of the shells with your favorite BBQ sauce then continue to cook until the sauce is tacky, dry, and caramelized.
Pull the Smoked Shotgun Shells out of the smoker, allow them to cool for 10 minutes, then slice and dig in!
For more bacon-inspired recipes, check out my Bacon Jalapeño Popper Stuffed Burgers, Maple Bacon Bourbon Salmon Bites and Bacon Melt.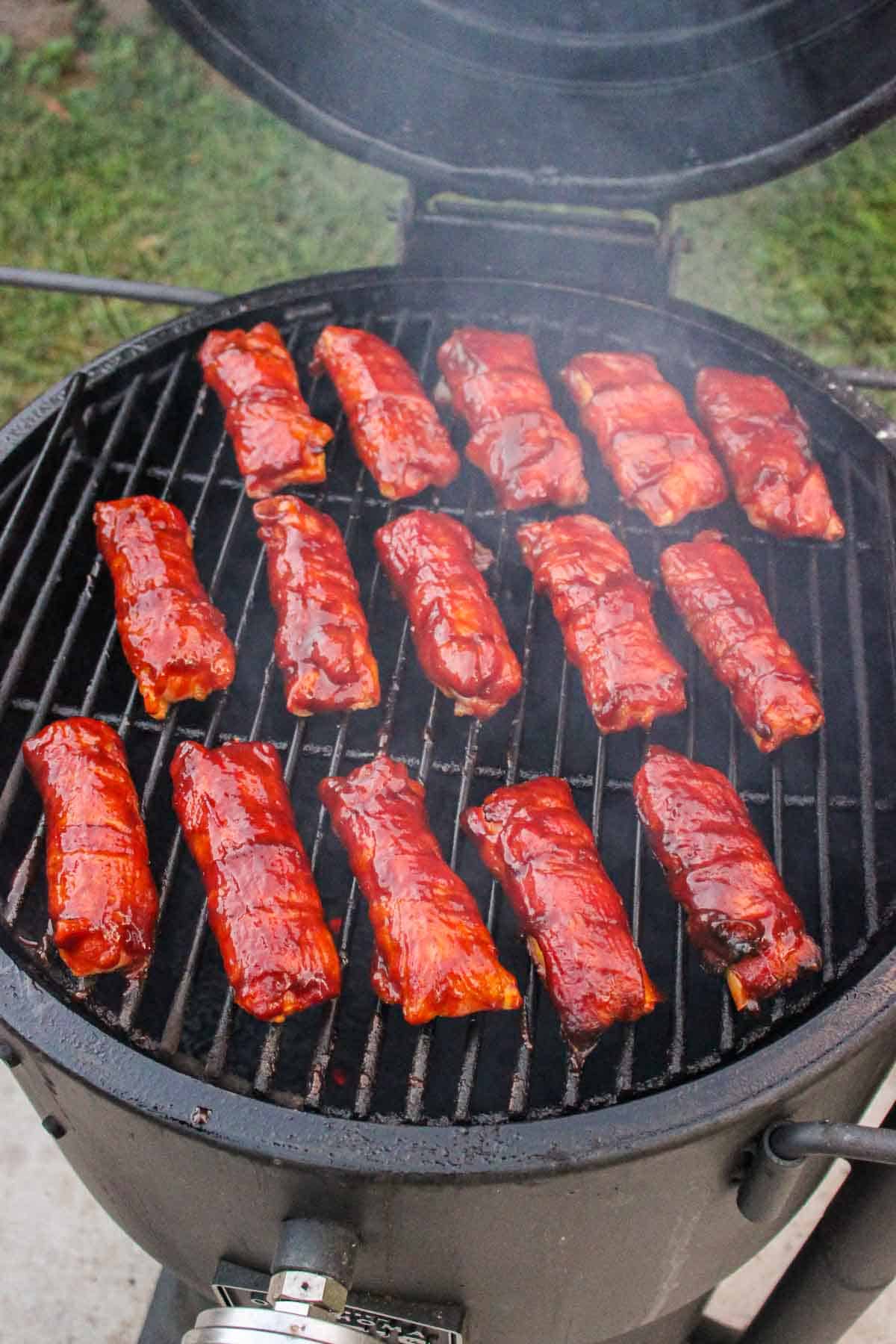 How to Store Leftovers & Reheat
Any leftover stuffed shells can be kept in plastic wrap inside an airtight container for up to 3-4 days in the fridge. For longer storage, freeze them for up to 3 months in an airtight, freezer-safe container.
To reheat the shells, you can pop them in the air fryer for about 10 minutes at 375 degrees. Alternatively, cover them with aluminum foil and bake in the oven for about 15 minutes at 350 degrees.
What to Serve With Smoked Shotgun Shells
When it comes to what to pair with Smoked Shotgun Shells, I'm thinking some homemade cornbread with potato salad would be the perfect meal. The best way to enjoy these tasty stuffed pasta tubes might just be with some pepper shots with jalapeno juice, lime juice, and tequila!
Smoked Shotgun Shell Recipe FAQs
What's the difference between manicotti noodles and cannelloni shells?
Manicotti noodles and cannelloni shells are large tube-shaped pasta used for stuffed dishes in Italian cuisine. The main difference being that manicotti tubes have ridges on the outside while cannelloni shells are smooth.
Do I really need to parboil the manicotti shells ahead of time?
Yes, don't skip this step! I know a lot of people who have tried this recipe without pre-cooking the shells because they're afraid of overcooking them. Instead, they end up with crunchy pasta, which is an annoying texture we do not want for our perfect appetizer.
What else can I use besides pulled pork in the stuffed shells?
Hot Italian sausage, ground pork, or ground sausage made with chicken or venison would be other amazing options to swap out with the pulled pork meat stuffing.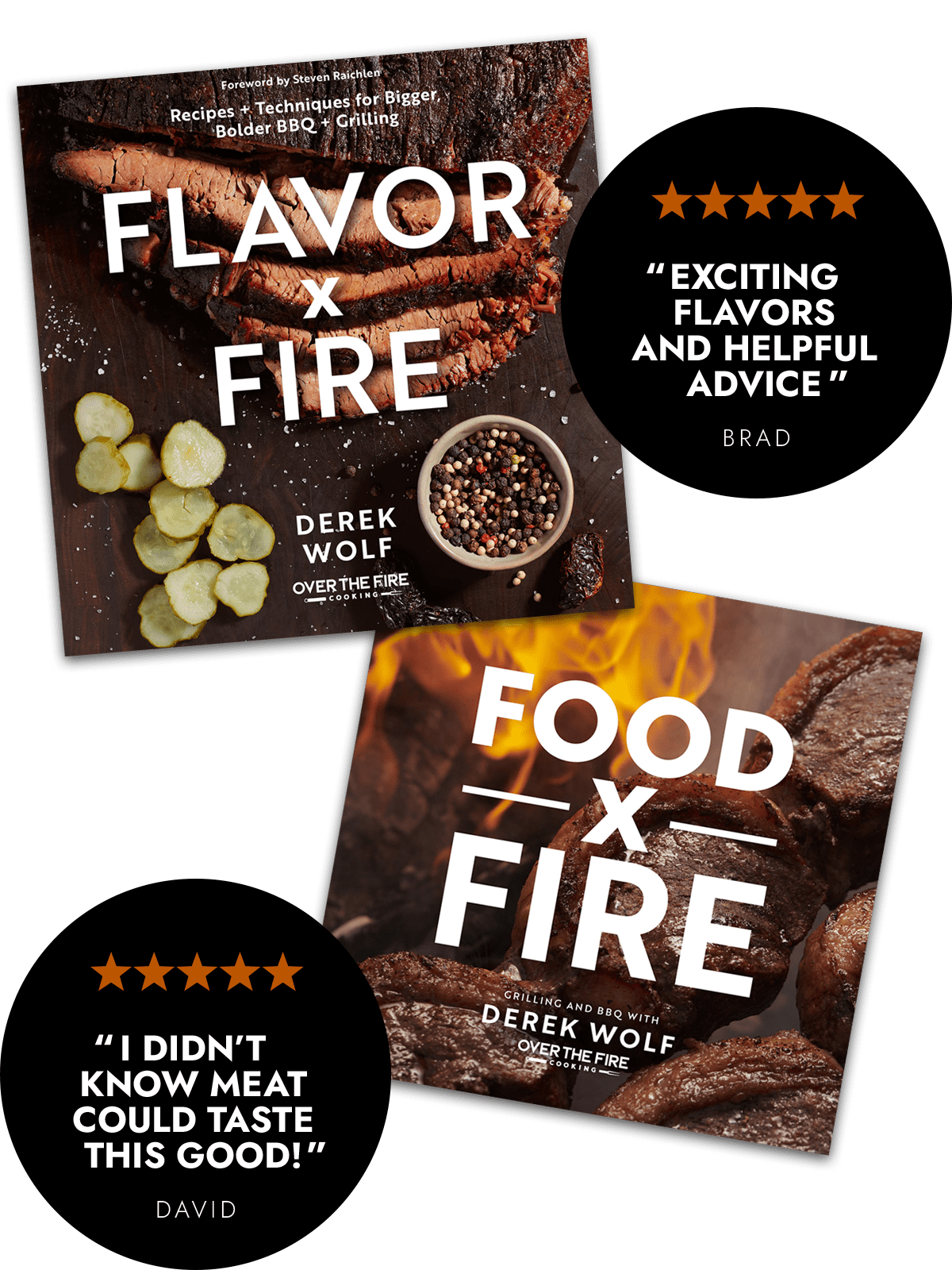 Get The Cookbooks!
Flavor X Fire & FOOD X Fire
All the major tastes—salty, sour, sweet, bitter, and umami—are explored in depth, along with an investigation of other components you should consider when it comes to flavor, such as aroma, heat, and texture.
Needing more spice in your life? My spice line can help with that. Check them out here.
Smoked Shotgun Shells
These Smoked Shotgun Shells are manicotti shells loaded with a rich pulled pork cream cheese filling and wrapped in crispy bacon.
Ingredients
Shells:
10-12

Manicotti Shells

¼

cup

Favorite BBQ Seasoning

½

cup

Spicy BBQ Sauce

20-24

Sliced Bacon

thin
Filling:
½

cup

Finely Chopped Pulled Pork

¼

cup

Plain Cream Cheese

⅛

cup

Shredded Cheddar Cheese

⅛

cup

Shredded Jack Cheese

1

tbsp

Favorite BBQ Seasoning

2

Jalapeños

diced
Instructions
Begin by bringing a large pot of water to a rolling boil.

Add your manicotti shells to the water to cook for only 1-1.5 minutes (not fully cooked). They should retain most of their hardness and shape.

When done, pull them out and let them cool for 10 minutes.

In a bowl, mix together all the ingredients for the filling then place it in a large plastic bag and cut off a small corner so that it is easier to pipe the filling into the pasta.

Pipe the filling into the past shells and set them to the side once done.

Next, lay out two slices of bacon so that they resemble the shape of the number "7".

Add your filled pasta to the top strip of bacon and fold the sides over so they cover the side holes of the pasta. Then, roll the pasta with the other slice of the bacon so that it covers the pasta completely.

Do this for all the pasta shells and place on a rack once done.

Finally, season the outside of the shells with your favorite BBQ seasoning and place in the fridge for at least 2 hours but ideally 4 hours.

Preheat your smoker for 250F indirect cooking. Add some wood chips or wood chunks for added smoke flavor if you desire.

Pull the shells out of the fridge and place on the smoker to cook for 1-1.5 hours.

When the bacon is looking crispy and darkened, glaze the outside of the shells with your favorite BBQ sauce and continue cooking until the sauce has become tacky and dried.

Once the shells are done, pull off and let cool for 10 minutes.

Slice, serve and enjoy!
Nutrition
Serving:
4
g
|
Calories:
1151
kcal
|
Carbohydrates:
66
g
|
Protein:
36
g
|
Fat:
83
g
|
Saturated Fat:
30
g
|
Polyunsaturated Fat:
13
g
|
Monounsaturated Fat:
34
g
|
Trans Fat:
0.2
g
|
Cholesterol:
153
mg
|
Sodium:
1833
mg
|
Potassium:
697
mg
|
Fiber:
4
g
|
Sugar:
19
g
|
Vitamin A:
1006
IU
|
Vitamin C:
11
mg
|
Calcium:
294
mg
|
Iron:
8
mg