If you love tequila shots, then you are going to love this Tequila Lime Rotisserie Chicken. It is packed full of great flavor from the marinade along with being roasted over the fire for 2 hours. Come enjoy the caramelized crust and juicy chicken flavor. Let's try it out!
More about this Tequila Lime Marinade
Alcohol is the key to making everything better in life. Well alcohol and quesadillas, but I digress.
The point is that this Tequila Lime marinade is going to bring tons of zesty flavor to your chicken. The tequila is a great place to start with its briny yet sweet flavor profile. Mix that together with the lime juice, lemon juice and orange juice to get a nice sweet citrus profile.
Next, we are going to mix in my Southwestern Chile Rub and Achiote Paste. This will add some green chile flavors along with some more citrus flavor to make sure it shines through all the tequila. Along with some garlic, we are going to add some cilantro and oregano for a nice herbal finish.
Blend this all together and add it to the chicken to make the Tequila Lime Rotisserie Chicken. Lastly, we are going to let this sit in the fridge for at least 4 hours but ideally overnight. The longer the chicken sits in the marinade the more flavor it will pick up from Tequila Lime marinade.
Cooking with a 3 Zone Fire
Now that the Tequila Lime Rotisserie Chicken is done marinating, we will skewer it and place it on the grill. The fire will be set up in the 3 zone cooking method. What does this mean though?
This will mean that one third of your fire pit or grill will hold coals or wood. In the middle will be an empty space without heat where the rotisserie will sit. Lastly, the far third will have more coals and wood.
This will give us heat from the indirect areas of the grill so we do not burn or char our Tequila Lime Rotisserie Chicken. This will also prevent flare ups from happening as the grease and oil from the chicken will fall into the cool zone and not coals. Feel free to add a skillet or tin foil pan under the chicken to catch drippings. Add some veggie there too to bake in the oil while you cook!
Finally, we are going to baste the chicken in agave nectar for a nice sweet finish. This should be done no sooner than the last 7-10 minutes of the cook so we prevent the skin from burning.
If you do not have agave nectar, feel free to use honey as a substitute!
Let's eat some Tequila Lime Rotisserie Chicken
Once the bird is done, we will pull it off and rest for 2-3 minutes. Topped with some cilantro & lime juice, we are going to dive right into this Tequila Lime Rotisserie Chicken. This is a great dinner for family & friends. Enjoy!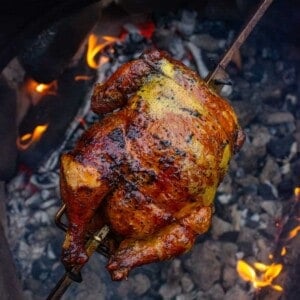 Tequila Lime Rotisserie Chicken
Crush this simple backyard cook with some Tequila Lime Rotisserie Chicken. Easy recipe that is delicious for the whole family.
Ingredients
Chicken Ingredients:
1

Whole Roaster Chicken

¼

cup

of Agave Nectar

for basting

Chopped Cilantro

for garnish
Tequila Lime Marinade:
2

tbsp

of Southwestern Chile Rub

2

tbsp

of Achiote Paste

¼

cup

of Tequila

12

Garlic Cloves

1

Lemon

juiced

2

Limes

juiced

1

Orange

juiced

⅛

cup

of Cilantro

1

tbsp

of Oregano
Instructions
In a bowl or bag, add your chicken. Blend together the Tequila Lime Marinade and pour over chicken. Place the chicken in the fridge to marinate for 4 hours but ideally overnight.

After marinating time is over, preheat your fire to a medium high temperature of 350F. Create it using a 3 zone cooking method with the rotisserie between the two fires.

Pull out your chicken and skewer onto the rotisserie spike. Secure and truss the chicken over the legs and wings.

Add your chicken to the rotisserie and begin cooking for about 2 hours or until the internal temperature of the chicken reaches 165F at the thickest part. About 10 minutes before it is done, baste the outside with agave nectar.

Once chicken is done, pull off and let rest for 2-3 minutes. Top off with some chopped cilantro, lime juice and agave nectar. Enjoy!