Big announcement: We are officially making youtube videos! Go check out this Cheesy Steak Quesadilla video right now. Read more about this recipe below and make sure to subscribe!
Why use Skirt Steak for this Cheesy Steak Quesadilla?
For those that might be concerned, using skirt steak on this quesadilla is a fantastic choice. While skirt steak is absolutely delicious by itself, it only gets more enhanced when you cover it in cheese, onions, cilantro and that mayo sauce. That is why I chose it for this Cheesy Steak Quesadilla recipe. You can easily do this recipe with flank steak, sirloin steak or flap steak if needed.
The biggest key about using skirt steak is making sure that you slice against the grain. This helps to make the steak more tender and less chewy! I have written a whole article on how you can slice against the grain.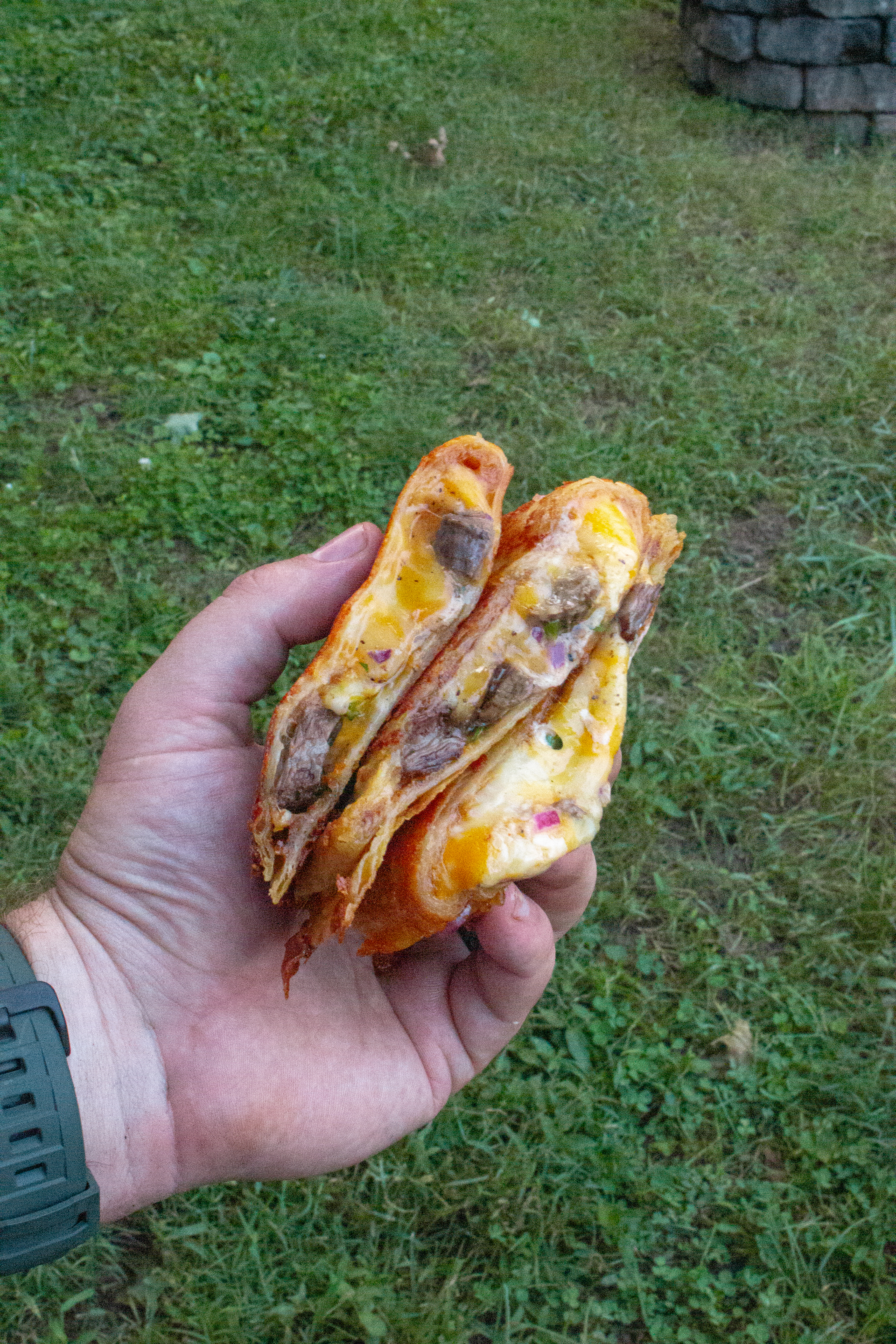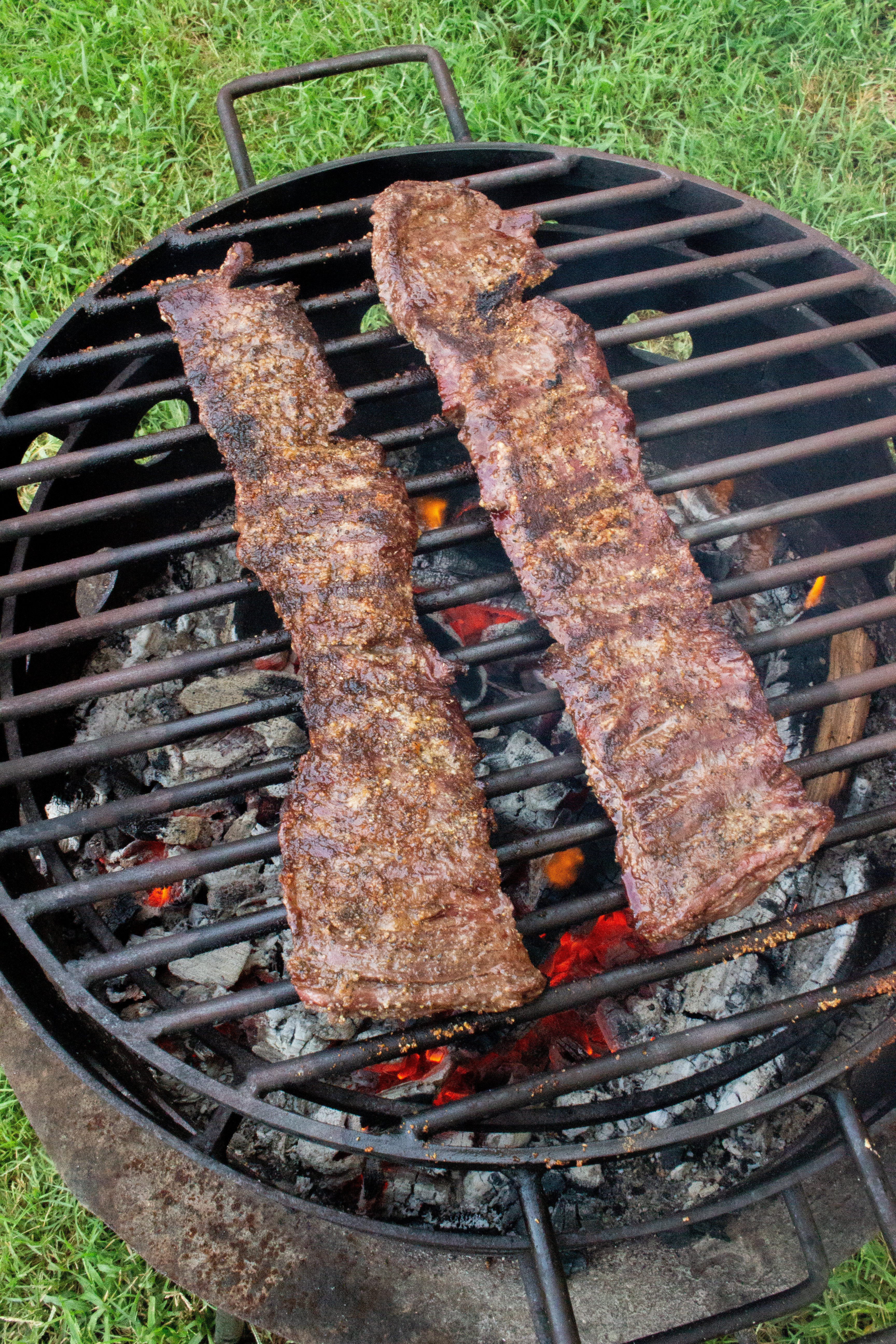 The Secret is in the Sauce?
Like I have said before, I am definitely a sauce guy! Having a great sauce makes all the difference in a great dish and an epic dish. With this Cheesy Steak Quesadilla, the Chipotle Lime Mayo sauce is everything.
The secret to making this sauce is the pickled jalapenos and the pickling juice. This is key because it adds a ton of flavor depth along with some brininess. That brine and salinity help to amplify the other ingredients to make an epic Cheesy Steak Quesadilla.
Let's eat some steak & cheese!
So let's dive into the Cheesy Steak Quesadilla together. This is such a fun recipe to make for the whole family and for some good friends. Just remember that the secret is in the sauce! Also, make sure to watch my whole youtube video about how to make this. Find the recipe below as well. Cheers!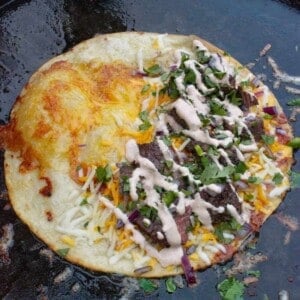 Cheesy Steak Quesadilla
Nothing quite beats steak and cheese. This Cheesy Steak Quesadilla is the ideal mixture for the outdoor cook!
Ingredients
Steak Ingredients:
1

Whole Skirt Steak

2

tsp

of Sea Salt

2

tsp

of Black Pepper

2

tsp

of Garlic Powder

1

tbsp

of Oil
Quesadilla Ingredients:
3

cups

of Monterey Jack Cheese

Chopped Cilantro

for garnish

Chopped Red Onions

for garnish

Chopped Jalapeno

for garnish

Lime Juice

for garnish

6

Large Tortillas
Chipotle Lime Mayo Ingredients:
2

tbsp

of Mayonnaise

2

tbsp

of Sour Cream

1

tbsp

of Pickled Jalapeños & Brine

blended

2

tsp

of Lime Juice

2

tsp

of Chipotle Paste
Instructions
In a bowl, mix the ingredients for Chipotle Lime Mayo. Place the mayo in the fridge until it is ready to use.

Lather you skirt steak with oil and season thoroughly with salt, pepper and garlic. Let rest for 5 minutes in the fridge.

Preheat your fire to a high temperature of 400F.

Add your steak to the grill and cook for about 3 minutes per side or until the internal temperature is 120F. Once done, pull off and let rest for 5-6 minutes. When done resting, slice the skirt steak against the grain into small pieces.

Re-setup your grill to cook using a cast iron skillet or flat top griddle at a high temperature of about 400F. Add a little oil to the griddle to preheat.

Add a handful of cheese onto the griddle to caramelize. Cover the cheese with a tortilla. Once the cheese is stuck to the tortilla (about 1 minute), flip it over and lay cheese down to caramelize on the opposite side. Add more cheese to one half of the tortilla along with the chopped steak, red onions, jalapenos, cilantro and a drizzle of Chipotle Lime Mayo. Let cook for 15 more seconds then carefully flip the empty side of the tortilla onto the full side. Cook until the outside is crispy and the cheese is melted in between (about 1-2 more minutes). Flip over as needed to prevent burning. Once done, pull off and rest for 2 minutes.

Slice quesadillas into portions and enjoy!