Yes, it is possible to make pork taste even better. Teriyaki Pork Belly Burnt Ends are the answer, with sweet and spicy teriyaki sauce caramelized on the outside of smoky, tender pork. Stick them on a skewer and top them with sesame seeds, cilantro and scallions for the ultimate backyard appetizer. The process involves two main steps and some patience, so let's discuss.
Teriyaki Pork Belly Burnt Ends AKA Sweet Pork CANDY
First, let me say, these Teriyaki Pork Belly Burnt Ends are pure magic. The soft, almost glowing little squares of meat candy have become the new highlight in BBQ. Simple to make, rich with flavors, and fun to share. Basically, it's an all around win.
Typically there are multiple layers of sugar, caramelizing the pork and turning it into a sweet treat. This Teriyaki Pork Belly Burnt Ends recipe has bold aromatic flavors from the ginger, garlic, and chile flakes, and they deserve a spotlight. We're going to skip one layer of sugar (gasp) because this allows the teriyaki sauce to shine through.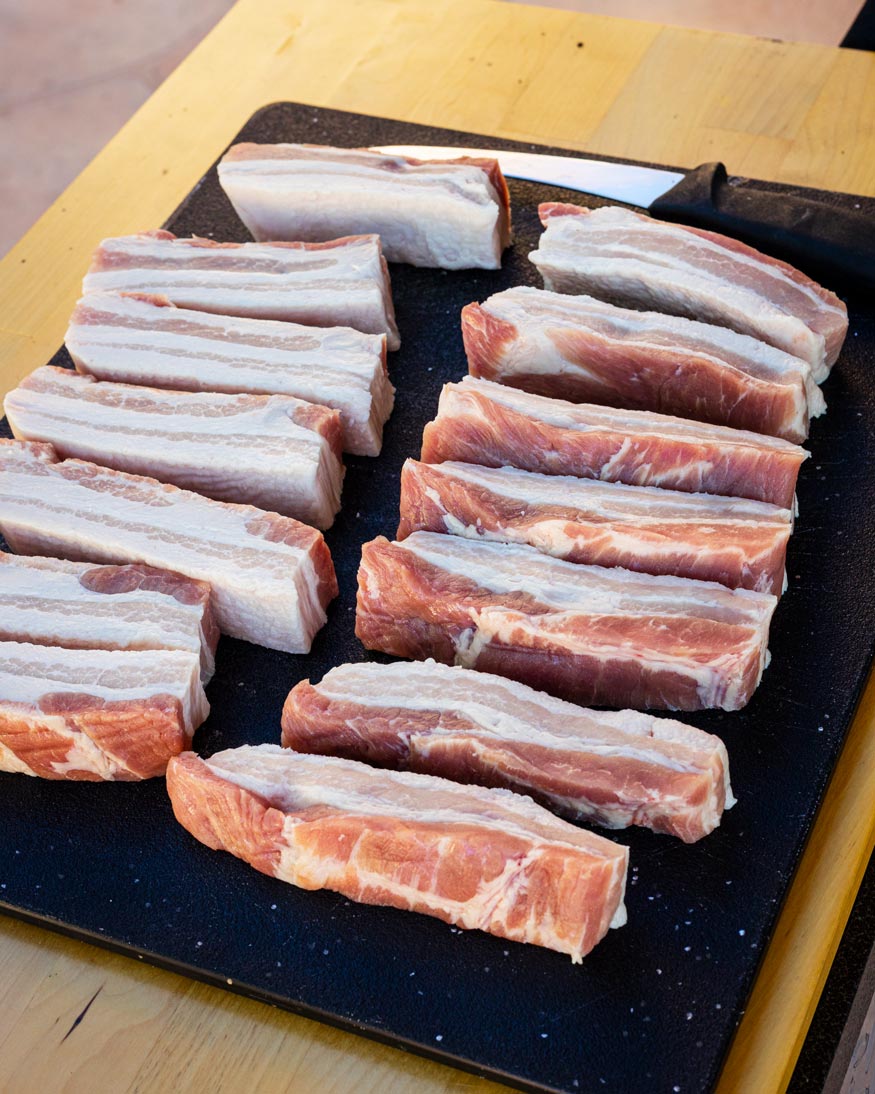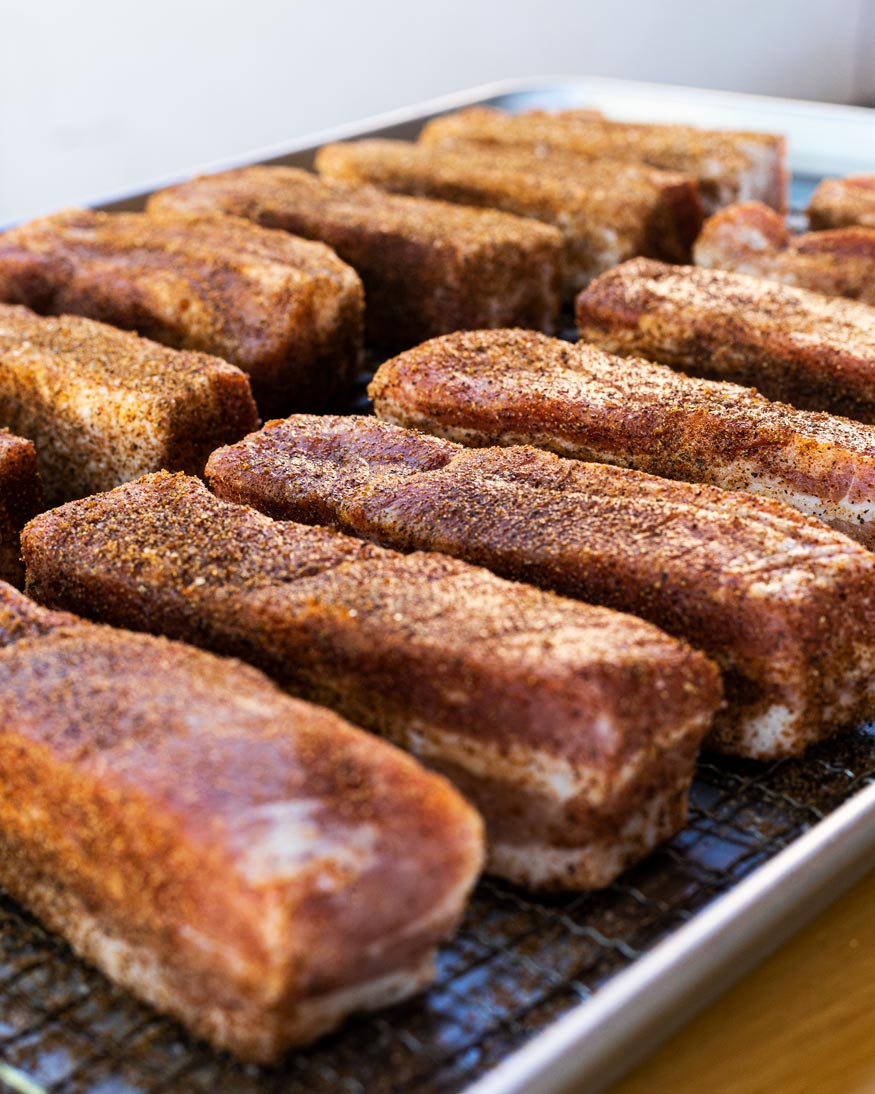 Dark, Rich, and Delicious Teriyaki Pork Belly Burnt Ends
Homemade teriyaki sauce tastes amazing, especially when using fresh ingredients. So, skip the powders. Bust out the fresh ginger and garlic because they'll give you the best results. This is a recipe I've been using for years, pairing with pork, chicken, veggies, shrimp, and just about anything else you can sauce.
The key with making this sauce is monitoring it. In short, if you step away for too long and the sugars will burn too fast on the bottom. Cornstarch slurry, which is a mix of water and cornstarch, thickens the sauce extremely fast. Use less if you prefer to have a thinner sauce. Same goes with the chile flakes and other spices; adjust the flavor profiles to your taste. Personally, I like to double down on the chile flakes.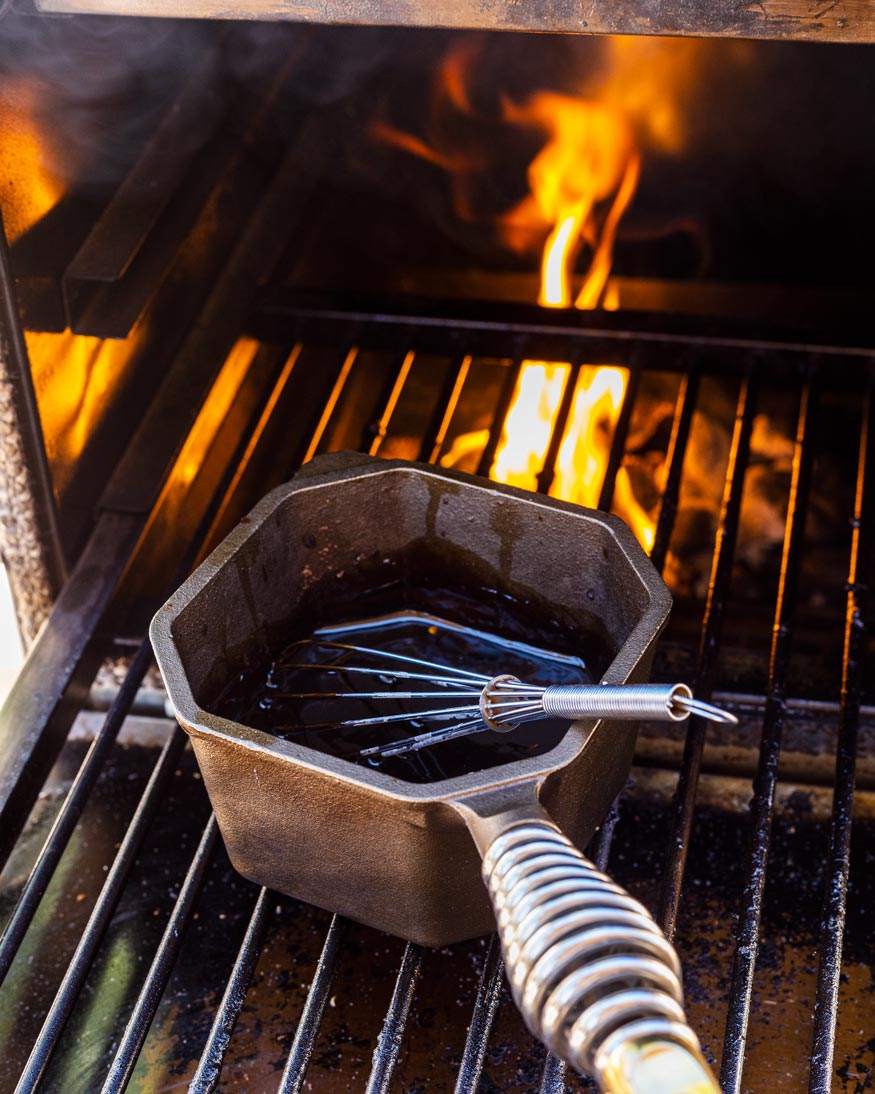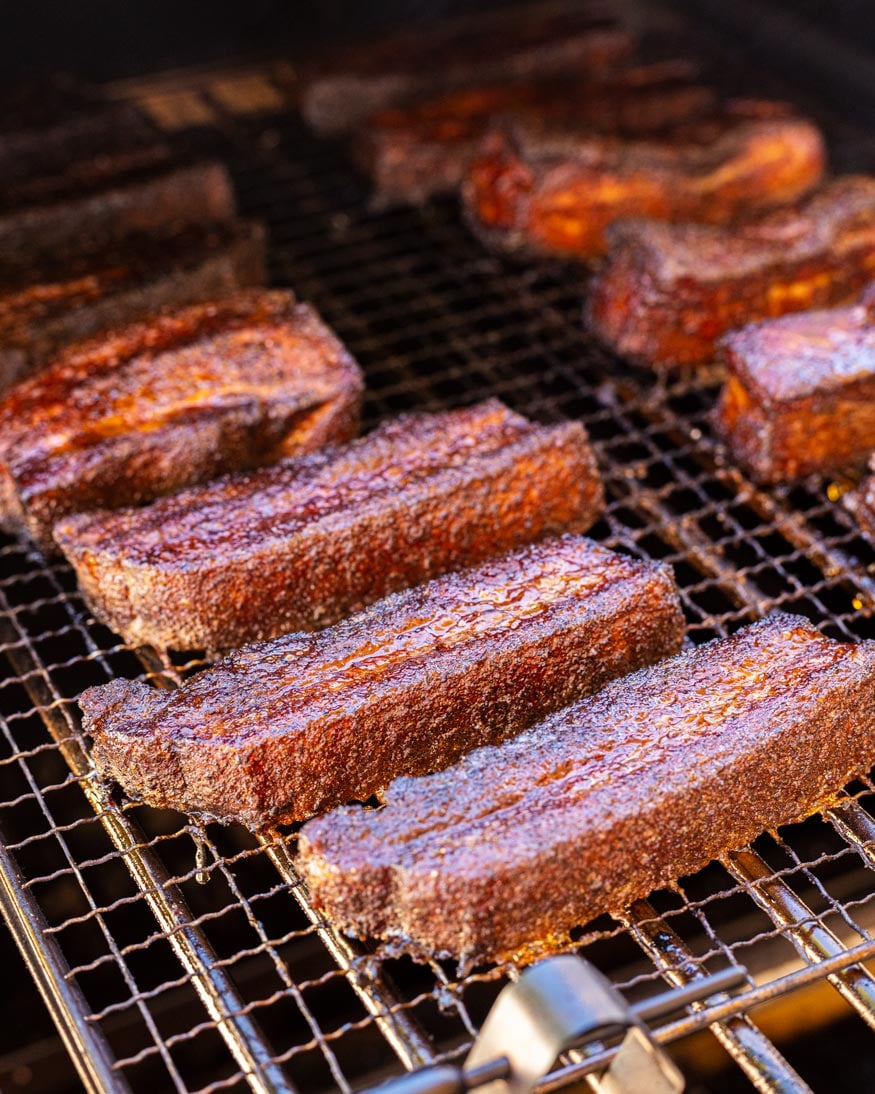 Pork Belly Burnt Ends… Simple Process, Complex Flavors
Time is going to be your most helpful guide with this recipe. As long as your smoker maintains a range between 225-250F, this will work every time. There are two main stages: Smoking & Braising.
The smoke stage involves seasoning the pork generously and leaving it over indirect heat to be smoked for a period of 3 hours. I like to make the sauce at the 2-hour mark, allowing it time to cool slightly before the next stage.
The braising stage involves adding in the teriyaki sauce, butter, and wrapping it all up nice and tight with foil. Finishing up the Teriyaki Pork Belly Burnt Ends this way allows the fats and sauce to meld together, softening and caramelizing the pork at the same time. You might notice that the pork turns out quite dark in the end, which is because of the soy. It's not burnt, despite the name. That's all the flava!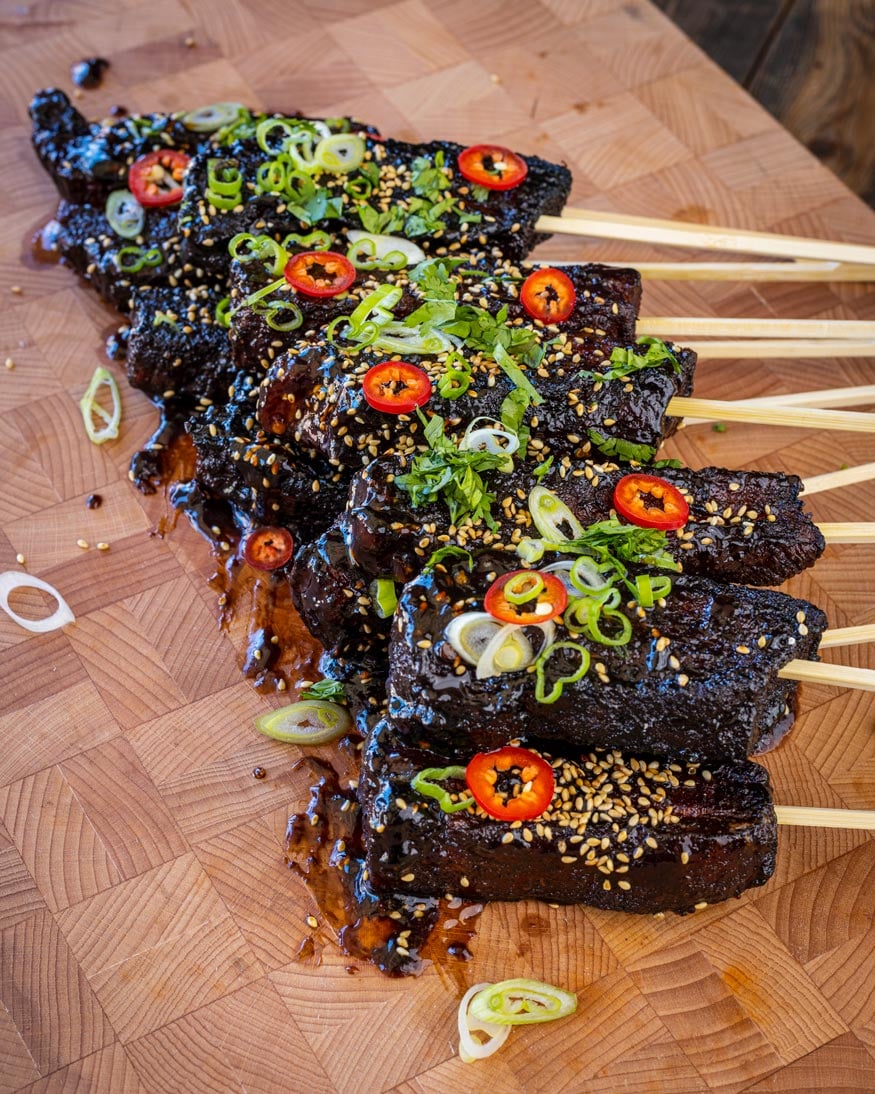 Print Recipe
Teriyaki Pork Belly Burnt Ends
Yes, it is possible to make pork taste even better. Teriyaki Pork Belly Burnt Ends are the answer, with sweet and spicy teriyaki sauce caramelized on the outside of smoky, tender pork.
Ingredients
Pork belly:
4-5

lb

pork belly

½

cup

brown sugar

¼

cup

salt

2

tbsp

black pepper

2

tbsp

paprika

1

tbsp

garlic powder
Teriyaki Sauce:
½

cup

soy sauce

¼

cup

brown sugar

3

tbsp

mirin

1

tbsp

fresh ginger

grated

2

garlic cloves

grated

1

tbsp

honey

1

tsp

sesame oil

1

tsp

chili flakes

¼

cup

water mixed with 3 tsp cornstarch

4

tbsp

butter

unsalted
Other
Chopped cilantro

garnish

Chopped scallions

garnish

Sesame seeds

garnish
Instructions
Preheat your charcoal grill or smoker for indirect grilling, aiming for 225-250F.

Slice the pork belly into manageable strips.

Mix the rub ingredients together. Season all sides of the pork belly generously, allowing it to rest at room temperature for 20-30 minutes.

Place the pork belly pieces in the smoker. I recommend using a wire rack for easy transfer if possible. Smoke for 3 hours.

At least 30 minutes before the pork belly is done with the first phase, make the teriyaki sauce. Mix the water with the cornstarch to create a slurry. Mix all ingredients together in a small pot, capable of being heated over the coals.

Warm the sauce over the heat, whisking occasionally for about 6-10 minutes depending on the heat source. Once it thickens, remove from the heat immediately and allow it to cool.

Remove the pork belly from the smoker at the 3-hour mark. It should be around 160-180F internal temperature. Place it in a small foil pan, and add the sauce with the butter. Stir to combine, and wrap the pan tight with heavy-duty foil.

Place the pan back on the smoker for another hour, up to 90 minutes. The pork should be around 200-205F and probe tender.

Serve on skewers, garnishing with sesame seeds, cilantro, and scallions. (Optional)
Brad Prose is a professional recipe developer, food writer, and culinary photographer – the force behind Chiles and Smoke. His kitchen spotlights unusual and incredible flavors through a blend of fine dining and BBQ. Brad strives to inspire home cooks to use higher-end techniques and new ideas, applying them to the everyday food we know and love.