Umami has been one of my latest obsessions. I rediscovered it a couple months ago and had some fun creating new recipes with it at center stage. This Umami Ribeyes with Steakhouse Fried Rice recipe is no different. My friend Girl Carnivore recently teamed up with Spiceology and dropped her new spice line. One of her new rubs is a Ooomami Rub (See what she did there?! Very clever). Needless to say, I was stoked! I already had a new recipe idea developed by the time I received my bottle of her Umami Rub, so as soon as I received it I got straight to cooking!
Take a Walk on the Savory Side
Some of you might be wondering, what exactly is Umami? It's a fair question and I promise you're not the first to ask. Umami is actually one of our senses of taste. There are five different categories of taste: salty, sweet, sour, bitter and umami. Umami is also commonly referred to as savory and is best experienced in meat or broth. It's definitely something that's right up my alley. Anyone else up for putting a savory rub on some already savory steak and serving it on a bed of rice? Yes please! Alas, the Umami Ribeye with Steakhouse Fried Rice Recipe was born.
To begin, fire up that grill! I like to get a good fire ripping while I prep the different ingredients for my recipes. I do this for a couple reasons. First, who doesn't love to build a big (but controlled) fire. Second, it gives the wood time to break down into a lovely bed of coals. Coals will give off the consistent heat that is necessary for fire cooking.
Now, time to focus on our umami ribeyes. I started by covering three beautiful ribeyes with the umami rub. Make sure to season all sides of the steaks: front, back and around the sides. Then, oil up the skillet and place the ribeyes on the grill. We're looking to hit an internal temperature of 120 degrees Fahrenheit on these bad boys, which only takes a couple minutes per side.
Even Rice is Better Fried
Once the ribeyes are cooked, we can move onto the steakhouse fried rice. I started by clearing off my skillet and buttering the surface. Don't skip this step, also don't skimp on the amount of butter you use. If you don't use enough butter the following ingredients will stick to the surface of the skillet and burn. Not a cool look for this umami ribeye and steakhouse fried rice recipe.
After buttering the skillet you can add on the garlic. Mix it around with the butter until fragrant. Next add the chopped onions and carrots. Continue to stir until the onions are soft. From here, add in the eggs and get to scramblin'. Once the eggs are cooked add on the rice. Pro tip: buy precooked rice at the grocery. You're more than welcome to cook raw rice and use it in this recipe, but the precooked stuff works great and will save you some time. In addition to the rice, add the soy sauce and sesame seed oil. Mix it all together over the fire until the rice is warm.
Order my new book, Food X Fire now!
Umami Ribeyes Best Served on a Bed of Steakhouse Fried Rice
Now the moment we've all been waiting for, let's serve it up! Slice up those umami ribeyes and place them on top of the steakhouse fried rice. Lastly, I garnished the dish with some Yum Yum Sauce and scallions. Best enjoyed with friends and family. Cheers!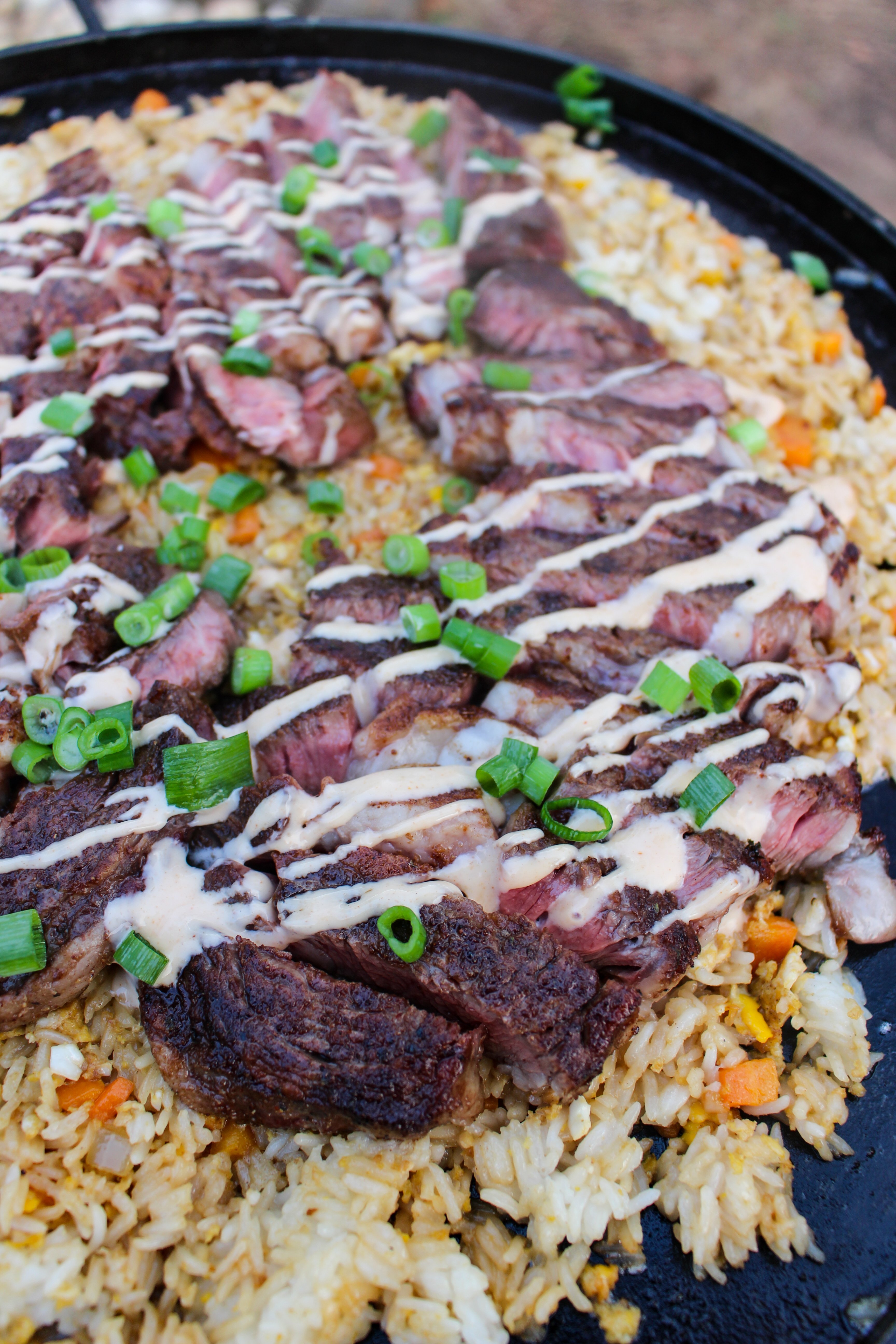 Umami Ribeyes with Steakhouse Fried Rice
Umami Ribeyes with Steakhouse Fried Rice for a fun trip to savory station. Had a blast cooking this one up over the fire!
Ingredients
Steak:
3

Boneless Ribeyes

2

tbsp

of Ooomami Seasoning or Similar

Yum Yum Sauce

for dipping

Chopped Scallions

for garnish
Steakhouse Fried Rice Recipe:
2

tbsp

of Butter

salted

6

Garlic Cloves

minced

1.5

tbsp

of White Onion

diced

⅛

cup

of Carrots

diced

3

Eggs

cracked

2

cups

of Cooked White Rice

1.5

tbsp

of Soy Sauce

1

tsp

of Sesame Seed Oil

1

tsp

of Sea Salt
Instructions
Preheat a fire for skillet/griddle cooking at medium high temperature (around 375F).

Season your ribeyes with the Ooomami Seasoning or your favorite steak seasoning. Add 1 tbsp of canola oil to the skillet and preheat over the fire for 2 minutes. Add the steaks to cook for about 2-3 minutes per side or until they are 120F internal for medium rare. Once done, pull off and keep warm while resting.

Add your butter to the empty skillet to melt. Add your garlic to brown for 1 minutes. Next, add the white onion and carrots to cook for 2 minutes. Add the cracked eggs to the skillet and mix with the veggies till done. Finally, add the cooked white rice, soy sauce, sesame seed oil and sea salt. Mix thoroughly and let cook for 2 more minutes. Once done, pull off fire.

Slice your ribeyes and add to the top of the fried rice. Garnish with a drizzle of Yum Yum sauce and diced scallions. Enjoy!