Time to break out the power tools and light up that charcoal! Yes, you read that right. Today's cook involves a power drill… Even if it's only for a brief moment. We'll need it to drill a hole in the bone of our tomahawk steaks. That's right, we're back to hanging some beef and in a smoker this time! I've created a Hanging Tomahawk Steaks recipe for you and it's next level delicious! Get all the deets below.
Hanging the Tomahawk Steaks
For this recipe, you'll start by drilling a small hole about an inch away from the top of the tomahawk bone. I know I made a big deal about the powertools above, but this is really all we needed it for. Live it up for the few seconds you use it, then you can put it away. Next, take about 3 inches of cooking wire and thread it through the hole. Then, twist the end of the wire together. The goal here is to have a loop of wire that we can use to hang within our smoker.
Move to seasoning these Hanging Tomahawk Steaks once the wire loops are finished. I seasoned my steaks with coarse salt and pepper only. I have a spicy herb butter I used on the steaks as well, but it doesn't come into play until later. After you've covered the steaks in their seasonings head out to the smoker and get them hanging! I let my tomahawks hang in the smoker at about 250 degrees Fahrenheit but a little over an hour.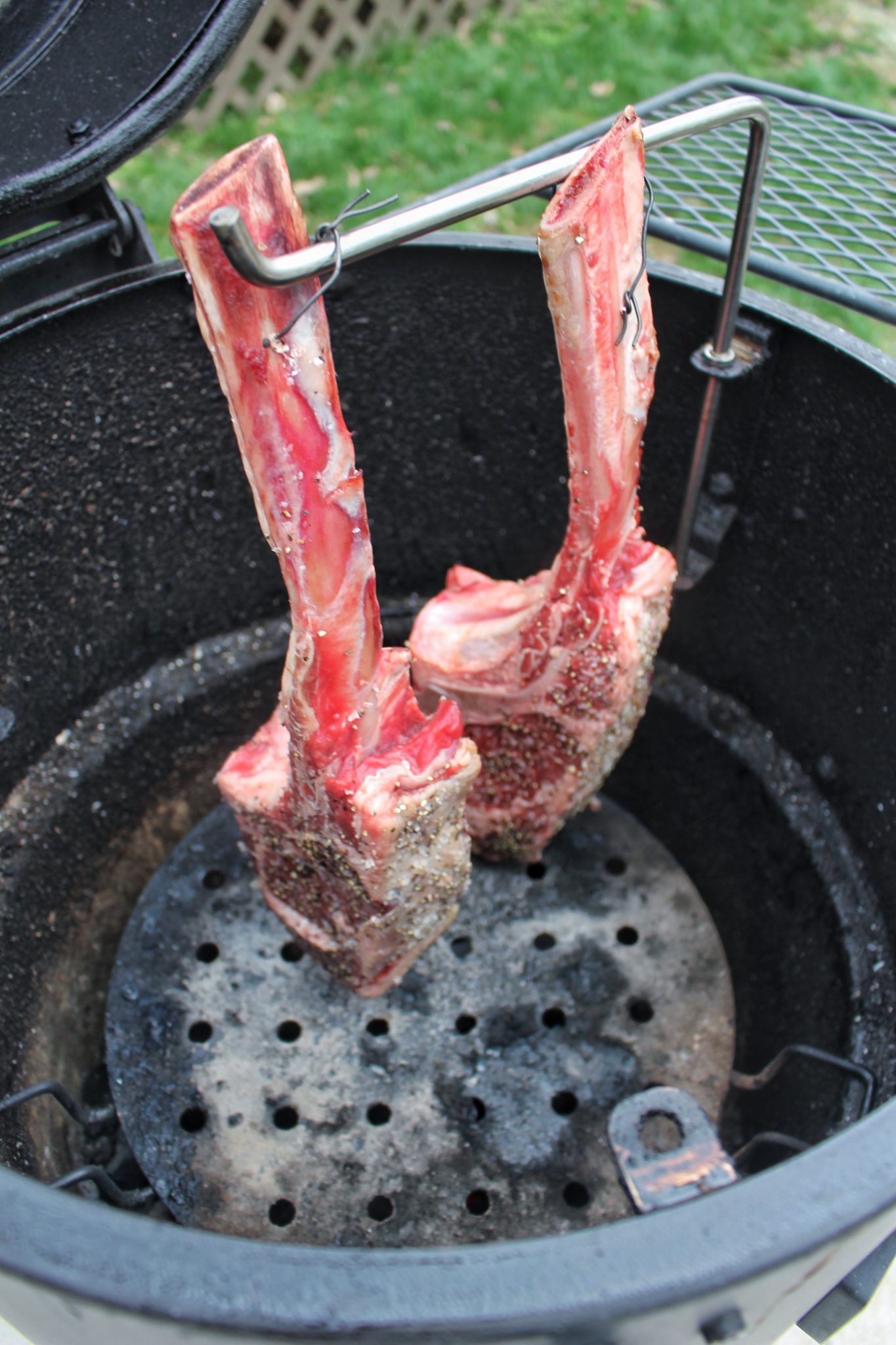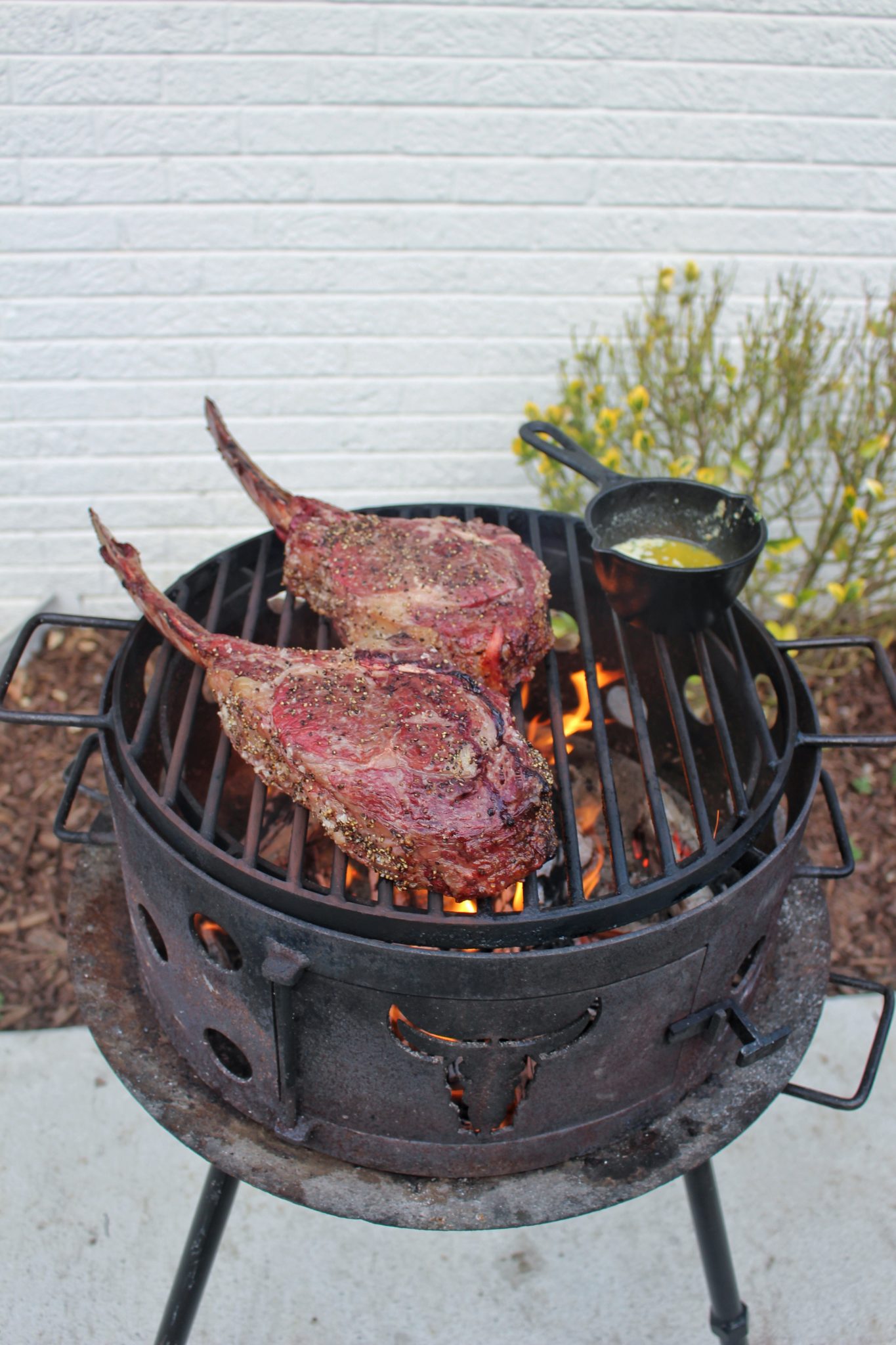 Old Recipe Re-Imagined
Hanging food over the flames is one of my favorite ways to cook. It might not be the simplest or fastest way of cooking, but the flavors that come from hanging a protein are crazy good. My wife's all time favorite recipe is actually my hanging chicken recipe. It's some of the most tender and juicy chicken you'll ever have! So, if chicken turns out so good, you can only imagine how the beef turns out!
I've done a Hanging Tomahawk Steak recipe in the past, but took a different angle on it this time. For the second go round, I did the hang in our smoking drum for an hour and seared it off directly over some coals at the end. I actually loved how it all turned out. The circulation of heat within the drum was perfect for getting an even cook throughout the steak. I didn't have to worry about flipping or turning the beef during the cooking process, which is usually the case when hanging food.
Butter Me Up and Call Me a… Tomahawk!
Lastly, I pull the tomahawk off and let it rest for 10 minutes. Preheating a high heat fire is next on the to do list. Let's make that Spicy Herb Butter while we are at it. Melt all the ingredients for that butter in a basting skillet for only 1-2 minutes. No need to let it melt for too long as it will curdle the butter which is not what we want. Once the butter is done, we are going to sear these Hanging Tomahawk Steaks for 60-90 seconds per side while basting with half of the butter. Let them get a really good crust, then pull off and rest for 2 minutes while being topped with the rest of the butter. Slice right into these steaks and you are ready to eat.
You do not need to hang them if you cannot do that! They easily smoke normally for a classic reverse sear. This is a fantastic meal to pair with some lobster tails, shrimp or scallops for an epic surf and turf dinner. Cheers!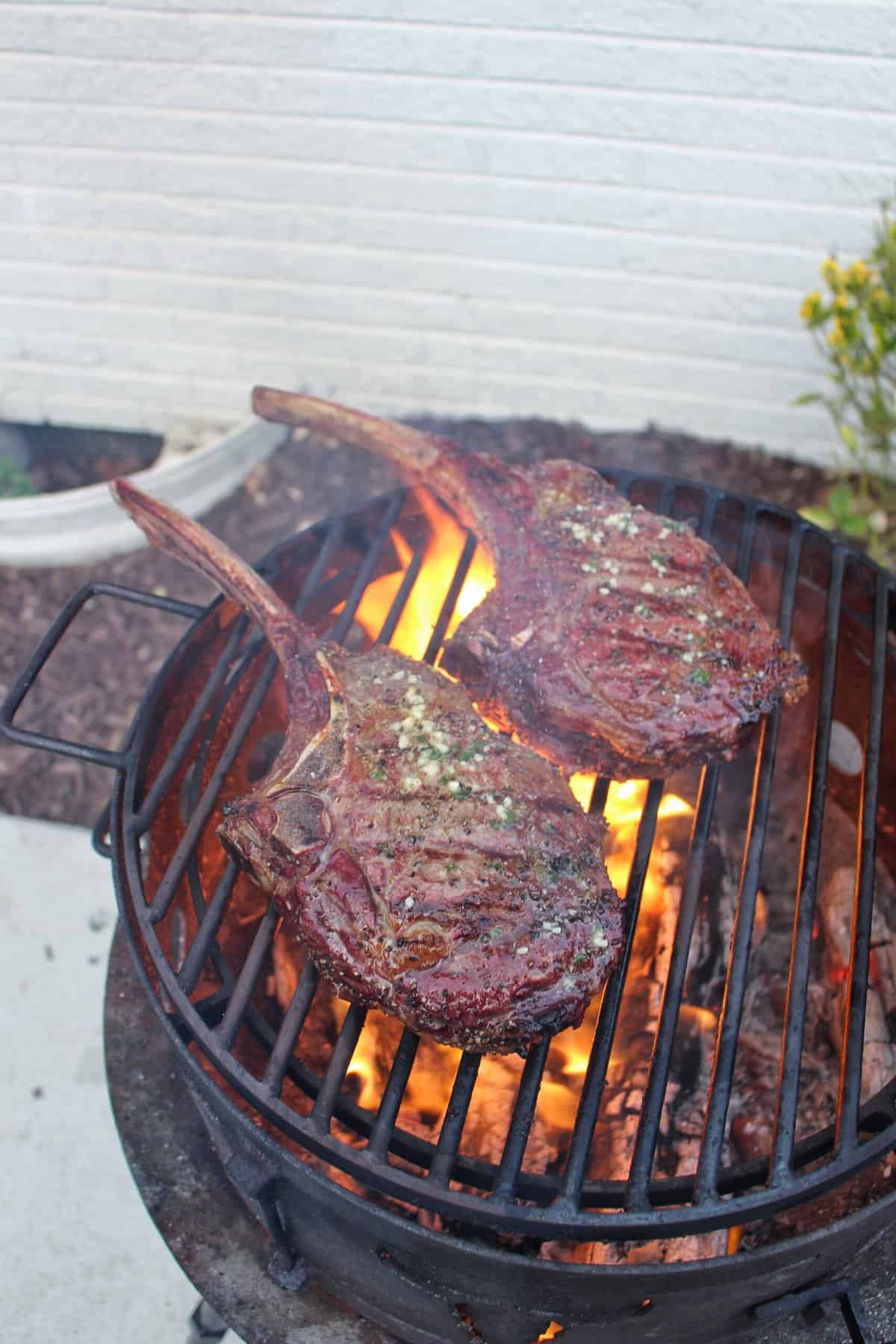 Hanging Tomahawk Steaks
Time to break out the powertools cause its time to do some Hanging Tomahawk Steaks in the smoker. Finish with a hot sear & butter FTW!
Ingredients
Steaks:
2

Tomahawk Ribeye Steaks

1.5

tbsp

of Sea Salt

1.5

tbsp

of Pepper
Spicy Herb Butter:
2

tbsp

of Butter

unsalted

2

tsp

of Parsley

chopped

2

tsp

of Minced Garlic

1.5

tsp

of Spicy Mustard
Instructions
(If hanging your tomahawks, start here) Using a 1/4" drill bit, drive a hole into the top part of the bone of your tomahawk steaks. Using some trussing string, wire or a butcher hook, truss the tomahawk so that it will hang nicely in your smoker about 1-2 inches away from the offset plate.

(Everyone else, start here) Lather your steaks with a little grapeseed oil or canola oil. Next, thoroughly season all sides with salt and black pepper. Don't be afraid to over-season as some of the seasoning will fall off during the cooking process.

Preheat your smoker to medium low temperature (around 250F). Add in your offset plate and set up your hanging device before closing the lid.

Add your tomahawk steaks to the smoker and cook for about 1-1.5 hours until the internal temperature is 120F for medium rare. Once done, pull the steaks off and let rest for 10-12 minutes.

As the steaks rest, preheat a grill to high heat (around 400F+). Add a basting skillet with all the ingredients for the spicy herb butter and let that melt (about 2 minutes). Once melted, pull off and set aside.

When the steaks are done resting, sear them directly over the hot fire for about 60-90 seconds per side. Baste each side with a little of the herb butter in order to give yourself an excellent crust. Once the steaks are seared, pull them off and drizzle the remaining butter over the steaks for serving. Slice and enjoy!