Did you know you can cook some amazing open fire desserts? That is right! Whether out in the wood or in your backyard, your sweet tooth can be satisfied with some of the most delicious desserts from the fire. Here are 10 open fire dessert ideas to get the ball rolling the next time you are cooking:
1. Dutch Oven Apple Pie
This American classic is easily done in as an open fire dessert. All you will need is a good size Dutch Oven and an awesome apple pie recipe, and you will have a dessert that will feed the whole family. I recommend freshly picked apples for the pie, and let it roast over the fire for about 2 hours to get a nice crispy crust!
2. Hanging Pineapples
The art of hanging pineapples over a fire is something I found around the world. You carve the outer layer of skin off the fruit, hang string from the base of the leaves, and roast it over the fire for an hour or two. This will caramelize the outside layer of the fruit and make it perfect to carve up and serve with vanilla ice cream!
3. Banana Fosters
Ever seen banana fosters cooked in a restaurant? The skillet is engulfed with flames and caramelizes the banana sauce. Well, lucky for you, this dish can be easily replicated as an open fire dessert! Grab your favorite skillet, bananas, and a few other ingredients to make this dish perfect. Just be careful as it is meant to catch fire for only a short second!
4. Dark Chocolate & Sea Salt S'Mores
There is nothing more delicious than a perfectly cooked s'more. However, could s'mores be more sophisticated as an open fire dessert? Try out a family favorite of mine by using dark chocolate, marshmallows and a pinch of sea salt. This is a great backpacking and camping dish as all the ingredients are light and easy to carry.
5. Baked Apples
Apples seem to be a huge open fire dessert, so why not bake them! In tin foil, place sliced apples, sugar, cinnamon and butter and let cook on top of some coals for about 20-30 minutes. This is an amazing RV camping dish as it can feed a lot of people and is easy to make.
6. Grilled Peaches
If you are like my wife, then fruit by itself is a perfect open fire dessert. Grill some peaches over the fire and eat them right after. Moreover, I like to sear some peaches over the fire then throw them into a skillet with brown sugar & spiced rum. This is an amazing dessert when having friends and family over for dinner!
7. Dutch Oven Cinnamon Rolls
Everybody craves a little sugar in the morning. All you will need to do to satisfy that open fire dessert craving is get a dutch oven and roast some cinnamon rolls in it! Make sure to butter up the bottom of the cast iron thoroughly so that they don't stick!
8. Nutella & Fruit on Coal Roasted Bread
Coal roasted bread with Nutella and fruit is one of my favorite open fire desserts. Grab some uncooked dough and kneed it till its like 1/4″ thick. Throw it on top of the coals for 1-2 minutes per side and then cover with Nutella and fruit. Find my detailed recipe here!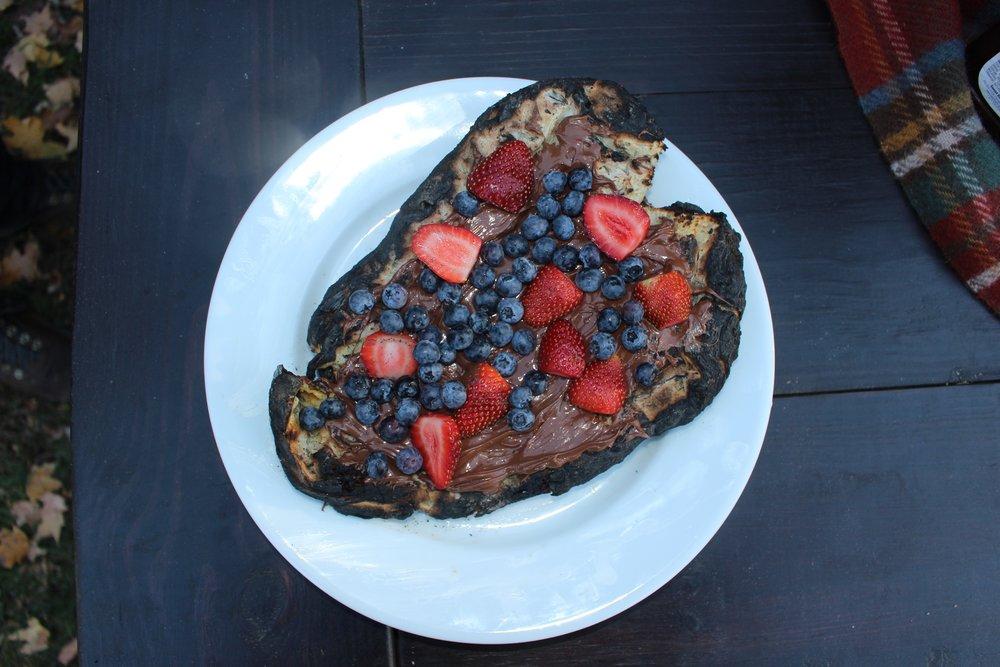 9. Cherry Turnover
A cherry turnover is a campfire dessert classic. Use two pieces of bread with cherry filling in the middle and place it on a cast iron turnover. Roast it over open fire and eat it like there is no tomorrow! Can't beat this amazing dessert.
10. Skillet Cookie & Ice Cream
We all love a delicious and gooey skillet cookie. Place some cookie dough into a small cast iron pan, cover it and let it cook over the fire for about 20-30 minutes. The skillet cookie gets a dollop of ice cream on top to send you to cookie heaven.
Time to Cook Open Fire Desserts!
As you can see, there are plenty of ideas to choose from when thinking about making open fire desserts. In the end, enjoy making them and be sure to use #overthefirecooking to show off your results!