Double the pork, double the flavor and double the fun! This Bacon Wrapped Honey Cajun Pork Tenderloin Recipe covers everything from sweet to savory to spicy. I fired up my Oklahoma Joe's Bronco and soaked up some spring sunshine while I cooked this tenderloin. It made for a great evening and an even better meal! Here's how it all went down!
Sponsored by Oklahoma Joe's
Bacon Wrapped Everything
Before the bacon, let's talk tenderloins. I started with two pork tenderloins, trimmed and silver skin removed. Then I covered each loan with a generous amount of cajun seasoning, using dijon mustard as my binder. Now, set the cajun pork tenderloins aside and pull out the bacon!
Bacon architecture… It's a real thing that we need to talk about for this recipe. More specifically, the bacon weave. Not only does a bacon weave provide structure and make wrapping the tenderloin easier, but it also gives you style points. Basically, it's a must for this Bacon Wrapped Honey Cajun Pork Tenderloin recipe!
Lay strips of bacon out to cover the length of one of your tenderloins. Then, add strips of bacon perpendicular to your first layer going over and under each original slice. Roll the tenderloin on top of the bacon once you've completed the bacon weave. Then, I secured the bacon to the tenderloin by tying it off with a trussing string every 1.5 – 2 inches.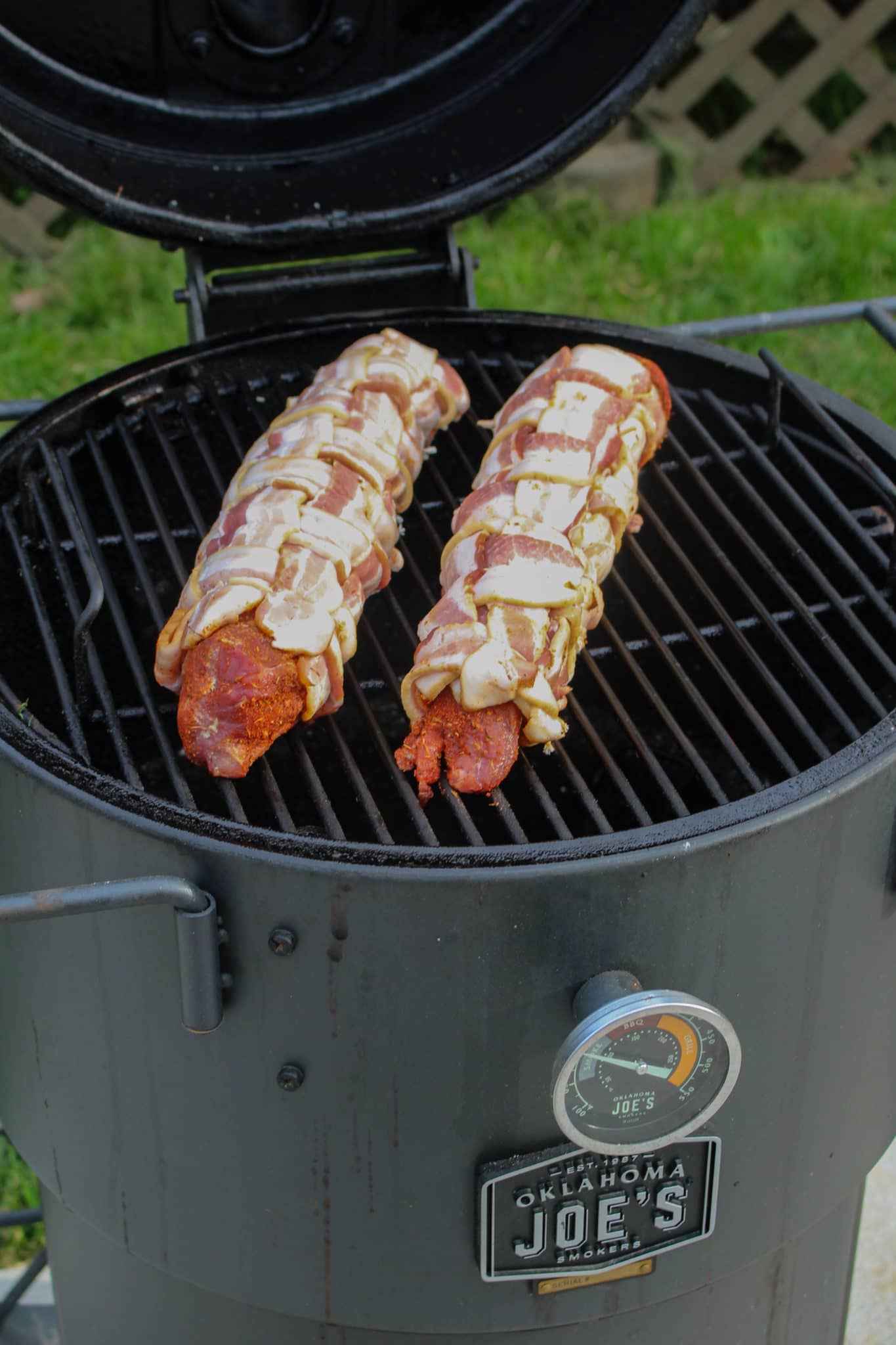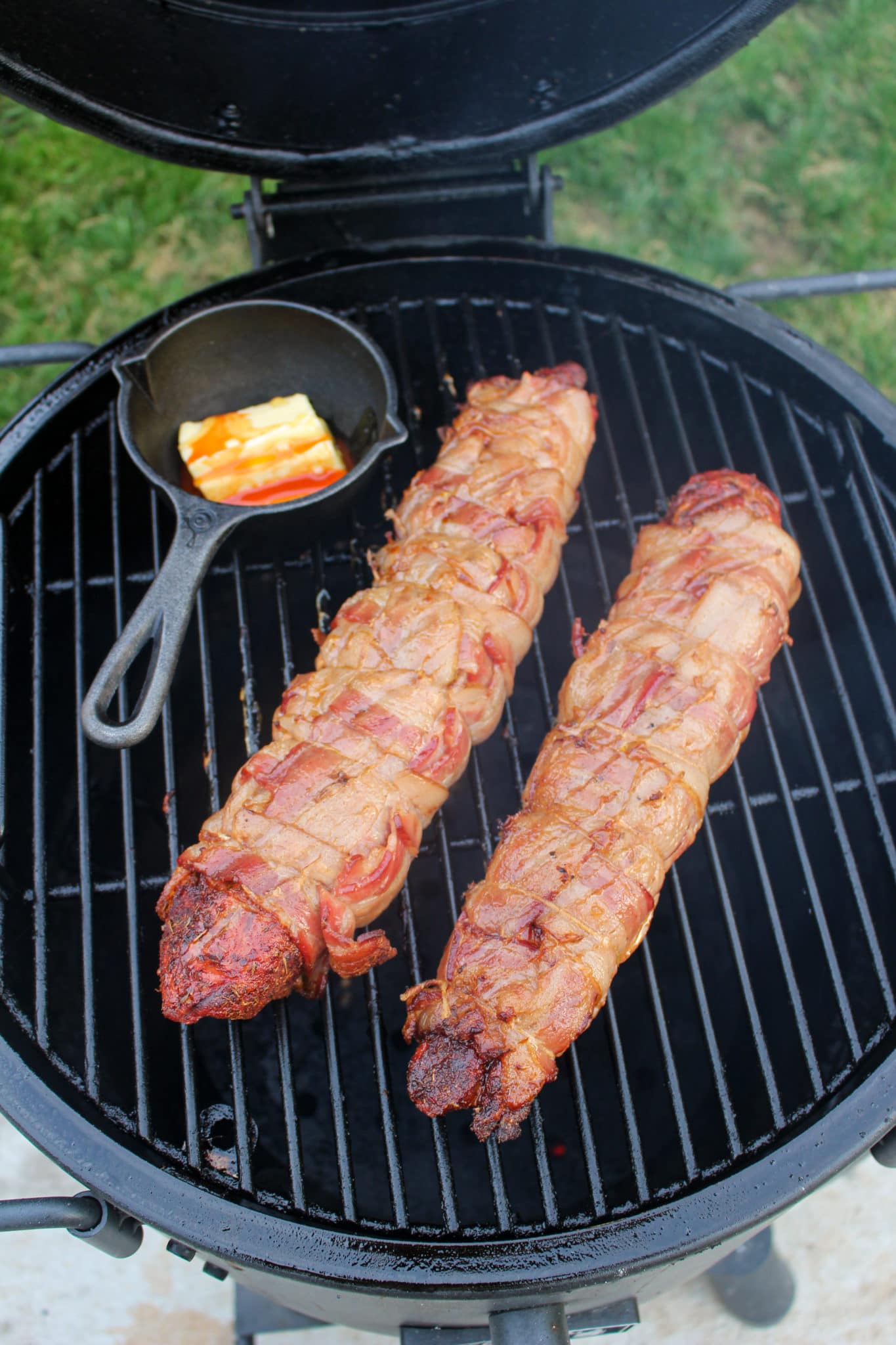 A Smoke and A Sear for Our Bacon Wrapped Honey Cajun Pork Tenderloins
Time to get these tenderloins on the smoker! I preheated my Oklahoma Joe's Bronco to 250 degrees Fahrenheit and then added the tenderloins. I cooked the cajun pork tenderloins for about two hours, letting them reach an internal temperature of 145 degrees Fahrenheit. Right before the tenderloins reached temperature, I made a honey glaze.
I bet you were wondering when the honey was going to come into play for this Bacon Wrapped HONEY Cajun Pork Tenderloin recipe. Well, here it is! In a small, cast iron sauce bowl I tossed in some butter, honey and a dash of hot sauce. Let this sauce melt and combine. Then, pull the sauce and the tenderloins from the grill.
A Crisp Bacon Wrap for Some Honey Cajun Pork Tenderloin
The key to taking this recipe to the next level all comes down to this. Above, I told you to pull the sauce and tenderloins from the smoker, but don't serve them yet! I set mine to the side and then quickly pulled the coal basket from the bottom of the smoker and set it directly under the grill grate. Now, add the bacon wrapped tenderloins back to the grill.
The purpose of this is to crisp up the bacon. Flip and rotate each tenderloin, allowing the bacon to crisp up on all sides. This is also when I based the bacon with our honey sauce. Remember, your pork is basically done cooking at this point, so we just want to crisp up the bacon and cover it with the honey sauce to finish it up.
When you're happy with the level of bacon crisp, pull the tenderloins from the smoker. Then, cut the trussing strings off the tenderloins and you're ready to eat! I sliced each tenderloin into 2 inch thick pieces and served it straight from my cutting board. Best enjoyed with friends and family. Cheers!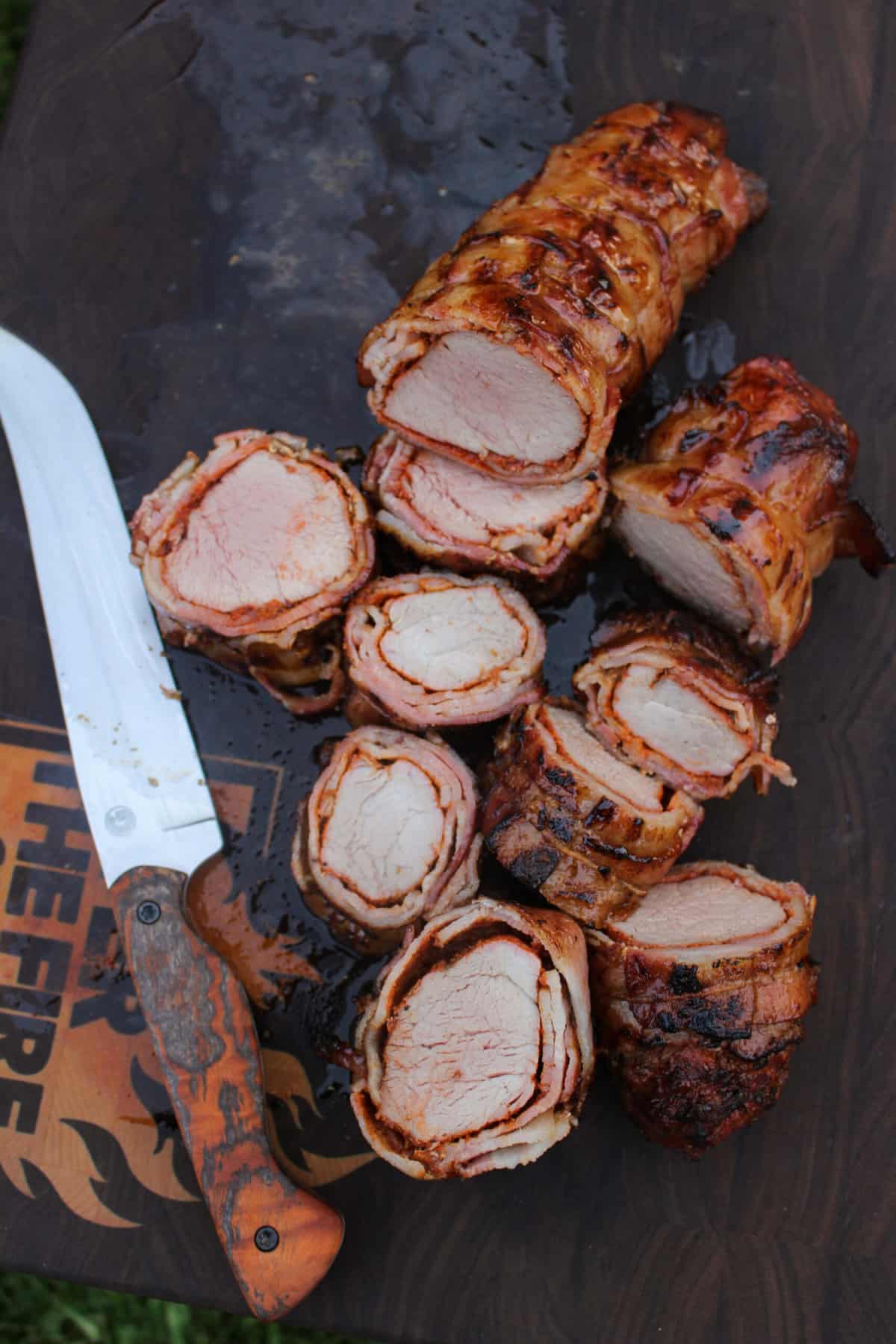 Bacon Wrapped Honey Cajun Pork Tenderloin
Ingredients
Pork & Bacon:
2

Whole Pork Tenderloins

3

lbs

of Bacon

sliced
Seasoning:
2.5

tbsp

of Cajun Seasoning

1.5

tbsp

of Dijon Mustard
Honey Glaze:
2

tbsp

of Honey

2

tbsp

of Butter

2

tsp

of Hot Sauce
Instructions
Trim your pork tenderloins of any silver skin, then begin to lather them down with dijon mustard. Season using your favorite Cajun style seasoning and set them aside.

Laying out 1-2 sheets of wax paper. Begin to make a bacon weave. Next, layer 7-8 bacon strips down parallel to each other. Next at the end of the bacon strips, weave a single bacon slice perpendicular to the other slices with every other slice laying on top and every other slice going underneath the strip. Continue this until you have a full weave that will cover your pork tenderloin.

Place your pork tenderloin at one end of the bacon weave, and by using the parchment roll begin to wrap the bacon in the weave. Make sure to only start with the parchment, and not continue as it will become intertwined in the weave. Once done, truss the bacon wrapped pork loin with butcher twine in order to keep everything in place while it is one the grill. Once trussed, set the pork loins in the fridge for 15 minutes.

Preheat your Oklahoma Joe's Bronco to 250F, and add cherry or hickory wood chunks/chips for additional smoke.

Place your pork tenderloin on the smoker to cook for about 2 hours or until it reaches 145F internal. Towards the end of the cook, add a basting skillet with the Honey Glaze ingredients to melt.

When the pork tenderloin is done, pull it off and let it rest for 5 minutes. Kick up the heat in your Bronco to 400F for direct cooking. Add the tenderloin back to the grill to cook for 30-45 seconds per side while being basted with the Honey Glaze. Once done, pull off.

When pork loin is done, slice and serve!