Alright guys, we're bringing it back home for this one. My good friend, Brad Prose (with Chiles and Smoke) came to Nashville for a long weekend. Naturally, getting hot chicken was a top priority along with showing him around town. The theme continued and together we cooked up this Hot Honey Chicken Asado Recipe. We spatchocked the chicken and secured it in a leaning basket to slow cook by the flames. Great food and great friends, can't get much better for that!
Hot Chicken Asado
If you didn't know already, hot chicken is a pretty big deal in Nashville. There are restaurants who solely focus on this dish, and subsequently make some pretty freaking good chicken. One of my favorites is Big Shake's, but Prince's and Hattie B's are also super popular (and great) places to get yourself some hot chicken if you're ever in Nashville.
Back at the house, we decided to make our own version of hot chicken. Not your typical fried hot chicken, but in true Over the Fire Cooking style we broke out the leaning basket for some asado style chicken. I've said it before and I'll say it again, a slow fire roast is one of the most delicious ways to cook a chicken. Period. The meat becomes so tender and don't even get me started on the juiciness because it's next level!
We started this recipe by spatchcocking a whole chicken. Spatchcock is just a term that refers to the removal of the backbone. Following the removal of the backbone, flip the chicken over and press on the chest cavity to completely flatten the chicken. This piece is important because it allows the chicken to cook faster and more evenly. Now, time to season up this bird. I used my very own Nashville Hot Chicken Seasoning, it brings just enough heat but isn't overpowering so you can still enjoy eating the chicken. If you don't have my seasoning, just replace it with your favorite spicy seasoning. Ones with paprika and cayenne would sub best for this recipe.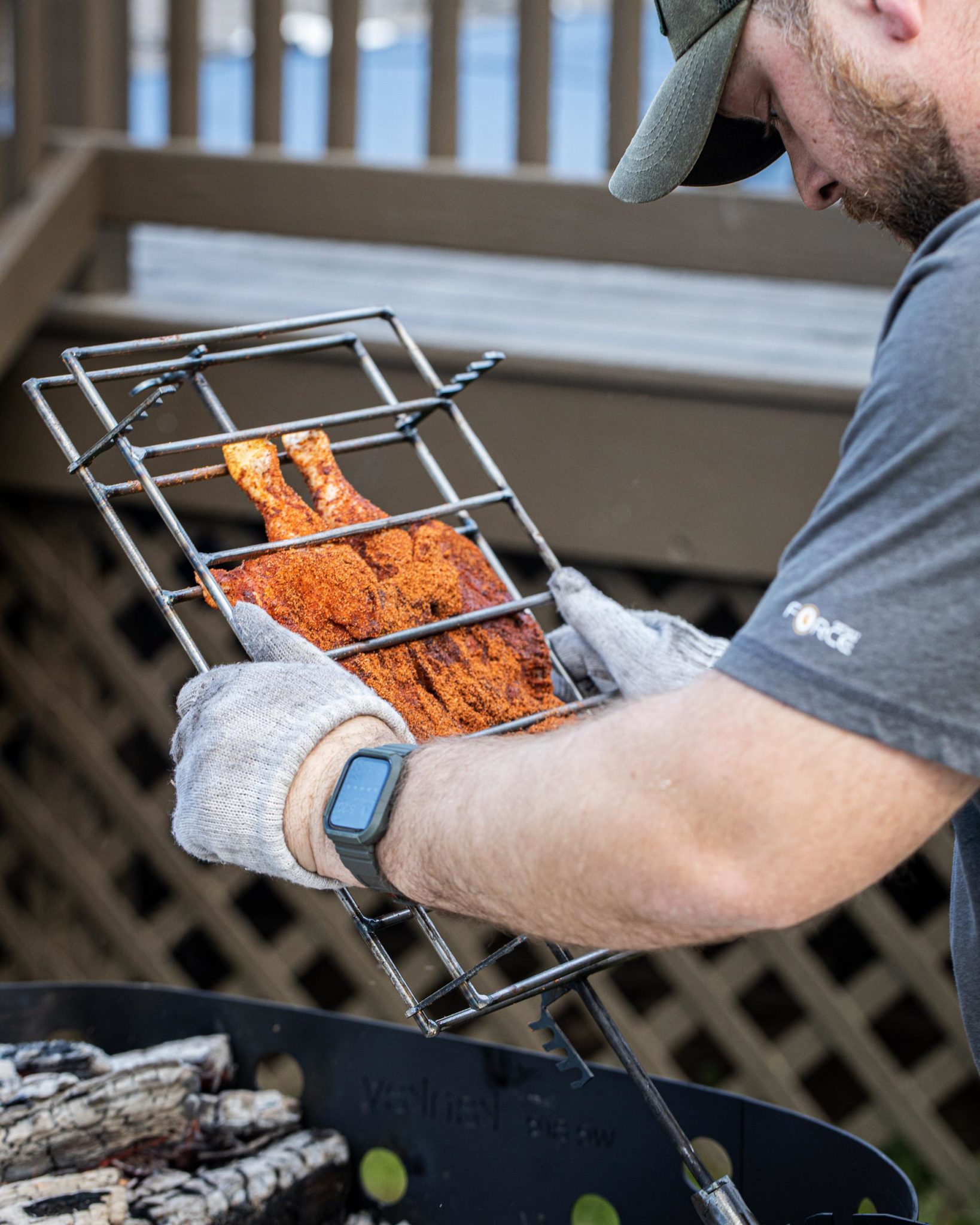 A Drizzle of Hot Honey
Time to break out the leaning basket and place the chicken inside. Securely close the basket and lean it next to some fiery hot coals. I like to scoop all the coals to one side of the grill and have the chicken on the other because it allows the chicken to cook from indirect heat. Indirect cooking slows down the cooking process, which gives the meat time to get all juicy and tenderize. Flip the chicken as needed to ensure it cooks to 165 degrees internally on all sides.
We made a honey baste for this Hot Honey Chicken Asado a few minutes before the chicken was done cooking. All you need to do is melt some butter and honey together. Next, use a basting brush to spread it across the chicken as it finishes cooking. Complete this process on both sides of the chicken. Then, pull the chicken from the fire and get it ready to serve.
Hot Honey Chicken, Asado Style
Serving this Hot Honey Chicken Asado is easy because all we did was remove it from the leaning basket and place it on a cutting board. Then, I drizzled the remaining butter/honey baste over the top of the chicken. Finally, tear into it! Best enjoyed with friends (like Brad) and family. Cheers!
For more delicious (and exclusive) recipes, check out my cookbook Food X Fire!
Needing more spice in your life? My spice line can help with that. Check them out here.
Full Length Recipe Video on YouTube!
Hot Honey Chicken Asado
Hot Honey Chicken Asado for some Nashville vibes done Over the Fire Cooking style! Great food and great friends, can't get much better for that.
Ingredients
Chicken:
1

Whole Spatchcock Chicken

1

tbsp

of Canola Oil
Honey Butter:
2

tbsp

of Butter

2.5

tbsp

of Honey
Instructions
To spatchcock your chicken, use a very sharp knife. Begin by flipping the chicken over so that the backbone is facing you. Starting at the top near the neck, carefully cut one side of the backbone out while not harming the breast on the other side. Once one side is free, begin slicing the opposite side of the backbone out until it is completely free. Set the backbone aside to use for stock later. Flip the chicken over and spread out so that it starts to lay flat. Press firmly down on the chicken breast until you feel a snap. The chicken should lay completely flat and be spatchcocked.

Place the chicken into a bowl or food safe container. Lather your chicken with canola oil then thoroughly season with the Nashville Hot Chicken seasoning or similar. Place the chicken in the fridge for at least 1 hour to let rest.

Preheat your grill to a medium high temperature (around 350F) for direct cooking with the grill grate about 4-6 inches from the coals. Make sure to oil your grates thoroughly. Also, make sure to have a cool side of the grill in order to let your chicken cook slowly. If you have a leaning basket or just a grill, the cooking method is basically the same.

Pull your chicken out of the fridge to come to temp for 10 minutes. With the coals having no flames, add your chicken breast side down to cook for about 15-20 minutes per side or until it reaches 165F internal. If it begins to burn, push coals away from it or move the chicken to the cool side of the grill.

When the chicken is close to being done, melt the honey butter and begin basting the chicken all over. Leave a little honey butter for the end. Once the chicken is done, pull it off and let it rest for 5 minutes. Add more honey butter and enjoy!
Nutrition
Calories:
530
kcal
|
Carbohydrates:
11
g
|
Protein:
36
g
|
Fat:
38
g
|
Saturated Fat:
12
g
|
Polyunsaturated Fat:
7
g
|
Monounsaturated Fat:
16
g
|
Trans Fat:
1
g
|
Cholesterol:
158
mg
|
Sodium:
184
mg
|
Potassium:
368
mg
|
Fiber:
1
g
|
Sugar:
11
g
|
Vitamin A:
442
IU
|
Vitamin C:
3
mg
|
Calcium:
23
mg
|
Iron:
2
mg