Baked Lamb Empanadas with a whipped feta dipping sauce are out of this world! This was another recipe that simply didn't make it inside because my wife and I ate it so quickly. Fresh American Ground Lamb was the foundation piece of this whole recipe. I seasoned and cooked it before adding it to an empanada disk and setting it in the oven for it's final bake. Enjoy them solo or with the feta dip. Either way, you won't be disappointed.
Post sponsored by the American Lamb Board
@fanoflamb has teamed up with @outdoorsy for a contest giving you the chance to win a $2,000 credit for a dream trip, or a few weekend getaways! Enter here!
Why You Need Baked Lamb Empanadas
If you've never had the chance to enjoy the meat pocket that is an empanada, take this as your sign to give it a try! This style of cooking originates in Spain. Today, you can find a variety of different types and flavor combinations. This ranges from seafood to beef, pork, lamb, etc. They're often paired with things like olives or raisins to further enhance their flavors.
Today, we're using lamb. We all know that the best recipes are made even better by using the best ingredients. That's why I used American Lamb for this Baked Lamb Empanadas recipe. It's always fresh and has the best flavor for the final product. I picked up some at our local grocer and headed home to get things started. The lamb is the star of this recipe, so make sure you get the good kind!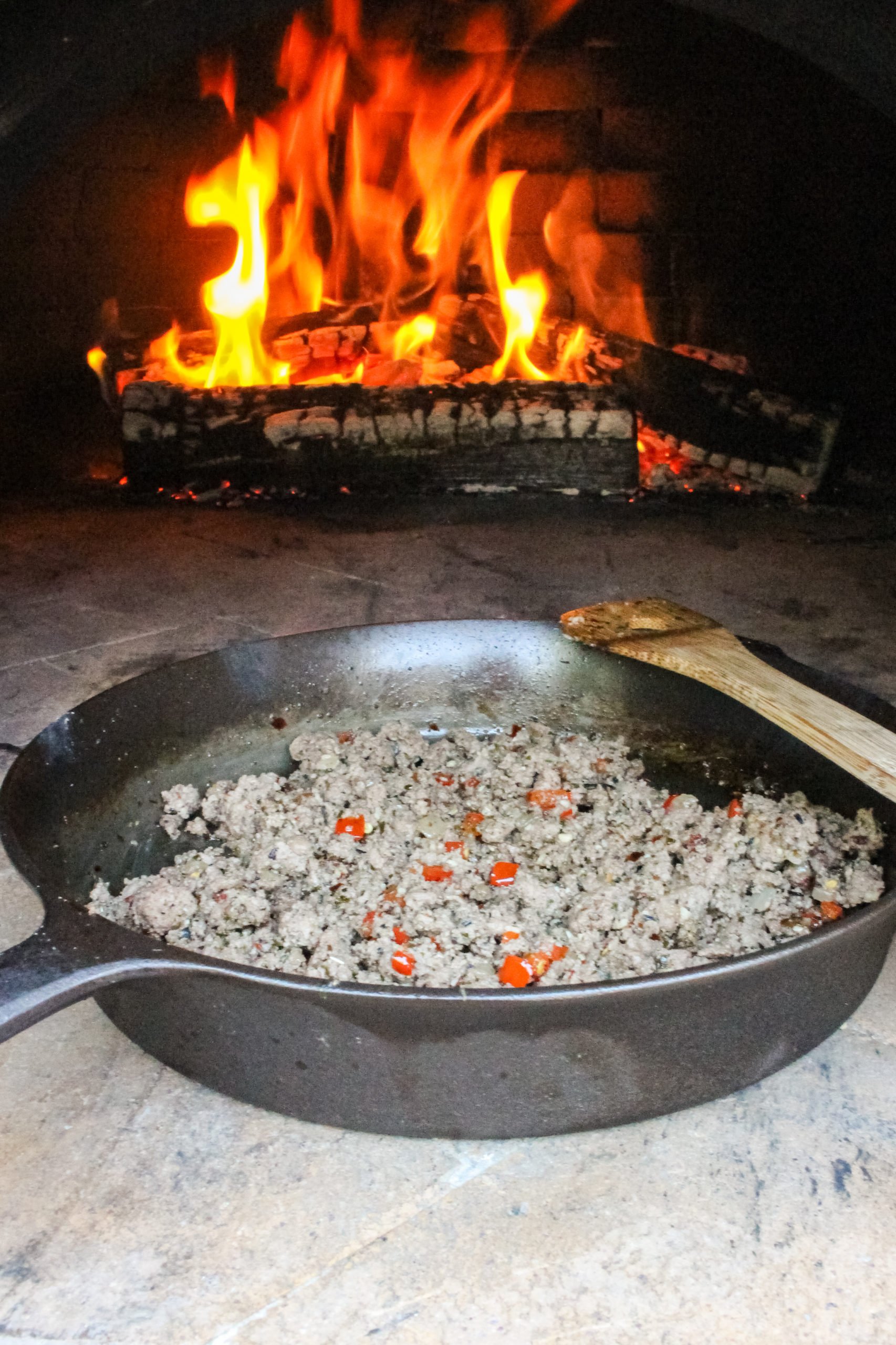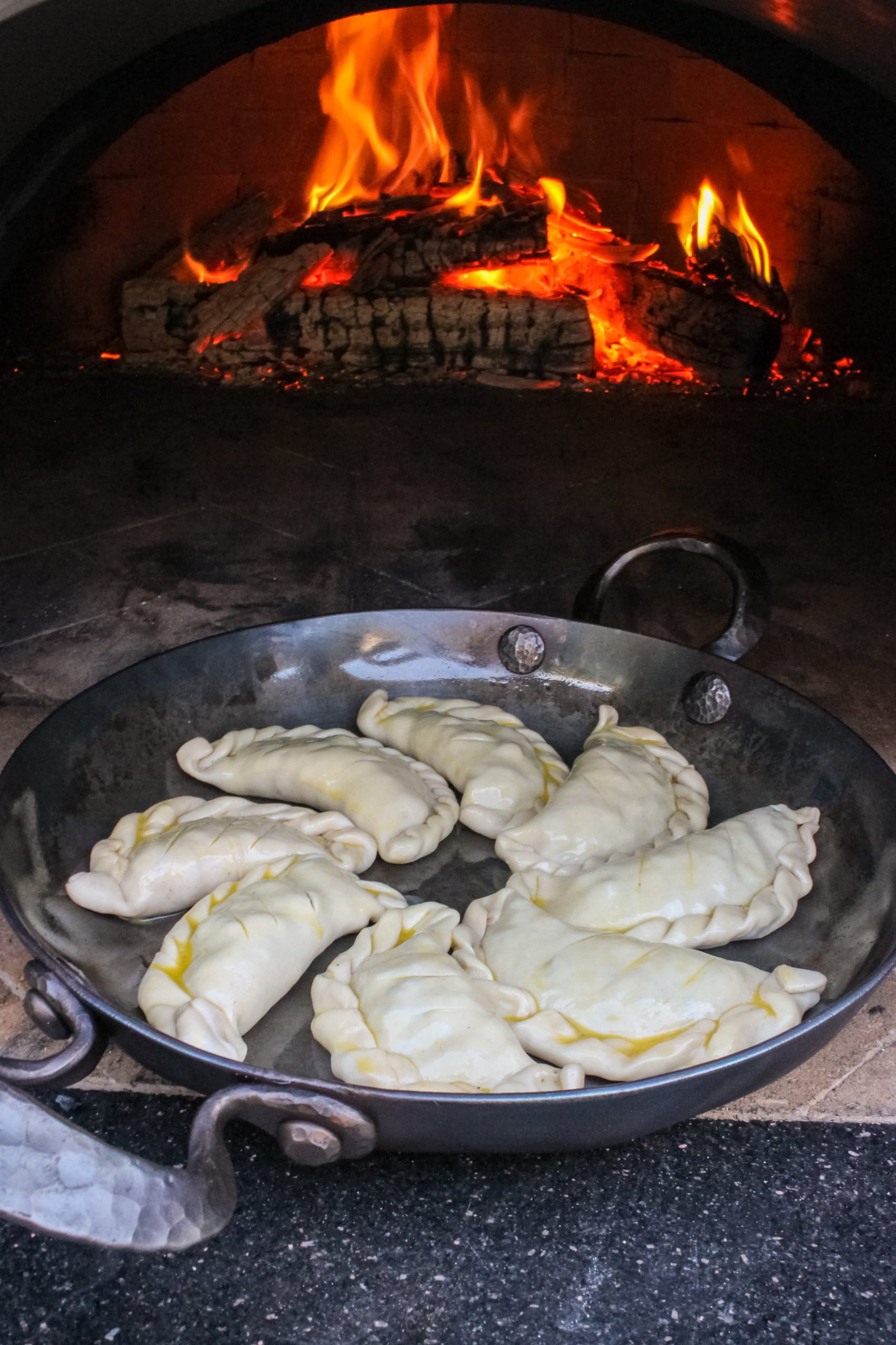 Start with Baked Lamb
There are a couple items for this Baked Lamb Empanadas recipe that we'll want to tend to before actually getting to the lamb. The first? Starting your fire. Our wood fire oven takes a while to heat up, so it's best to get it going before we start preparing the meat. I started the fire and then went back inside to work on the whipped feta dip, which is our second "to do" item before moving on to the lamb.
Y'all, this whipped feta is incredible! Lamb is bold in flavor, and when I cook lamb I tend to make it spicy. I don't know why, I just like lamb that's on the spicier side. With that, it's nice to have this dipping sauce to balance out these Baked Lamb Empanadas.
This sauce is also bold in flavor. The sour cream and mayonnaise base help cool some of the spiciness of the lamb, while the honey brings some sweetness. However, it's called whipped feta for a reason, and that's because the feta cheese is what shines through to me. Which is exactly what we want!

Time to Cook
Place the whipped feta dip into the fridge to chill. Now, we'll move onto the actual Baked Lamb Empanadas. Start by cooking your chopped onions and red bell peppers in a cast iron skillet. Then add the garlic and let it brown for a bit. Then it's time to add in the ground lamb, lamb seasonings and a bit of red wine vinegar. From here, mix and cook the lamb until it's broken up and cooked through.
Remove the lamb from the oven as it finishes cooking. Then, take it over to your empanada assembly station. Next, use a spoon to fill an empanada disk with the ground lamb, fold the disk in half and crimp the edges together. I need to work on my crimping, it can be a slow process for me but I've seen some who knock it part out of the park! Does that mean I'm crimping their style?! Okay, bad joke. Let's move onto the next step.
Place all the empanadas back into a skillet and make three small cuts across the top of each empanada. Then, I brushed an egg wash across the top of each lamb empanada. This will help us achieve that beautiful, golden brown color as the empanadas cook. Alright, back out to the fire.
Baked Lamb Empanadas All Day Every Day
We'll put the lamb empanadas back into the wood fire oven for their final bake. Once the pastry dough is cooked and the tops of the empanadas are golden brown, pull them from the oven. I placed the empanadas on a serving dish along with a bowl of the whipped feta sauce that was garnished with a bit of parsley. That's it! These make for a great meal while camping too! Just make them up, freeze them and bake at the campsite. Even better, try them at home in your oven or grill using the same temperature if you don't have a wood fired oven. Now, time to enjoy with your friends and family. Cheers!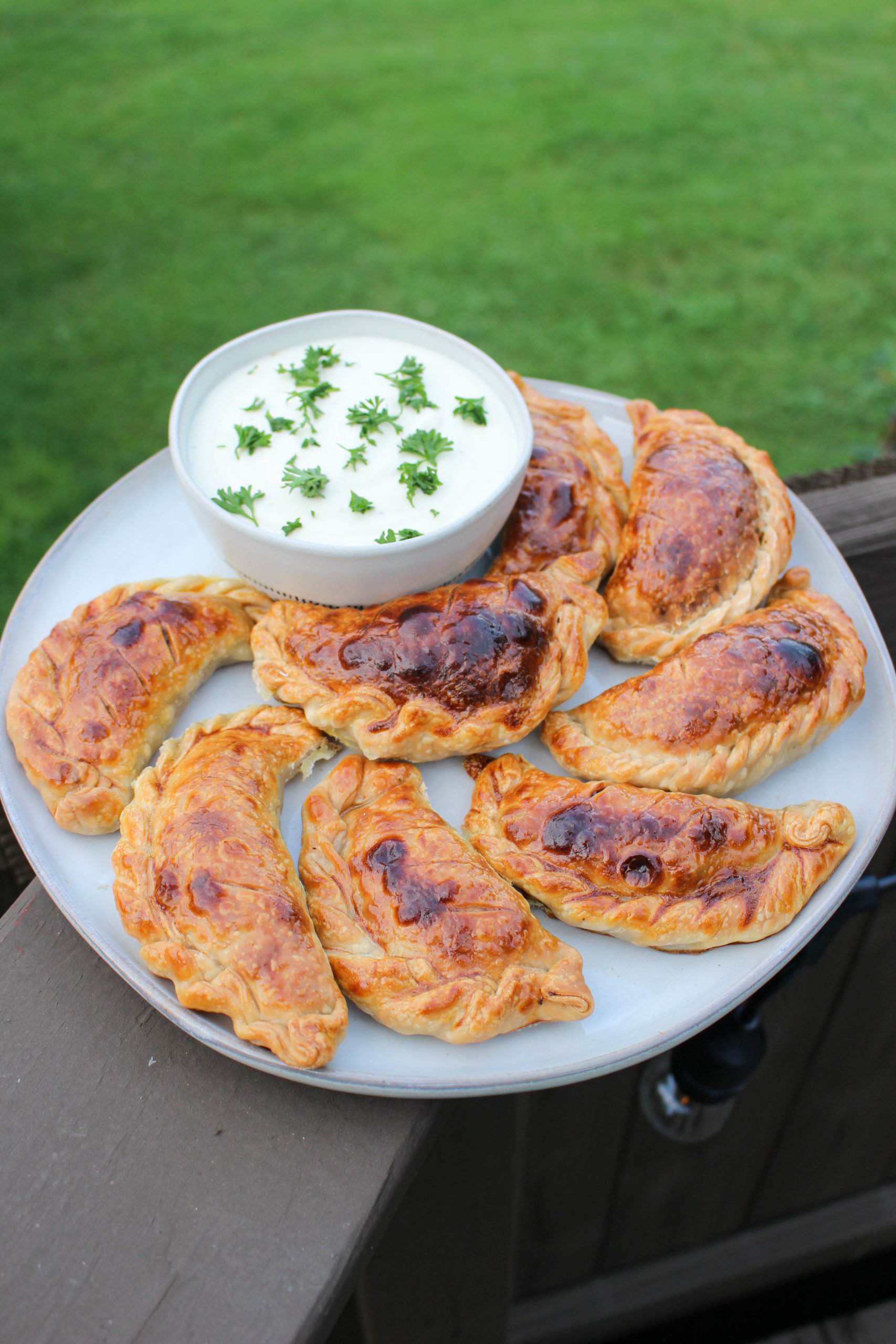 Baked Lamb Empanadas
Incredible Baked Lamb Empanadas recipe with a whipped feta dip. Enjoy them solo or with the feta dip, you won't be disappointed either way.
Ingredients
Lamb:
1

lb

of Ground American Lamb

¼

cup

of Diced Yellow Onions

¼

cup

of Diced Red Bell Peppers

2

tbsp

of Red Wine Vinegar

1.5

tbsp

of Minced Garlic

1

tsp

of Dried Parsley

1

tsp

of Dried Oregano

1

tsp

of Black Pepper

1

tsp

of Kosher Salt

½

tsp

of Red Chili Flakes
Empanada Filling:
Empanada Discs

1

Egg

whipped for wash
Whipped Feta Dip:
¼

cup

of Sour Cream

⅛

cup

of Feta Cheese

crumbled

2

tbsp

of Mayonnaise

1.5

tbsp

of Minced Garlic

¾

tbsp

of Honey

1.5

tsp

of Olive Oil

1

tsp

of Kosher Salt

1

Lemon

juiced

2

tsp

of Parsley

chopped for garnish
Instructions
In a food processor, add all the ingredients for the whipped feta dip. Blend until smooth, pour into a bowl and set in the fridge until ready to use.

Preheat your wood fired oven for indirect cooking at 400F.

Add a cast iron skillet to the oven for 2 minutes to preheat. Add a little canola oil to the skillet along with the diced onions and let brown for 2 minutes. Next, add the red bell peppers and garlic to brown for another 2 minutes. Finally add the ground lamb, parsley, oregano, pepper, salt, red chili flakes and red wine vinegar. Cook until the water is gone from the ground meat. Once done pull the meat out of the skillet, place into a bowl and add the bowl to the freezer for 10 minutes to chill.

Once the meat is completely cold (but not frozen), begin making your empanadas. Grab the empanada disc and place a spoonful of the ground lamb in the center. Next you will either begin to crimp the sides of the empanada to seal or you can seal it using the edge of a fork. Either way will work just fine. Once all the empanadas are sealed, score the top side with 3 slits and place them into a greased cast iron skillet. Brush some whipped egg over the top of each empanada and set aside.

Get your wood fired oven to 350F. Place the empanadas into the oven and cook for about 20 minutes until the pastry is fully cooked and golden brown on top. Make sure to rotate your skillet in order to let the pastries cook evenly. Once the empanadas are done, pull them off and let cool for 5 minutes.

Serve with the whipped feta on the side and enjoy!