Smoked Lobster Tails with Spicy Garlic Butter for all you garlic lovers out there. Don't worry, I am one of them too. If you haven't heard Jim Gaffigan's bit on seafood, let this be your sign to listen to it. We're playing right into his jokes with this Spicy Garlic Butter Sauce, but honestly it's so good that I'm fine with it.
Smoked Lobster Tails with Spicy Garlic Butter Prep Work
We kick this Smoked Lobster Tails with Spicy Garlic Butter recipe off by prepping the lobster tails. First, take one of the tails and use scissors to make one long cut down the middle of the shell. Then, flip the lobster tail over and use your thumbs to firmly press down the center of the underbelly. This will create somewhat of a cracking sound and will make it easier to open the tail shell and pull the meat out. Now, flip the tail back over and use a spoon to separate the meat from the sides of the shell. Then, carefully pull the lobster tail meat from the inside of the shell and lay it on top of the shell. Do not completely detach the meat from the shell, instead leave a small portion of the back portion attached.
Now that all your lobster tails are prepped, we can start the seasoning process. I like to first make a few shallow cuts that run along the length of the lobster tail meat. This helps open them up a bit and creates more surface area to hold the seasoning. Next, brush a bit of oil across the top of each lobster tail and then grab your seasoning. I decided to build these Smoked Lobster Tails with Spicy Garlic Butter on top of a foundation of Spiceology's Seafood Seasoning blend. This all purpose seasoning goes amazingly on any seafood and provides the perfect amount of flavor without overpowering our upcoming spicy garlic butter. Sprinkle a generous amount of this seasoning across each lobster tails and then head out to your smoker!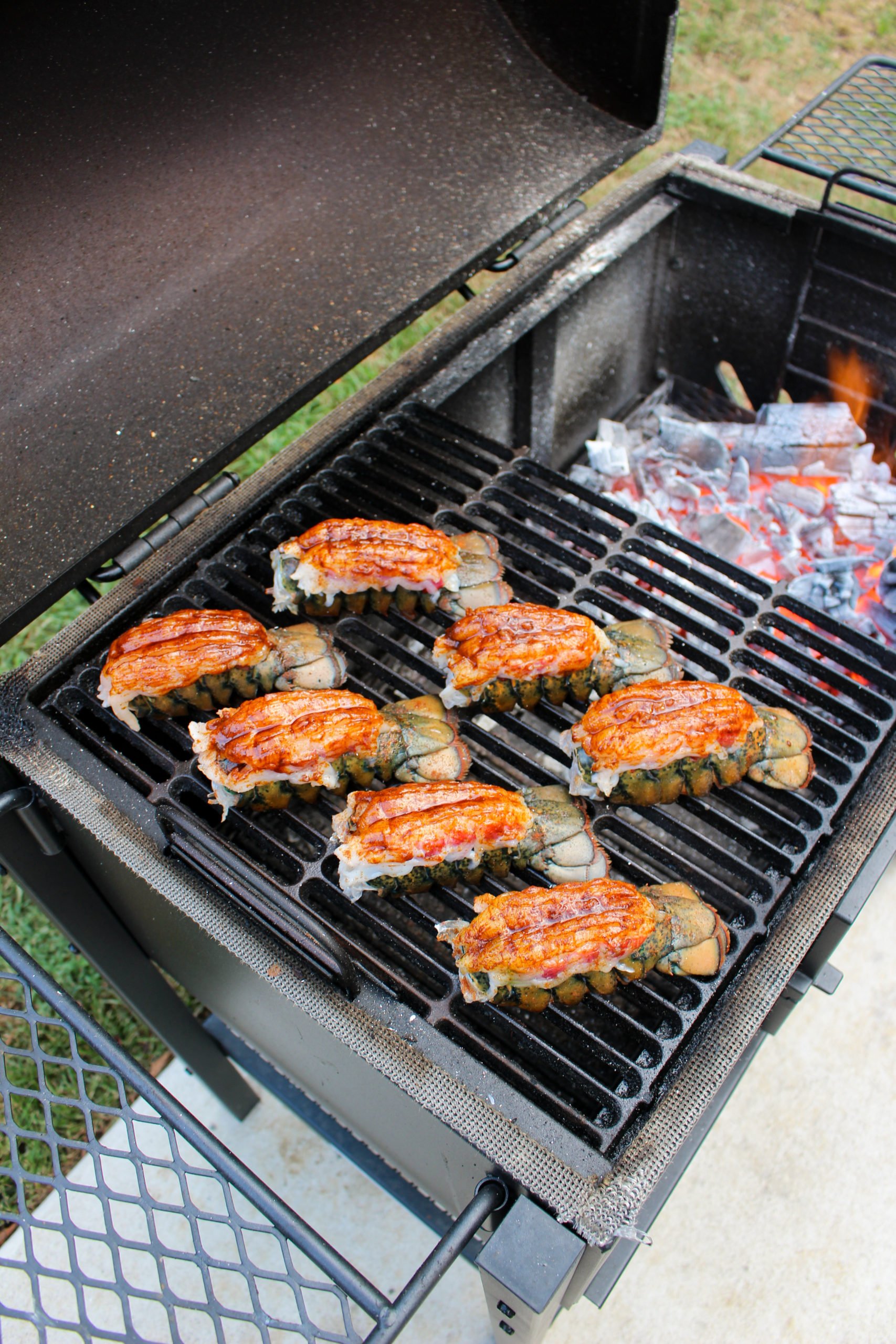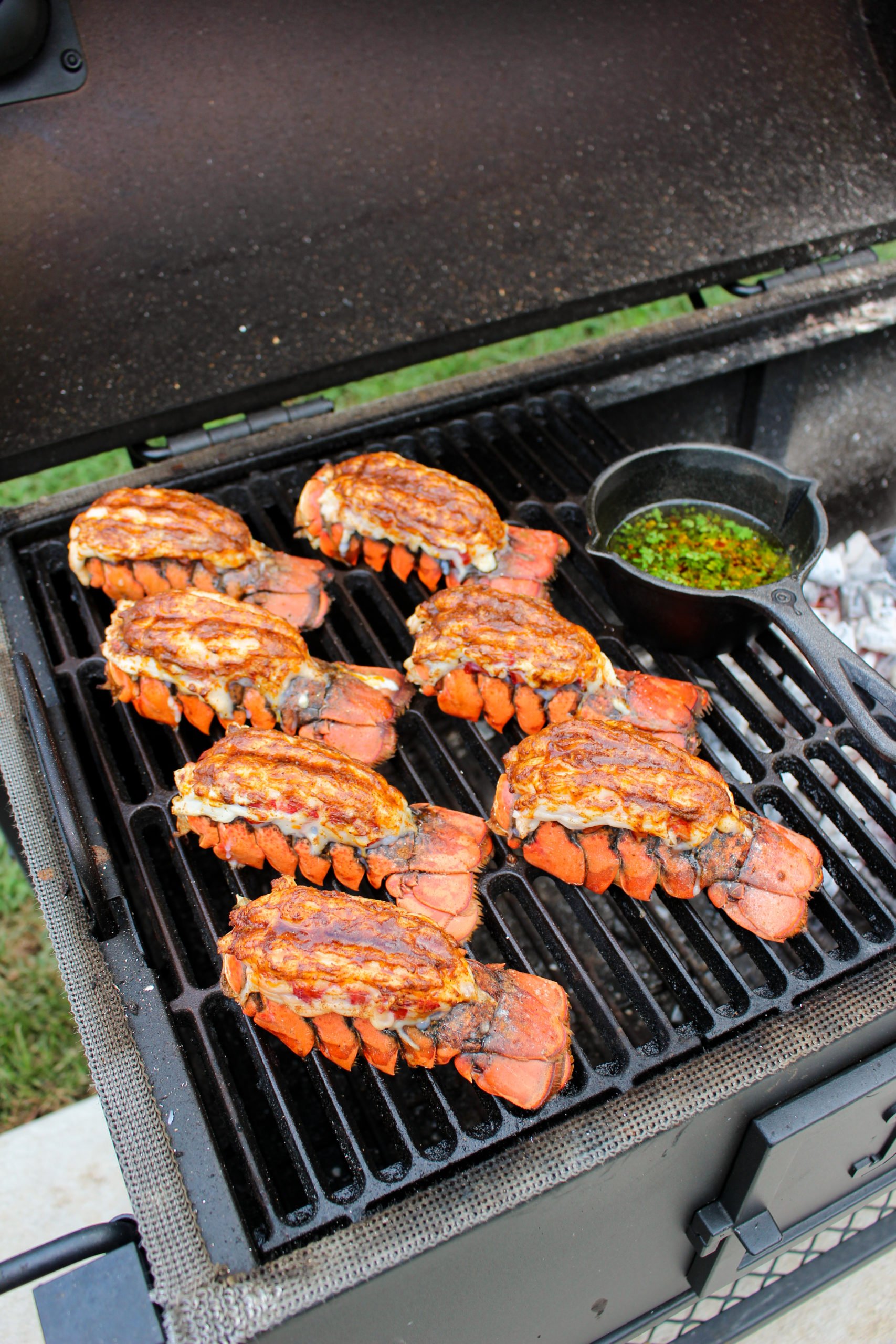 Smoking our Smoked Lobster Tails with Spicy Garlic Butter
Place each lobster tail on your preheated smoker. I love using this indirect style of cooking on seafood because it still makes for a relatively quick cook, while also achieving that delicious smoky flavor! I only had to cook these smoked lobster tails for 15-20 minutes. You'll know they're done when they are no longer translucent in color and have reached an internal temperature of 145 degrees Fahrenheit.
We need to start work on our spicy garlic butter pretty quickly after placing the lobster tails on the smoker. It's simple to make and only requires placing all the ingredients into a cast iron sauce bowl. You might have noticed that I used clarified butter for this recipe, also referred to as ghee. Clarified butter is basically butter that has been stripped of its dairy. It leaves you with a clean, nutty and buttery flavor that's super delicious. It also increases the smoke point of the butter, which is great when it comes to cooking over the fire!
Did you notice the habanero sauce in the spicy garlic butter sauce ingredients? I didn't highlight that above, but just wanted you to know I didn't forget the spice for this spicy garlic butter! You can add more or less of this sauce depending on how spicy you like to keep your life… and/or your dinners.


Smoked Lobster Tails with Spicy Garlic Butter Are Served
Let the spicy garlic butter melt and fuse together. Once that process has finished, add a spoonful of that spicy garlic butter to each smoked lobster tail. You can let the lobster finish cooking for a minute or so and then pull them from the smoker and place them on a serving dish. I also poured the remaining spicy garlic butter into a dipping dish. Place that on the serving platter as well. Time to eat! Best enjoyed with friends and family! Cheers!
Smoked Lobster Tails with Spicy Garlic Butter
Ingredients
Lobster:
6

Lobster Tails

butterflied

2

tbsp

of Seafood Seasoning

1

tbsp

of Canola Oil
Spicy Garlic Butter:
½

cup

of Clarified Butter

1

tbsp

of Minced Garlic

1

tbsp

of Chopped Parsley

1

tsp

of Mustard Grains

1

tsp

of Habanero Hot Sauce

½

tsp

of Red Chili Flakes
Instructions
Using kitchen shears, cut in the middle of the top of the lobster shell all the way down to the tail. Try to avoid cutting the meat. Once fully cut, use a spoon to go underneath the top of the shell to separate the meat from the shell. Carefully lift the meat up and out from the shell (while still attached at the base of the tail). Lay the meat on top of the shell. Using a knife, make shallow slits lengthwise down the meat. Repeat this for all the lobster tails.

Lather your lobster tails with oil and then season them with your favorite seafood seasoning. Set aside until ready to use.

Preheat your smoker to a medium-high temperature of 375F. Feel free to add wood chips or chunks for additional smoke flavor.

Once the smoker is ready, add the lobster tails on and cook indirectly for 10-12 minutes. The lobster tails are done when they turn from translucent to completely white (or the internal temperature is 145F).

About 10 minutes before the lobster tails are finished cooking, add your basting skillet to the smoker. Melt your clarified butter in the skillet then slowly integrate the rest of the Spicy Garlic Butter ingredients. Mix together thoroughly, then lightly glaze the outside of the lobster tails before they come off the smoker. Save some butter for dipping at the end!

When the lobster tails are done, pull them off and let them cool for 2 minutes. Pour the leftover butter sauce into a dipping bowl. Serve and enjoy!
Nutrition
Calories:
312
kcal
|
Carbohydrates:
2
g
|
Protein:
16
g
|
Fat:
27
g
|
Saturated Fat:
14
g
|
Polyunsaturated Fat:
2
g
|
Monounsaturated Fat:
9
g
|
Trans Fat:
0.03
g
|
Cholesterol:
178
mg
|
Sodium:
448
mg
|
Potassium:
225
mg
|
Fiber:
0.4
g
|
Sugar:
0.1
g
|
Vitamin A:
217
IU
|
Vitamin C:
3
mg
|
Calcium:
106
mg
|
Iron:
1
mg