Ever been to a carnival? Imagine you have cotton candy in one hand and a massive turkey leg in the other? That turkey leg is delicious, smoky, sweet and tangy. If you are like me then you are double fisting two turkey legs instead… So why not make this BBQ Turkey Leg for Thanksgiving? Well, I am here to help. Try out my new BBQ Turkey Legs recipe below. Make sure to read my tips before cooking: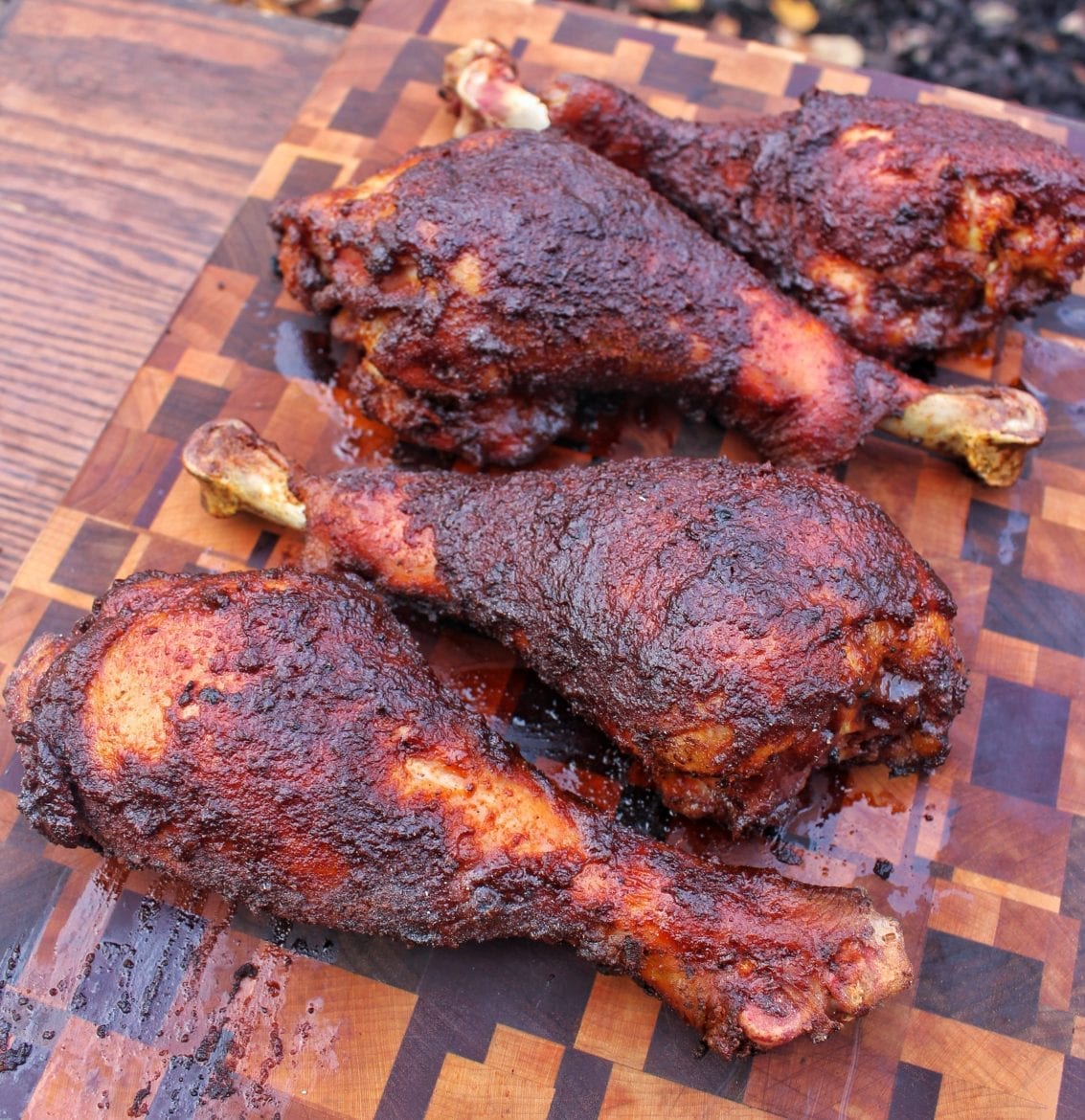 DO I NEED TO BRINE THE TURKEY LEGS?
While the BBQ Turkey Legs take only 2.5-3 hours to cook, the biggest part of the process is the brining. I recommend at least 4 hours of brining the meat, but if you can do 12 hours or more then that is best. Overall, brining will flavor the meat throughout while helping it cook evenly. Don't miss this step or you will be missing out on flavor!
WHAT TEMPERATURE SHOULD I COOK AT?
Keeping your grill at a constant 250-275F is my recommendation. You can definitely smoke it at 225F, but I like a little more caramelization on the meat. I also highly recommend using the PitBarrel smoker for this cook. Not only does is enhance the smoky flavor of the BBQ Turkey Legs, but it is able to keep a steady and consistent temperature for cooking the turkey legs. Definitely a must have grill for the holidays.
WHAT IS THE SECRET TO THIS RECIPE?
The secret is the BBQ sauce and high quality charcoal/wood chips. I like the tanginess of the Cowboy Range Style BBQ sauce on these BBQ Turkey Legs. However, try any type of sauce that you prefer! Another key is having high quality lump charcoal and wood chips. I added some pecan wood chips to help keep the flavor sweet. Lump charcoal, like Cowboy, will make sure you have consistent heat without overpowering smokiness.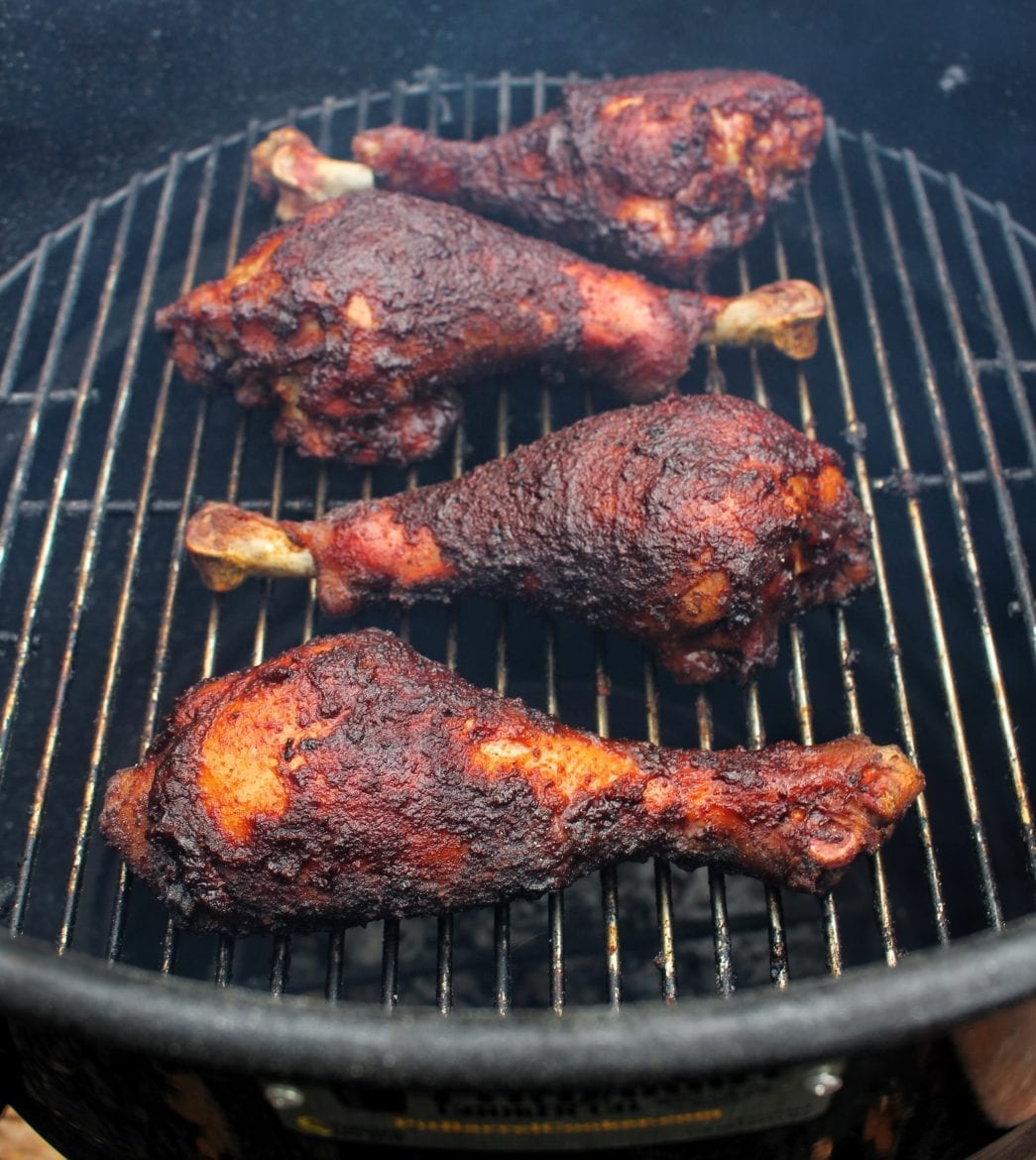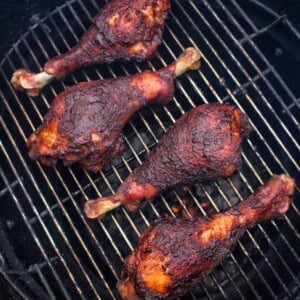 BBQ Turkey Legs
Smoked up some delicious and sweet BBQ Turkey legs with this recipe! Try it for Thanksgiving!
Ingredients
Turkey Ingredients
4

whole turkey legs

3

tbsp

of onion powder

3

tbsp

of garlic powder

3

tbsp

of paprika

2

tbsp

of black pepper

2

tbsp

of cumin

2

tsp

of cayenne powder

1

cup

of Range Style BBQ Sauce

Olive Oil
Brine Ingredients
1

gallon

of water

1

cup

of kosher salt

1/2

cup

of brown sugar

2

tbsp

of garlic powder

2

tbsp

of onion powder

2

tbsp

of peppercorns

1

tbsp

of paprika
Instructions
In a large pot, combine all brine ingredients and let boil. Once boiling, cool down to room temperature. Rinse turkey legs and submerge in the cooled down brine. Add ice if needed. Let turkey brine from 4-24 hours.

When the legs are ready, pull out of brine and discard brine. Rinse and pat turkey legs dry. Lather with olive oil and season with onion powder, garlic powder, paprika, black pepper, cayenne powder and cumin.

In your smoker (I prefer my Pitbarrel), create fire using Cowboy Charcoal and Western Wood Chips. Bring up to a steady 250F. Add turkey legs to smoker and let cook for 2.5-3 hours or until internal temperature is 175F. When close to finished, pull turkey legs off and lather with Range Style BBQ Sauce. Place back on smoker for 10 minutes to carmelize.

Pull turkey legs off smoker, let rest for 10 minutes and enjoy!
This article does contain affiliate links to products that we personally use and support. Purchasing an affiliate product does make us a small commission at no cost to you. This helps us continue creating for our website. All words and opinions are our own, and we appreciate your support!