Turkey season is here! I'm not talking about hunting turkey, I'm talking about cooking turkey for the infamous Thanksgiving dinner. Have you ever tried Grilled Spatchcock Turkey? If not, let this be your sign that it's time to give it a try!
I love spatchocking turkey because it actually makes it easier to get the most tender, juicy turkey. Plus, you can still get epic, full bird shots if you're looking to make your Thanksgiving table perfect and picturesque.
That is why I have created my new Honey BBQ Spatchcock Turkey recipe. What is spatchcocking a turkey, you may ask?
The spatchcock method is when you use kitchen shears or a sharp knife to make cuts alongside the backbone of the bird and remove it completely. Then, you flip the bird so it's breast side up. Finally, you press down on the breastbone to flatten the bird so you can create a more even grilling surface. You will get juicier meat in less time!
Plus, if you get this Weber iGrill 2, then your grilling process just got that much easier! It tracks the internal temp of the bird as it cooks and alerts you once it hits the desired internal temp! Talk about easy breezy.
Want a different way to cook turkey? Try my BBQ Turkey Legs!
This amazing device will guarantee that you have a perfect cook without having to open and close the grill! It makes you a master instead of an educated guesser. So try my new Honey BBQ Spatchcock Turkey recipe on your Weber grill, and make sure to get a Weber iGrill for this holiday season!
WHY DO YOU SPATCHCOCK TURKEY?
All poultry is awkward to cook. It is delicious to eat but not easy to cook evenly. That is why spatchcocking is so amazing! By removing the backbone of the turkey, you allow the meat to lay flatter on the grill.
This makes the meat flatter so it cooks more evenly. It cuts your cooking time in half, so you get to work less and eat sooner. All in all, it is a quality way to cook your favorite birds! So let's get going on this Spatchcock Turkey recipe below!
​Why You'll Love This Recipe
This recipe is perfect for those who want to spice up their traditional Thanksgiving turkey recipe. Sometimes, making the same recipe over the years can get tiresome. That's why it can be super fun to shake things up by using a new recipe and cooking method!
The spatchcock method also allows every nook and cranny to get covered by the seasonings and oil, resulting in a more flavorful bird and even cooking throughout.
Whether you're making this recipe for a special occasion like Thanksgiving or just looking for an easy way to cook a moist turkey, this Grilled Spatchcock Turkey is for you!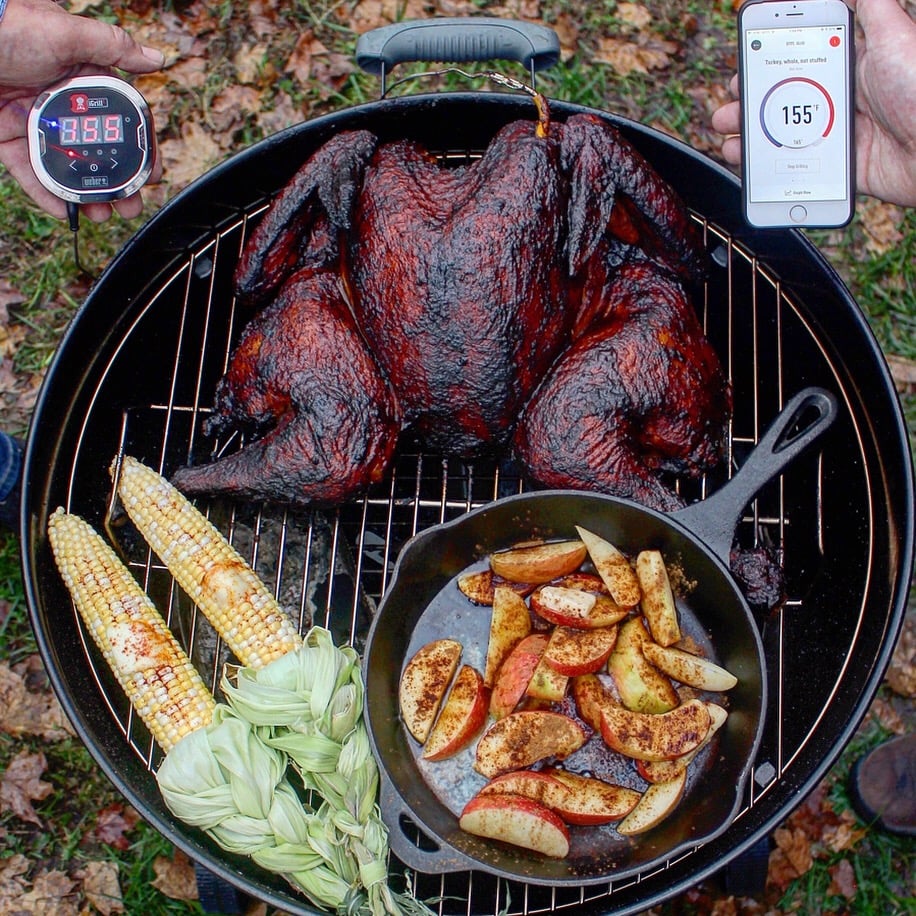 Ingredients
Whole Turkey – Try to find a 10-11 pound turkey for this recipe.
BBQ Sauce – Adds a rich, smoky flavor to the turkey. It helps create a flavorful glaze and caramelization on the surface during grilling.
Honey – Provides sweetness to balance the smoky and savory flavors of the BBQ sauce. It also aids in creating a delicious, slightly sticky glaze on the turkey's skin.
Paprika – Adds depth and a mild, earthy, and slightly sweet flavor.
Cumin – Has a warm and slightly nutty flavor that compliments the smokiness of the BBQ sauce
Brown Sugar – Adds sweetness and a hint of molasses flavor, enhancing the overall sweetness of the glaze while also promoting caramelization on the turkey's surface.
Salt
Olive Oil – Used to coat the turkey, helping to prevent it from sticking to the grill and ensuring a crispy skin.
Black Pepper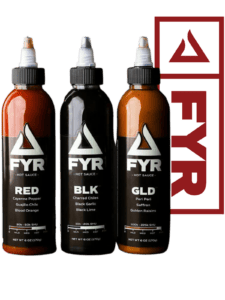 Get stoked for life
This sauce is FYR!
Born from a deep passion for food and flavor. Whether you're grilling in the backyard or live fire cooking around the world, we have what you need to transform every meal into an adventure.
How to Make Grilled Spatchcock Turkey
First things first, we gotta spatchcock that turkey like a pro. Don't worry. Here are some super easy instructions on how to do that.
Once your turkey's properly spatchcocked and at room temperature, give it a good rubdown with some olive oil. In a bowl, mix together paprika, cumin, brown sugar, salt, and black pepper. Sprinkle this tasty mix all over the turkey, making sure it's evenly coated.
Now, let's light up some charcoal in your Weber Grill. Give it about 15-20 minutes until the charcoal's nice and white-hot. If you're feeling fancy, toss in some apple or pecan wood chunks for that extra burst of smoke flavor.
Place your seasoned spatchcocked turkey on the grill, on the opposite side of the charcoal. Put the legs of the turkey facing the charcoal.
Pro Tip
Insert a Weber iGrill into the breast of the bird, and set it up for a "whole turkey not stuffed" for accurate cooking.
Now it's time to make that turkey taste divine. Drizzle about a third of your barbecue sauce and honey concoction all over the entire bird. Spread it out evenly. Repeat this two more times: once when you're halfway through cooking and another right before you're ready to take it off the grill.
Close the lid and let your turkey cook for around 3-3.5 hours. We're aiming for a grill temperature of 250-275F, and the thickest part of the breast meat should hit an internal temperature of 165F. Keep an eye on those charcoal and wood chunks, and add more when needed to keep the fire going.
Once your Weber iGrill gives the green light at 165F, take that turkey off the grill and let it rest for 30-45 minutes. This resting time allows the meat to reabsorb some of it's juices, so don't skip this part!
Now, you're all set to serve up a delicious Thanksgiving feast! Cheers!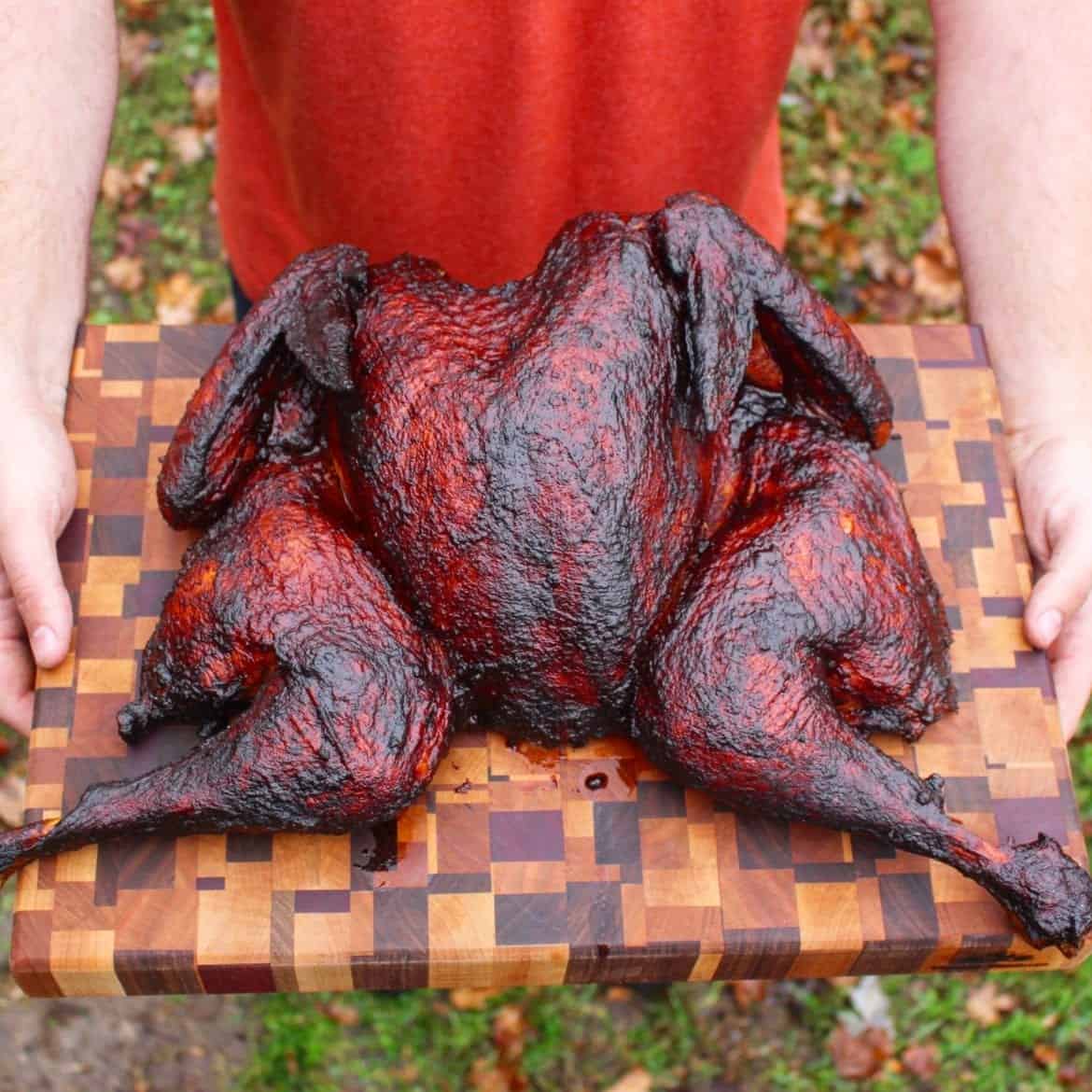 Tips
Save the backbone for later, and make some turkey stock!
Pat your turkey down with paper towels before spatchcocking to remove some of the moisture and produce that golden brown crispy skin.
Place a sheet pan or drip pan underneath the turkey as it cooks to save the turkey drippings! You can use these to make turkey gravy later.
If you don't have a Weber iGrill 2, feel free to use a regular meat thermometer to check the internal temperature.
The cooking time will vary depending on the size of your turkey. A larger turkey may take longer, whereas a smaller turkey may cook faster, so make sure to keep an eye on temperature throughout the cooking process.
How to Store Leftovers and Reheat
Store leftover turkey in an airtight container in the fridge for 3-4 days. You can also freeze turkey for up to 6 months in an airtight container if stored within 3 days of cooking.
To reheat, you have a couple of options:
Oven: Fire up your oven to 300-325F. While that's heating, simmer some chicken broth. Lay your turkey slices in a baking dish, and then cover them with a kitchen towel. Pour that gently heated chicken broth over the towel until it's moist but not sopping wet. Now, wrap it all up with some aluminum foil and pop it in the oven.
Microwave: If you're in a hurry, grab your sliced turkey and a plate. Next, grab a paper towel, dampen it, and place it right on top of your turkey slices. Pop it into the microwave. Microwave it in 30-second bursts until your turkey is heated.
Not sure what to do with leftover turkey? Make some freakin' delicious Leftover Chipotle Turkey Empanadas!
What to Serve with Grilled Spatchcock Turkey
Serve up your delicious Grilled Spatchcock Turkey with side dishes like stuffing, mashed potatoes, sweet potato casserole, and green beans for the perfect Thanksgiving dinner! Or if you're serving this at another time of the year, this turkey would go great with side dishes like corn on the cob, coleslaw, grilled vegetables, and roasted potatoes!
​Recipe FAQs
Can I use a gas grill instead of a charcoal grill for this recipe?
Absolutely! You can even use wood chips or chunks as well! Just soak the wood chips or chunks for up to an hour before cooking and place them in a smoker box or aluminum foil tray. Then, make the recipe as written.
Can I use a frozen turkey for this recipe?
Yes! Just make sure to thaw the turkey completely before cooking to ensure an even cooking temperature.
Can I do an overnight brine with this turkey?
Yes! You can totally do a dry brine and just do the dry rub without the oil. Or, you can do a wet brine where you submerge the entire bird in a brining solution. If you're not sure if brining is worth it, check out my article on the Benefits of Brining.

However, the brining it totally optional for this recipe!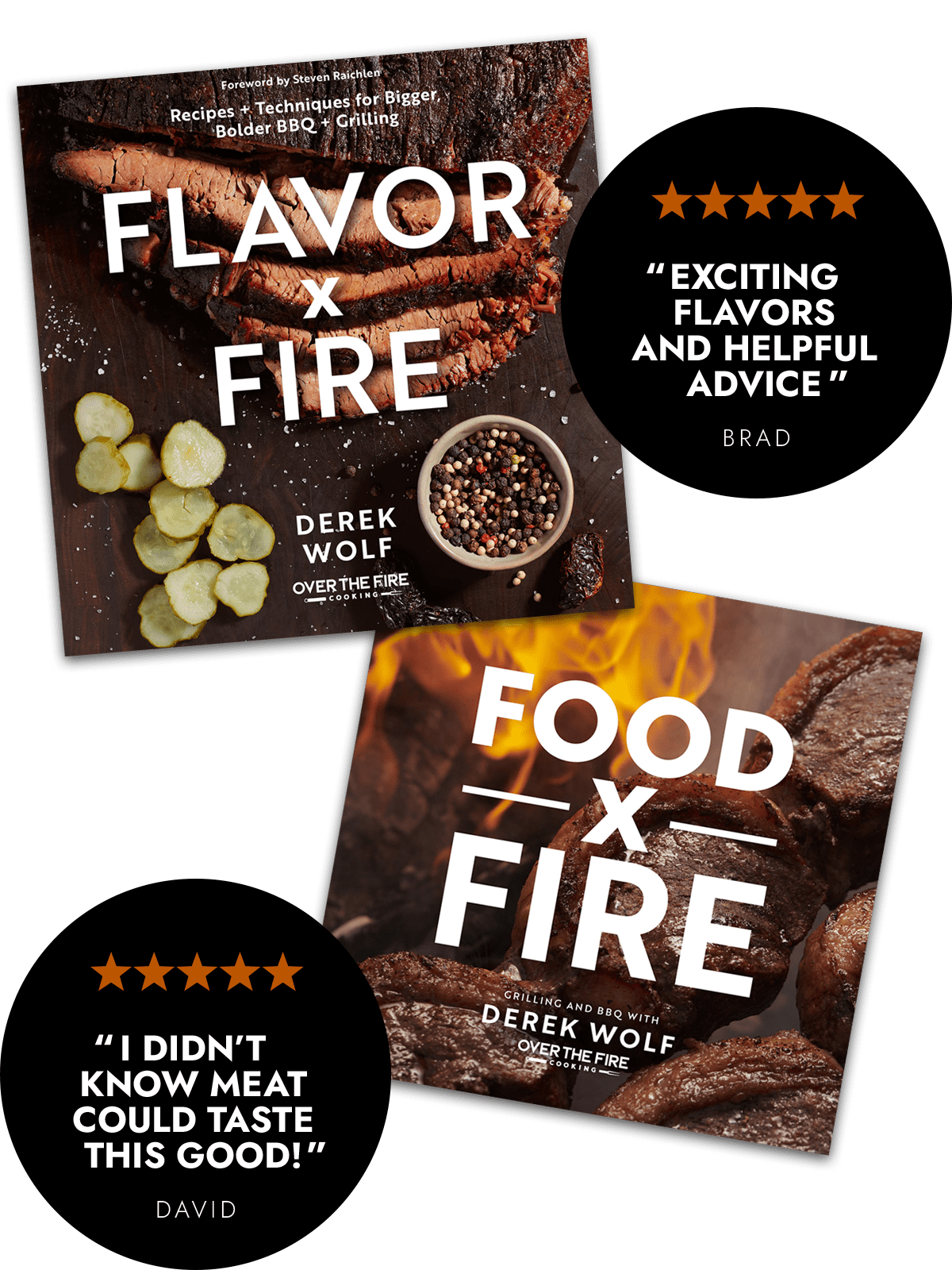 Get The Cookbooks!
Flavor X Fire & FOOD X Fire
All the major tastes—salty, sour, sweet, bitter, and umami—are explored in depth, along with an investigation of other components you should consider when it comes to flavor, such as aroma, heat, and texture.
Honey BBQ Spatchcock Turkey
A great way to sweeten up a Thanksgiving tradition.
Ingredients
1

whole turkey

around 10-11 lbs

1/2

Cup

of BBQ Sauce

1/4

Cup

of Honey

1/4

Cup

of Paprika

2

tbsp

of Cumin

2

tbsp

of Brown Sugar

2

tbsp

of Salt

2

tbsp

of Olive Oil

1

tbsp

of Black Pepper
Instructions
First, make sure to properly spatchcock the turkey by removing the backbone. Follow these instructions in the notes below!

Once turkey is properly spatchcocked and at room temperature, rub olive oil all over the bird. In a bowl, mix the paprika, cumin, brown sugar, salt & black pepper. Season the turkey with the mixture thoroughly.

Using some charcoal, light fire in Weber Grill and let burn for 15-20 minutes. Once charcoal is white hot, make a crescent moon shape on one side of the grill for indirect grilling. OPTIONAL: Add some apple or pecan wood chunks to the top of the charcoal for added flavor.


Place turkey on the opposite side of the charcoal (legs facing the charcoal) for indirect grilling. Insert Weber iGrill into the breast of the bird and setup for a "whole turkey not stuffed".

Once set up, drizzle 1/3 of the bbq sauce & honey on top of bird and evenly spread all over. Do this two more times: once when halfway through cooking and another right before pulling the turkey off. Close lid and let turkey cook for about 3-3.5 hours on 250-275F or until breast temperature is 165F. Add charcoal & wood chunks when needed.

Once the Weber iGrill reads 165F, then pull turkey off and let rest for 30-45 minutes. Serve & enjoy Thanksgiving!
This article does contain affiliate links to products that we personally use and support. Purchasing an affiliate product does make us a small commission at no cost to you. This helps us continue creating for our website. All words and opinions are our own, and we appreciate your support!