This Thanksgiving, I'm sharing my favorite go-to turkey recipe, Smoked Turkey Legs. Instead of frying a whole bird in my own backyard, this easy giant turkey leg recipe comes together in my smoker.
A sweet and salty overnight brine ensures the giant turkey legs stay moist and delicious throughout the cooking process. The best part is that no one will ever complain that the smoked turkey meat is too dry!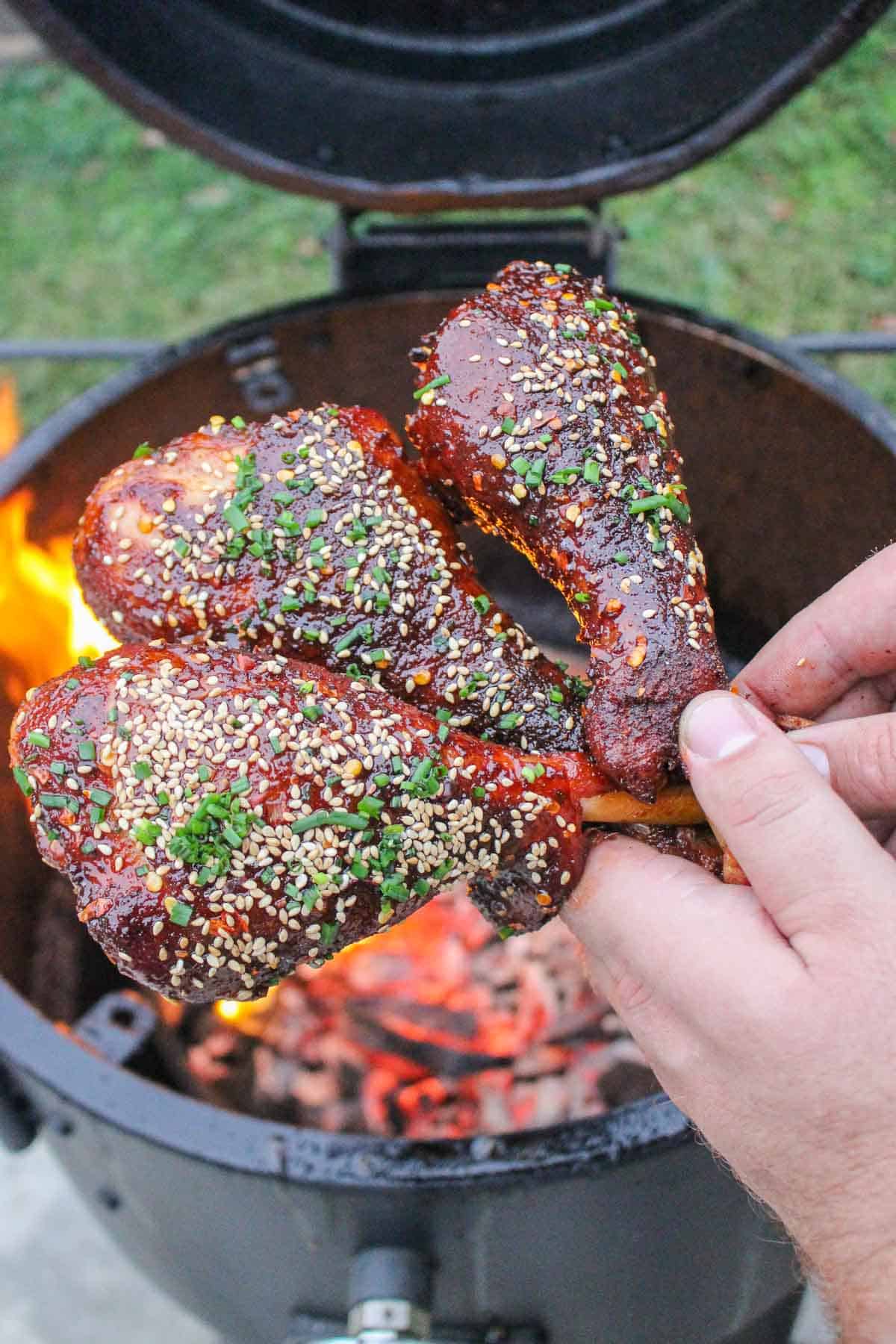 This smoked turkey leg recipe shares a lot in common with the Disney turkey leg recipe but kicks up the flavor a few more notches with a spicy seasoning rub and a hot honey glaze that is so freakin' delicious.
Why You'll Love My Smoked Turkey Legs Recipe
While I realize it's more traditional to cook the whole turkey for the holidays, this smoked turkey leg recipe may just change your ways. Who needs a slice of dry turkey breast buried under the mash and gravy anyway? The uniform size of the turkey legs ensures that all the dark meat cooks evenly and perfectly.
First things first, the key to making these juicy, fall-off-the-bone turkey legs is the simple brine. Once you brine once, you'll never go back. Undoubtedly, it turns any smoked turkey meat into a delectable feast for your senses!
Now, let me show you the simple ingredients you'll need to experience the most irresistible smoky flavor, tender, juicy turkey meat with crispy skin.
If you love smoking meats, then check out my Smoked Ribs with Bourbon Mop Sauce, Smoked Chicken with Alabama White Sauce and Smoked Shotgun Shells.
Smoked Turkey Leg Ingredients
Turkey
Turkey Legs – Most butchers offer fresh or frozen turkey legs, especially around Thanksgiving and Christmas. If you're lucky enough to have a local turkey farm nearby, give them a holler to reserve your turkey legs.
Big Bad BBQ Ale – The key flavors of my favorite seasoning rub (in an awesome beer can!) are brown sugar, cinnamon, paprika, garlic, and onion.
Canola Oil – This neutral vegetable oil is what helps the rub stay on the legs, however, feel free to use a high-smoke point olive oil instead.
Sesame Seeds – These tiny flavor bombs add the perfect finishing touch to the glazed turkey legs, and they are easy to source at your local grocery store or online.
Chives – These slender green onion-like herbs add flavor and the perfect splash of green to contrast with the red smoked turkey legs.
Add flavor to everything you're cooking
shop over the fire spice lines

Brine Mixture
Water – For the wet brine, I suggest using filtered water instead of chlorinated tap water.
Dark Brown Sugar – The hints of sweet molasses add depth and richness to the brine.
Kosher Salt – These fat flakes of salt bring out the best in all my dishes. Table salt will also work.
Pepper – Pepper ground from fresh black peppercorns adds the perfect pungent and earthy kick to the brine.
Garlic Powder – Few of my recipes are complete without my favorite garlic powder, which I always keep in my pantry staples.
Onion Powder – In certain contexts, such as for the brine mixture, dehydrated onion works better than fresh chopped onion.
Dried Thyme – This aromatic French herb is one of my favorites, which you can easily pick up in the spice section of your grocery store, either dried or fresh.
Hot Honey Glaze
Local Honey – If you can't source any local honey there are, however, some great choices online.
FYR RED Hot Sauce – This is fast becoming one of my most popular hot sauces. It features a cayenne pepper mash, dried Guajillo pepper, and blood orange concentrate.
Red Chili Flakes – Adds even more flavor and heavenly heat to the sweet glaze.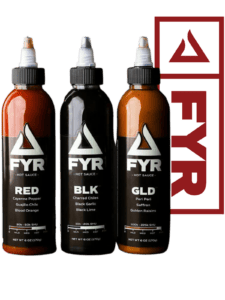 Get stoked for life
This sauce is FYR!
Born from a deep passion for food and flavor. Whether you're grilling in the backyard or live fire cooking around the world, we have what you need to transform every meal into an adventure.
The hot honey glaze adds a touch of heat and a whole lot of flavor to your juicy smoked turkey leg. However, feel free to get creative and use your favorite BBQ sauce or any other sauce that your taste buds fancy.
How to Make Smoked Turkey Legs
This recipe could not be any easier, so let's get this holiday dinner started. After following a few simple steps, you'll be well on your way to turkey leg bliss!
The Brine
The brine is the first step for the best smoked turkey legs, but you've got to prepare it the night before smoking. This is because the turkey legs need to soak in it overnight. If you're curious about all the benefits of brining, check it out in my article The Benefits of Brining.
You'll want to use warm water, not cold water so that the brown sugar dissolves easily. With all the brine ingredients mixed in a large container, glass bowl, or giant Ziplock bag, place the turkey legs inside. Place covered or sealed in the fridge, preferably overnight.
The Turkey Legs
About 3 hours before you're ready to serve your smoked turkey legs for Thanksgiving dinner, pull them out of the brine. Discard the liquid. Place the legs on a sheet pan and pat the legs completely dry with paper towels. Sprinkle my BBQ rub generously over the turkey legs.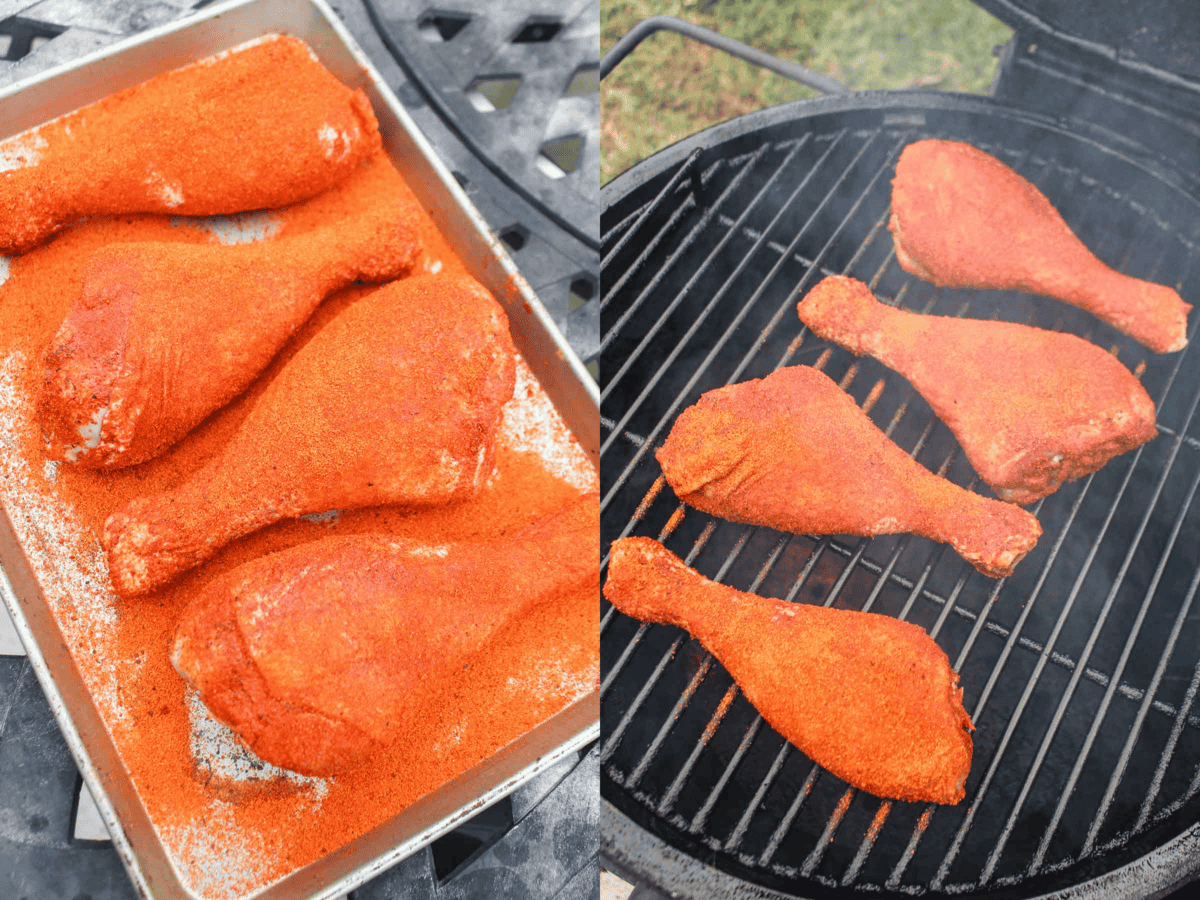 Preheat your smoker to 250 degrees F, cooking indirectly. Add your favorite wood chips or wood chunks to help develop the smoky flavor. Cook the turkey legs for about 2-2.5 hours or until the internal temperature of the turkey reaches 175 degrees F.
The Glaze
About 30 minutes before the turkey meat is cooked, warm your local honey in a small cast iron pan. Add the chili flakes and my FYR Red Hot Sauce. Mix well and with a pastry brush glaze the outside of the turkey legs 2-3 times just before pulling them off.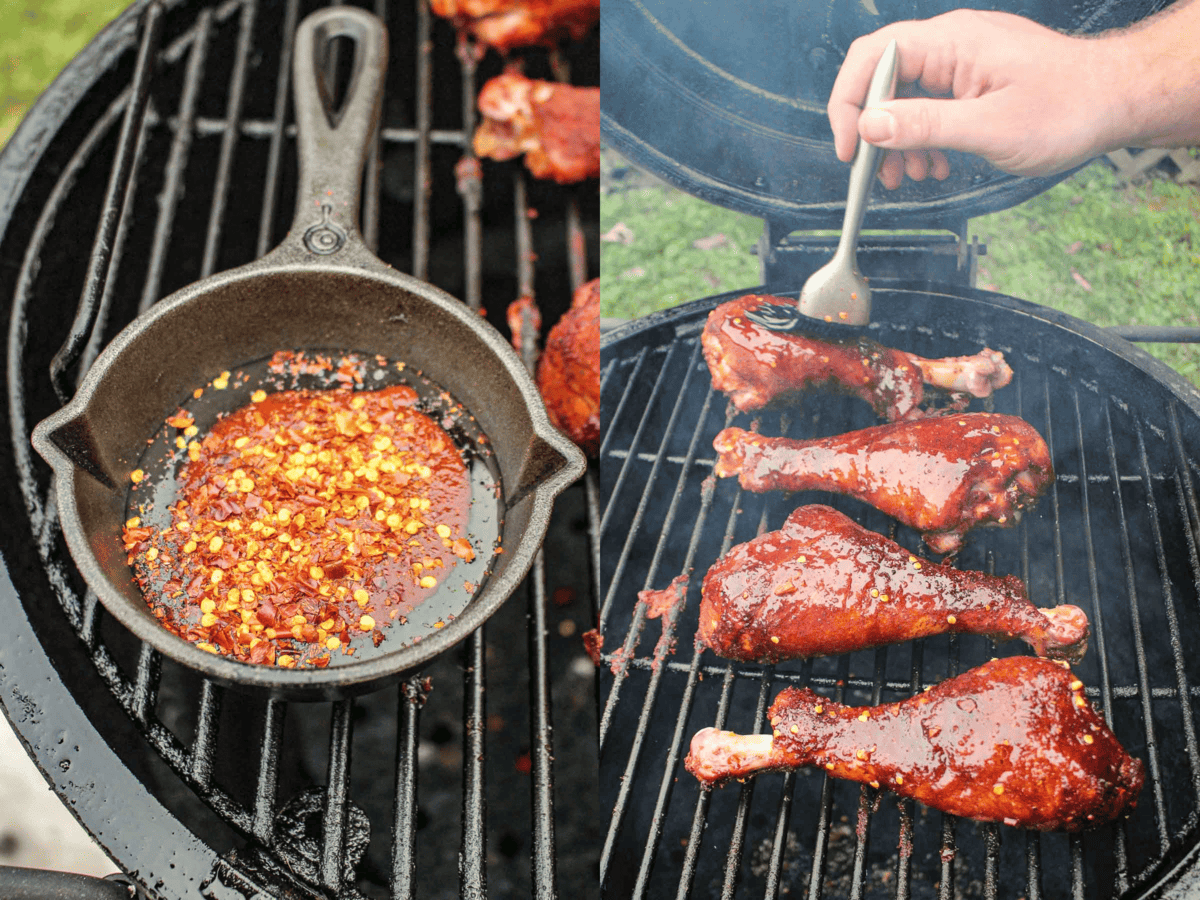 After about 5 minutes, the smoked turkey legs are rested and ready to enjoy. Don't forget to finish with a sprinkling of those tasty sesame seeds and chopped chives!
How to Maintain the Smoke
Remember, the smoke is a crucial element in achieving that signature smoky flavor. Therefore, if you notice the smoke diminishing, add more wood chips to maintain that consistent smoky flavor you crave.
How to Store Leftovers and Reheat
Once the turkey legs are cool, place them in an airtight container or wrap them tightly in plastic or tinfoil. They will keep for 3-4 days. To reheat, the easiest way is to place them in aluminum foil over a grill and gently warm them up on the grill grates.

What to Serve with Smoked Turkey Legs
Serve your juicy turkey legs with all your favorite side dishes: Mashed potatoes, green beans, roasted vegetables, stuffing, candied yams, mac and cheese. Also, don't forget the cranberry sauce!
What's your favorite Thanksgiving dish to serve with turkey? Drop some recipe ideas in the comments.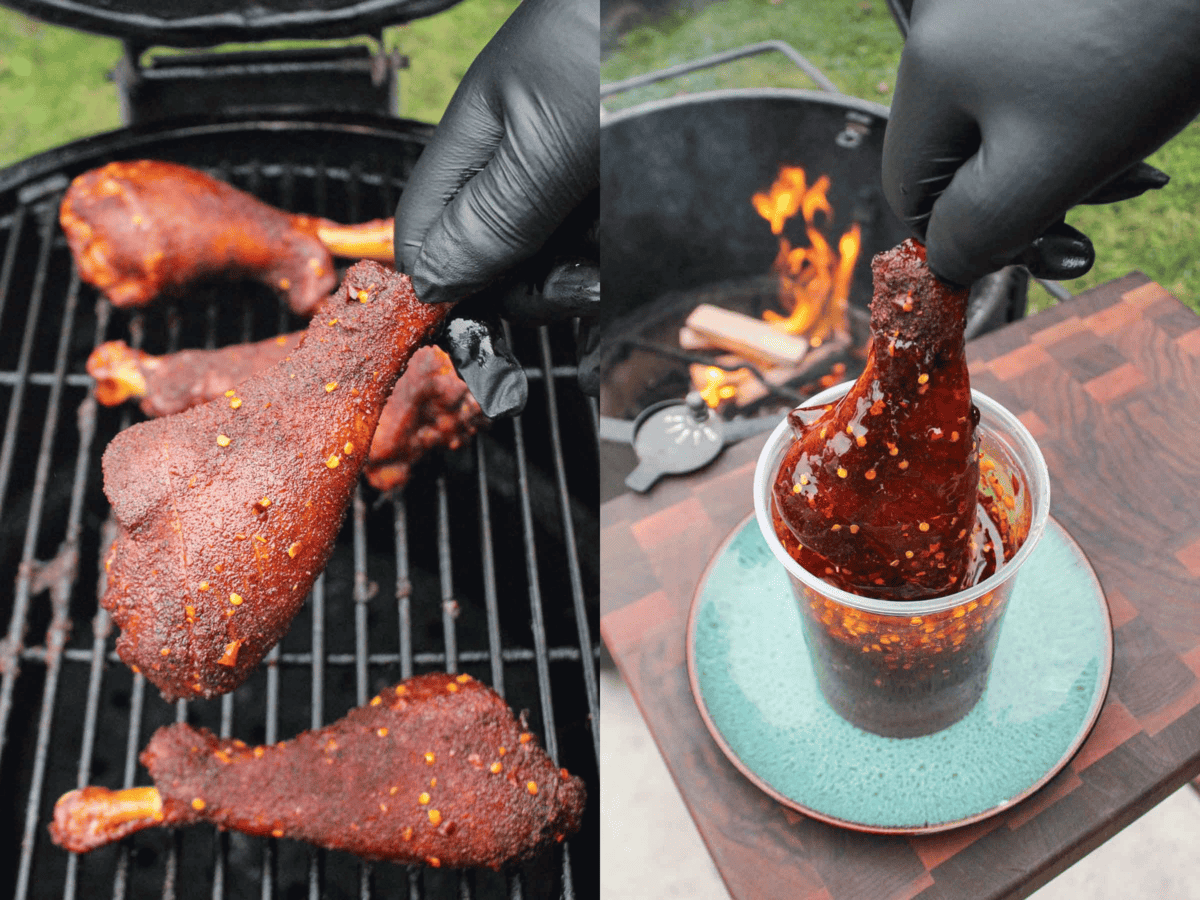 What happens if I brine the turkey legs for less than 4 hours?
A short brine time will result in less flavor and less tender meat, so make sure to give it time for the best results. When it comes to making the best food, patience is your best friend.
What's the best way to check the internal temperature of the turkey legs?
Use a digital meat thermometer inserted into the thickest part of the leg. Turkey legs are ready when they reach an internal temperature of 175 degrees F.
Can I freeze smoked turkey legs?
Yes, you can freeze any leftover turkey legs. I like to use a vacuum sealer for all my freezer items to prevent freezer burn. You can keep them in the freezer for up to 2-3 months.
What kind of wood is best for smoked turkey legs?
My favorites are hickory or applewood, but the fun is in experimenting. For a milder, sweet smokiness, consider fruitwoods like cherry or peach. Mesquite and oak provide stronger, more robust flavors.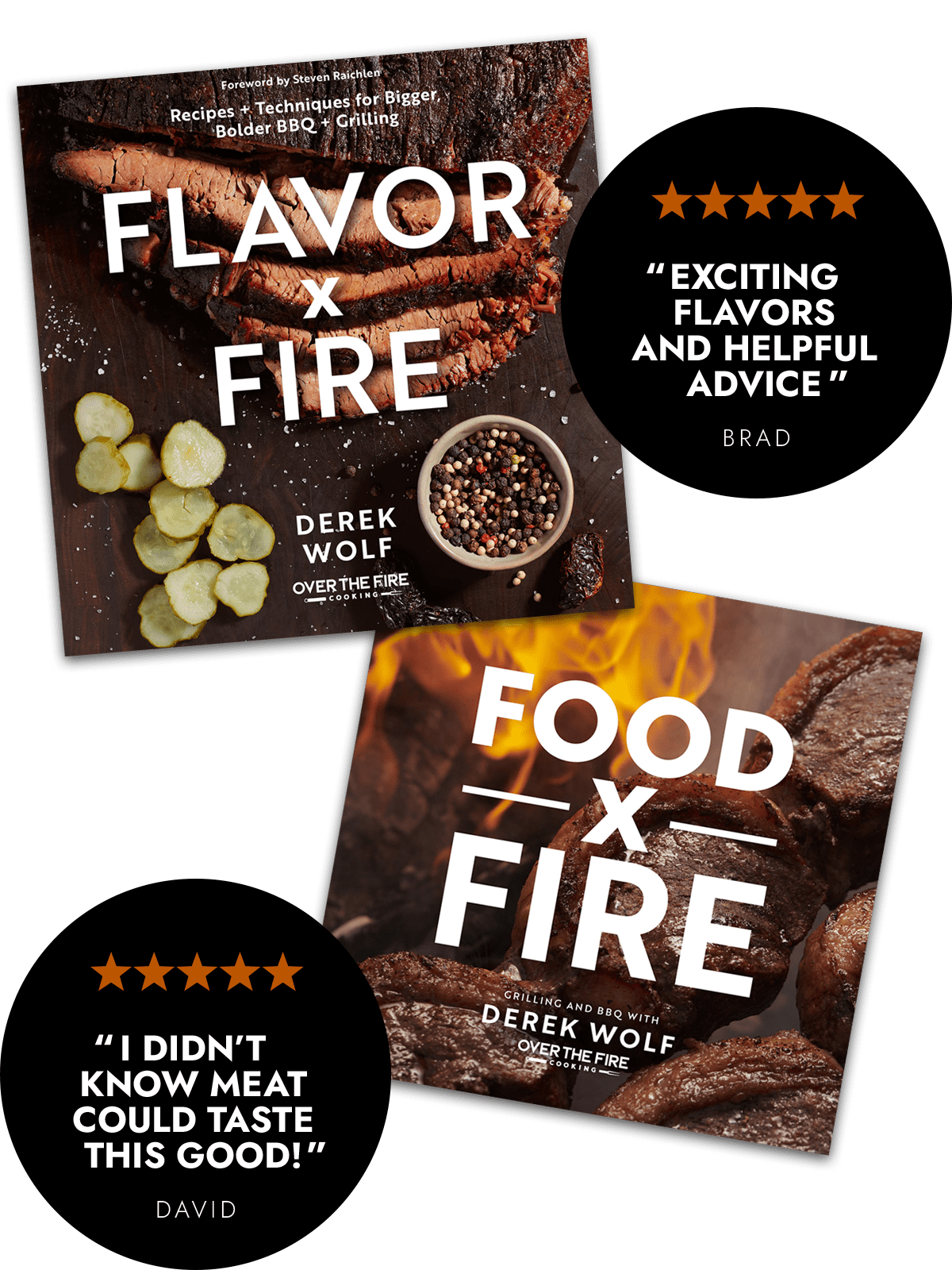 Get The Cookbooks!
Flavor X Fire & FOOD X Fire
All the major tastes—salty, sour, sweet, bitter, and umami—are explored in depth, along with an investigation of other components you should consider when it comes to flavor, such as aroma, heat, and texture.
Smoked Turkey Legs
If you're hosting a small crowd this Thanksgiving, consider making my tasty Smoked Turkey Legs instead of a whole bird. The result is juicy and tender meat that falls off the bone!
Ingredients
Turkey
4

Bone-in Turkey Legs

⅔

cup

Big Bad BBQ Ale

Canola Oil

as needed

Sesame Seeds

for garnish

Chopped Chives

for garnish
Brine
5-6

cups

Warm Water

¼

cup

Brown Sugar

3

tbsp

Kosher Salt

2

tbsp

Black Pepper

2

tbsp

Garlic Powder

1.5

tbsp

Onion Powder

1.5

tbsp

Dried Thyme
Instructions
Brine
Add to a food safe bowl or bag your warm water and the rest of the brining ingredients. Stir for a couple of minutes until the sugar and salt has dissolved. Add your raw turkey legs to the brine, seal the container and place in the fridge.

Let brine for at least 4 hours but ideally overnight.
Turkey Legs
Pull out the turkey legs from the brine and completely pat dry. Discard the used brine. Slather with oil and generously season with my Big Bad BBQ Ale or your favorite BBQ Rub.

Preheat the smoker for 250F cooking indirectly. Add wood chips or wood chunks for added smoke flavor.

Add the turkey legs to cook for about 2-2.5 hours until reaching an internal temperature of 175 degrees F.

Hot Honey Glaze

In the last 30 minutes, warm up your honey in a hot cast iron skillet and add the chili flakes and my FYR RED Hot Sauce. Mix well and glaze the outside of the turkey legs 2-3 times right before pulling them off.

When the turkey legs are at temperature, pull them off and let them cool for 5 minutes.

Add more hot honey to the turkey legs if desired, they garnish with sesame seeds and chopped chives. Serve and enjoy!
Notes
How to Maintain the Smoke
Remember, the smoke is a crucial element in achieving that signature smoky flavor. Therefore, if you notice the smoke diminishing, add more wood chips to maintain that consistent smoky flavor you crave.
Nutrition
Serving:
18
Oz
|
Calories:
281
kcal
|
Carbohydrates:
27
g
|
Protein:
27
g
|
Fat:
9
g
|
Saturated Fat:
3
g
|
Polyunsaturated Fat:
1
g
|
Monounsaturated Fat:
0.3
g
|
Cholesterol:
72
mg
|
Sodium:
75
mg
|
Potassium:
735
mg
|
Fiber:
17
g
|
Sugar:
2
g
|
Vitamin A:
671
IU
|
Vitamin C:
1
mg
|
Calcium:
657
mg
|
Iron:
17
mg