Set down your beer because you'll need two hands for these Crispy Korean Pork Belly Sandwiches. Coming at you with heat and smoke, each bite has an amazing combination of soft and crispy pork.
Post Contributed by Brad Prose.
Korean Pulled Pork Belly – Simply Savory & Spicy
Korean BBQ is still the hot topic across the community, teaching us that spicy and savory are at the top of the charts. The sweet flavors of pork pair perfectly with the funky heat from the gochujang and seasonings. You'll want to smoke this whole pork belly low and slow because it creates a crispy bark you didn't realize you've been missing out on.


Want more pulled pork? Check out my Al Pastor Pulled Pork Sandwich, Pulled Pork BBQ Nacho Table or this Loaded Pulled Pork Quesadillas recipe!
Don't Overthink the Korean Pulled Pork Belly Sandwiches
BBQ has so many nuances that it's easy to complicate it. This recipe couldn't be easier since the pork belly is quite forgiving. Having a larger ratio of fat, pork belly can really take the punishment with various temperatures and humidity.
Start off by scoring the fat layer on the top. The smoke will open up all of those slots, allowing for a more crispy texture when we're finished. Textures are so important for this recipe as we'll be shredding and chopping it together. Season the pork on all sides generously with the Spiceology Korean BBQ rub. You may do this ahead of time, which I'd recommend, because it allows the spices to dry-brine the pork.
Fire up your smoker for 250F and let the Korean Pork Belly bath in the smoke. Depending on your smoker and your weather, you may need to spray the edges with some apple cider vinegar along the way to keep them from drying out. Pork belly has a high-fat content, so it's not as likely to have this issue. Do not add a water pan, that will prevent the pork from forming a nice bark.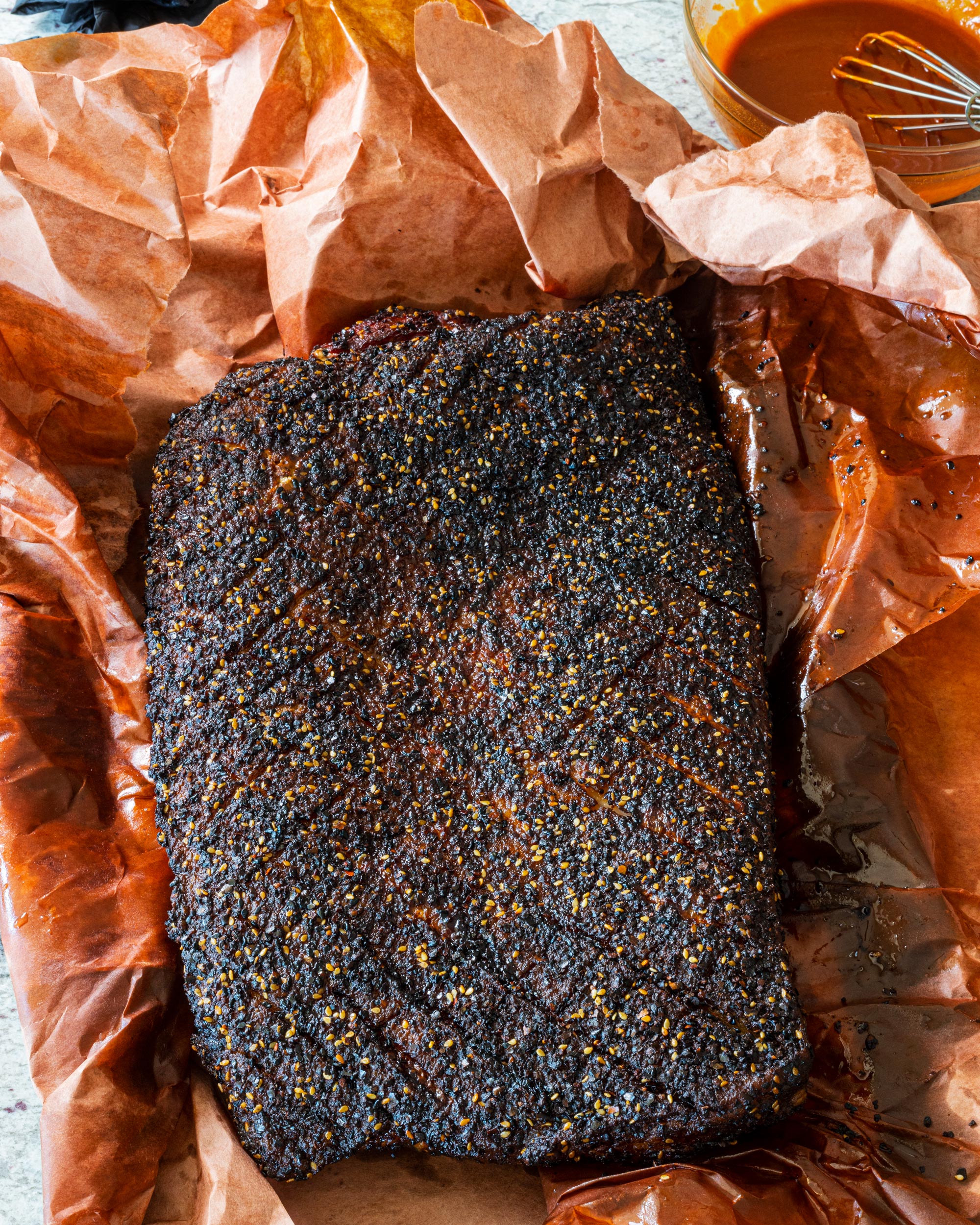 New to gochujang? Try out some of these easy recipes: Honey Gochujang BBQ Wings and Garlic Gochujang Shrimp Burgers
Korean Pulled Pork Belly is Sweet Heat That Can't Be Beat
Honey mustard is a classic sauce for dipping, and adding in gochujang takes it to an entirely new area. This spicy honey mustard takes 5 minutes to whisk together and you'll find it goes on just about everything. Today we're going to slather the crispy Korean pork belly with it, but you might just be dunking your sandwich.
Whisk the ingredients together and add a little water as needed. The gochujang can vary with thickness depending on the brand, or how old it is. Feel free to thin it out to your desired consistency, and it will stay fresh in the fridge for a few weeks. Pro tip: Make sure your gochujang is room temp when whisking, otherwise it will be so thick you'll give your arms an unnecessary workout.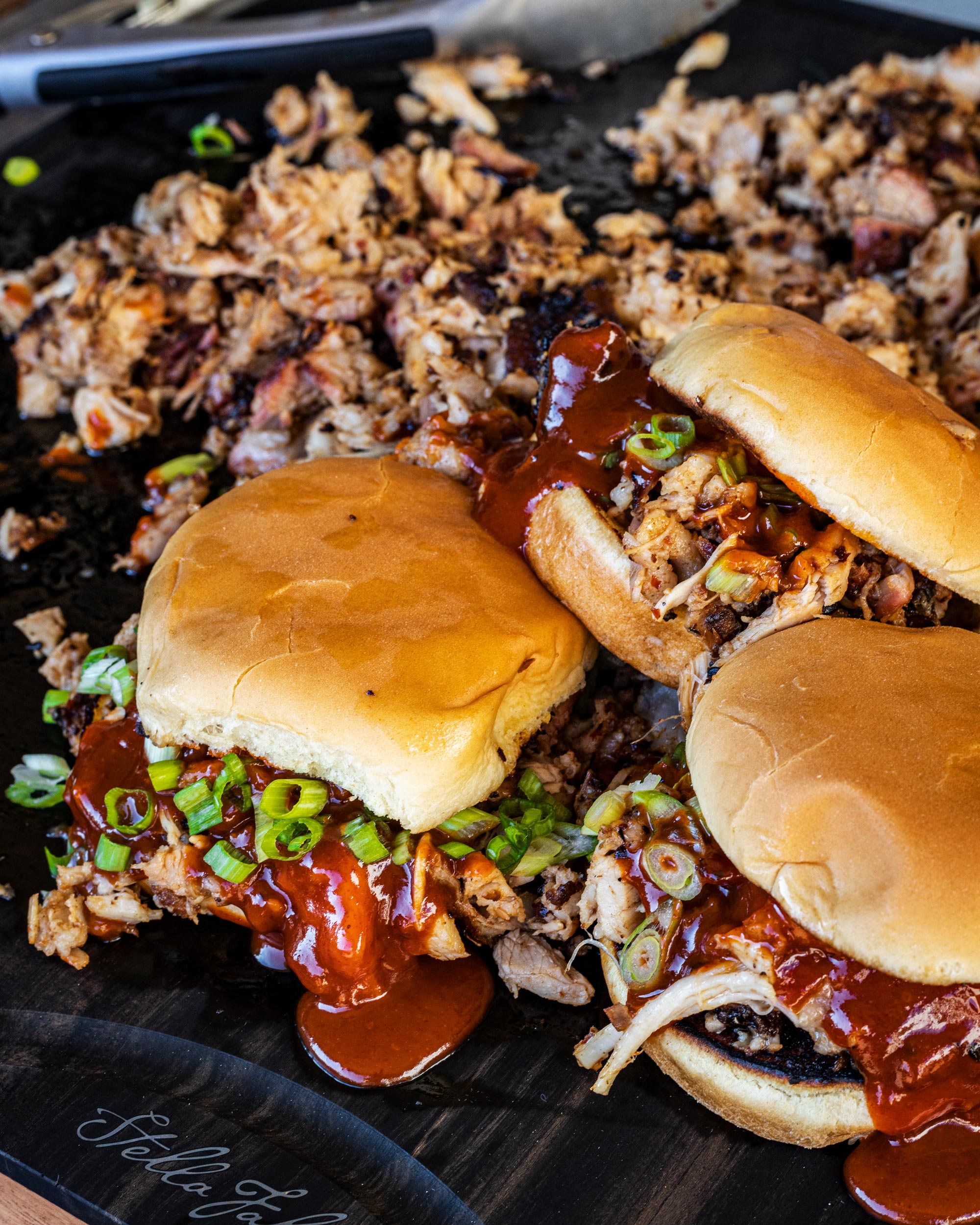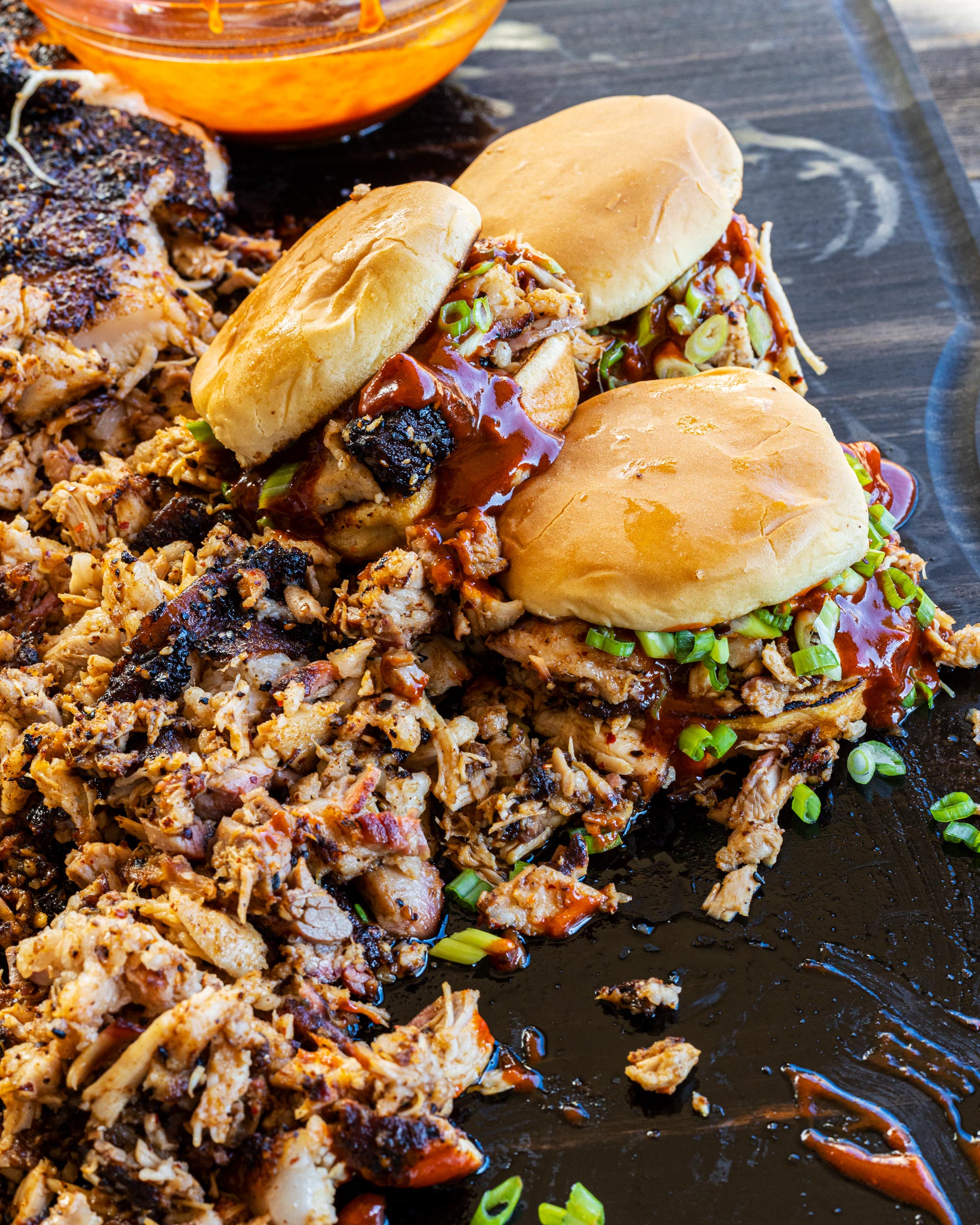 For more delicious recipes, check out my cookbook Food X Fire!
Needing more spice in your life? My spice line can help with that. Check them out here.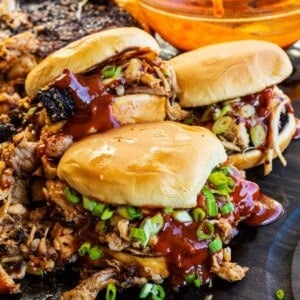 Crispy Korean Pork Belly Sandwiches
Crispy Korean Pork Belly Sandwiches for your next dinner!
Ingredients
Pork Belly:
6-8

lb

Pork belly

no skin

6

tbsp

Spiceology Korean BBQ seasoning

more as needed

Scallions

diced for garnish

Bread

rolls, or buns for serving
Korean Honey Mustard:
½

cup

gochujang

4

tbsp

Dijon

1 ½

tbsp

soy

1 ½

tbsp

honey

2

tsp

sesame

Water

as needed to thin out
Instructions
Score the pork belly with a crosshatch on the fat side, about ¼" cuts. Season all sides of the pork belly and allow it to rest with the spices, uncovered, in the fridge for 4 hours or up to overnight.

Preheat your smoker to 250 F.

Place the pork belly on the smoker and allow it to cook. Spray the edges with apple cider vinegar every few hours as needed. Do not add a water pan into the smoker.

Make the sauce. Whisk the ingredients together, adding a few tsp of water as needed. It helps if your gochujang is room-temp when preparing the sauce.

Check the pork belly. It should be about 200-205 F and probe tender all over when ready. Feel free to keep cooking it until there's no resistance all over, the pork can withstand the heat. Pull it when it's ready and allow it to rest wrapped in butcher paper.

Shred the pork belly when it's around 165 F. The meat strands will be lengthy, so you may need to chop it as well. Mix in the crispy bark and the juicy meat as you're chopping.

Make your Korean BBQ sandwiches and top with the sauce, garnished with green onions. Enjoy!