Coming back at you with another pulled pork recipe! Remember that Pulled Pork BBQ Nacho Table Recipe I recently posted? Well, turns out two pork shoulders result in a lot of pulled pork! Today, I'm repurposing that pork with a Loaded Pulled Pork Quesadillas recipe! All you quesadilla lover's aren't going to want to miss this.
Sponsored by the National Pork Board
The Secret Sauce
The key ingredient to these quesadillas (aside from delicious, tender and juicy pulled pork) is my homemade jalapeño lime sour cream! It's extremely easy to put together and involves a lot of ingredients you likely already have. All I did was throw some pickled jalapeños (with juice), cilantro, lime juice, green onion, salt and sour cream into a blender. Blend them all together until smooth and pour into a squeeze bottle. Set this in the fridge for later.
Another secret key to this recipe is… bacon fat. I threw a couple tablespoons of bacon fat on the grill once it was fired up. The bacon fat takes the place of any other oil I would've used before placing the pulled pork on the grill. The bacon fat melts and not only prevents the pork from sticking to the grill, but also enhances the flavor of the pork. Overall a win, win.
Spice up your life with some of my seasonings from Spiceology!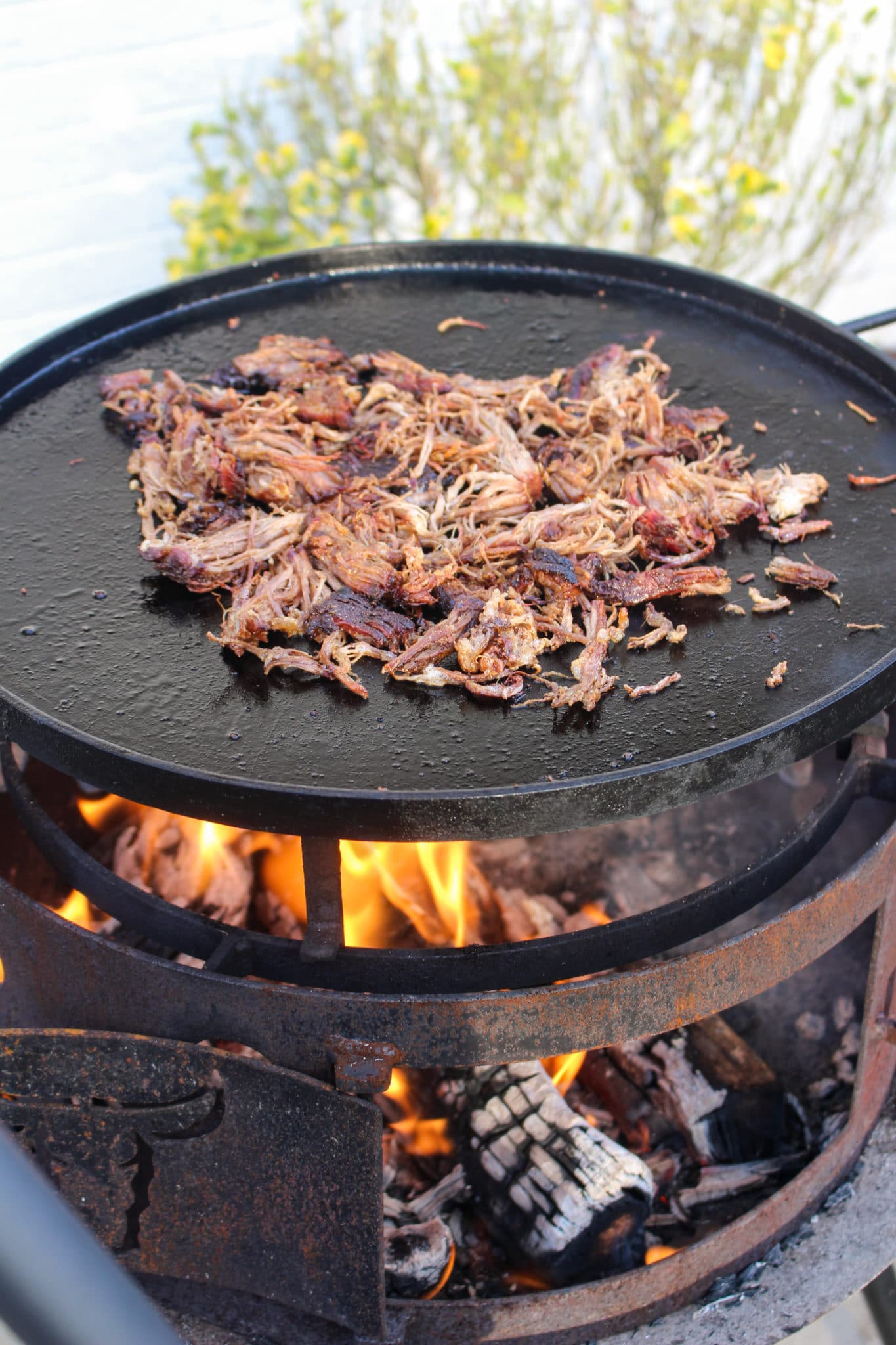 Load Up that Pulled Pork
As you may have already guessed, you'll start by warming up the pork. After the bacon fat has melted, toss the pork onto the grill. Stir it around a bit and pull from the grill once it's warm. Next, toss the tortillas onto the grill and cover one half of the tortilla in cheese. Then, add some of the pulled pork onto the tortilla half with that's covered in cheese. Add chopped red onions and cilantro on top of the pork. Lastly, grab that jalapeño lime sour cream from the fridge and squeeze a zig zag across the pork.
Once you've added all your desired ingredients to these quesadillas, flip the empty side of the tortilla onto the side that's holding all the ingredients. This is what creates the quesadilla shape. Then, flip the quesadillas over and let them cook for a bit on the other side.
Loaded Pulled Pork Quesadillas Served
Pull the quesadillas from the grill a minute or two after flipping them, or until they've cooked to your liking. I layered my quesadillas across a serving plate in a fanned shaped fashion. I also poured the remaining jalapeño lime sour cream into a dipping bowl. Then I placed the dipping bowl on the plate with the quesadillas and filled the plate out with a couple lime wedges. Best enjoyed with friends and family. Cheers!
For more delicious recipes, check out my book Food X Fire!
Print Recipe
Loaded Pulled Pork Quesadillas
Loaded Pulled Pork Quesadillas with homemade jalapeno lime sour cream are a delicious way to level up your quesadilla game!
Ingredients
Pulled Pork:
2

cups

Pulled Pork

1.5

tbsp

Bacon Fat
Filling:
5

Taco Sized Tortillas

2

cups

Jack Cheese

grated

1/2

cup

Red Onions

diced

1/4

cup

Cilantro

chopped

Jalapenos
Jalapeno Lime Sour Cream:
1/4

cup

Sour Cream

1

tbsp

Pickled Jalapenos

1/5

tbsp

Pickled Jalapenos Juice

1/5

tbsp

Cilantro

1

Lime

juiced
Instructions
Preheat your fire to medium high heat (around 375F). Add a skillet/plancha 1 minute before cooking.

In a blender, add all the ingredients for the Jalapeno Lime Sour Cream. Blend until smooth.

Add some bacon fat or oil to the skillet and let melt. Add the pulled pork and let crisp up for 2-3 minutes. Once done, pull the pork off.

Clean off the skillet and add a few tortillas to the skillet. Fill one half of the tortillas with a handful of jack cheese, crispy pulled pork, chopped red onions, cilantro and some Jalapeno Lime Sour Cream. Fold the empty side of the tortilla over onto the full side and then flip the quesadillas over. Cook for another 30-45 seconds until all the cheese has melted, then pull off and let rest. Repeat this step for as many quesadillas as you want!

Serve your quesadillas with a side of the Jalapeno Lime Sour Cream and enjoy!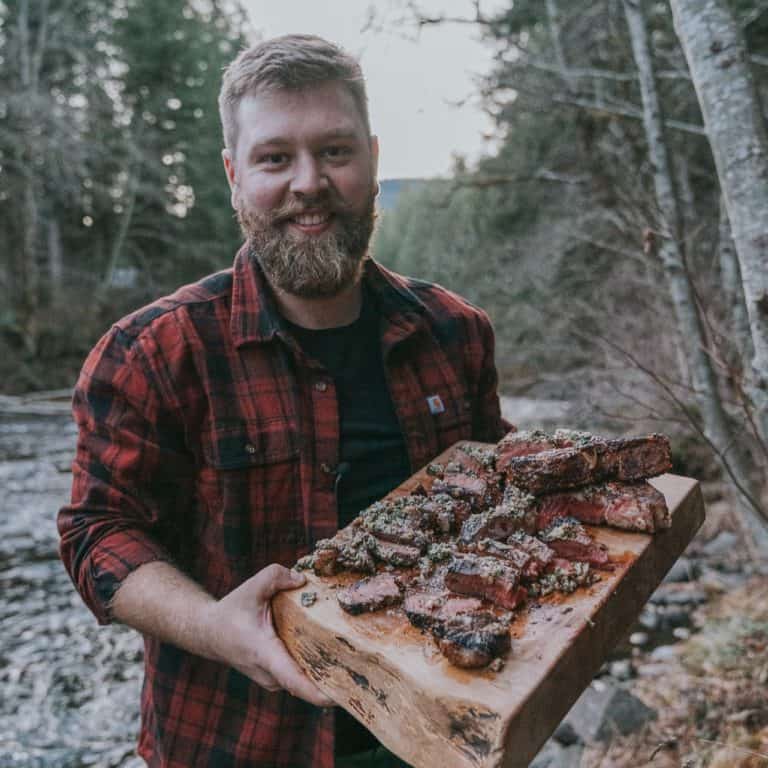 Derek is the driving force behind Over the Fire Cooking. He started cooking with live fire in 2016 and decided to start a social media page so his friends and family could follow the journey. Fast forward to today and Over the Fire Cooking has spread across multiple platforms with millions now following Derek's fire cooking journey. He's a southern fellow who enjoys everything from classic BBQ to Central and South American inspired dishes. Whatever he's cooking up, it's guaranteed to be so freakin' delicious!