Whether your favorite team is in the NFL or NCAA, everyone loves a good tailgate. All you need is your favorite grill, a cold beer and some Cowboy Charcoal and you will be ready to cheer on your team!
But, have you every thought about spicing up your next tailgate? No, I'm not talking about everyone getting their faces painted! I am talking about if you grilled something unique. Lets be honest, the go-to tailgating dishes tend to be quick, easy and hard to mess up. That is why fan favorites like burgers & hot dogs are always on the menu.
But if you are like me, by mid-season I tend to want something other than those staple tailgating foods.
From my experience cooking over fire, I have put together a list of 5 unique recipe ideas you should try at your next tailgate. These dishes are fast, easy and hard to mess up! Plus, they won't make you miss kick off. So grab a beer and get ready to find some new fire cooking recipes for your next tailgate!
1. Skewered Shrimp
Spicy Paprika Skewered Shrimp
More often that not, people do not associate tailgating with seafood. I want to break that stereotype by having my first suggestion be skewered shrimp.
Shrimp is a fun food to cook over a fire. They are full of flavor, easy to prepare, and can feed a large amount of people!
The first thing you want to do is buy the right type of shrimp. I suggest getting peeled & de-veined shrimp as they will have the most flavor and will be the easiest to prepare. You can buy these on bulk at any grocery store. However, I recommend staying away from frozen shrimp as they might not have as much flavor as you will want.
As for cooking, keep your grill at a medium to medium-high heat! Shrimp are a very fast cook and only need 2-3 minutes per side. Tip for success: Make sure to oil the grill grate before cooking so that your food won't stick.
My favorite shrimp recipe is seasoned with salt, pepper, spicy paprika and lime. Put these bad boys on some skewers and place them on the grill for about 3 minutes per side.
Make sure to let the skewers soak in water for at least 30 minutes before using them. This will prevent flare ups and the wood from burning. If you don't want the hassle of skewering 100s of shrimp, then try my Charred Garlic Butter Shrimp! These would do great on game day as well.
2. Beer Brats
Cast Iron Beer Brats
You can never go wrong when beer and meat are paired together. That is why my next tailgating recipe is simply that: beer brats. All you will need for this dish is a good cast iron pan, a great beer and some hearty brats!
Quick, easy and too the point, Beer brats are a fan favorite at my house as they only take 15 minutes to cook and you can drink a beer in the process.
One question I get a lot when cooking these is: why don't you use cheap beer? You want to use good beer for these brats since you don't want your brats to taste like cheap beer! Since beer is the added flavor to the dish, then make sure it will actually bring flavor to the food. I highly recommend cooking these with with a good porter or lager. These styles of beer hold ample amounts of flavor, but won't make the food taste bitter.
Finally, my last tip for beer brats is to add some brown sugar on top before they are done cooking. This will make them taste a little sweet and will compliment the salt in the brats.
If you want an easy recipe, try out my Skillet Beer Brats for your next tailgate!
3. Cast Iron Chili
Campfire chili cooking on the coals.
This campfire favorite is making its way to the Super Bowl. Yes, chili is already a fall tradition so why not have it at the big game? The way you make some cast iron chili is by first having an awesome cast iron dutch oven. Preheat the dutch oven for about 10 minutes on your grill or straight in the coals.
My favorite recipe for a good chili is with ground sausage, ground beef, canned tomatoes, canned kidney beans, canned corn, tomato paste, fresh jalapenos and a couple beers.
Cook this over the fire for about 20 minutes and you will have a feast for the whole family! Add some chips, sour cream and cheese and you will bring home an empty dutch oven. Chili is an easy recipe to follow and can be cooked almost anywhere, including your next tailgate. Stay tuned in the next couple weeks as I will be releasing my favorite fall cast iron chili recipe!
4. Bison Burgers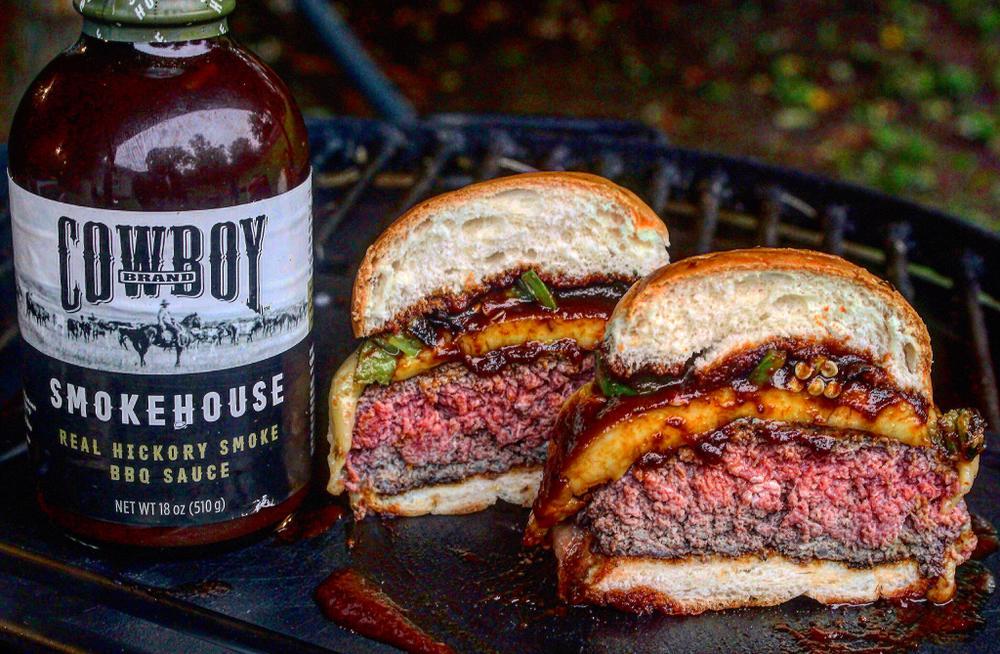 Perfectly tender BBQ Bison Burgers.
Beef burgers are already a fan favorite for tailgating, but what if you made your next burger out of bison?
Bison is a lean and hearty meat that is full of flavor and pairs well with fire. This meat is great for those that love the taste of a burger, but might want to have something with less fat.
Game meat tends to have less fat due to the animals being more active. Bison is no exception to this rule as it tends to be on the lean side with only 5-7% fat. This is compared to most beef burgers that are around 15-25% fat.
I like to make my burger with some sea salt, pepper and garlic. Add some charred jalapenos and some Cowboy BBQ sauce and you will be in burger heaven. If you cook the meat to medium in temperature, then it will almost fall apart in your mouth from tenderness.
I recommend this burger for anyone who is nervous to try anything too crazy on game day. All you need is a hot charcoal grill, and in 15 minutes this burger is ready to eat.
Follow my BBQ Bison Burger recipe and you won't regret it!
5. Skirt Steak
Skirt steak & chimichurri sauce.
For all the steak lovers in the house, I highly recommend trying skirt steak on game day. This steak is very easy to cook and only takes 3-4 minutes per side!
The one thing I absolutely love about skirt steak is how versatile it is for different dishes. Add some skirt steak to a tortilla and you can have tacos. Throw it into some chili and you will add an amazing beef flavor. Simply slice it and top with some chimichurri sauce, and you will be licking your fingers because it is so good.
Skirt steak might be my favorite cut of beef for tailgating. It takes very little fire cooking skill to cook, and is hard to mess up. Plus, this cut of meat can feed a lot of people with only a few steaks.
My two tips for cooking skirt steak are this: let the meat rest and make sure to slice against the grain.
When you cook this steak, make sure it is on the grill for only 3-4 minutes per side. Once it is done, then let it rest for around 5 minutes. This will help the juices seep back into the meat and give it the color that you are looking for. When slicing the steak, make sure to cut perpendicular to the grain of the meat. This helps the meat from tensing up and losing its tenderness.
If you want a great recipe for skirt steak, then try out mine!
So Lets Go #Tailgating!


Football time is about cheering on your favorite team with family and friends. Make sure this season to try something different on the grill. The recipes above are a great start to finding fire cooking on game day.
This article does contain affiliate links to products that we personally use and support. Purchasing an affiliate product does make us a small commission at no cost to you. This helps us continue creating for our website. All words and opinions are our own, and we appreciate your support!