These Fried Pork Belly Tacos are about to be your new favorite taco recipe. These tacos are made up of smoky homemade salsa, creamy and tangy avocado crema, and crisp-tender, perfectly spiced cubes of pork all folded into a warm tortilla.
Three incredibly delicious homemade components come together to form an even more incredibly delicious meal!
Prep the Pork Belly for Fried Pork Belly Tacos
First, cut a two pound pork belly into smaller cubes. Be sure they are pretty similar in size so they cook evenly! Drizzle canola oil over the pork cubes and toss them so that they're fully coated.
Next, take your favorite taco seasoning (I highly recommend my Smoked Chipotle Mezcal Rub) and sprinkle that over the pork cubes. Toss it all up to fully coat the meat because that smoky spicy flavor is too good to not have in every, single bite of the tacos.
For more with Smoked Chipotle Mezcal, check out my Spicy Tequila Lime Shrimp Skewers, Smoked Pulled Ham Sandwiches and Grilled Lobster Tail Skewers recipes!
Preheat your grill for direct cooking at medium-high heat, and add a skillet or wok. When the pan is hot, add in the seasoned pork cubes. Cook, stirring frequently, for 15-20 minutes. As the pork cooks, the fat will render and the pork will fry in its own fat creating a deliciously tender yet crispy texture.
Want more delicious fried ideas? Give my fried sticky ribs recipe a try!
Fried Pork Belly Tacos Deserve Some Homemade Salsa
Tacos just aren't the same without really good toppings. And let me tell you. This salsa is a really good topping, because store-bought salsa just doesn't cut it for these fried pork belly tacos.
We're taking homemade salsa up a notch by grilling the vegetables first! Start with a whole tomato, a whole red bell pepper, 1/2 of a white onion, and one whole jalapeño pepper. Place the veggies on a baking sheet and season well with oil and salt.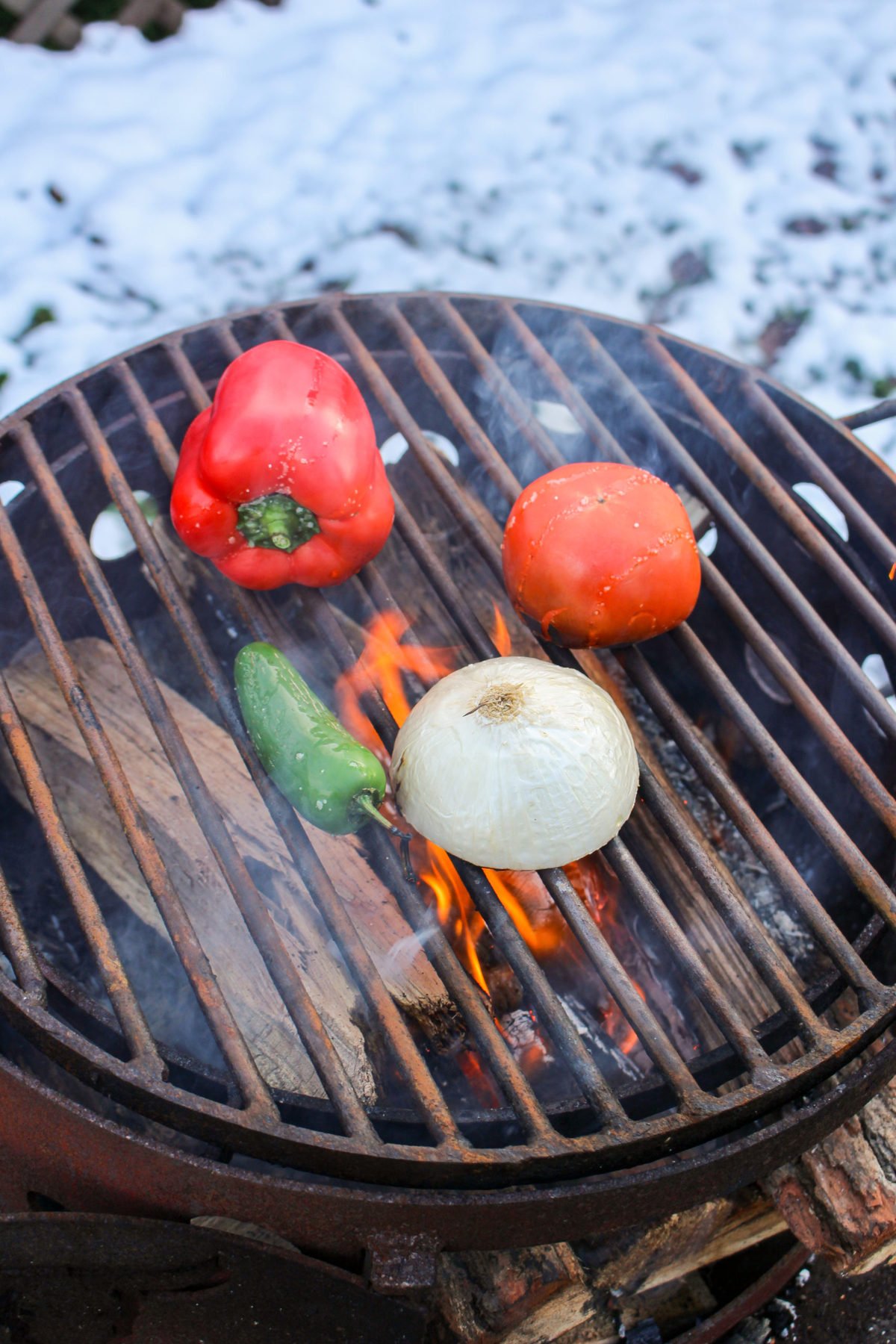 Set the prepared veggies on the grill. Allow them to cook until they're lightly charred. You can flip as needed to char them on all sides. As soon as the veggies are grilled to your liking, pull them off of the grill.
Slice the stems and outer layer off of the onion, cut the bell pepper, then add the veggies to a blender along with garlic, apple cider vinegar, cilantro, salt, and a touch of olive oil. Blend it all up until it reaches your desired texture. You can make it as smooth or as chunky as you like!
There just isn't any other salsa that will pair with these fried pork belly tacos as well as this one does.
Avocado Cream for Our Fried Pork Belly Tacos
Another really good topping coming at you! Next up, our avocado cream. This avocado cream is the perfect blend of creamy, spicy, tangy, and fresh flavors, and is exactly what fried pork belly tacos need.
Bonus: it couldn't be any easier. Simply toss avocado, jalapeño, lime juice, Mexican Crema, heavy cream, mayo, and cilantro into a blender, and blend it up until it's smooth and creamy.
It might be hard not to stick a straw into the blender and slurp this up…but it's better on the fried pork belly tacos! Trust me!


Assemble Your Fried Pork Belly Tacos
Now, everyone's favorite part. The eating! This combination of flavors will blow your mind.
To serve these fried pork belly tacos, warm up a couple of your favorite tortillas, top them with a spoonful of avocado crema and salsa, then add in a scoop of pork.
Finish the tacos off with pickled red onions, pickled jalapeños, and a sprinkle of Cotija cheese.
And devour!
For more taco recipes, check out my Chipotle Beer Steak Tacos, Cheeseburger Tacos and Campfire Quesabirria Tacos.
For more delicious recipes, check out my cookbook Food X Fire!
Needing more spice in your life? My spice line can help with that. Check them out here.
Full Length Recipe Video on YouTube!
Fried Pork Belly Tacos
Fried Pork Belly Tacos with a fresh salsa and avocado cream sauce are so freaking delicious.
Ingredients
Avocado Cream:
1

Avocado

1

Jalapeno

seeded

2

medium Limes

juiced

¼

cup

Mexican Crema

⅛

cup

of Heavy Cream

2.5

tbsp

Mayonnaise

2

tbsp

Cilantro
Salsa:
1

Ripe Tomato

1

Fresh Jalapeño

1

Red Bell Pepper

½

White Onion

4

Garlic Cloves

¼

cup

Apple Cider Vinegar

2.5

tbsp

Cilantro

2

tsp

Salt

1

tsp

Olive Oil
Tacos:
Pickled Red Onions

Pickled Jalapenos

Cotija Cheese

Tortillas
Instructions
Begin by cubing up your pork belly, lathering with canola oil and generously seasoning with my Smoked Chipotle Mezcal rub (or your favorite taco seasoning). Next, add the tomato, jalapeno, onion and red bell pepper to a sheet pan and oil + season with salt.

Preheat your grill for direct cooking at medium high heat (around 375F).

First, add your tomato, jalapeno, onion and bell pepper to the fire to char. Cook on all sides until lightly charred (around 3-4 minutes), then pull off and bring back to the kitchen. Slice the stems & outer layer of the white onion off, and cut the meat from the bell pepper. Add all the charred veggies plus the rest of the ingredients for the salsa to the blender. Blend until you reach your desired consistency, then pull off and set aside.

Once done with the salsa, add all the ingredients for the Avocado Crema to the blender and blend until smooth. Set that aside.

Add a cast iron skillet or wok to the grill to preheat for 2 minutes. Once hot, add the pork belly to the skillet. Cook the pork belly, stirring frequently, until the fat begins to render from the pork and the cubed pork are "fried" in their own fat. Cook until the outside of the cubes become crispy but the pork belly is still soft (about 160F internal and around 15-20 minutes). Once done, pull the skillet off and pull the pork belly out. Warm up your tortillas and get ready to serve!

For serving, add a dollop of the avocado crema & salsa to the tortilla. Next, add the pork belly topped with pickled red onions, pickled jalapenos and cotija cheese. Serve & enjoy!
Nutrition
Calories:
1462
kcal
|
Carbohydrates:
15
g
|
Protein:
24
g
|
Fat:
146
g
|
Saturated Fat:
48
g
|
Polyunsaturated Fat:
19
g
|
Monounsaturated Fat:
67
g
|
Trans Fat:
1
g
|
Cholesterol:
185
mg
|
Sodium:
1364
mg
|
Potassium:
903
mg
|
Fiber:
6
g
|
Sugar:
5
g
|
Vitamin A:
1588
IU
|
Vitamin C:
68
mg
|
Calcium:
74
mg
|
Iron:
2
mg