Any recipe that involves beer and steak is pretty much guaranteed to be a good one. These chipotle beer steak tacos are no exception.
This recipe came to be while my wife and I were staying in an RV on a camping trip in Colorado. Now, if I've learned anything during my time cooking or camping, it's that camping food does not have to be peanut butter and jelly sandwiches or cans of cold, store-bought soup.
Believe it or not, camping food can be beer-marinated tender grilled steak in warm tortillas with sweet, creamy, flavorful corn salsa and hot sauce. Yep, you read that right.
We had so much fun cooking with the Good Sam Rentals crew! Get a behind-the-scenes look at this recipe being made during our Colorado RV Trip with Good Sam Rentals here!

Chipotle Beer Steak
All great beef starts with great seasonings. In this case, we're making a marinade out of cilantro, scallions, orange and lime juices, chipotle puree, garlic, chile pequin, and salt.
You'll combine all of that in a bowl, add in the beef, then pour in the oil and a light beer of your choice. Mix it all up with your hands to fully coat the meat. At this point, you can start on the corn salsa to give the beef time to marinate in the beer, juices, and seasonings. The more time it has, the more flavorful the beer steak will be!
Once the beef is marinated, it's time to grill it up. Just place it on the hot grill and let it work its magic, flipping so it can get that delicious crust on both sides!

Want more skirt steak recipes? Check these Cheesy Skewered Skirt Steak with Salsa Verde, Chipotle Adobo Skirt Steak and Grilled Skirt Steak with Chimichurri recipes!

Charred Corn Salsa for the Chipotle Beer Steak Tacos
Now, the MVP of this recipe: charred corn salsa. If you've never had charred corn, then you're in for a real treat. The natural sweetness of the corn paired with the smoky, almost burnt taste from the grill is incredible.
I'm not saying at all that the beer steak isn't good on its own…because it is. BUT, I am saying that the combination of beer steak and corn salsa takes both components to a whole new level of amazing.
For more salsa action, look at this Skewered Picanha with Salsa Vinaigrette recipe!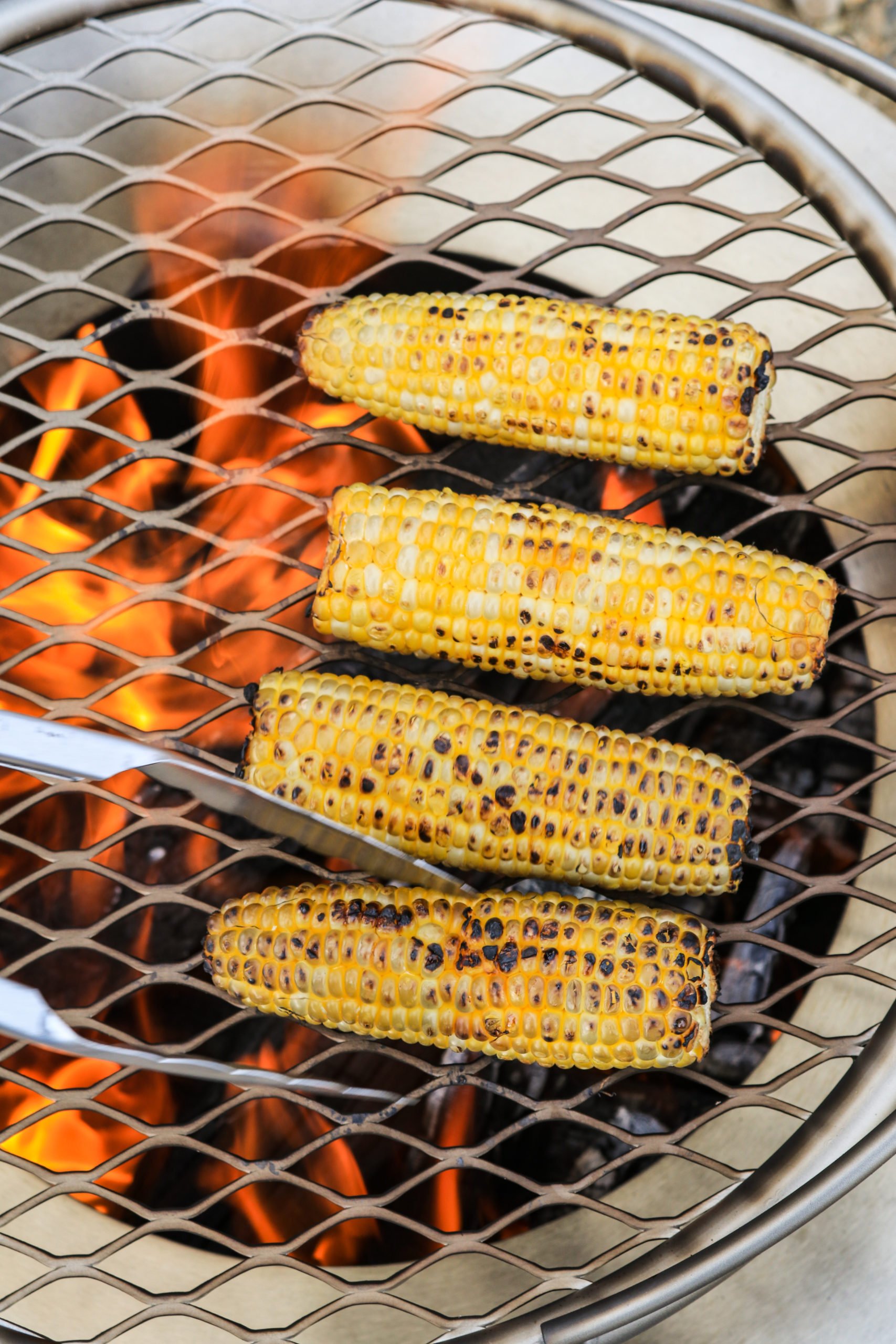 You'll start by charring the corn cobs on the hot grill until they start to blacken. Not too much. Charred is different than burnt! After the corn is cooked, remove it from the grill. Now, use a chef's knife to shave off the corn kernels.
The salsa comes together super quickly from this point. Just toss the corn in a bowl with salt, cilantro, green onion, lime juice, hot sauce, sour cream, and cotija. Fair warning: it will be difficult not to eat all the salsa before you actually add it to the beer steak tacos.
Bring Your Chipotle Beer Steak Tacos Together
Now, it's time for the best part! Eating the tacos!
To put it all together, warm your tortilla on the grill and top with the grilled steak. Layer on the corn salsa then top it off with additional cotija and a drizzle of hot sauce. Tender steak, a pop of sweetness from the corn, and the kick of smoky heat from the hot sauce. These chipotle beer steak tacos taste like you're dining at a fancy restaurant while you get to enjoy the outdoors.
Camping just got a whole lot better!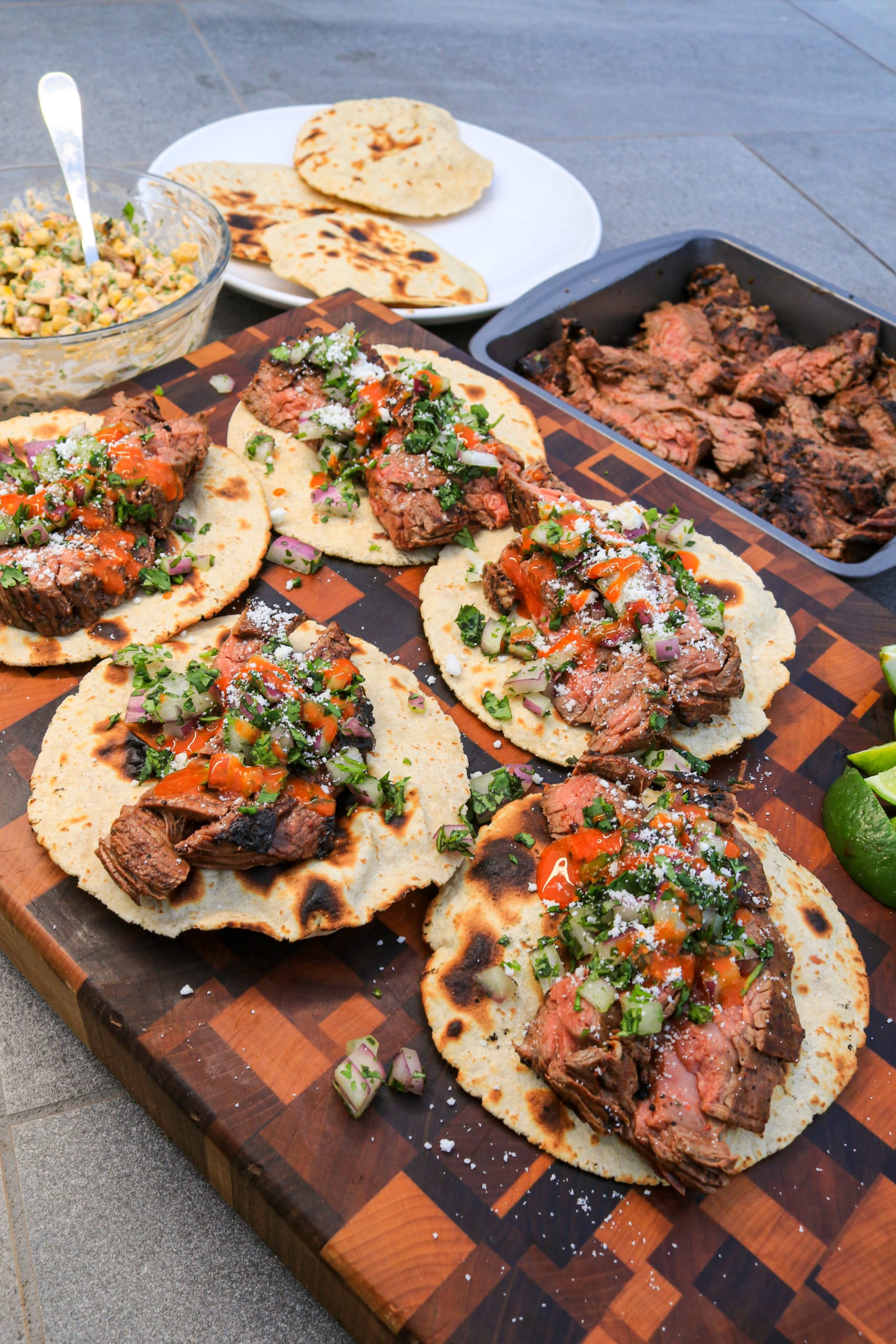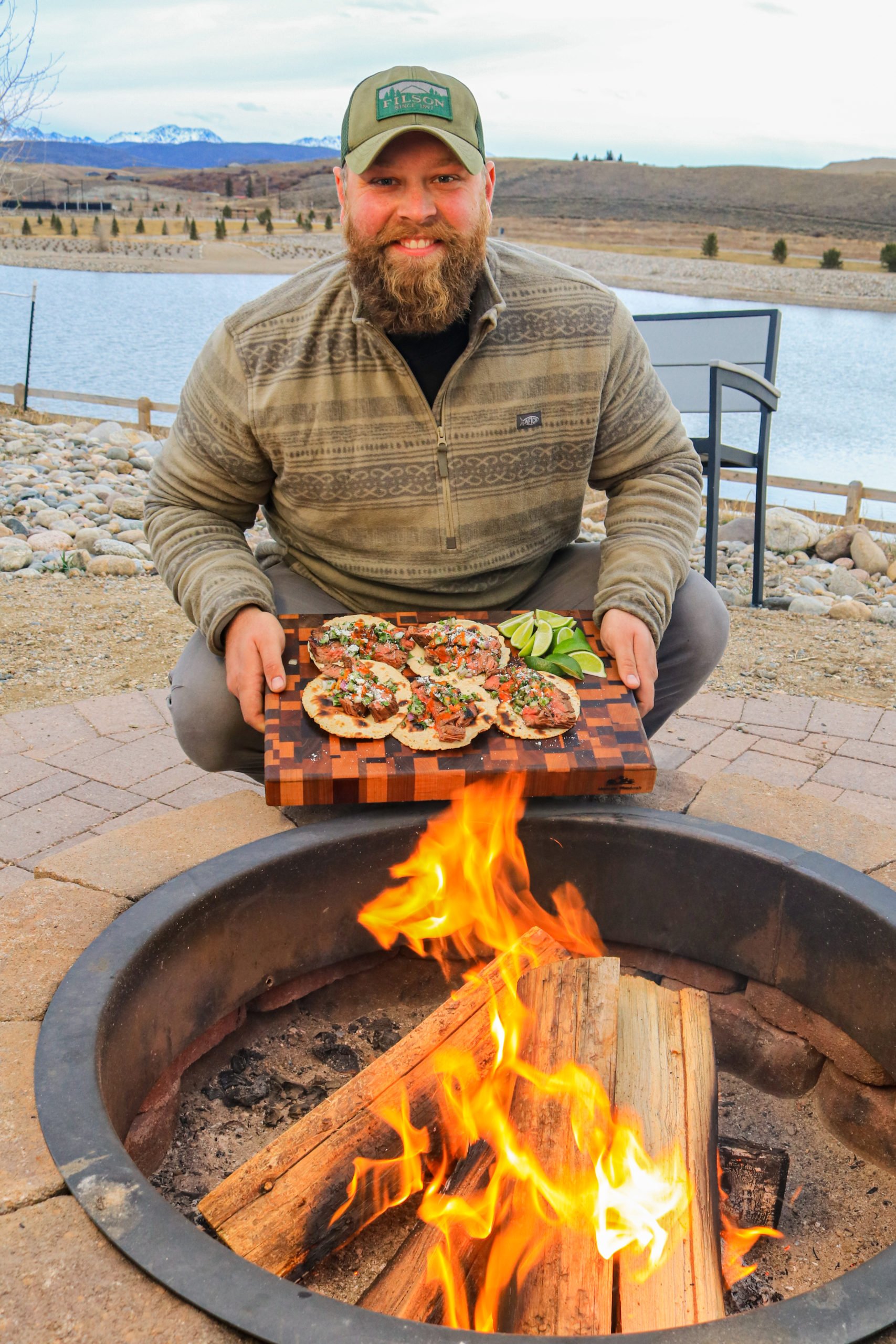 For more delicious recipes, check out my cookbook Food X Fire!
Needing more spice in your life? My spice line can help with that. Check them out here.
Chipotle Beer Steak Tacos
Chipotle Beer Steak Tacos because everyone loves taco night.
Ingredients
Steak:
2

Whole Skirt Steak

cut into sections

12-14

Tortillas

Flour or Corn

Red Onions

Chopped for garnish

Cilantro

Chopped for garnish

Cotija Cheese

for garnish

Hot Sauce

for garnish
Chipotle Beer Marinade:
12

oz

Light Beer

2.5

tbsp

Chipotle Puree

1.5

tbsp

Cilantros

chopped

1.5

tbsp

Green Onions

chopped

1

tbsp

Minced Garlic

1.5

tsp

Chile Pequin Powder

or Cayenne

1.5

tsp

Sea Salt

2

Limes

juiced

1

Navel Orange

juiced
Corn Salsa:
4

Corn

on Cob

2.5

tbsp

Cilantro

chopped

2.5

tbsp

Sour Cream

1.5

tbsp

Green Onions

chopped

1.5

tbsp

Red Onions

diced

2

tsp

Hot Sauce

2

tsp

Cotija Cheese

2

Limes

juiced

Salt

to taste
Instructions
Begin by adding all the ingredients for the Chipotle Beer marinade to a large food safe bowl. Mix together thoroughly. Next, trim your skirt steak of any excess fat and slice into 6" segments. Add all the steak to the marinade and cover. Place in the fridge to marinate for at least 4 hours but ideally overnight.

Next day, preheat your fire to medium high heat (around 375F) for direct grilling.

Add your corn to the grill and cook for 10-15 minutes until well charred and softened. Pull the corn off and slice the corn kernels off the cob. Add the corn to a bowl along with the rest of the ingredients for the corn salsa. Mix together thoroughly and place in the fridge until ready to use.

Pull your marinade steak out of the fridge and let sit at room temperature for 15 minutes. Pull the steak out and discard the excess marinade. Add the steaks to the grill and cook for 2-3 minutes per side until about 130F internal (or cook to your desired temperature). Cook them in batches if needed so you do not overcrowd the grill. Once done, pull the steaks off and let rest for 5 minutes. Finally, add your tortillas to the grill to lightly cook for 30 seconds a side.

Pull your steaks out and, making sure you are slicing against the grain, cut into segments or chop into pieces. Start building your tacos with your tortilla, sliced steak, chopped red onions, chopped cilantro, cotija cheese, hot sauce and corn salsa on side or on top. Serve and enjoy!
Nutrition
Serving:
1
Taco
|
Calories:
420
kcal
|
Carbohydrates:
42
g
|
Protein:
31
g
|
Fat:
14
g
|
Saturated Fat:
5
g
|
Polyunsaturated Fat:
1
g
|
Monounsaturated Fat:
6
g
|
Trans Fat:
1
g
|
Cholesterol:
75
mg
|
Sodium:
1216
mg
|
Potassium:
559
mg
|
Fiber:
4
g
|
Sugar:
6
g
|
Vitamin A:
635
IU
|
Vitamin C:
29
mg
|
Calcium:
119
mg
|
Iron:
5
mg