Step aside pork shoulder because we're upgrading to ham! These Smoked Pulled Ham Sandwiches steal the spotlight. Tender, spicy, salty, and incredibly easy to cook. Top that delicious ham with melty cheese, pickled, and buttery toasted rolls and you've got yourself a hit. Yes, you can absolutely shred a bone-in ham with ease, just read along and we'll show you how.
Recipe Contributed by Brad Prose
Spicy, Sweet Pulled Ham Sandwiches
Smoked Pulled Ham, this obviously delicious dish has been sitting right in front of us the whole time! Pulled pork has been stealing the show for years, but we're here to change it up. Bone-in ham is slowly smoked over time with the Smoked Chipotle Mezcal seasoning, adding a spicy and savory component to the already sweet natural pork flavors. The combination of the two with a low and slow smoking process creates an incredible flavor profile.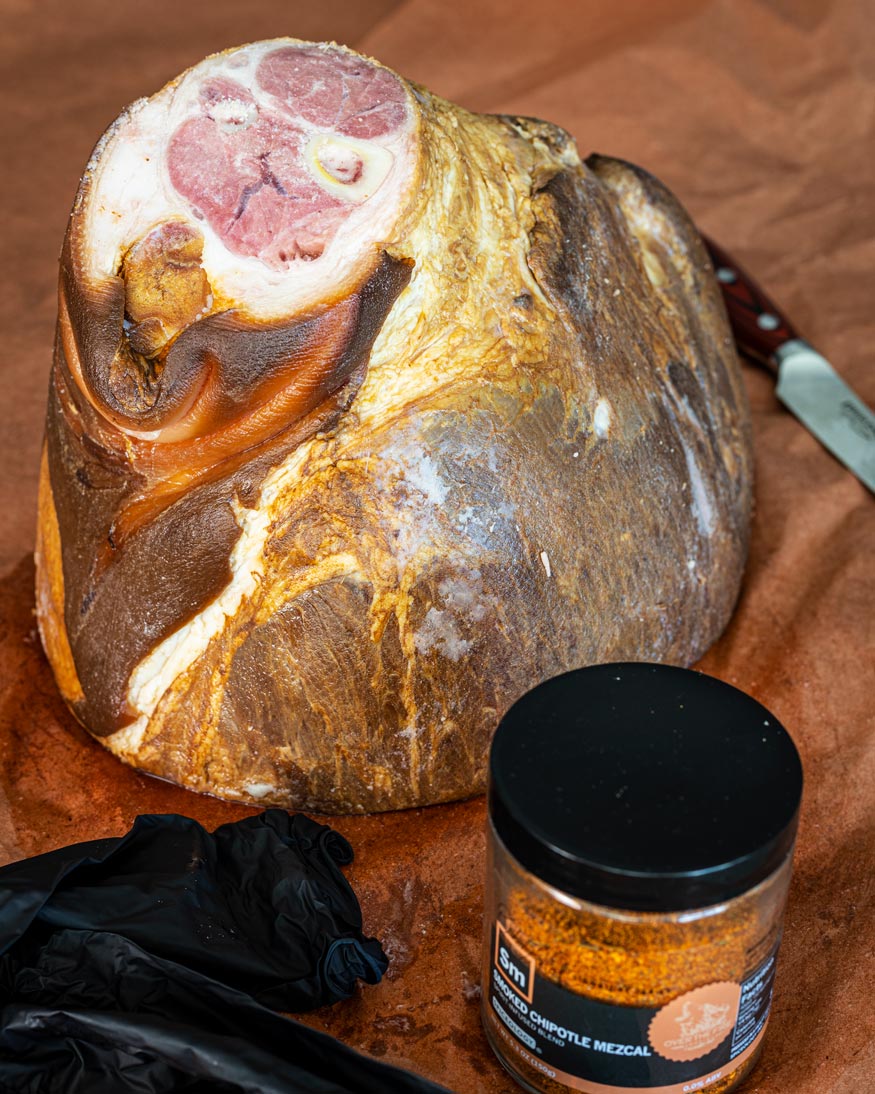 Want more Smoked Chipotle Mezcal? Then check out my Spicy Mexican Street Shrimp and Grilled Lobster Tail Skewers recipes!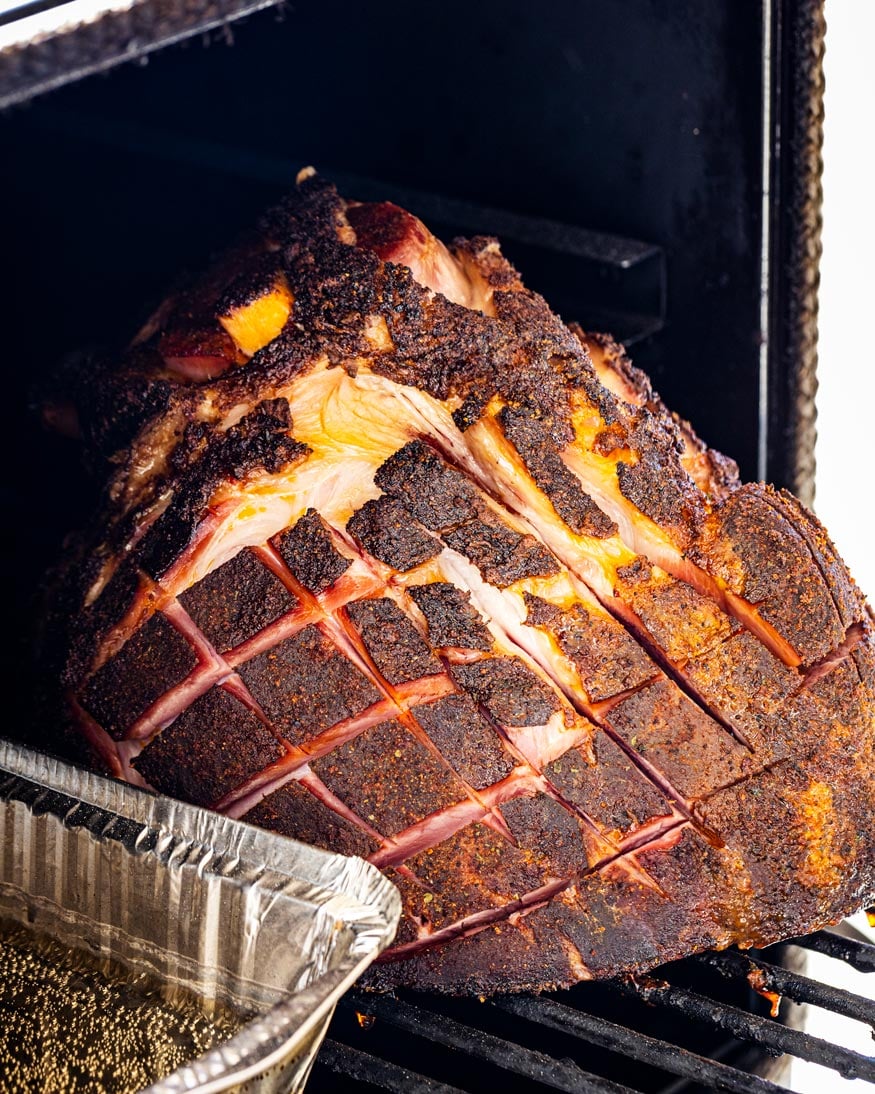 Smoking a ham for shredding isn't difficult. It's the same process as you'd use for a pork shoulder or almost any meat that you'd shred. The key is making sure you purchase a bone-in ham (not spiral cut) that isn't glazed because we want to build our own flavors!
Speaking of building flavors, isn't that one of the best parts of making sandwiches? These cheesy pull-apart smoked ham sandwiches are simple, as they should be. We recommend you try out our combination of sweet and spicy, but feel free to add your own twists.
Smoked and Pull-Apart Tender Ham Sandwiches
Every piece of meat has its tricks with BBQ, and pulled ham is no different. Bone-in ham is cured, so the meat is naturally going to be tougher than a pork shoulder. So, we're going to combine smoking & braising methods together. This forces the meat to fall off the bone while drawing out some of the saltiness from the cured ham.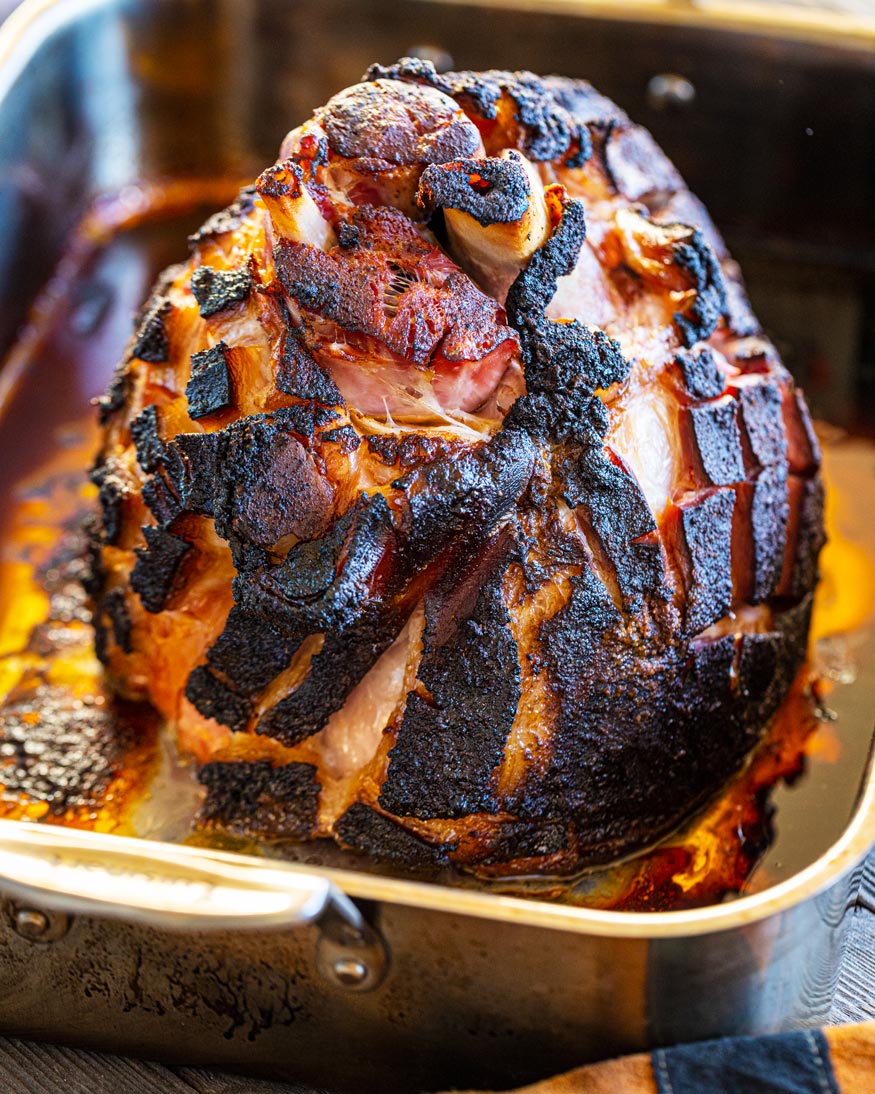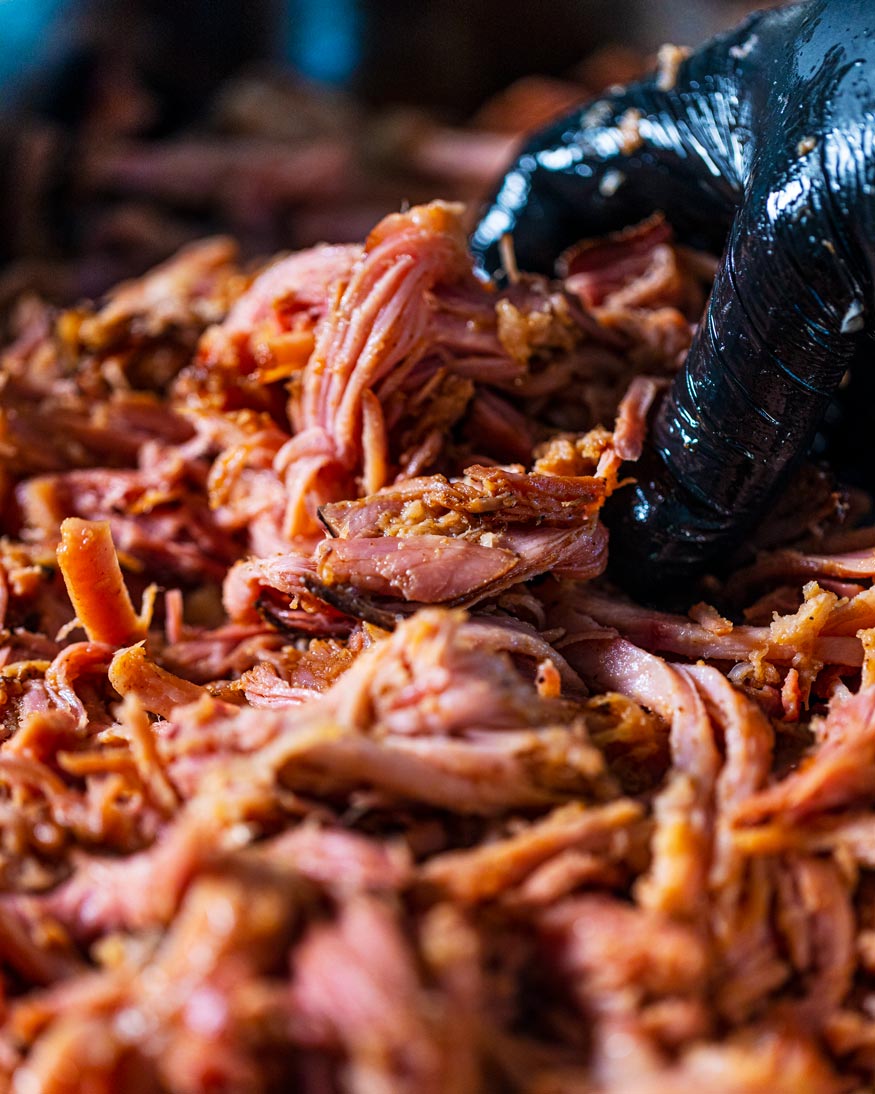 Score the ham on the outside with a small knife, creating crosshatch marks about 1" apart across the entire surface (except the flat, cut side). Then, rub it with yellow mustard, we want the seasoning to stick. Season generously with the Smoked Chipotle Mezcal rub on all sides. Now you're ready for the first phase of smoking.
Smoke & Braise
Smoke the ham at 250-275F for a few hours until it's about 165F internal temperature. Be sure to check the temperature away from the bone, which will affect your readings. Remove the ham and place it into a foil pan, or roasting pan. Add in a bottle of beer (your choice) and wrap it with heavy-duty foil.
Crank up the heat to 350F and cook the ham the rest of the way until it's probe tender, around 190-205F. You should be able to easily rip off pieces of the ham with your gloves, you'll know. Rest the ham for about 30 minutes to allow the juices to redistribute and shred.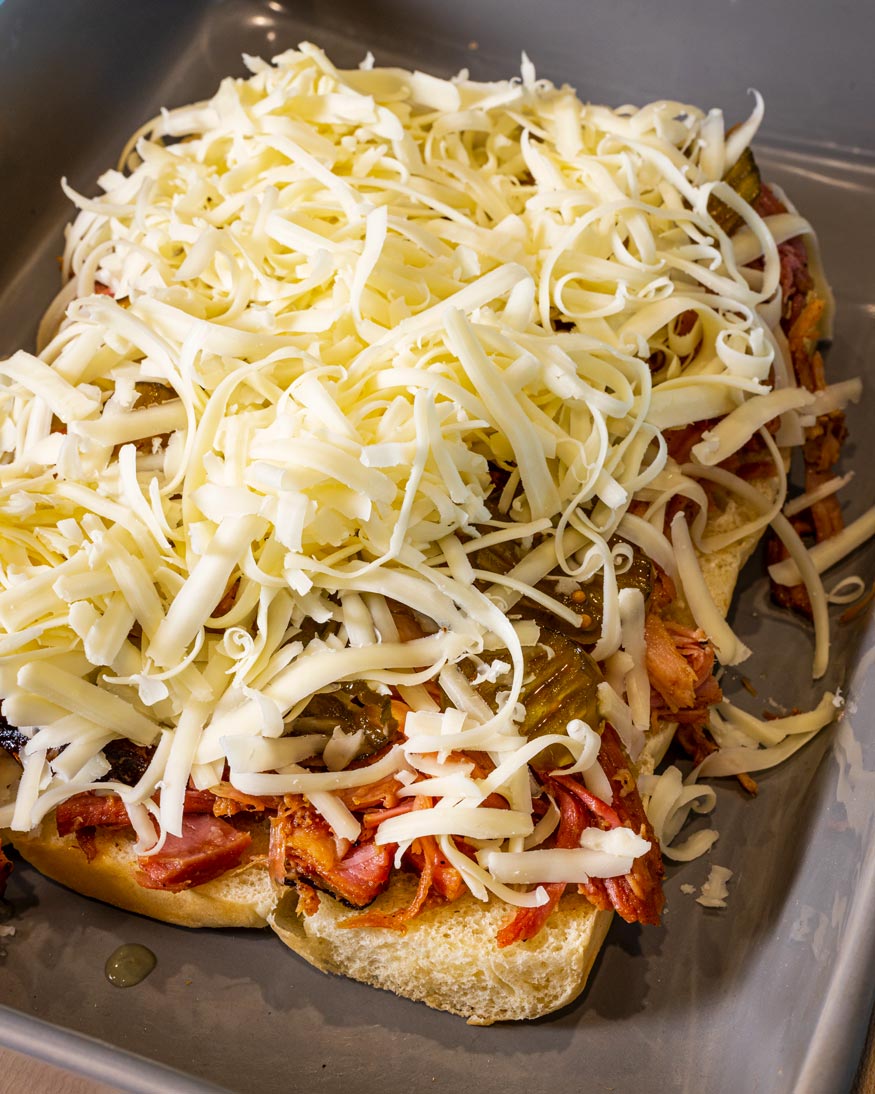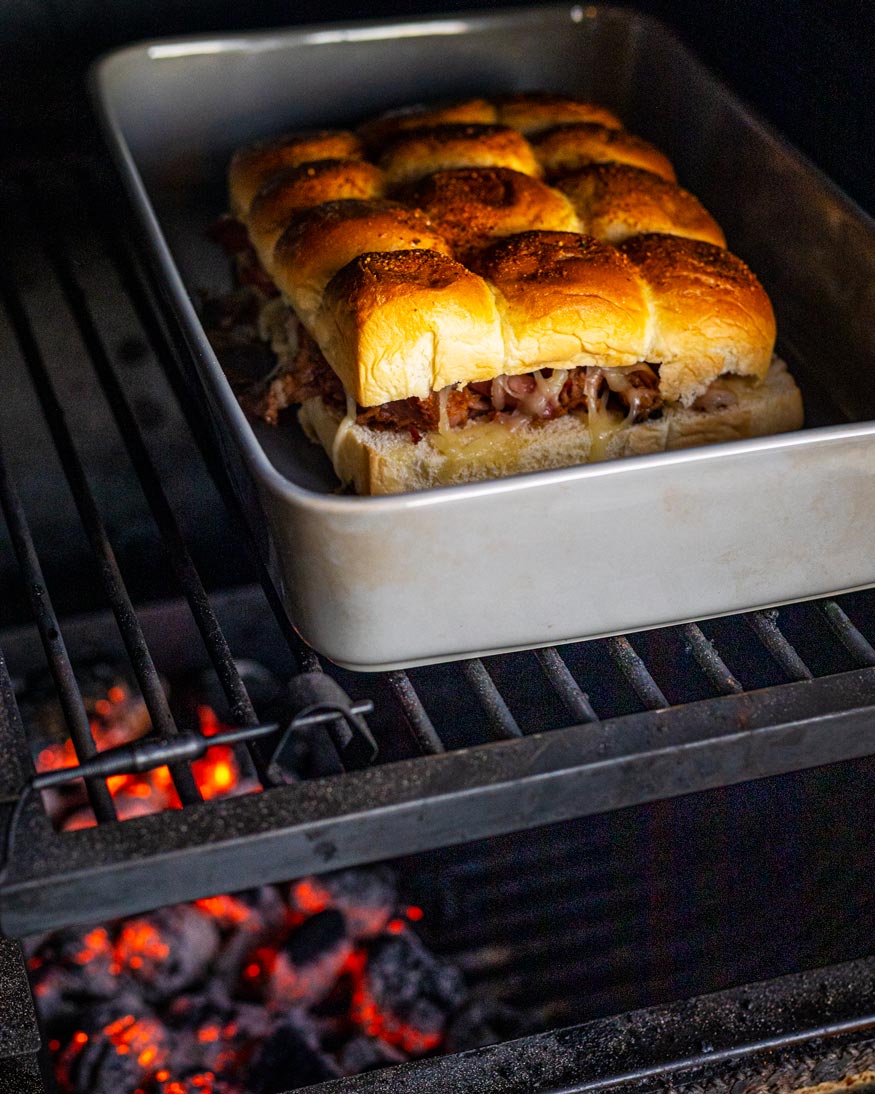 For more recipes like this one, check out our Crispy Korean Pork Belly Sandwiches, Cherry Chipotle Pineapple Glazed Ham or Al Pastor Pulled Pork Sandwich.
Reading the recipe you might notice there are a lot of variables with measurements of time and seasonings. That's because BBQ isn't exact, and neither is the size of your ham. Pay attention to the temperature and feel. The good news with smoking a ham is that stays fresh if you finish early, and makes the most delicious leftovers. Feel free to prepare the ham the day before if you're worried about timing.
Make your Hamwiches
Pull-apart ham sandwiches involve copious amounts of cheese, condiments, and of course delicious meat. Today we're pairing this spicy, smoky ham with Monterrey Jack cheese and sweet pickles. The packaged sandwich rolls, such as King's Hawaiian are ideal. You can slice the entire loaf together and assemble it.
Baste the top of the bread with melted butter and add additional seasoning if you choose. You should choose, because it's delicious. Simply bake the sandwich loaf in a pan for a few minutes in your grill, just enough for the cheese to melt. Once they are cool enough you should eat half of the Smoked Pulled Ham Sandwiches, and then tell your family they are ready!
For more delicious recipes, check out my cookbook Food X Fire!
Needing more spice in your life? My spice line can help with that. Check them out here.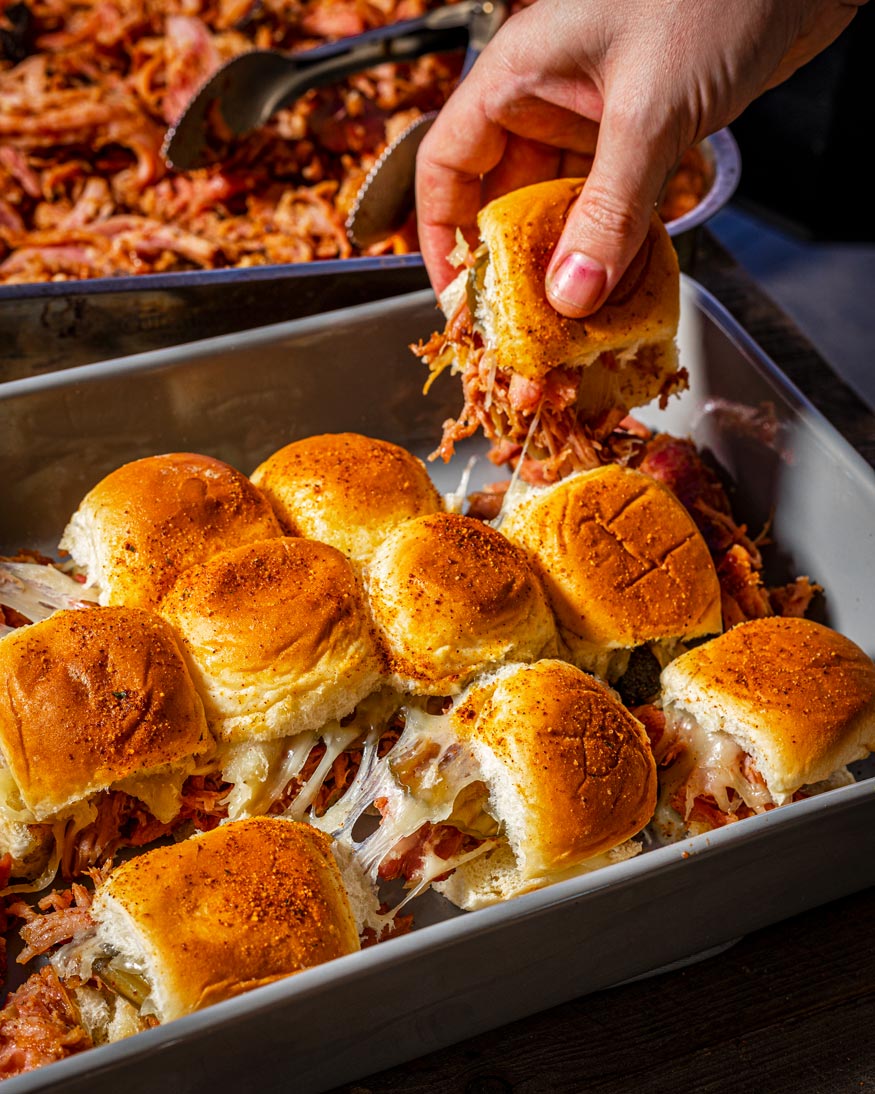 Smoked Pulled Ham Sandwiches
Smoked Pulled Ham Sandwiches are so legit! We hope you enjoy them.
Ingredients
1

ham shank

bone-in (about 7-10lb)

¼

cup

yellow mustard

more as needed

½

cup

Spiceology Smoked Chipotle Mezcal seasoning

more as needed

1

bottle of beer

4

packs of King's Hawaiian Rolls

8

cups

of Monterrey jack cheese

shredded

4

tbsp

butter

melted

Pickles

or pickled jalapenos for topping
Instructions
Preheat your charcoal grill or smoker for indirect grilling, aiming for 250F.

Use a knife to score the ham with a crosshatch on all sides about ¼" deep, except the flat cut side. Coat the ham with a thin layer of yellow mustard, use more if needed. This helps the seasoning stick to the outside. Sprinkle the seasoning generously around the entire outside, skipping the flat cut side.

Place your ham in the smoker, and allow it to smoke for about 3 hours or so. Add a small water pan if you feel the air is very dry. Allow it to cook until it's around 165F.

Remove the ham from the smoker and place it into a foil pan, or a small roasting pan. Add 1 bottle of beer and pour it into the bottom. Cover the ham with heavy-duty foil, giving it a little room so the foil isn't hugging the ham.

Turn up the heat to 350F. Place the pan back in the smoker and let it roll for 3-4 hours.

You want the ham to be at least 190F, up to 210F. The meat should be pulling off the bone with ease. Allow it to rest for about 30 minutes before shredding carefully.

Slice your bread lengthwise, keeping the entire loaf together. Do not pull apart the rolls! Place your ham, cheese, and pickles on the bottom half of the loaf. Close up the sandwiches with the top half, and baste it with the melted butter. Sprinkle more of the seasoning on the top.

Bake the sandwiches in the smoker for 6-8 minutes, until you can see the cheese is melty.