These Grilled NY Strips with Garlic Chili Sauce are a spicy, tangy, and savory flavor explosion. They're made with a simple dry brine, perfectly grilled NY strips, and my take on a sweet and spicy Thai steak sauce called Crying Tiger Sauce.
Grilled NY Strips with Garlic Chili Sauce Starts with a Brine
Today, we'll start your Grilled NY Strips with Garlic Chili Sauce with an overnight dry brine. You can also do a quick dry brine in the fridge if you're short on time, but if you're planning ahead, plan for an overnight brine. This is because the longer the NY strips sit with the brine, the more tender and flavorful they will be.
To brine the steaks we'll first add them to a baking sheet. Preferably, use a baking sheet with an elevated grate. If you don't have that, no worries. A plain old baking sheet works just fine, too! Next, generously coat the outside of each steak with kosher salt. Place the baking sheet into the fridge and let the brine work its magic.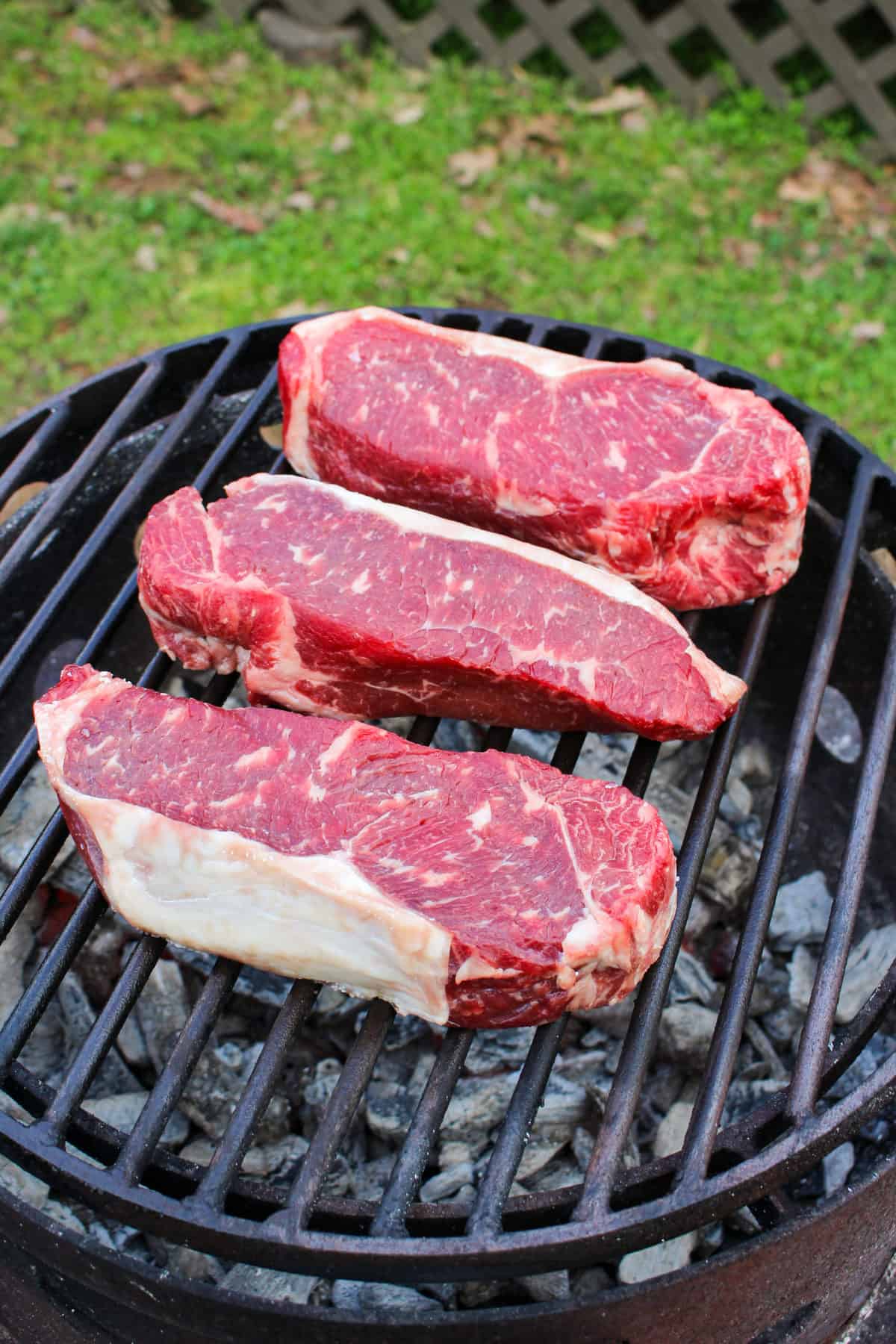 Again, overnight is best if you have the time for it! However, if you are on more of a time crunch, a minimum of 40 minutes will work too. It won't have quite the same effect, but will still taste delicious nonetheless!
Make the Garlic Chili Sauce for Your Grilled NY Strips
Before we on to cooking our steaks, let's whip up a quick sweet and spicy sauce. This sauce is based on a Thai steak sauce called Crying Tiger Sauce. The ingredient we're missing is toasted rice flour, which is pretty hard to come by. So, I made my own version of Crying Tiger Sauce with more accessible ingredients…and it's pretty darn great. (If I do say so myself!)
To make the Garlic Chili Sauce, simply mix together soy sauce, fish sauce, minced garlic, Thai chili paste, honey, chopped cilantro, chopped scallion, and lime juice.
That's it!
For another great recipe utilizing Crying Tiger Sauce, check out Marinated Steak with Thai Chili Sauce.
Grilling Time for our NY Strips!
Now, it's time to grill the NY strip steaks. Set the garlic chili sauce aside for now, doing so will give the flavors even more time to meld together.
First, preheat the fire for direct grilling at around 400ºF. The Grilled NY Steaks with Garlic Chili Sauce cook hot and fast! Pull the steaks out of the fridge and brush any excess salt off of the outside. Next, add the steaks onto the hot grill directly over the heat. Cook the NY strips for 3.5-4 minutes on one side, then flip and cook them for another 3.5-4 minutes. To make sure they're done, I recommend probing each NY strip to verify that the internal temperature is 125ºF. Once they hit that, they're good to go.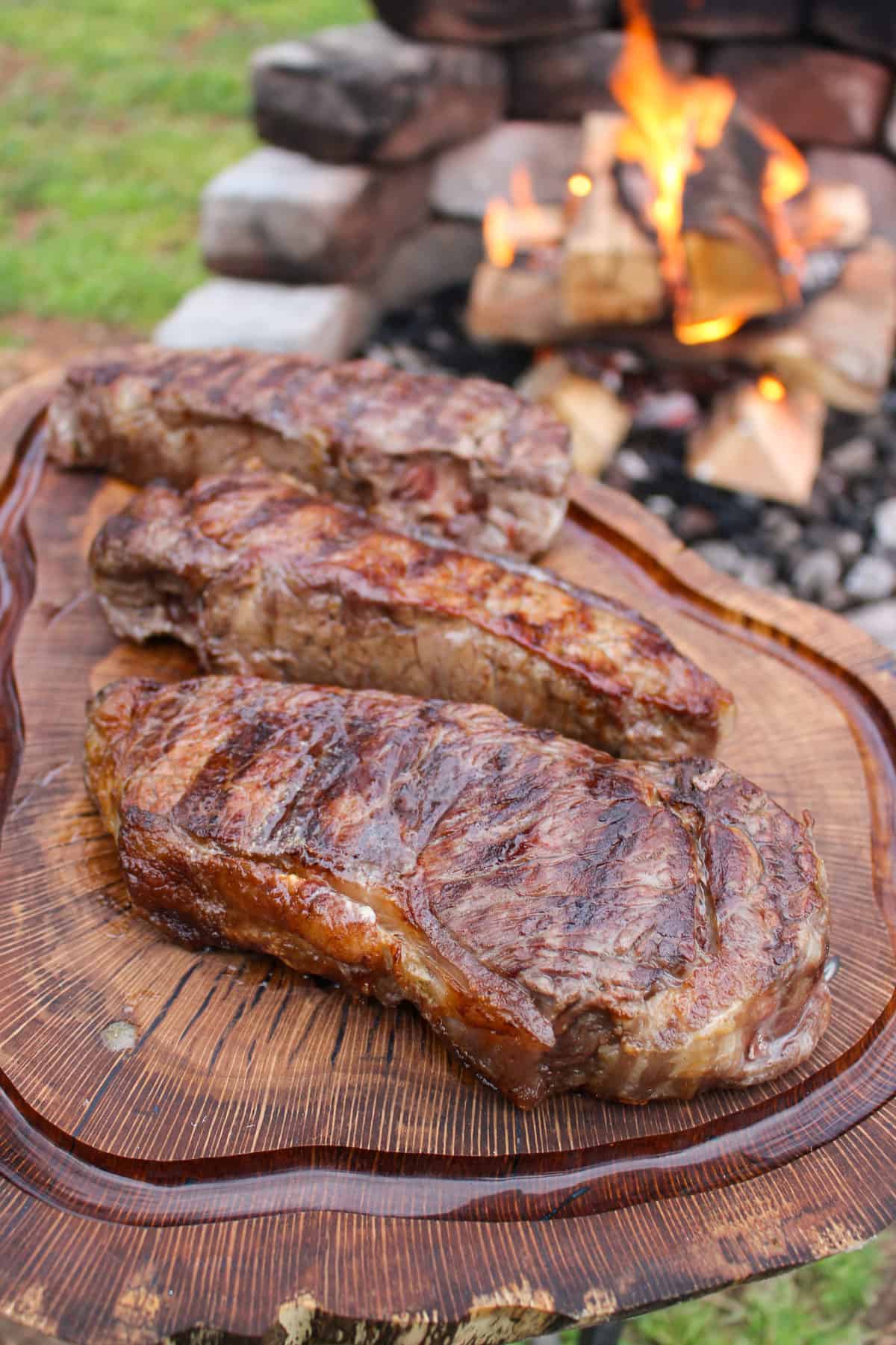 Pull the cooked steaks off of the grill and then set them onto a cutting board to rest for 10-12 minutes. We want to give the flavor and juices time to settle back into the meat because slicing into them too soon will cause all of that delicious goodness to seep out. Dry and flavorless steak gets a no from me! Grilled NY strips with garlic chili sauce deserve so much better than that!
For more grilled steaks, check out my Grilled Steak with Peanut Butter Sauce, Grilled Filets with Chile Vinegar Sauce and Maui Wowee Grilled Ribeyes.
Let's Serve Our Grilled NY Strips with Garlic Chili Sauce!
Now is the time we dig in to our beautifully Grilled NY Strips. First, slice the steaks up and then top them off with a drizzle of the prepared Garlic Chili Sauce.
Next, dig in to this incredible, spicy, tangy, and savory meal. I'll warn you here now: you'll probably be going back for seconds…maybe even thirds.
For more delicious recipes, check out my second cookbook Flavor X Fire or my first cookbook Food X Fire!
Needing more spice in your life? My spice line can help with that. Check them out here.
Full Length Recipe Video on Facebook!
Print Recipe
Grilled NY Strips with Garlic Chili Sauce
Grilled NY Strips with Garlic Chili Sauce will satisfy any steak night cravings.
Ingredients
Steak:
3-4

NY Strips

Kosher Salt

to taste

Sliced Limes

for garnish
Garlic Chili Sauce:
2

tbsp

Soy Sauce

2

tbsp

Fish Sauce

2

tbsp

Minced Garlic

1.5

tbsp

Thai Chili Paste

1

tbsp

Local Honey

1

tbsp

Chopped Cilantro

1

tbsp

Chopped Scallion

3

medium Limes

juiced
Instructions
Add your steaks to a baking sheet (preferably with an elevated grate). Generously season your steaks with the kosher salt on all sides. If you have the time, place the steaks in the fridge overnight (uncovered) to dry brine. If you are at a time crunch, place in the fridge for 30-40 minutes for a quick dry brine.

The next day, preheat your fire for direct grilling (around 400F).

In a bowl, mix together all the ingredients for the Garlic Chili Sauce. Set to the side until ready to use.

Pull out your steaks and brush off any excess salt. Add your steaks to the grill to cook for about 3.5-4 minutes per side or until they are 125F internal. Once the steaks have hit temperature, pull them off and let them rest for 10-12 minutes covered.

Once the steaks are rested, slice them up and top with a drizzle of the Garlic Chili Sauce. Serve and enjoy!
Nutrition
Calories:
405
kcal
|
Carbohydrates:
14
g
|
Protein:
36
g
|
Fat:
24
g
|
Saturated Fat:
11
g
|
Polyunsaturated Fat:
1
g
|
Monounsaturated Fat:
11
g
|
Cholesterol:
103
mg
|
Sodium:
1301
mg
|
Potassium:
596
mg
|
Fiber:
2
g
|
Sugar:
6
g
|
Vitamin A:
86
IU
|
Vitamin C:
17
mg
|
Calcium:
44
mg
|
Iron:
4
mg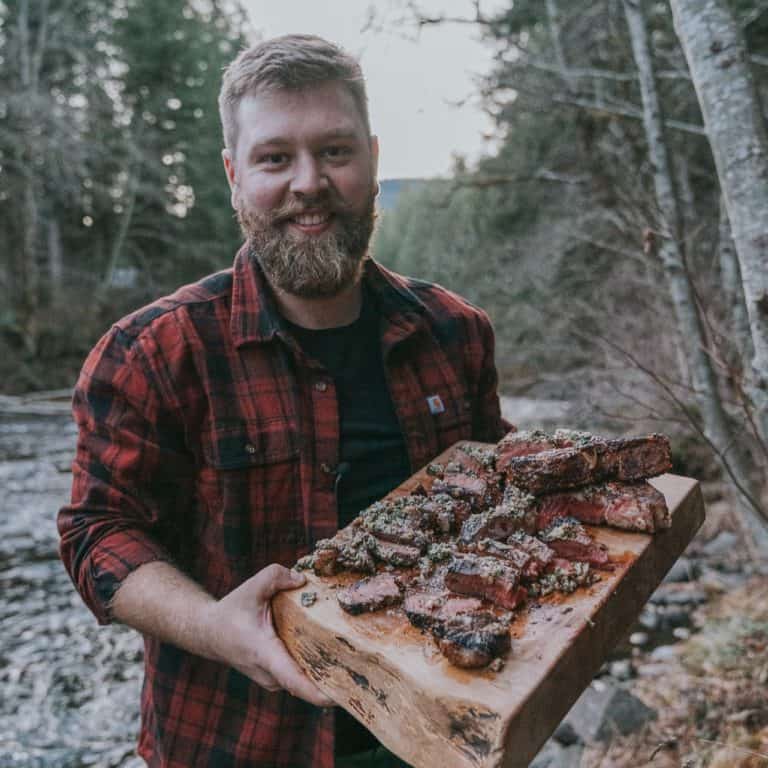 Derek is the driving force behind Over the Fire Cooking. He started cooking with live fire in 2016 and decided to start a social media page so his friends and family could follow the journey. Fast forward to today and Over the Fire Cooking has spread across multiple platforms with millions now following Derek's fire cooking journey. He's a southern fellow who enjoys everything from classic BBQ to Central and South American inspired dishes. Whatever he's cooking up, it's guaranteed to be so freakin' delicious!