We are back at it again over the fire, but this time with some Marinated Steak with Thai Chili Sauce. I am usually pulled towards South American and Latin American cuisine; but after going to a Thai restaurant and having some of their steak sauce, I knew that I needed it in my life. Grabbed myself a whole flap steak (yes, that is its real name) and all the ingredients needed to make this at home. This is a quick and simple cook that can be made over any grill!
A Classic Butcher Cut
If you did not know, I have an obsession with butcher style cuts. What are examples of butcher cut's? I am talking about non-traditional steak cuts that usually go non purchased by the classic consumer. We are talking about flap steak, skirt steak, flank steak, tri-tip, picanha, hanger steak and more. These tend to be fatty cuts of meat that usually need to be marinated overnight and cut just right in order to be tender. I decided to go with Flap Steak for this Marinated Steak with Thai Chili Sauce recipe.
Let's cook this Marinated Steak with Thai Chili Sauce
I start by marinating the steak overnight in a garlic soy style marinade. This will tenderize this fatty cut, as well as help to give it a good crust from all the flavor on the outside of the meat. Once our steak has marinated overnight, we will preheat the grill to 400F for direct cooking. This cook only takes about 10-15 minutes to grill, so be ready to flip the steak when needed or you will overcook it. Add the steak to the grill and cook for about 4 minutes per side. I like to cook this flap steak till it's 125F as it is so fatty that it helps to have more fat rendered. I pull off the cooked Marinated Steak and get onto the Thai Chili Sauce.
This Thai Chili Sauce is my own quasi variation of classic Crying Tiger Sauce. If you have never had crying tiger sauce, then you are missing out! It is tangy, sweet and sour all at the same time for a very powerful flavor punch on your meat. I decided to not call this crying tiger sauce since I changed it a decent amount. However, I will definitely give credit to this sauce as my inspiration.
The first thing I did was use coconut liquid aminos instead of classic soy sauce. Coconut liquid amino is sweeter and less salty than soy sauce. This will help to tame the chili past that this sauce has. Mixing together the liquid aminos with fish sauce for a tangy and funky finish. Adding everything else and making sure to not leave out the spicy thai chili paste since that is the main ingredient. Use more or less chili paste depending on how much heat you like for you Marinated Steak with Thai Chili Sauce!
Time to Enjoy!
Once the Marinated Steaks are rested, we slice into them against the grain and top them off with the Thai Chili Sauce. Charred up some lemons and limes for a citrus kick at the end, and you are ready to eat. This is a great recipe for a quick dinner or a backyard bbq. Enjoy!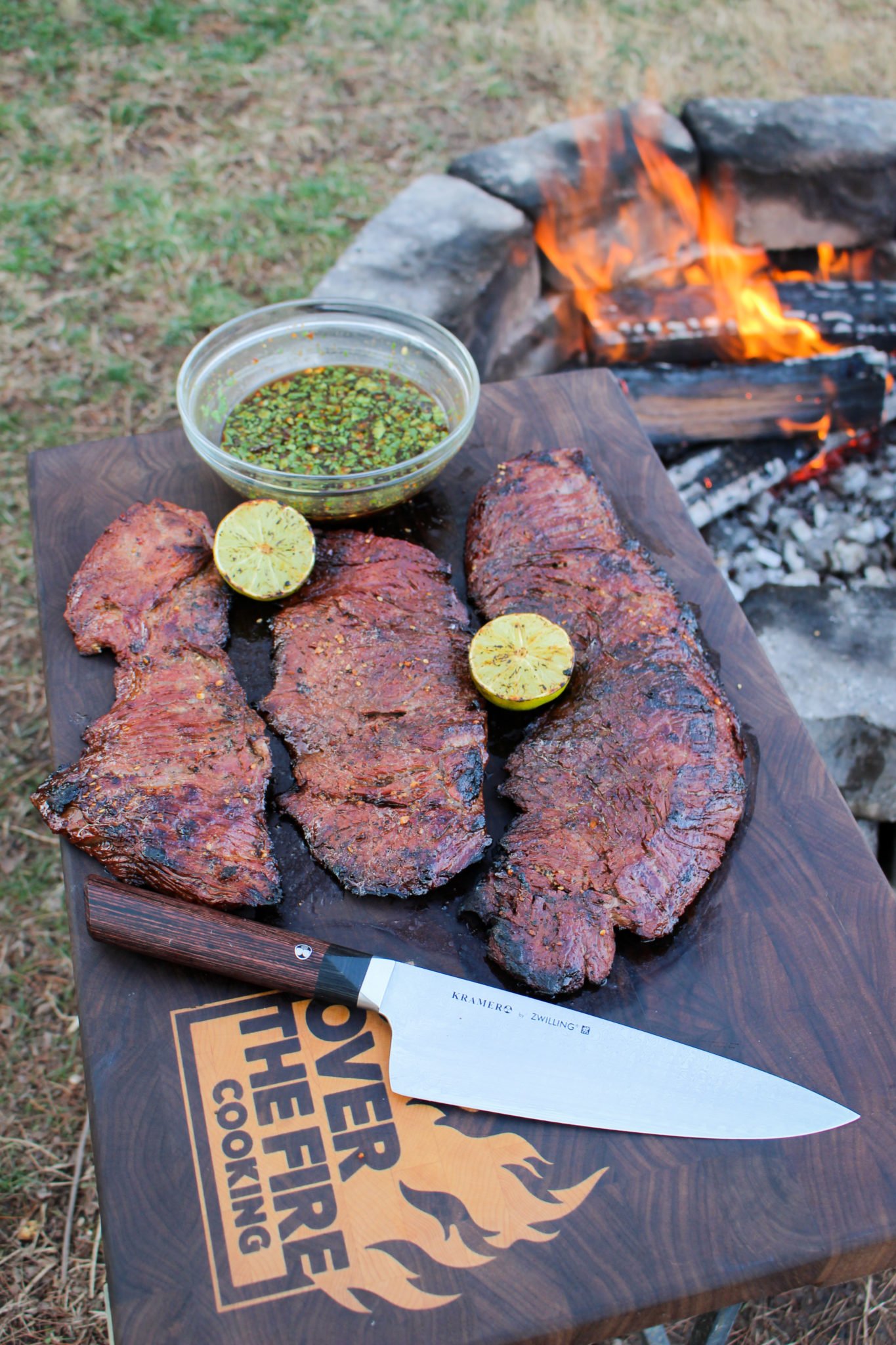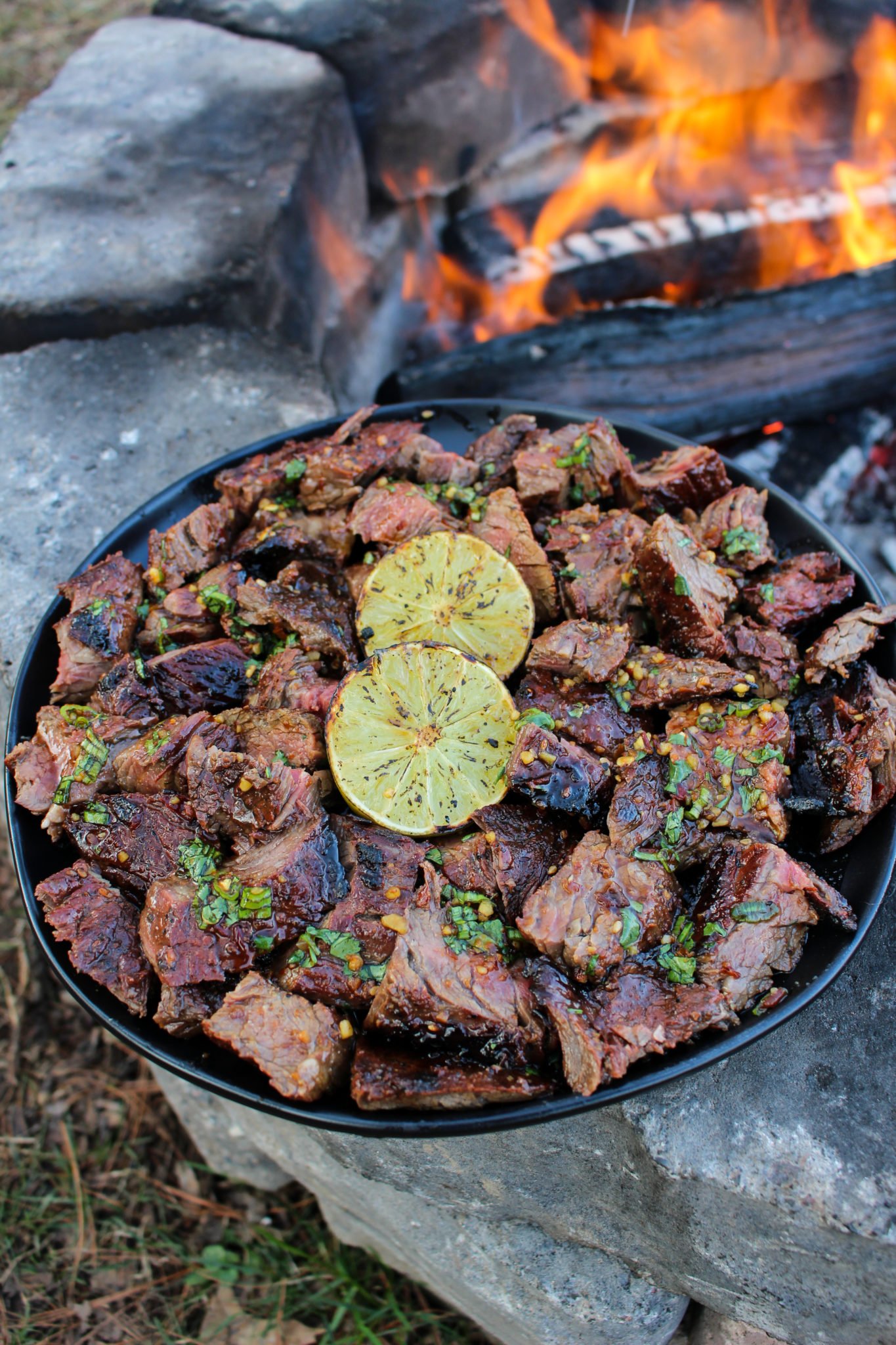 Marinated Steak with Thai Chili Sauce
After being inspired by a Thai restaurant a while back, I knew I needed to try this Marinated Steak with Thai Chili Sauce at home.
Ingredients
Beef:
1

Whole Flap Steak

Charred Lemons or Limes

for garnish
Marinade:
½

cup

of Soy Sauce

2

tbsp

of Minced Garlic

⅛

cup

of Rice Wine Vinegar

⅕

tbsp

of Honey

2

tsp

of Sea Salt

1.5

tsp

of Black Pepper

1.5

tsp

of Umami Powder

1

tsp

of Red Chili Flakes

1

tsp

of Sesame Seeds

1

tsp

of Onion Powder

2

Lemons

juiced

1

tbsp

of Canola Oil
Thai Chili Sauce:
¼

cup

of Coconut Liquid Aminos

2.5

tbsp

of Fish Sauce

2

tbsp

of Minced Garlic

1.5

tbsp

of Thai Chili Paste

1

tbsp

of Chopped Cilantro

1

tbsp

of Chopped Scallions

1

tsp

of Rice Powder

1

Lime

juiced

1

Lemon

juiced
Instructions
In a bowl, mix together all your ingredients for the marinade. Add your steak to a food safe bowl or bag, then pour the marinade over top. Make sure to mix around thoroughly as to get all parts of the steak marinated. Marinate the steak for at least 4 hours in the fridge but ideally overnight.

The next day, preheat your fire for direct grilling (around 400F).

Pull out your steaks and discard the marinade. Add your steaks to the grill to cook for about 4-4.5 minutes per side or until they are 125F internal. I prefer to cook flap steak a little longer since it is such a thick & fatty cut. Char up some lemons & lemons while the steak cooks if you desire.

Once the steak is done, pull it off and let it rest for 5-7 minutes. As the steak rests, mix together the Thai Chili Sauce in a bowl.

Slice up the steak against the grain, top with the chili sauce and enjoy!