Hitting the best of both worlds today with this Grilled Surf and Turf Recipe. Lobster tails for the surf, two massive porterhouse steaks for the turf and the Buffalo Trace just for me! I did a reverse sear on the porterhouse steaks and topped them with an incredible horseradish parmesan butter sauce. I may have also dipped those lobster tails in the butter sauce because it was so delicious… More on that below.
Grilled Surf and Turf Seasoning
Two birds, one stone. If you don't get that reference, ask Alexa. If you do then you'll appreciate the seasoning I made for this Grilled Surf and Turf recipe. It's one seasoning blend that goes for both the steak and seafood. This multifunctional seasoning might sound impressive, but in reality it's just four ingredients. Those ingredients are coarse sea salt, peppercorns, red chili flakes and dried minced garlic. I tossed all those ingredients into my mortar and pestle.
Why the mortar and pestle? Well, I did it mostly for the peppercorns. I love pepper on steak and fresh peppercorns bring the most flavor to the table. Using already ground pepper works fine if you want to save some time, but it won't bring as much of that pepper flavor in comparison to freshly ground peppercorns. Season the steaks after the seasoning is ground together and at your desired level of consistency. Remember, we'll use this seasoning blend on our lobster tails too, so don't use it all up on the steaks. Alright, let's keep moving through this Grilled Surf and Turf Recipe.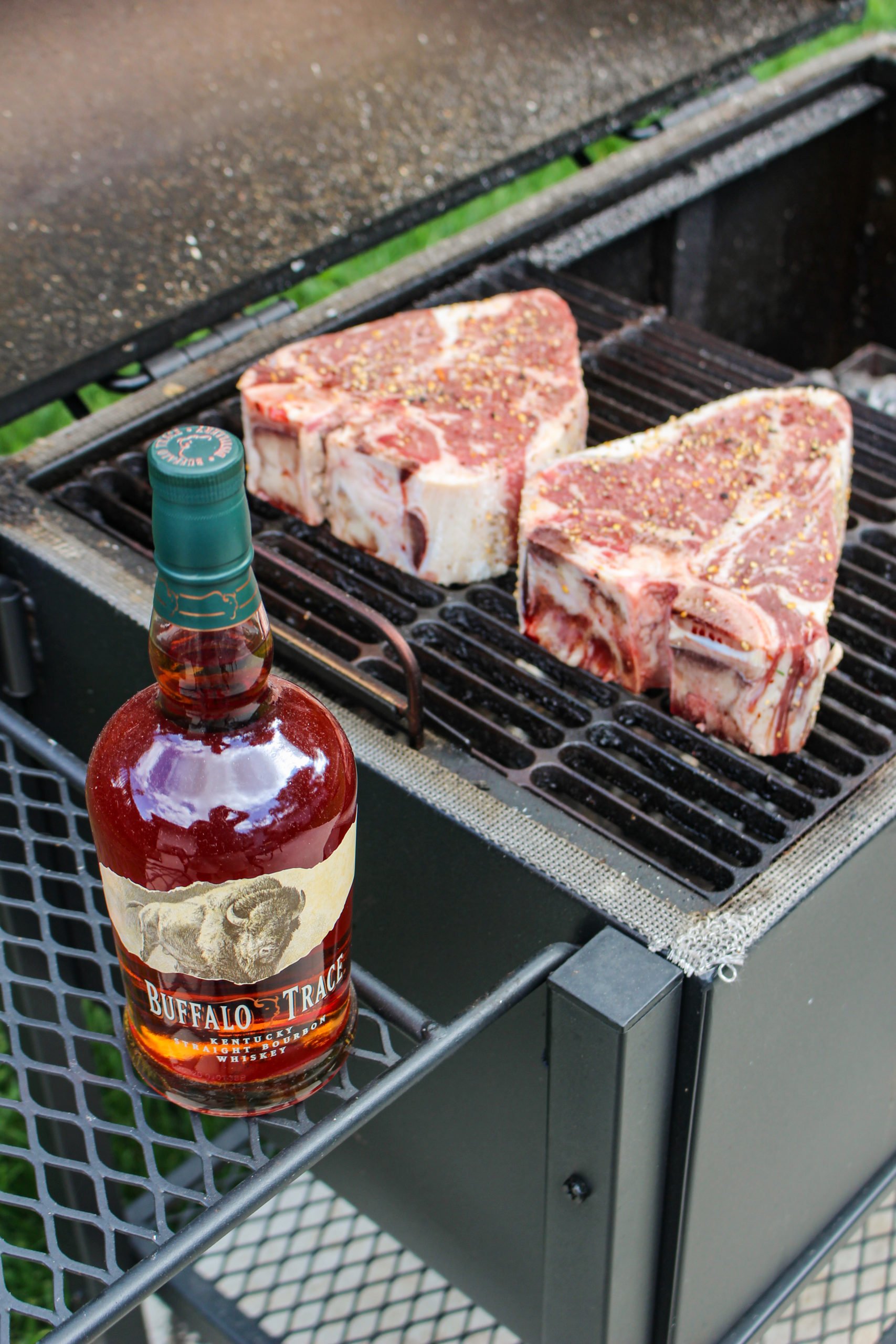 Reverse Turf
After seasoning the steaks I placed them on the grill. I used a reverse sear cooking technique for these steaks as they were such large cuts of beef. Reverse searing is one of my favorite ways to cook large steaks like these porterhouses. This is because it allows me to reach the proper internal temperature for the steak and then searing it. You get the perfect medium rare cook and a great crust on the steak. If you cook it directly over the coals from the get go, you risk the outside cooking too quickly while the inside of the steak remains raw. All in all, reverse sear is the way to go for this Grilled Surf and Turf Recipe.
While the turf was cooking, I prepped the surf. To do this, I cut down the center of each lobster tail and carefully pulled the lobster meat up to sit on top of the shell. From here, it's easy. Sprinkle the top of each lobster tail with the remaining seasoning that we used for the steaks. Now, head back to the grill.
Ying and Yang
I cooked my porterhouse steaks until they reached an internal temperature of 120 degrees Fahrenheit. Then, I pulled them from the grill to let them rest. Things for our Grilled Surf and Turf escalate quickly from here… As soon as the steaks came off, the lobster tails went on.
Along with the lobster tails was the horseradish parmesan butter sauce. Don't skip this part of the Grilled Surf and Turf Recipe because it's amazing!! All you have to do is combine all the ingredients in a cast iron sauce bowl and let them simmer together. Alright, now we'll sip on some Buffalo Trace and get ready for the final step. Searing the turf.
Loving this surf and turf combo? Check out our garlic butter steak and shrimp too!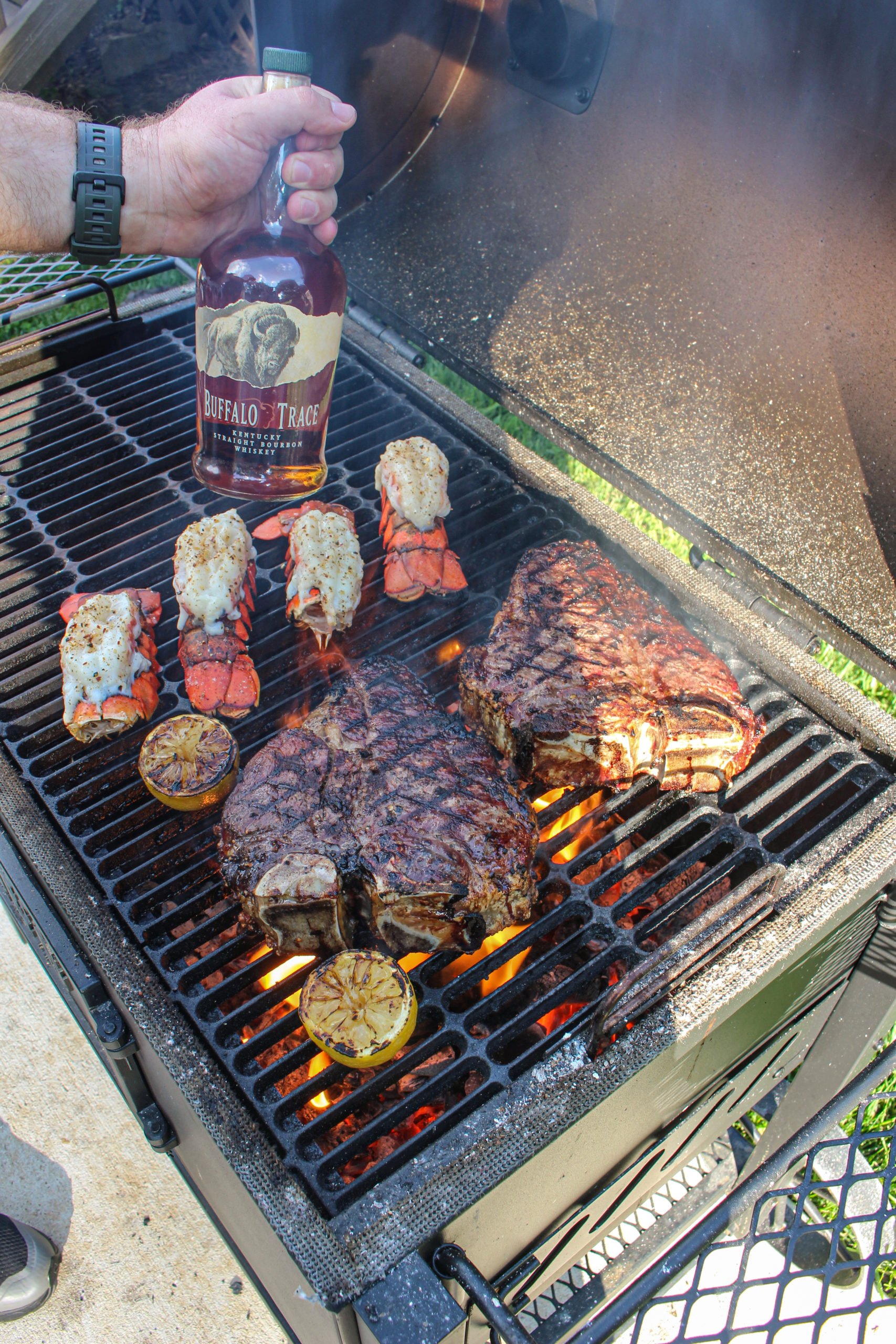 Sip and Surf and Turf
As the lobsters finish cooking, grab the steaks and place them on the grill grate over the coals. Leave them here for a minute or two per side to get a nice crust. Then, pull everything from the grill. I served my Grilled Surf and Turf directly from my cutting board. I lined the top of the board with my lobster tails and placed the steaks right below them. Before cutting into the porterhouse steaks, I topped them both with a generous amount of the horseradish parmesan butter sauce. Then, I cut into the steaks and we were ready to eat. Best enjoyed with friends, family and a nice bourbon… like Buffalo Trace! Cheers!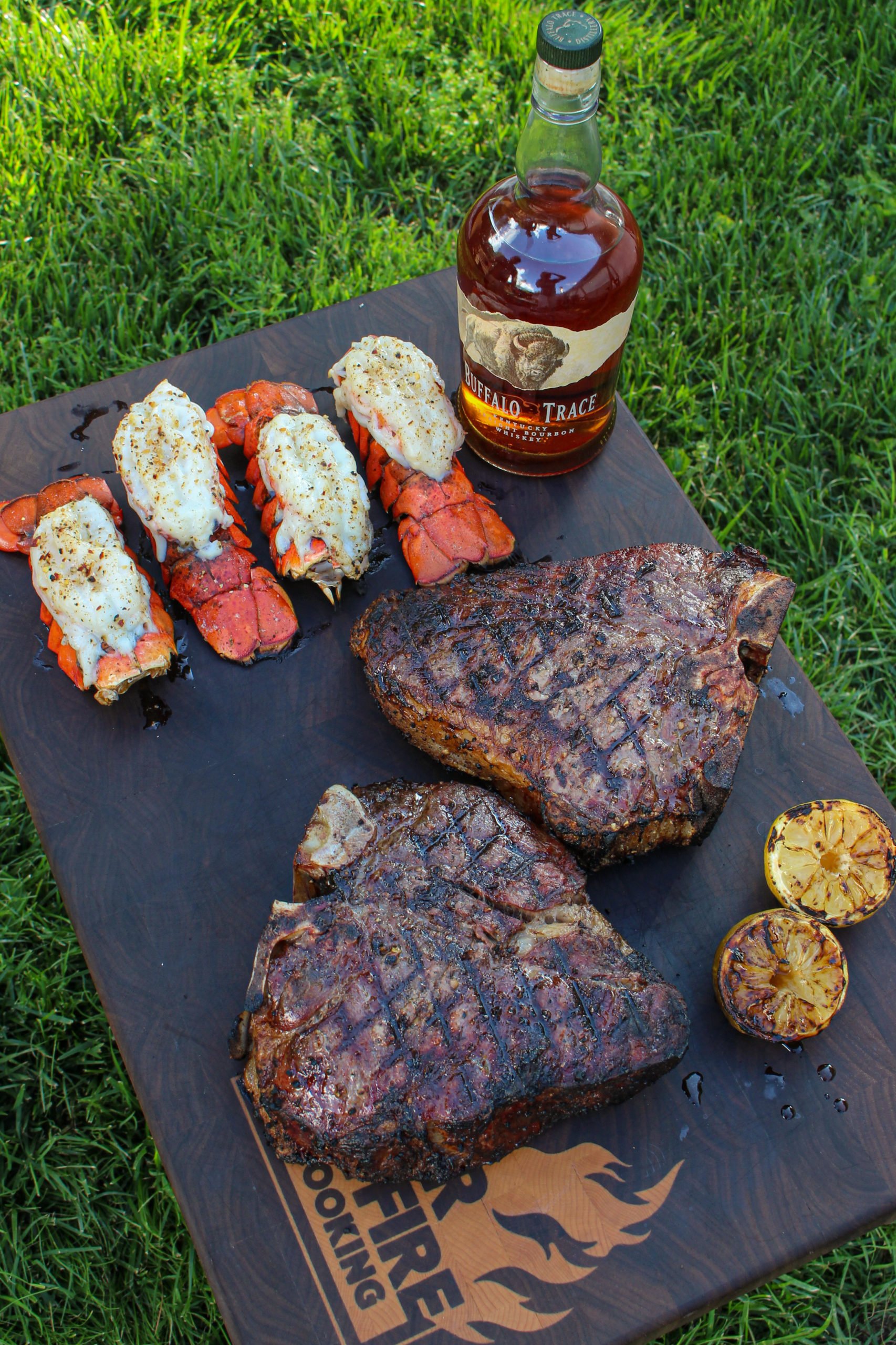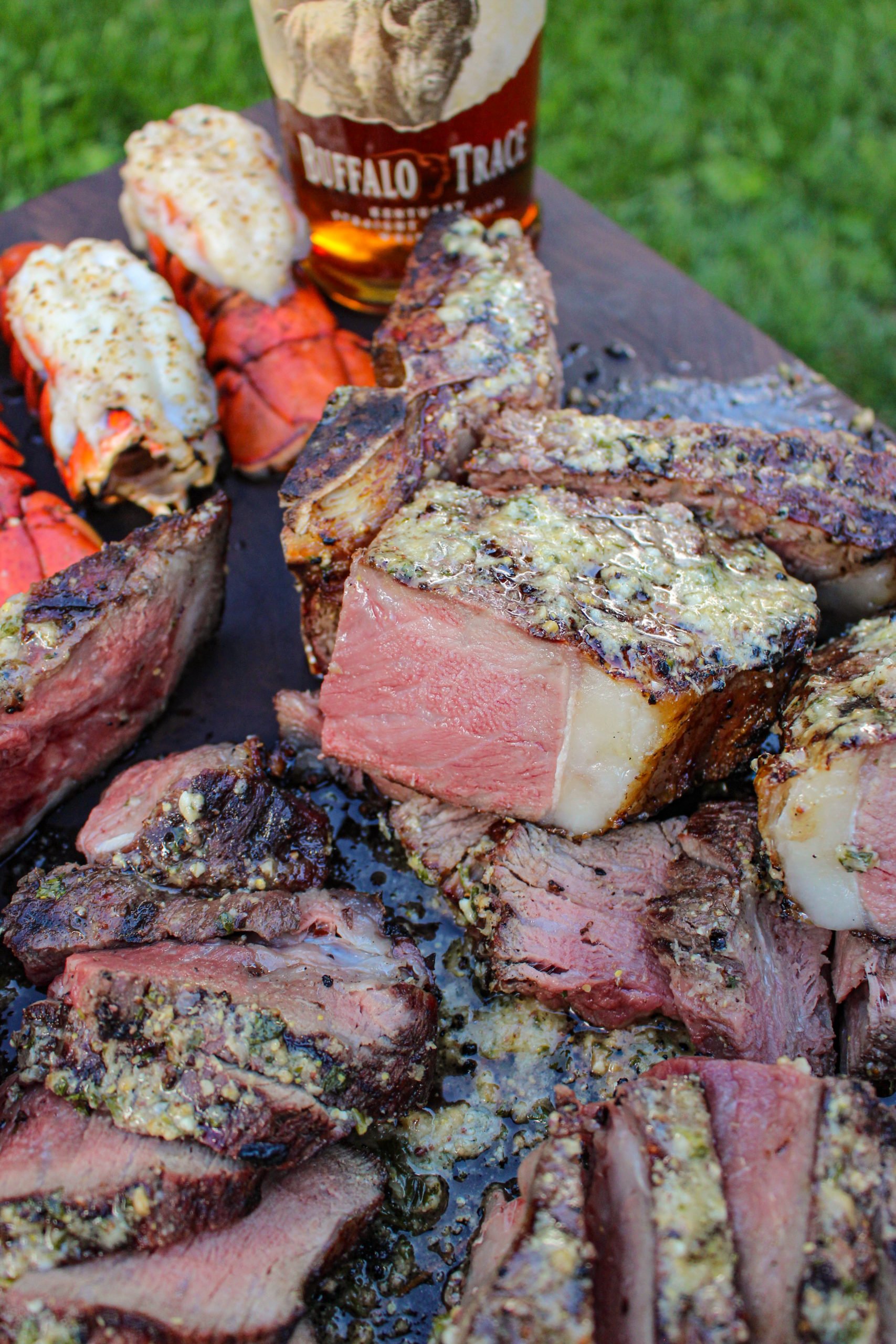 Grilled Surf and Turf
Why pick one when you could have both? Yeah, it's a Grilled Surf and Turf Recipe!
Ingredients
Steak & Lobster:
2

Porterhouse Steaks

4

Lobster Tails

1

tbsp

of Coarse Sea Salt

1

tbsp

of Black Peppercorns

1

tbsp

of Dried Minced Garlic

1.5

tsp

of Red Chili Flakes
Horseradish Parmesan Butter Sauce:
4

tbsp

of Melted Butter

1.5

tbsp

of Grated Parmesan

1.5

tbsp

of Chopped Parsley

1.5

tbsp

of Prepared Horseradish

2

tsp

of Spicy Mustard

2

tsp

of Garlic Paste
Extra:
Charred Lemons

for garnish

Buffalo Trace

for the love of bourbon
Instructions
Add your coarse salt, peppercorns, dried garlic and red chili flakes to your mortar & pestle. Grind to your liking. Lather your porterhouse steaks with canola oil and season thoroughly with the seasoning. Leave a little seasoning for your lobsters.

Preheat your grill for two-zone indirect cooking at 275-300F.

Add your steaks to the cool side of the grill to cook for about 1 hour. As the steaks cook, butterfly your lobster tails, lightly score them, lather with oil and season with the leftover seasoning. Place the lobster in the fridge until ready to use. Once the steaks reach 120F internal for medium rare, pull them off and let them rest for 10 minutes.

Heat up your grill to high heat (around 400F). Add a cast iron skillet to preheat for 2 minutes. Next, add the ingredient for the Horseradish Parmesan Butter sauce to melt. Once fully melted, pull off the grill and set aside.

When the steaks are 2-3 minutes away from being done resting, add your lobster tails to the cool side of the grill to cook for 5-7 minutes or until they are no longer translucent. Add your steaks to the hot part of the grill to sear for 1-1.5 minutes per side in order to get grill marks. Once the steaks and lobster are done, pull off and set for plating.

Top your steaks with the butter sauce, sliced into them, pour yourself some Buffalo Trace and enjoy!