There is nothing more flavorful than a perfectly cooked skirt steak with chimichurri. With a nice crusted outer layer and a tender juicy inner layer, it's no wonder that this cut is a fan favorite when it comes to fire cooking. When cooking a skirt steak, it is very important to have a hot fire as this will help the outer layer crust quickly while keeping the inside layer nice and tender.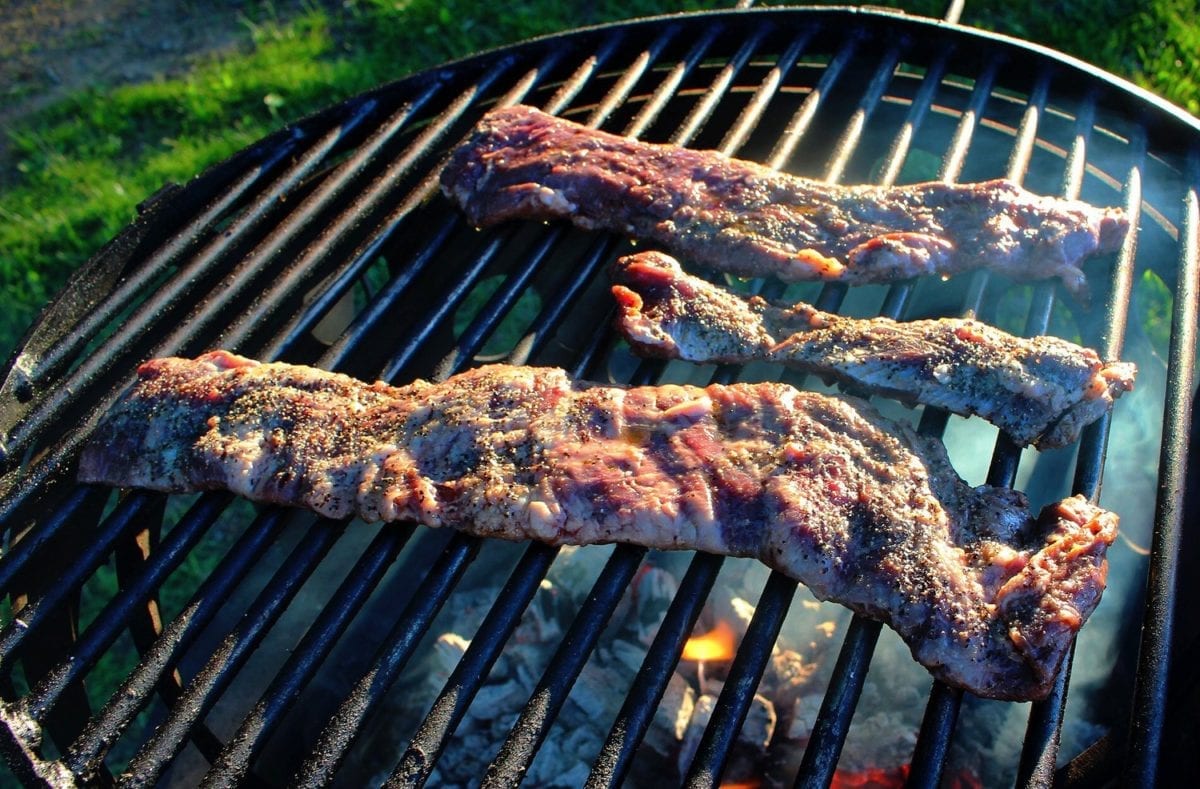 Why skirt steak?
Skirt steak is an easy steak to cook. Full of fat, this steak is fast and easy to grill over the flame without fear of screwing anything up. This is always a choice of mine when feeding a lot of people.
You can get quite a bit of meat for a cheap price with skirt steak. Just make sure to cut against the grain which I will show how to below.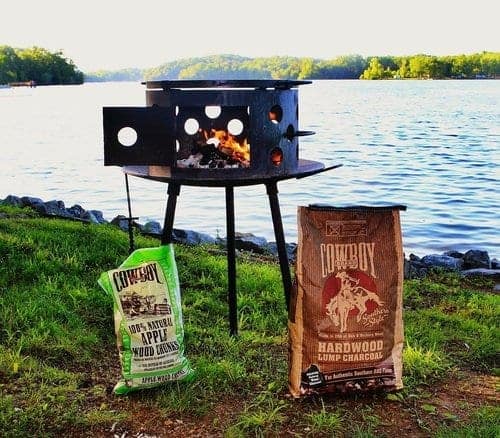 How to cook skirt steak
When cooking, I like to build my fire using Cowboy Hardwood Lump Charcoal. It's great for creating a hot fire and holding a consistent temperature. Top the fire off with some Mesquite Wood Chunks and you're in for a very flavorful dinner!
The mesquite wood chunks add a ton of smoky flavor to the meat that will really enhanced the crust of the steak.
How to Cut Skirt Steak
Cutting skirt steak can be quite the ordeal. Most people want to just slice it from side to side and be done with it, but that will only leave you with a tough steak. No one wants that. Here are the tricks
Cut into thin strips – If the steak is running longwise north to south, cut is east to west at 2-3 inch segments. This will give you the starting point to slice it right.

Rotate the segments – Rotate the 2 inch segment so that the side that was not cut (outside crust) is

pointing

at you.

Slice and serve – Slice that segment facing you, now, east to west and you will have it cut against the grain. Now it is tender and super delicious!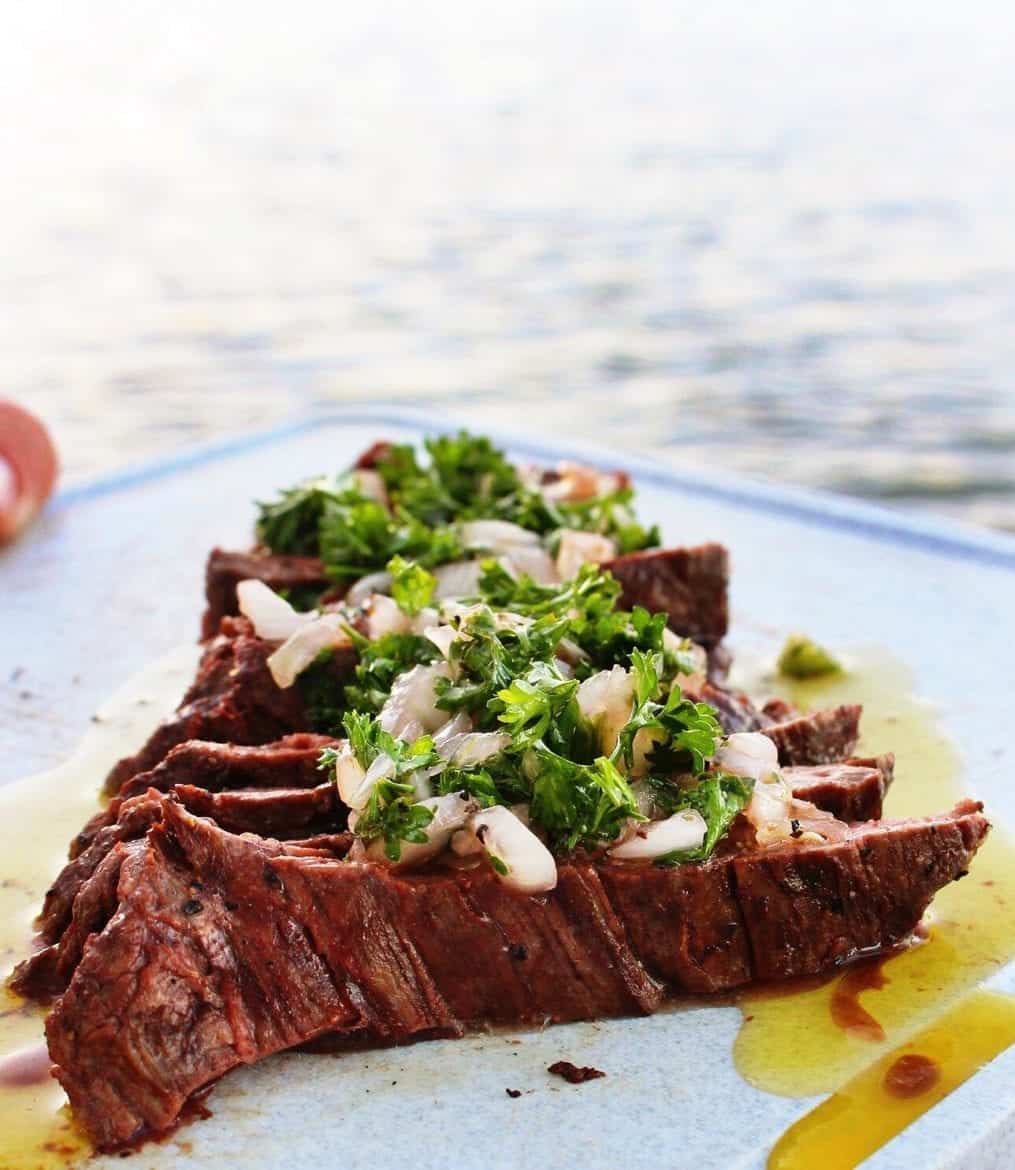 What is chimichurri?
Another key to this delicious cut is the chimichurri. Chimichurri is a fresh herbal sauce that is spicy and tangy.
It is made of parsley, red wine vinegar, olive oil and other spices; moreover, it is intended to zest up the skirt steak. I like to add a couple dashes on top of my steak in order to really spicy things up.
Overall this is classic fire cooking meal. This meal is one of my favorites because it was the one that started the whole journey!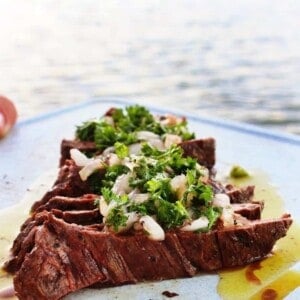 Grilled Skirt Steak with Chimichurri
An ode to South America with this skirt steak and homemade chimichurri sauce.
Ingredients
Skirt Steak
2

lbs

of skirt steak

1

tsp

of sea salt

1/2

tsp

fresh pepper

1/4

cup

of olive oil
Chimichurri
1/2

cup

parsley

chopped

1/2

cup

chopped onion

1

tsp

minced garlic

1

tsp

sea salt

3/4

tsp

fresh pepper

3/4

cup

olive oil

1/4

cup

red wine vinegar

1/2

serrano pepper

finely chopped
Instructions
Light the charcoal in a charcoal chimney or mound inside your grill and let burn for 10-15 minutes.

While the coals are burning, rub the olive oil, sea salt, and pepper all over the skirt steak.

Spread coals evenly over the grill while placing a hand full of Mesquite Wood Chunks on top. Let burn for another 5 minutes.

While waiting for the grill, place all of the chimichurri ingredients into a bowl and mix thoroughly.

Place steaks on grill and let cook for 3 minutes on one side and 2 minutes on the other side for medium rare. Keep the steak on 3 minutes per side for medium.

Pull steaks off grill and let rest for 10 minutes.

Cut the steak against the grain of the beef.

Place some chimichurri on top and enjoy!