Even though summer is coming to a close, I find myself still in full-swing grilling season. The nights are getting shorter and the days are starting to get cooler. Those are my favorite times to cook over fire. While I tend to lean towards hearty steaks, stews & chilis during the fall and winter months, there is this awkward time in the beginning of September where I want hearty summer grilling food. We are in that awkward September time of year, so I decided to grab myself a bag of Cowboy Charcoal and do Grilled Shrimp Tacos.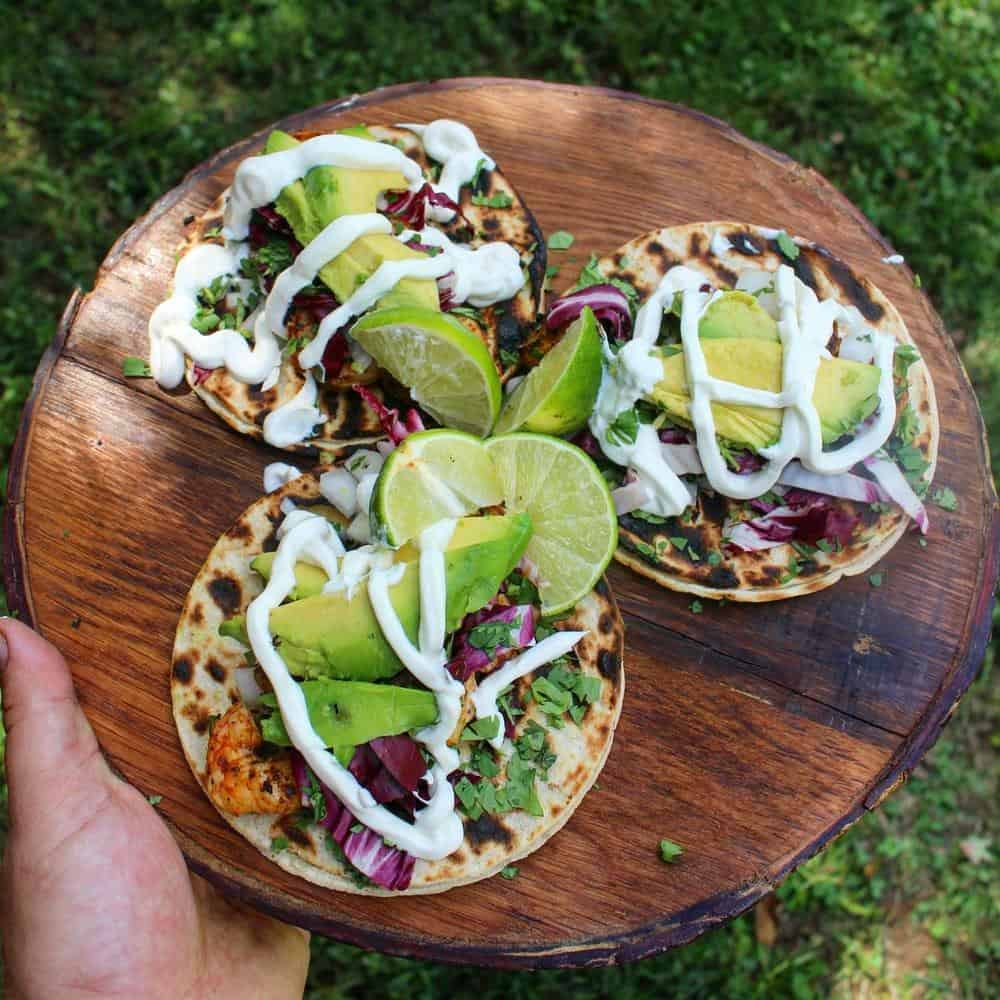 Ready to be devoured!
RELATED ARTICLE: Grilled Picanha Recipe
Now you might be thinking that Grilled Shrimp Tacos are just summer food, but you would be wrong. When you pack them full of chipotle powder, onions, cilantro & red cabbage then you'd think twice about having them all year round. Grill them right over the hot Cowboy Charcoal so they get a nice caramelization & smoky flavor. I like to cook a lime half at the same time as the shrimp. This will heat up the lime, make it a little smoky & allow me to squeeze that juice on top of the Grilled Shrimp Tacos once they are done.
The key to this Grilled Shrimp Taco is cooking the corn tortillas right.
I like to place two tortillas on top of each other right on the grill. Let them cook for 30 seconds per side to heat up and be fresh. Using two tortillas allows the corn to get crunchy on the outside & soft on the inside. Makes for that perfect bend in your Grilled Shrimp Tacos. Layer that taco with onion, cilantro, red cabbage, avocado, & sour cream for a savory & zesty flavor throughout the meal.
As summer winds done, make sure you enjoy the transition season. Eat good food & get ready for the cooler weather. Oh, don't forget to grill up these tacos. I bet you'll be thinking about them all year long…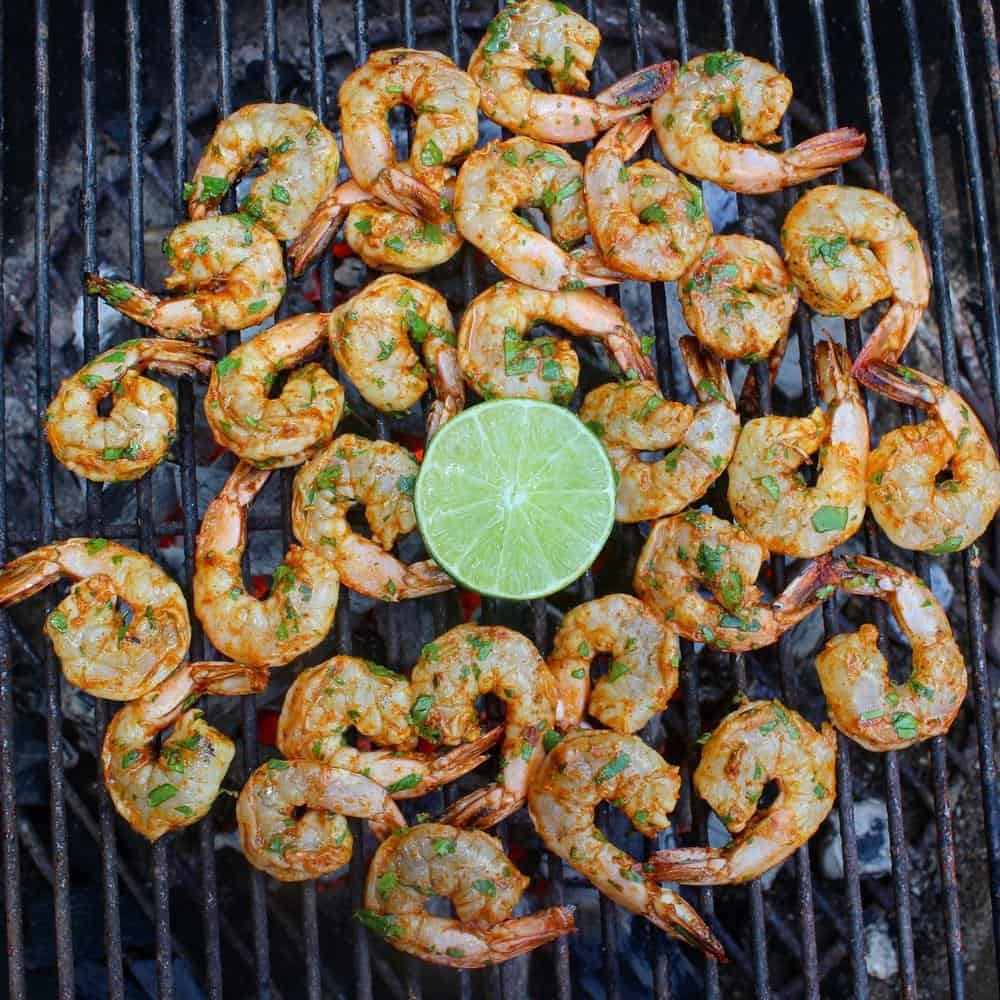 On the grill!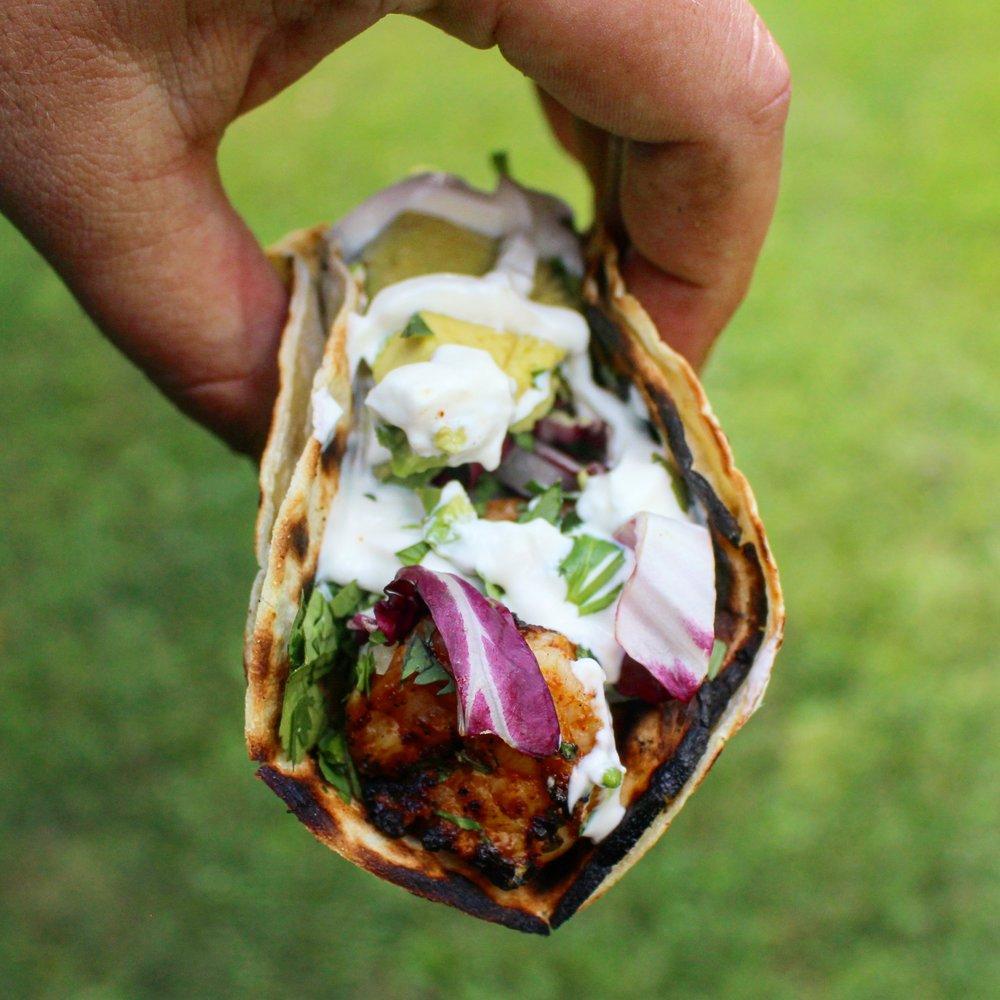 Lets dig in!
Print Recipe
Grilled Shrimp Tacos
Try some delicious grilled shrimp tacos over some hot Cowboy Charcoal. They are sure to make your grilling a night to remember all year round.
Ingredients
1 lb of shrimp

deveined

½ cup of red cabbage

chopped

½ cup of white onion

diced

¼ cup of cilantro

chopped

1 tbsp of fine sea salt

1 tbsp of chipotle powder

1 tbsp of onion powder

2 limes

halved

Corn tortillas

Sour cream

Avocado

sliced
Instructions
In a bowl, add the shrimp, chipotle powder, onion powder, & fine sea salt. Squeeze one half of a lime on top, add a couple pinches of cilantro and mix thoroughly.

Use some Cowboy Hardwood Lump Charcoal to light fire and let burn for 10-15 minutes. Once charcoal is white hot, push into one flat pile for direct grilling.

Place shrimp on grill and let cook for 2 minutes per side. Pull off once done.

When shrimp are done, place corn tortillas on grill for 30 seconds per side to heat up. Tip: Place 2 tortillas on top of each other and place on grill to. This will give you a crunchy outside with a soft inside.

Layer tacos with tortilla first, shrimp without tails, onions, cilantro, red cabbage, sliced avocado and sour cream if desired. Add lime wedges to the side for more flavor.

Serve & enjoy!
This article does contain affiliate links to products that we personally use and support. Purchasing an affiliate product does make us a small commission at no cost to you. This helps us continue creating for our website. All words and opinions are our own, and we appreciate your support!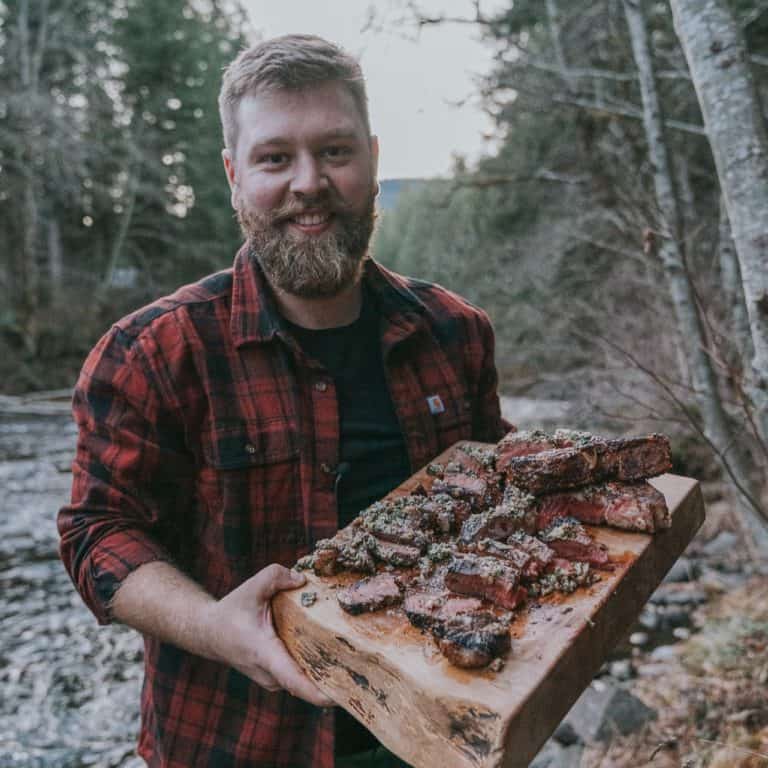 Derek is the driving force behind Over the Fire Cooking. He started cooking with live fire in 2016 and decided to start a social media page so his friends and family could follow the journey. Fast forward to today and Over the Fire Cooking has spread across multiple platforms with millions now following Derek's fire cooking journey. He's a southern fellow who enjoys everything from classic BBQ to Central and South American inspired dishes. Whatever he's cooking up, it's guaranteed to be so freakin' delicious!