Breaking out the sweet and spicy flavor combo for a Honey Sriracha BBQ Shrimp Recipe! I took some shrimp, seasoned them, skewered them and tossed them on the grill. While they were cooking I quickly mixed together my honey sriracha BBQ sauce and brushed it on top of the shrimp right as they were in their last few phases of cooking. Quick, easy and tasty! Keep reading for all the fun details of this recipe.
Season's Greetings from the Shrimpies
It all started with two bowls. One bowl for the future Honey Sriracha BBQ Shrimp and one for my array of shrimp seasoning ingredients. My seasoning included salt, pepper, garlic powder, onion powder, paprika, cayenne and brown sugar. Mix those all together before tossing it into the bowl with the shrimp. Mix the shrimp around until they're all coated in a nice layer of seasoning.
Up next, the skewers. I used wooden skewers for this recipe. They're small in diameter, making a great option for our Honey Sriracha BBQ Shrimp! It's important to highlight that I soaked these wooden skewers in water before placing the shrimp on them. The wood will hold some of the water they've been soaked in, making it less likely that they'll catch fire during the cooking process.
Did you know I have a cookbook? Check it out here!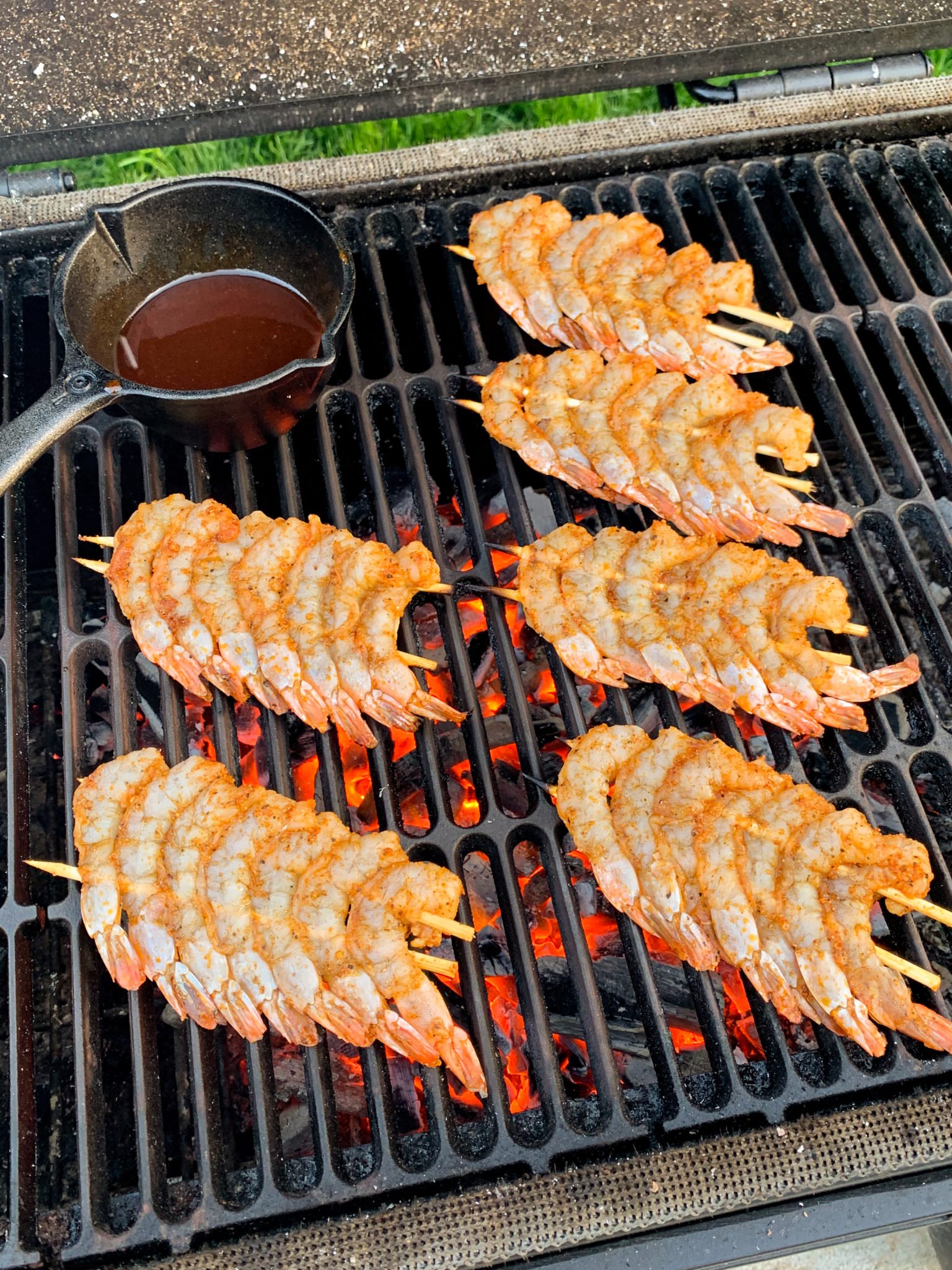 Honey Sriracha BBQ Beauties
Place the shrimp skewers on the grill once the coals are hot and ready. You'll also want to add the sauce bowl at this time along with all the honey sriracha BBQ ingredients. We have to move quickly here because the skrimp cooks so fast and you'll want the sauce to have time to combine before brushing it on the shrimp.
Make sure to keep an eye on the shrimp and flip them as needed. When they're almost finished cooking, take a basting brush and spread a generous layer of that delicious honey sriracha BBQ sauce on top of the shrimp. Then, let the shrimp finish cooking and pull them from the grill.
Shrimp Serving
Serving up these Honey Sriracha BBQ Shrimp was super easy. I actually left them on the skewers and placed them straight on a serving platter. They made a nice centerpiece for dinner with my family! Cheers!
Spice up your life with some of my seasonings! Check them out here.
Honey Sriracha BBQ Shrimp
This Honey Sriracha BBQ Shrimp recipe is everything we love about a sweet and spicy combo! Skewered and lathered in sauce, you don't want to miss this!
Ingredients
Shrimp:
1.5

lbs

of Shrimp

1.5

tbsp

of Canola Oil
BBQ Seasoning:
2

tsp

of Kosher Salt

1.5

tbsp

of Black Pepper

1.5

tsp

of Brown Sugar

1

tsp

of Garlic Powder

1

tsp

of Onion Powder

1

tsp

of Smoked Paprika

1/2

tsp

of Cayenne
Honey Sriracha BBQ Sauce:
1/2

cup

of your favorite BBQ Sauce

1

tbsp

of Sriracha Sauce

1

tbsp

of Honey

1

tsp

of Worcestershire Sauce

1/2

of a Lemon

juiced
Instructions
Fill a bowl with water and place your wooden skewers into them. Let them set for at least 15 minutes but ideally 1 hour.

In a bowl, add your shrimp, oil and bbq seasoning. Mix and set in the fridge until you are ready to use.

Preheat your grill to a high temperature (around 450F).

Pull out your shrimp and skewer them using two skewers with about 7-8 shrimp per skewer.

Add a basting skillet over the direct heat of the grill with the Honey Sriracha BBQ Sauce ingredients and blend together. Let heat up for 2-3 minutes.

Add your shrimp to the grill to cook for about 90 seconds per side. Once you have flipped them, begin to glaze the shrimp with the Honey Sriracha BBQ Sauce. Lather them up, then once done pull them off the grill to rest. Serve and enjoy!