Smoking brisket is one of those things that everyone needs to do at some point. Whether its Hot & Fat or Low & Slow, Smoked Brisket is a journey that combines patience, diligence and lots of Cowboy Charcoal. Since it can sometimes be an overwhelming task, here is my Easy Smoked Brisket Recipe.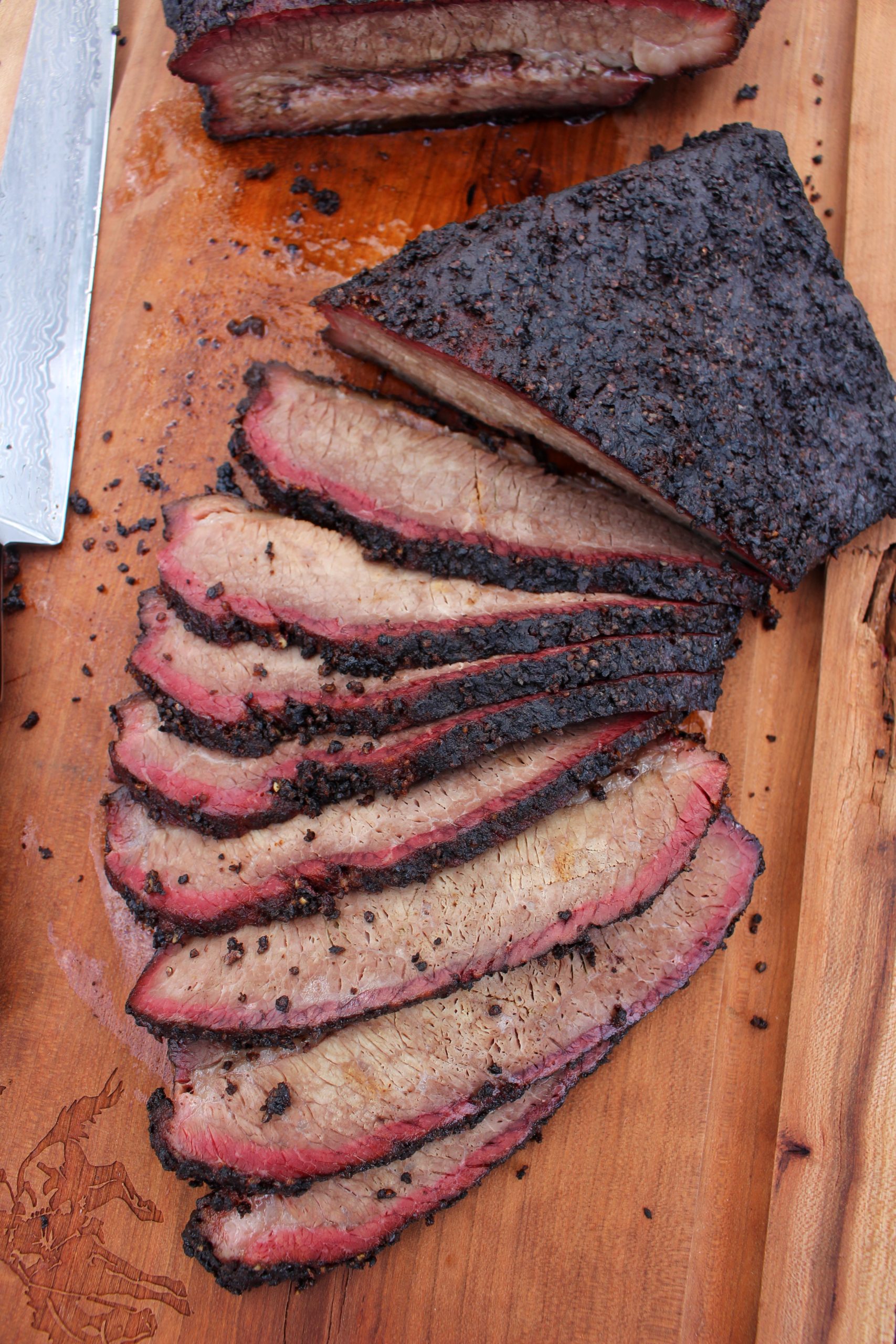 Smoking brisket should not be that difficult! When you have a good smoker, cut of meat and coals then it is a piece of… steak. I know how it feels to be overwhelmed with the idea of smoking one of these things.
They are 10-12 lbs of meat that have two different sections and can take 8, 10, or 20+ hours to cook. That seems like a ton of time to me! So we are gonna tackle this recipe one step at a time. Start below:
1. Selecting a Brisket for Smoking
While it can be difficult to find certain cuts of meat, brisket should be available at most groceries, butcher shops and supermarkets. It is a staple-piece of American BBQ Cuisine, so you shouldn't have a problem finding one.
When it comes to selecting one, I tend to look at weight and grade. What that means is I tend to look for a brisket that is 10-12 lbs and is prime.
What is prime?
In the states, we have a grading scale for our meat. For beef, prime is the ideal choice to get (other choices include choice and select). Prime carries more fat than the others, and is ideal for smoking and grilling. Fat is flavor, so when it comes to brisket we want one that is ideal with fat. Other options like wagyu are definitely a possibility! You can easily follow along with whatever grade choice that you are able to get, but I ideally choose a 10-12 lb Prime Brisket.
2. Trimming the Brisket
For me, trimming was the big turnoff for smoking brisket. Not only do I have to buy a massive chunk of meat, but I also need to trim it?! Seems like a ton of work. Well, it does not have to be.
Before we get into trimming too much, we should talk about the anatomy of brisket. There are 4 major parts of this chunk of meat: the flat, point, fat layer and fat cap. The flat is the most recognizable part of the meat. It is the part that is not covered with fat and looks like a big chunk of steak.
https://www.instagram.com/p/B7t-oPvHsnU/
The flat runs the length of most briskets with the point (the other chunk of meat) sitting on top at one end. Between the point and the flat, there is a layer of fat. This is more or less a good fat, and mostly renders down when smoking. On the other side of the brisket though is the fat cap. This is a massive chunk of fat that needs to be trimmed well!
Back to Trimming
Now back to trimming, most of it on brisket is getting the fat layer reduced and the meat shaped to cook well.
What I like to do is start on the fat cap right after pulling it off the fridge so it is cold. I trim that down to about ¼ of an inch all around. Some parts of it will not need to be trimmed while others will take a lot of work. I then like to square off the end and flip it over to work on the flat more.
I will then take off most of the thin layer of fat on the flat side until it is smooth. All that is left is to trim out some of the chunks of fat on the sides and around the point. This is the outer layer of the inside fat layer. It will not render completely so feel free to trim it down! Now let's season.
3. Seasoning the Meat
This is the easy part after trimming! I usually use sea salt, black pepper, chipotle powder and olive oil on my smoked brisket. Feel free to use just salt and pepper if that is all you want! Other options are garlic powder, cinnamon or ancho chile powder.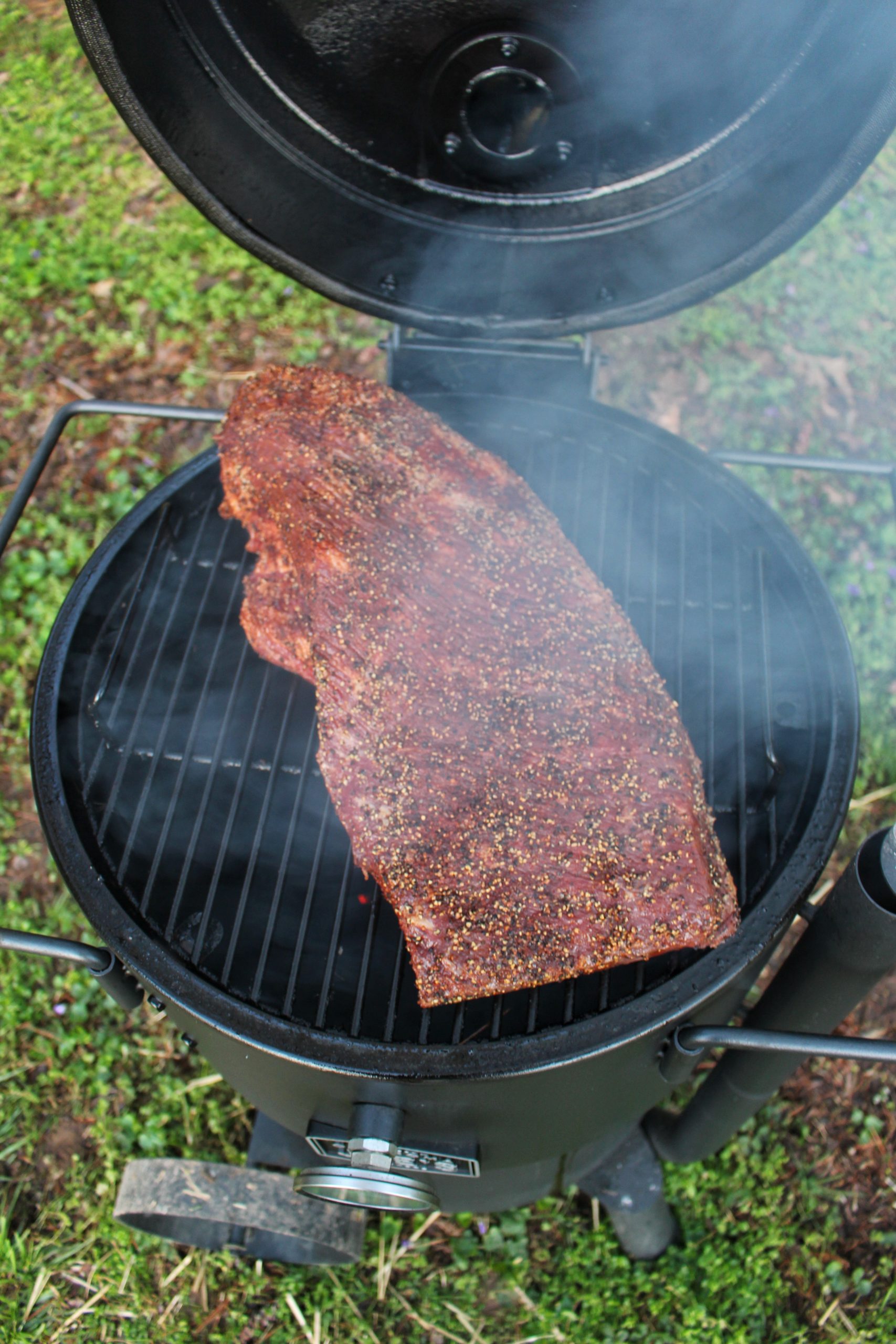 When seasoning, it is super important to get it everywhere on the brisket. Once it is seasoned thoroughly, I like to let my meat rest in the fridge overnight. This helps to have the seasoning stick to the meat instead of flake off easily. You can let it rest anywhere from 1-8 hours depending on your time crunch. It makes a big difference!
4. Let's Get to Smoking Brisket
Now that the brisket is trimmed, seasoned and rested, it is time to get that smoker roaring to 250F. I usually start mine up at about 4 to 5am with some Cowboy Charcoal and a few chunks of Cowboy Hickory Wood.
The charcoal will help to give a great flavor as well as be the main source of heat for the duration of the cook. The hickory will add the smoke flavor to the meat, which we all love! Feel free to use some of their other wood chunks like mesquite or apple. I have a great article describing how to use them best.
Once the smoker is up and running, it is time to place the brisket on! Place the meat on, and smoke until it reaches 165F internal. This should take about 4-6 hours.
5. Wrap it Up!
After the meat has hit 165F, it is time to wrap it up. Wrapping does two things: it helps retain moisture and keeps the warmth close so that it cooks quicker.
I prefer to wrap my smoked briskets in peach butcher paper, but you can easily do this with aluminum foil. The paper helps the brisket to breath more which helps with heat and moisture retention. Aluminium foil can keep the moisture in, but sometimes gets hot inside so that it can overcook quickly.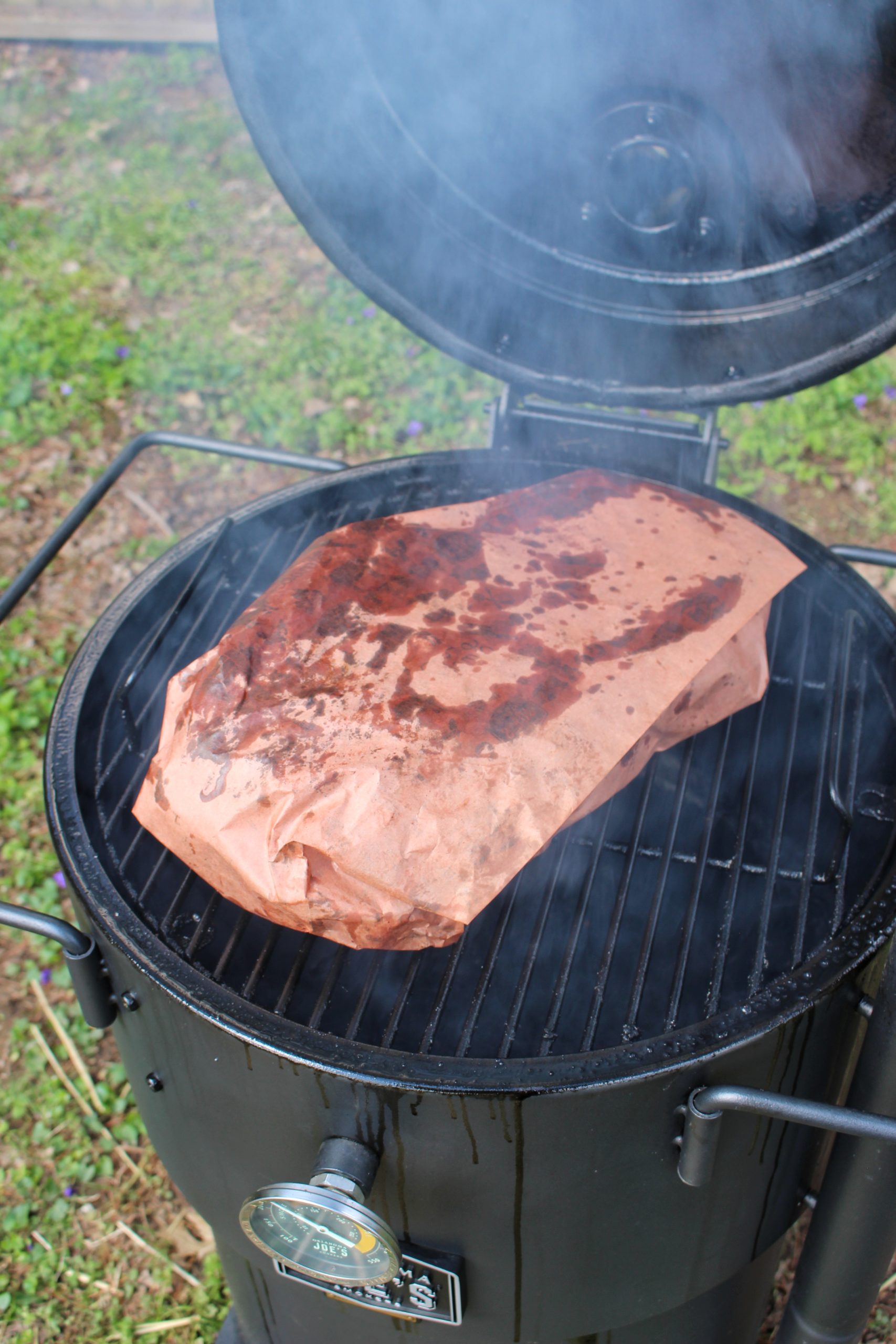 The idea for wrapping it really easy, lay a big sheet (or two like I do) down and fold the brisket in on itself. Once it is sealed and wrapped, place the meat on the grill until you can push a fork into it like butter (around 203-205 internal). This should take about 4-6 more hours at 250F. Make sure to add more charcoal if you need too!
6. Time for Rest
When the meat has become perfectly tender, it is time to pull it off and rest! A lot of people would think that it's a good idea to just slice into the meat now, but you definitely need to let it rest. Resting helps redistribute the juices back into the meat so that it is moist and tender.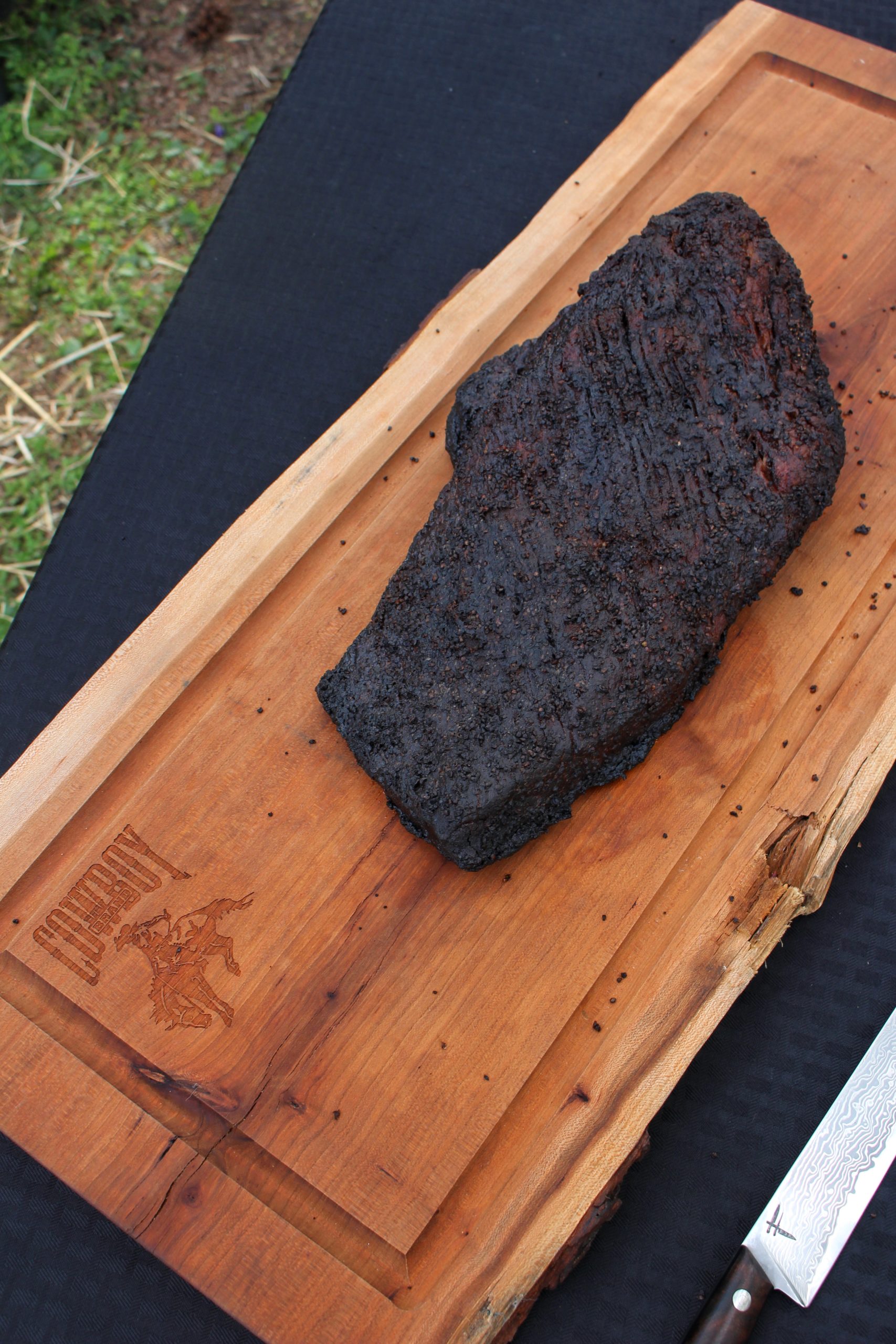 You can let your smoked brisket rest at room temperature for up to 1 hour, or you can wrap it in a towel and place it into a cooler. The cooler will help it rest and stay warm at the same time. Keep it in the cooler for 2-6 hours depending on how long you need!
7. Slice & Serve that Easy Smoked Brisket
Once the smoked brisket has rested, it is time to slice and dig in! The only key to slicing is making sure it's against the grain! This will make a major difference in the tenderness of the meat. I have a great article discussing just how to do this.
When it is all said and done, this Easy Smoked Brisket is a winner. When you combine a great cut of meat, good charcoal like Cowboy and some diligence then you get an epic meal. Enjoy this with some bread, macaroni & cheese or more. Cheers!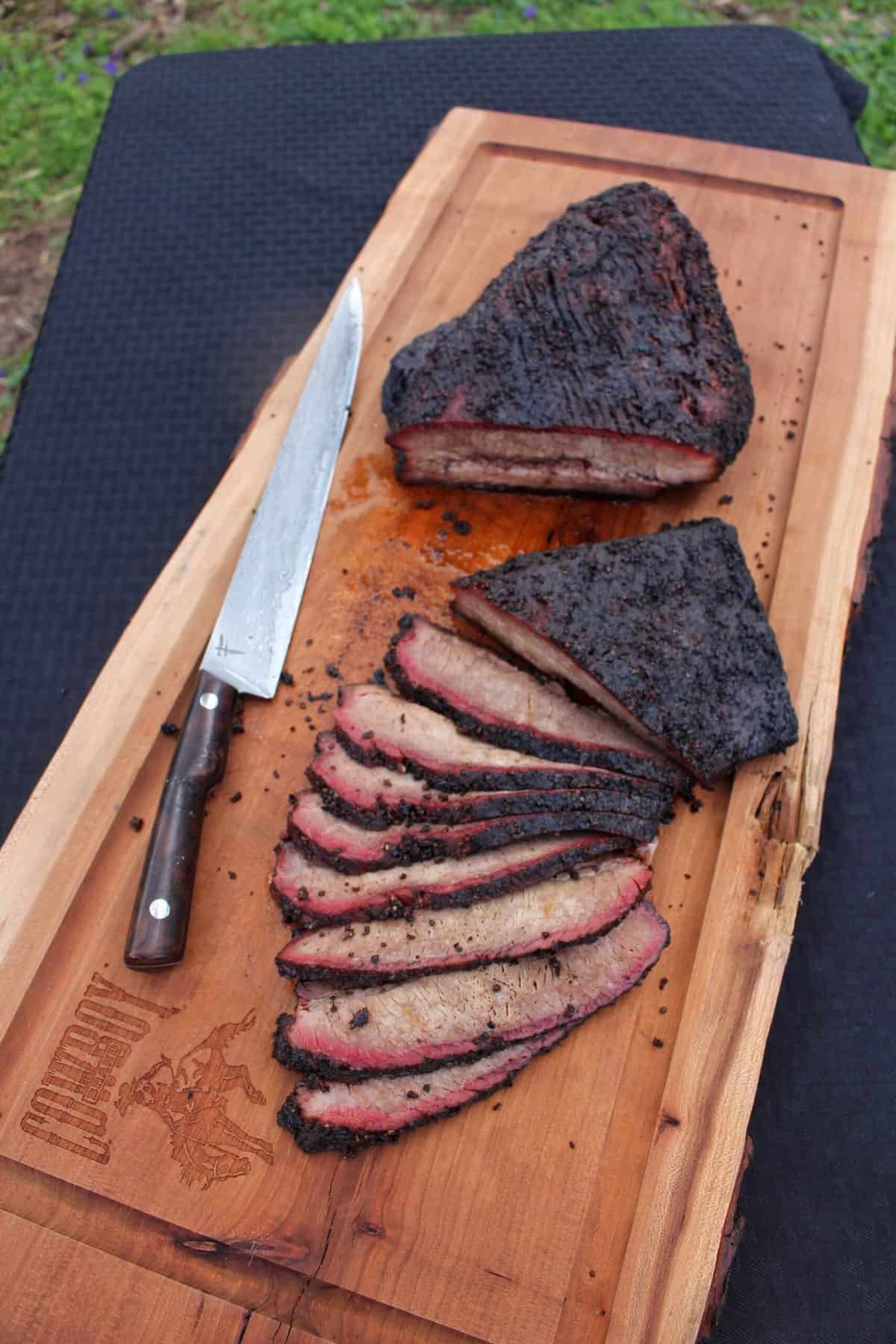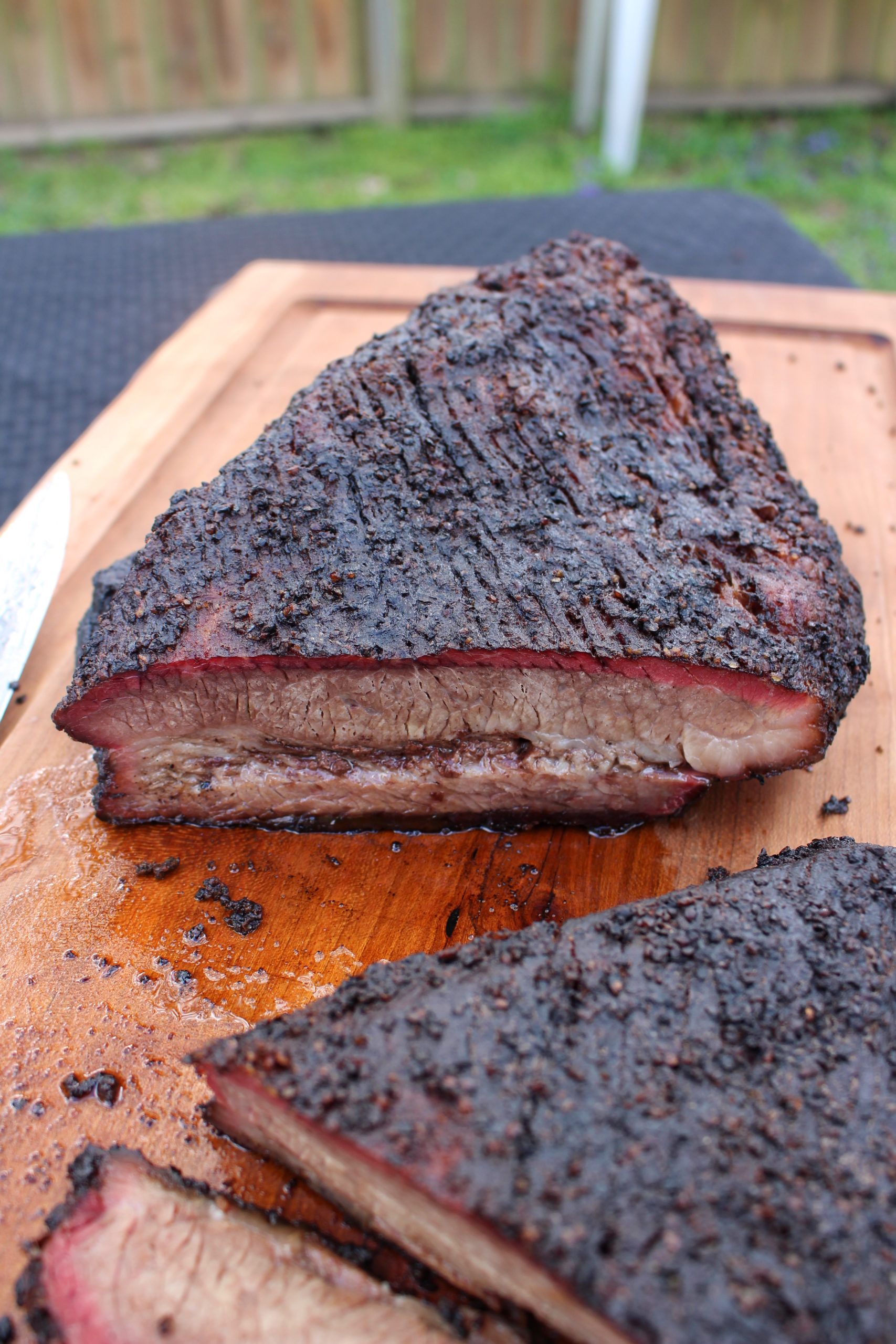 This article does contain affiliate links to products that we personally use and support. Purchasing an affiliate product does make us a small commission at no cost to you. This helps us continue creating for our website. All words and opinions are our own, and we appreciate your support!
Print Recipe
Easy Smoked Brisket
Looking for an Easy Smoked Brisket Recipe? Don't worry, I got you covered. This recipe and walkthrough will help you crush this backyard bbq classic!
Ingredients
1

10-12 lb Whole Packer Cut Brisket

untrimmed

¼

cup

of Sea Salt

¼

cup

of Black Pepper

1

tbsp

of Chipotle Powder

optional

2

tbsp

of Olive Oil
Instructions
Trim the brisket to your desire, then lather with olive oil. Season with salt and pepper (plus chipotle powder if you like). Set in your fridge to chill for 2 hours or ideally overnight.

Preheat your smoker to 250F using Cowboy Charcoal and a few chunks of Cowboy Hickory Wood.

Place your seasoned brisket fat side down on the smoker and cook until the outside is a mahogany color and the internal temperature is 165 F (about 4-6 hours). Add Cowboy Charcoal as needed to maintain temperature.

Pull the brisket off the skillet and wrap in either peach butcher paper or tin foil. Place brisket pack on to the smoker with fat side up and continue cooking until it reaches 190 F internal (about 2-3 hours).

Once it hits 190 F internal, flip the brisket back to fat side down and finish cooking until a fork slides into it like butter (around 203-205 F internal and about 2-3 more hours).

When the brisket is done, pull off and let rest for one hour at room temperature. You can also wrap it in a towel and place it into a cooler for up to 5 or 6 hours to keep it warm and rest.

Slice brisket against the grain and enjoy!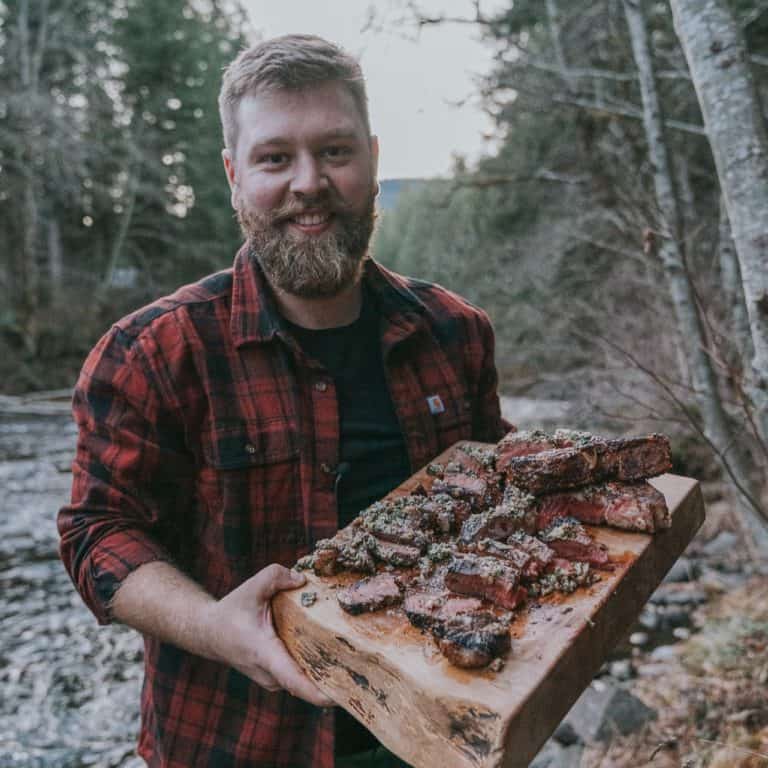 Derek is the driving force behind Over the Fire Cooking. He started cooking with live fire in 2016 and decided to start a social media page so his friends and family could follow the journey. Fast forward to today and Over the Fire Cooking has spread across multiple platforms with millions now following Derek's fire cooking journey. He's a southern fellow who enjoys everything from classic BBQ to Central and South American inspired dishes. Whatever he's cooking up, it's guaranteed to be so freakin' delicious!