There are many tools in a fire cooks arsenal, but only a few that you cannot live without. A good cast iron skillet or Dutch Oven is one of those few. From searing a fish (like below) to cooking bread, cast iron allows traditional cooking methods to be done over an open fire. When you use it in the right way, then it opens a whole new world of possibilities. On my journey of learning how to cook over fire, I have found a few simple tips to help you get more out of your cast iron.
This post is sponsored by Camp Chef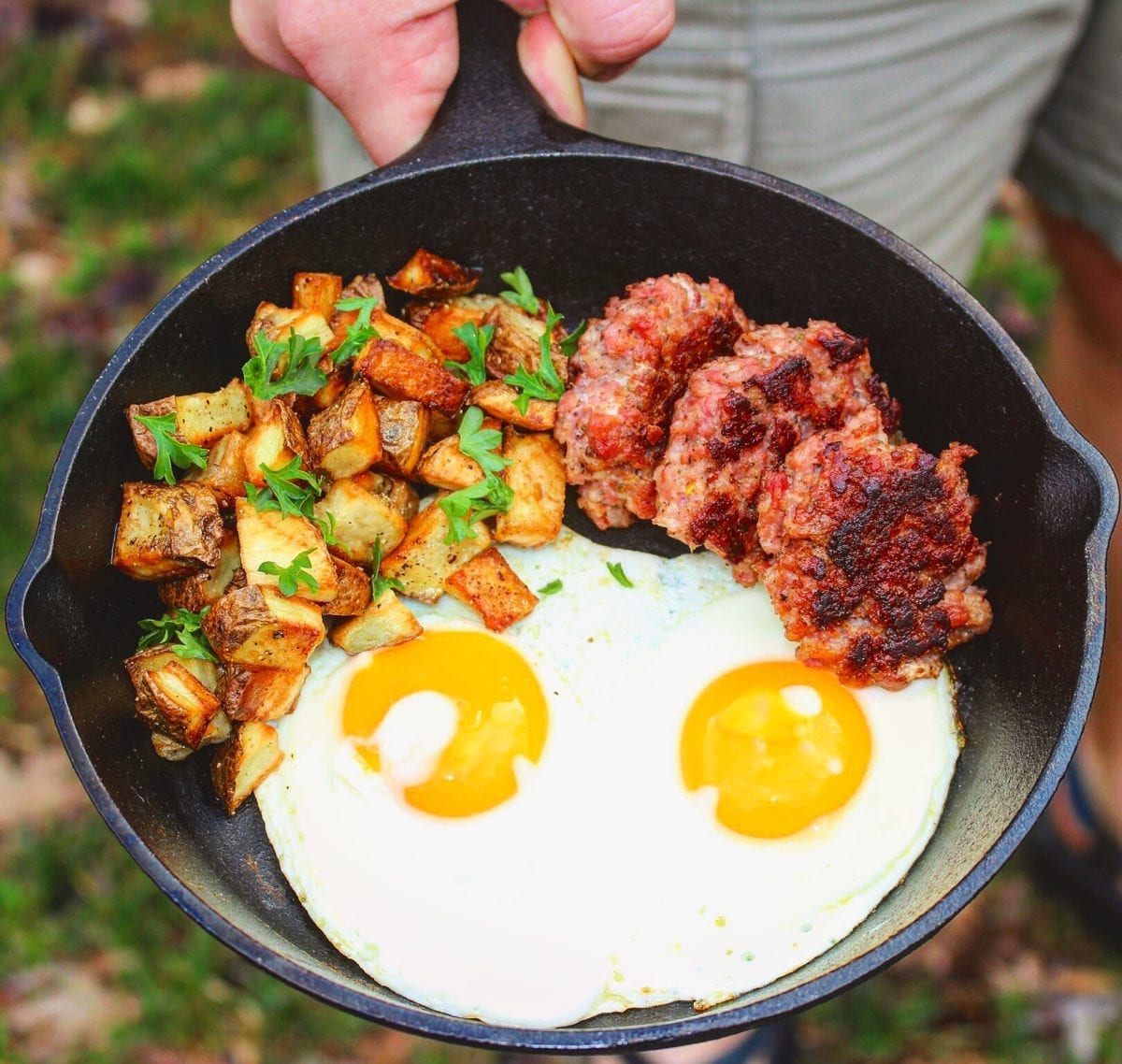 1. Only Use the Best Cast Iron
There are so many cast iron makers on the market that it might be hard to pick which one to buy. I highly recommend looking into Camp Chef. These durable and affordable cooking pans have been my go-to cast iron lately. Not only do they come pre-seasoned, but they also have so many different styles. If you want to be able to cook pizza and corn in their own specific pans, then definitely check out Camp Chef. I have even used my own Camp Chef skillets for some of my recipes.
2. Preheating is Key
Whether you cooking for 5 minutes or 5 hours, always preheat your cast iron. About 15-20 minutes before you start to cook, make sure to place your cast iron near or over the fire. Since one of the amazing benefits to cast iron is that the pan heats evenly, then preheating will allow you to start cooking immediately on a consistent surface. This will also prevent food from sticking to the skillet as the heat will be releasing the non-stick qualities of the pan.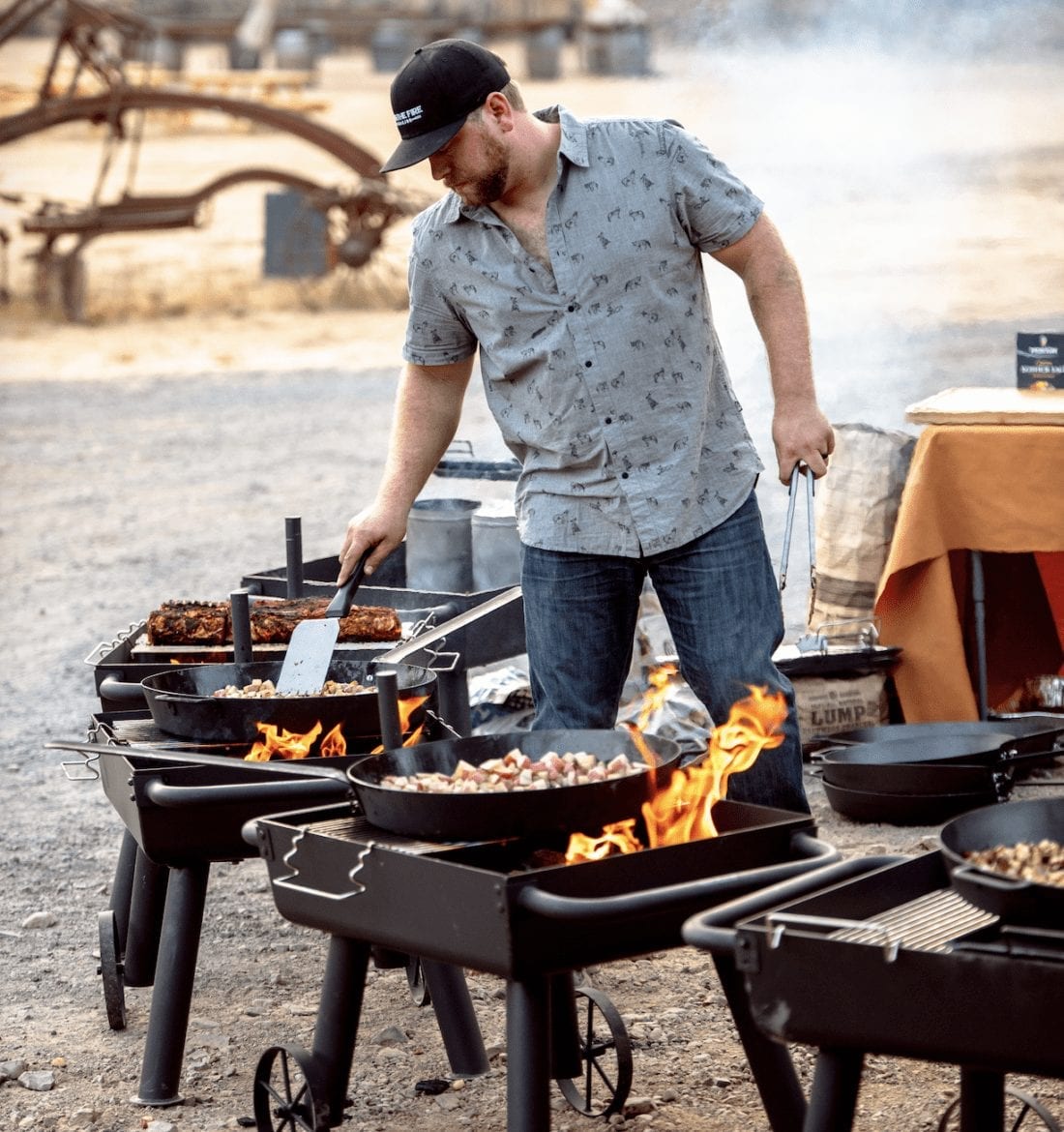 3. Don't Clean your Cast Iron with Soap
After cooking with your cast iron, make sure to only rinse using water. No need to use soap as they will naturally take away the oil leftover from cooking. This oil is actually good for the pan as it will help keep it fresh and prevent it from rusting. "Breaking-in" a cast iron is a real dilemma that takes time and patience, but when you allow the seasoning/oil from previous cooks to sink in then you speed up this process.
4. Try Using the Dutch Oven
For the people who grew up camping, then you know that Dutch Ovens are awesome. These nifty cast iron pots allow you to have the heat and consistency of a kitchen oven at the camp site. What is so interesting about this pot is that it comes with a lid that lets you place coals from the fire on top. Heat is then able to cook from all sides of the pot. This opens up so many possibilities from homemade bread to campfire styled nachos (recipe coming soon). So definitely bring a Dutch Oven the next time you're cooking over a fire.
5. Use More Butter
When a cast iron skillet is ready to cook, make sure to add some butter! I have found that butter is better to use than oil as it has less chance for flare ups. Plus, everything taste better with butter, right? Practice this tip with my Herb Butter NY Strip recipe.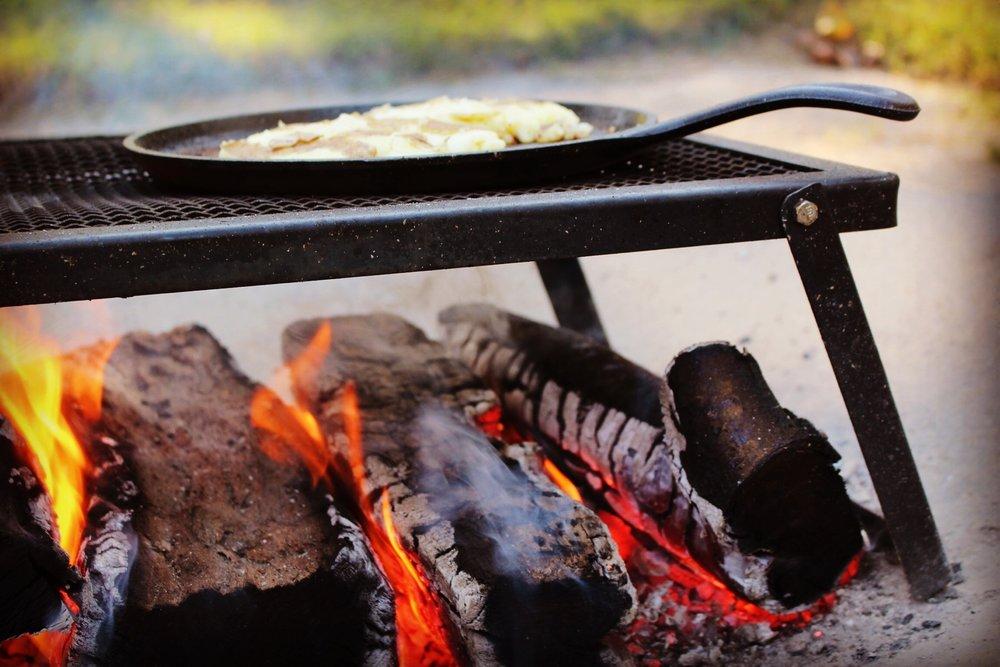 In the end…
Good cast iron can change the way you see outdoor cooking. So when you're headed out camping or just grilling in the backyard, then make sure to get your cast iron out!
---
This article does contain affiliate links to products that we personally use and support. Purchasing an affiliate product does make us a small commission at no cost to you. This helps us continue creating for our website. All words and opinions are our own, and we appreciate your support!
---