Let's cook pork ribs differently, but with a ton of flavor. Adding some pork ribs on the rotisserie glazed with a Buffalo Trace infused BBQ sauce just might be our ticket! These Maple Gochujang Rotisserie Ribs are slam packed with insane deliciousness. Cooked on the rotisserie until tender then glazed with a sweet and spicy Maple Gochujang sauce, you are in for a treat when you make these. Just grab yourself a glass of Buffalo Trace, and let's get to cooking!
Prepping the Maple Gochujang Rotisserie Ribs
We will start by pulling off the membrane of the ribs and squaring off any small or angled bones. This will leave us with the main 8-9 rib bones without the membrane (which is really chewy). Once that is all done, we can start to lather with yellow mustard and season with your favorite BBQ seasoning. Now, you will not taste the yellow mustard. It is just a binder so that the BBQ seasoning sticks to the meat. You are welcome to use something else if you can't deal with mustard like oil, hot sauce or even soy sauce. All of these will work! Lastly, I am using my Maple Bourbon Seasoning from Spiceology to compliment the Buffalo Trace; but feel free to use any BBQ seasoning you like!
Getting the ribs onto the rotisserie spit is actually not that difficult. Begin by skewering through the first & second bone's meat. Then, making an "S" shape, we will skewer between bones until both pork ribs are on the spit. Once those are secure, then go back over with some extra seasoning and set it down until we are ready to cook.
For more Maple Bourbon recipes, check out Maple Bourbon Spatchcock Turkey, Maple Bourbon Smoked Salmon and Spicy Maple Bourbon Candied Bacon.


Cooking Maple Gochujang Rotisserie Ribs
We will make a two zone indirect fire around 275-300F for our Maple Gochujang Rotisserie Ribs. I want to create a medium-low temperature for the ribs so that they do not burn, but also so that they cook quickly. We will place the ribs onto the rotisserie and cook for about 3.5-4.5 hours. Make sure to watch out for any flare ups or issues. Try to move the coals as needed to prevent the ribs from burning! Once the ribs are around 180F internal and have ½" pull from the meat and bones, they are ready for glazing.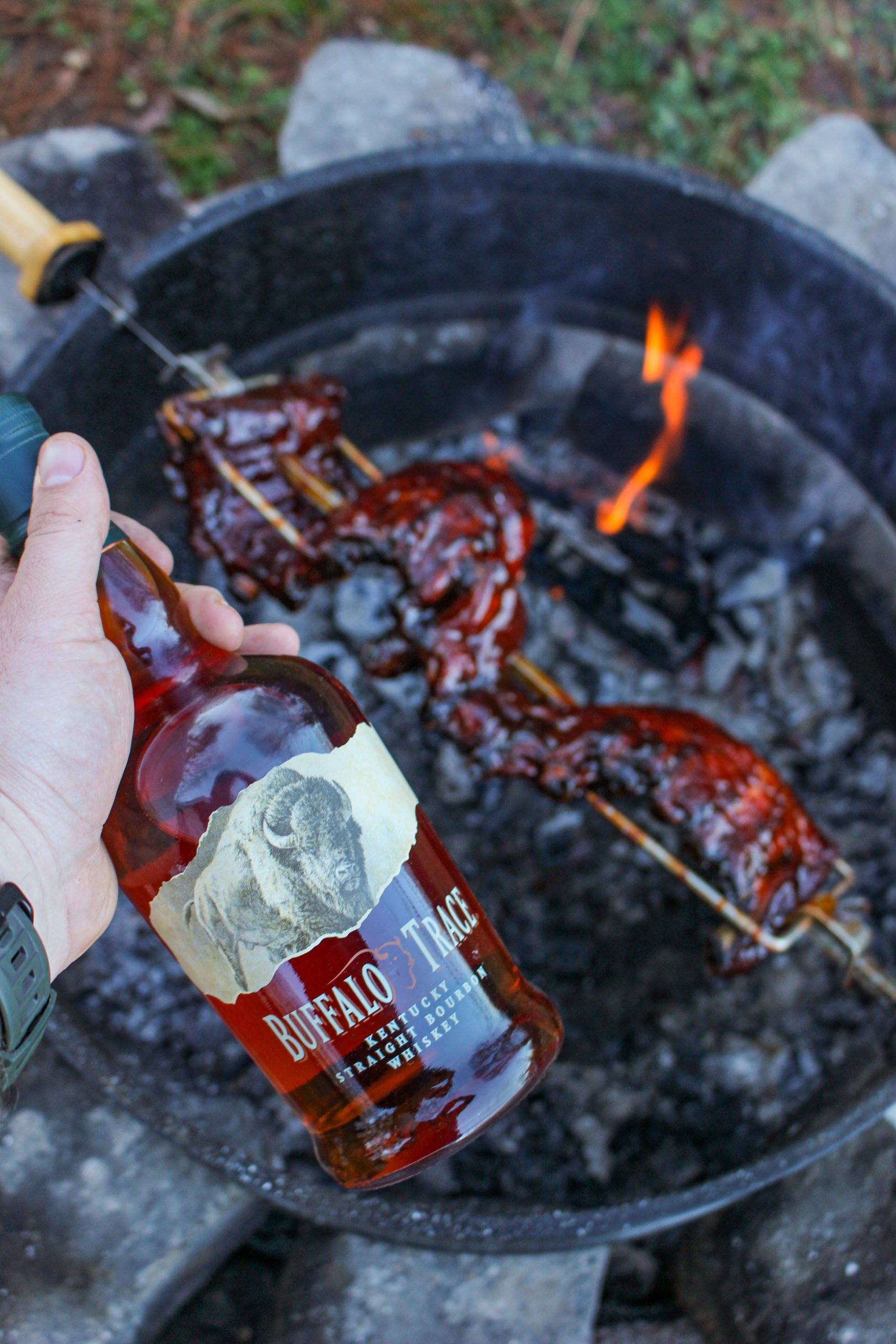 The Maple Gochujang BBQ Sauce and Serving the Rotisserie Ribs
Make the Maple Gochujang BBQ Sauce in a basting skillet over the heat until it has thickened. This BBQ sauce is sweet, spicy and with a little kick from the Buffalo Trace Bourbon! Glaze the outside of the rotisserie ribs until they are well coated, and then let cook for another 10 minutes. Once the ribs are caramelized, pull them off and let them cool.
For more recipes with Buffalo Trace check out my Bourbon Bacon Pecan Salmon, Seared Duck Breast with Bourbon Cherry Sauce and Tomahawk Steak with French Onion Crust.
We will carefully pull the ribs off the rotisserie, slice them up and serve with some Buffalo Trace Bourbon on the side! These are sweet, spicy and utterly delicious. A fantastic backyard recipe for family & friends. Cheers!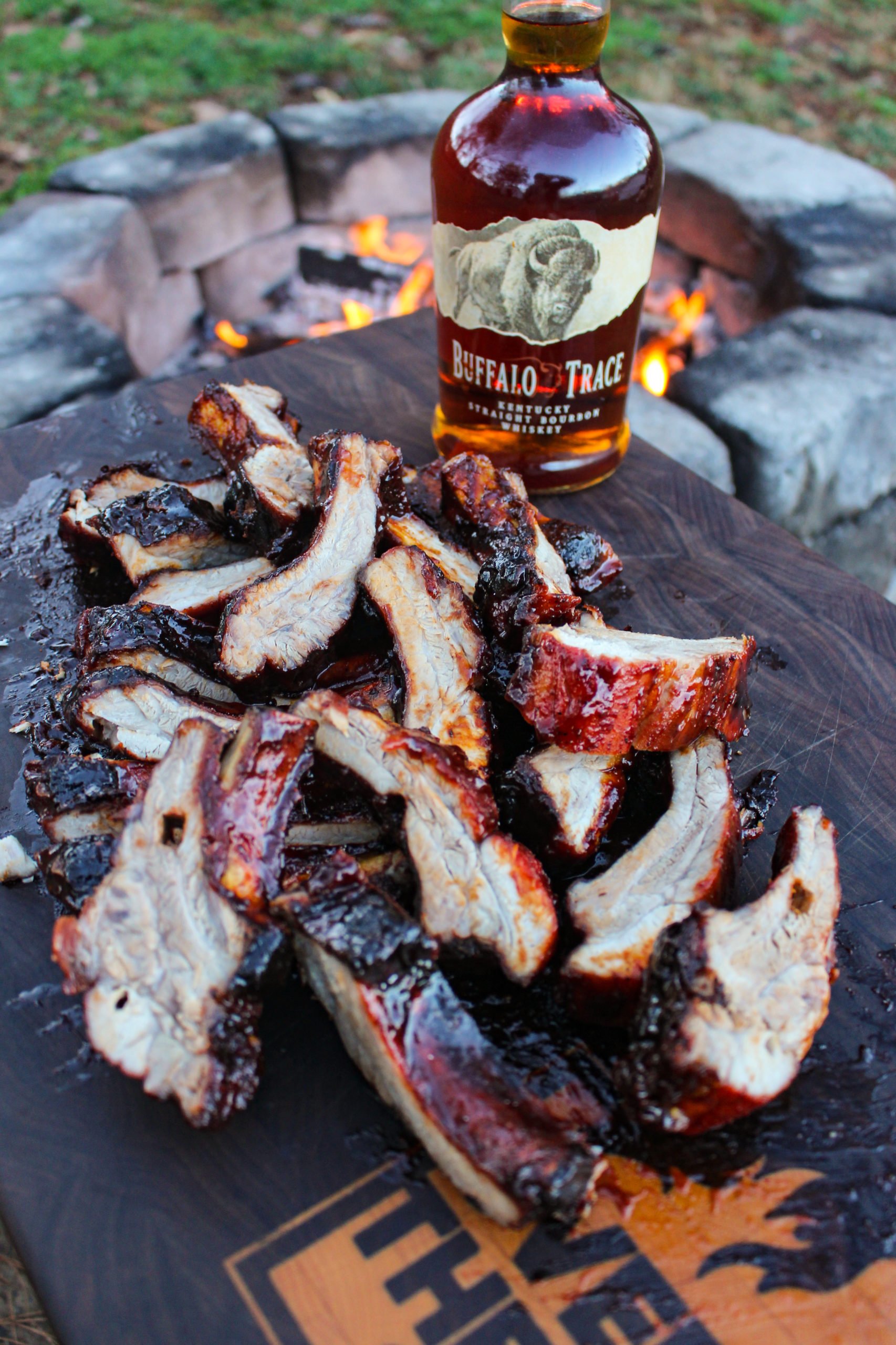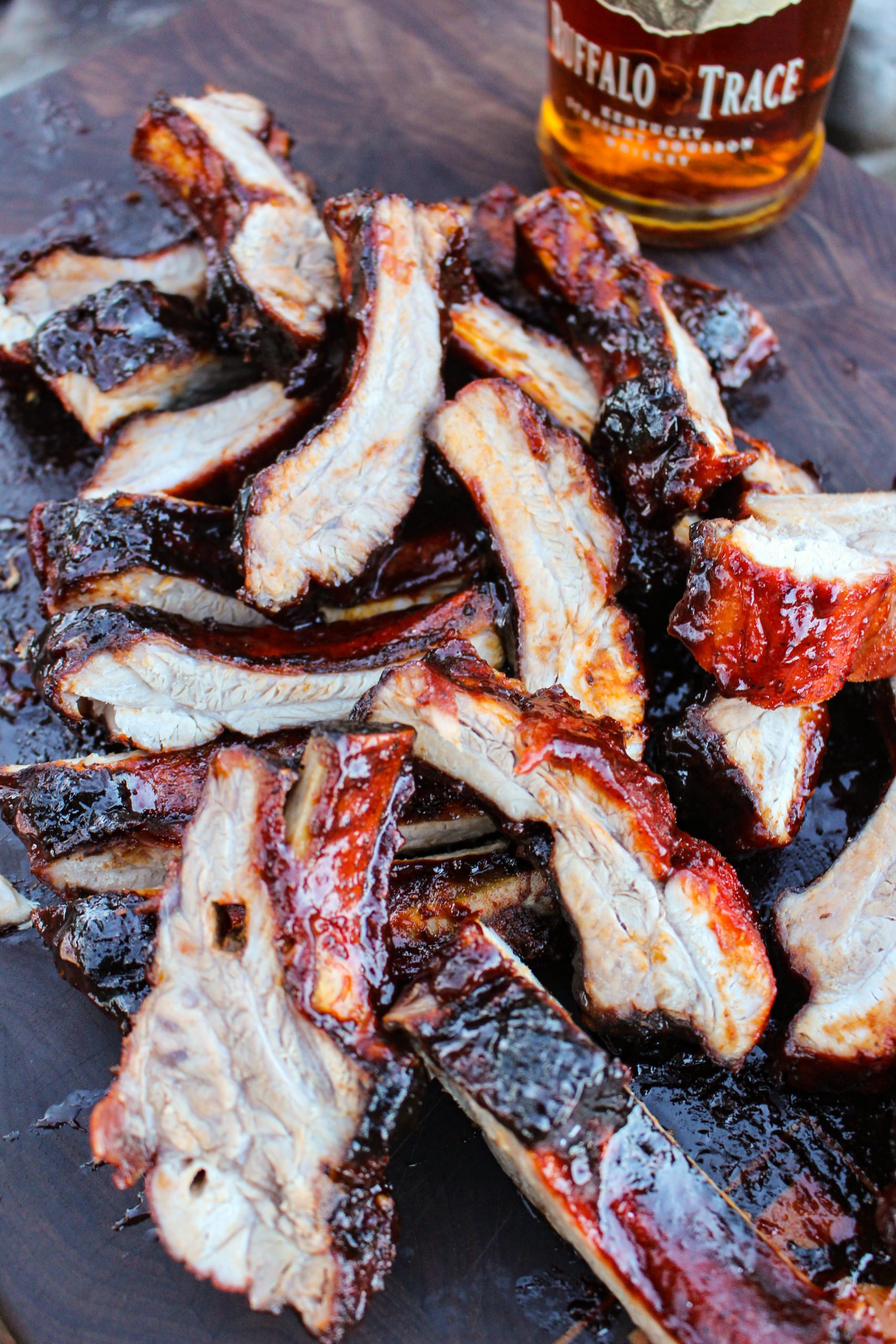 For more delicious recipes, check out my cookbook Food X Fire!
Needing more spice in your life? My spice line can help with that. Check them out here.
Maple Gochujang Rotisserie Ribs
Maple Gochujang Rotisserie Ribs for your next grilling night!
Ingredients
Ribs:
2

Baby Back Ribs

Yellow Mustard

for binder

Maple Bourbon

(Or Your Favorite BBQ Seasoning)
Maple Gochujang BBQ Sauce:
2

oz

Buffalo Trace Bourbon

3

tbsp

Brown Sugar

2.5

tbsp

Maple Syrup

2

tbsp

Gochujang Paste

2

tbsp

Ketchup

1

tsp

White Vinegar

½

tsp

Worcestershire
Instructions
Trim the pork ribs of any excess fat, take off any irregular bones if desired and carefully remove the membrane on the back of the ribs. Lather with yellow mustard and season thoroughly with Maple Bourbon Seasoning or your favorite BBQ Seasoning. Next, carefully "snake" your pork ribs onto your rotisserie skewer. Do this by piercing through the meat every 3-4 bones in an "S" shape. Add both ribs on and secure. Add some more seasoning if you need and set aside until ready to cook.

Preheat a two zone indirect cooking fire around 275F-300F with the rotisserie being cooked on the cooler side.

Place the ribs on to the rotisserie and let cook until they are 180F internal and the meat has receded on the bones about ½" (around 3.5-4.5 hours). About 30 minutes before the ribs are done, add a basting skillet to the fire with the Buffalo Trace Bourbon. Let the bourbon simmer for 3-4 minutes, then add the rest of the ingredients for the Maple Gochujang BBQ Sauce. Lather the pork ribs with the bbq sauce for the last 10 minutes of cooking in order to caramelize. Once the ribs have been glazed and are done cooking, pull off and let rest for 10 minutes.

Pull the ribs off the rotisserie spike, slice into the ribs, serve and enjoy!
Notes
*** Nutrition Disclaimer: We are not dietitians or nutritionist. Nutritional information on overthefirecooking.com comes from online calculators. While we attempt to make this information accurate, it should only been viewed as an estimate. ***
Nutrition
Serving:
0.5
Rack of Ribs
|
Calories:
436
kcal
|
Carbohydrates:
22
g
|
Protein:
27
g
|
Fat:
23
g
|
Saturated Fat:
8
g
|
Polyunsaturated Fat:
4
g
|
Monounsaturated Fat:
10
g
|
Trans Fat:
1
g
|
Cholesterol:
98
mg
|
Sodium:
204
mg
|
Potassium:
450
mg
|
Fiber:
1
g
|
Sugar:
19
g
|
Vitamin A:
86
IU
|
Vitamin C:
2
mg
|
Calcium:
69
mg
|
Iron:
1
mg