Hey bacon lovers, if you're looking for a way to make regular bacon taste even better, this easy Candied Bacon recipe is it! Smoked on the Oklahoma Joe's Highland Offset Smoker, this delicious bacon, along with the perfect addition of maple and a kick of heat, is bacon candy at its best.
The results of this man candy recipe reminds me of maple bacon but way better! Glazed with spicy maple syrup, covered in brown sugar, and seasoned with my favorite BBQ rub, the caramelized bacon takes about an hour to cook. If you love bacon and smoking meat on the reliable Oklahoma Joe, you have to try this tasty treat!

Why You'll Love Candied Bacon
The first time I was introduced to the best candied bacon was at a BBQ competition back in the day when I had more time to make those fun trips. While roaming around taking in the killer aromas, my nose led me to a little stand selling candied bacon.
Being a fan of pork belly burnt ends, chances were high that I'd be a fan. I enjoyed the perfect combination of sweet and salty in one crunchy bite so much, that I created my twist on the recipe when I got home.
The maple glaze and brown sugar mixture that gets sprinkled over the top of the bacon creates the perfect balance of flavors. A chipotle purée adds to the slightly different results I wanted from my recipe. Your favorite hot sauce would be another great addition.
My next secret ingredient for my spicy candied bacon is my BBQ seasoning. The Maple Bourbon rub adds a good savory flavor to the crackly crust. Whatever seasoning you reach for, my favorite way to make the magic happen is on the Oklahoma Joe's Highland Offset Smoker since it will give you the best results because of its even cooking.
Bacon Prep Ingredients
Bacon – Make sure to invest in some good bacon for this recipe. The higher the quality the better!
Favorite BBQ Seasoning – If you can't decide on BBQ seasonings, reach for my Wolf Pack with four of my favorite flavors.
Brown Sugar – You can use light brown sugar or dark brown sugar to sprinkle over the bacon strips, depending on how intense you like the molasses flavor.
Jalapeños – Some of these hot green peppers diced and placed over the candied bacon add the perfect kick.
Add flavor to everything you're cooking
shop over the fire spice lines

Spicy Maple Glaze
Butter – I like to use grass-fed butter whenever possible for better taste and nutrition.
Bourbon – All you need is a little bit of this caramel-like spirit to infuse the glaze with big flavor. Check out this article about some of Tennessee's best bourbons.
Pure Maple Syrup – This tasty tree juice is my go-to sweetener for all of my glazes.
Chipotle Puree or your favorite Hot Sauce – Chipotle peppers have the same heat as jalapeños but combine rich smokiness with a subtle sweetness.
Did I mention how much I love the sweet maple and bourbon combo? If you also love those flavors together, check out these recipes, Maple Bacon Bourbon Salmon Bites, Maple Bourbon Pork Belly Burnt Ends, Maple Bacon Bourbon Salmon Bites, and Maple Bourbon Spatchcock Turkey.
How to Make Candied Bacon
The first thing to do to get this delicious recipe started is to fire up the Oklahoma Joe to 275 degrees F. For that smoky flavor you love, throw in some aromatic wood chunks also from Oklahoma Joe.
Into your firebox, add a cast iron skillet. Once it is at a nice medium-high heat, make your maple syrup glaze. Let's start by letting the alcohol burn off of the bourbon. Then add the butter, maple syrup, and chipotle purée or hot sauce. Mix until nicely thickened.
Place your strips of bacon on a wire rack inside a large baking sheet. Raising each slice of bacon off of the baking pan on the baking rack will help achieve the nice crispy bacon needed for making candy bacon. Coat the top of each strip with the maple glaze.
Next, crumble the brown sugar over the top of the bacon and then sprinkle over some BBQ seasoning. It will be messy, but trust the process. Once the bacon is prepped and ready, you can add it to the smoker to cook for 25-35 minutes.
At this stage of the process, the bacon is caramelizing and shrinking, because the fat is rendering. When everything looks nice and crackly, use your tongs to flip the bacon over.
What does rendering the fat mean anyway?
Rendering fat is another way of saying that, with the infusion of heat, the solid fat is melting into liquid grease. When you see those drippings in the pan, it means the fat is rendering itself into a liquid and the meat is getting crispier and more delicious.
Glaze the opposite side with more spicy maple syrup, brown sugar, and BBQ seasoning. Close the Oklahoma Joe smoker up and for a second time, cook for 25-35 minutes. Once the candied bacon is good to go, pull it out and let it rest for 5-10 minutes.
When the candied bacon is cool, time to dive right in and enjoy! Top off with some sliced jalapenos for a nice kick. Cheers!
For more Bacon, Check out
What to Serve with Candied Bacon
On game day, cut the candied bacon into bite-sized pieces and place them in a small bowl for easy snacking. Candied bacon is a great idea for sprinkling over ice cream sundaes or some chocolate brownies. They also fit right in with a charcuterie board, adding the elements of sweet and savory to complement your cheeses, fruits, and nuts.
How to Store Leftovers and Reheat
Once the bacon is cool, store any leftovers in an airtight container. A vacuum sealer is one of the best ways to make sure this salty snack stays fresh while in the refrigerator for up to 5 days. You can reheat the bacon in the oven or air fryer at a medium-high temperature for about five minutes.
What type of bacon should I use for candied bacon?
You can use regular or thick-cut bacon. Thicker cuts hold up well to the sweet coating without becoming too brittle.
What spices or seasonings can I add to the candied bacon coating?
You can get creative with seasonings like black pepper, cayenne pepper, smoked paprika, or even herbs like rosemary to add extra flavor to your candied bacon.
I don't have a smoker yet. Can I make candied bacon in an oven?
Yes, you can follow the same process for the recipe. However, place the bacon strips in a 350 F oven, cooking for about 20 minutes on each side.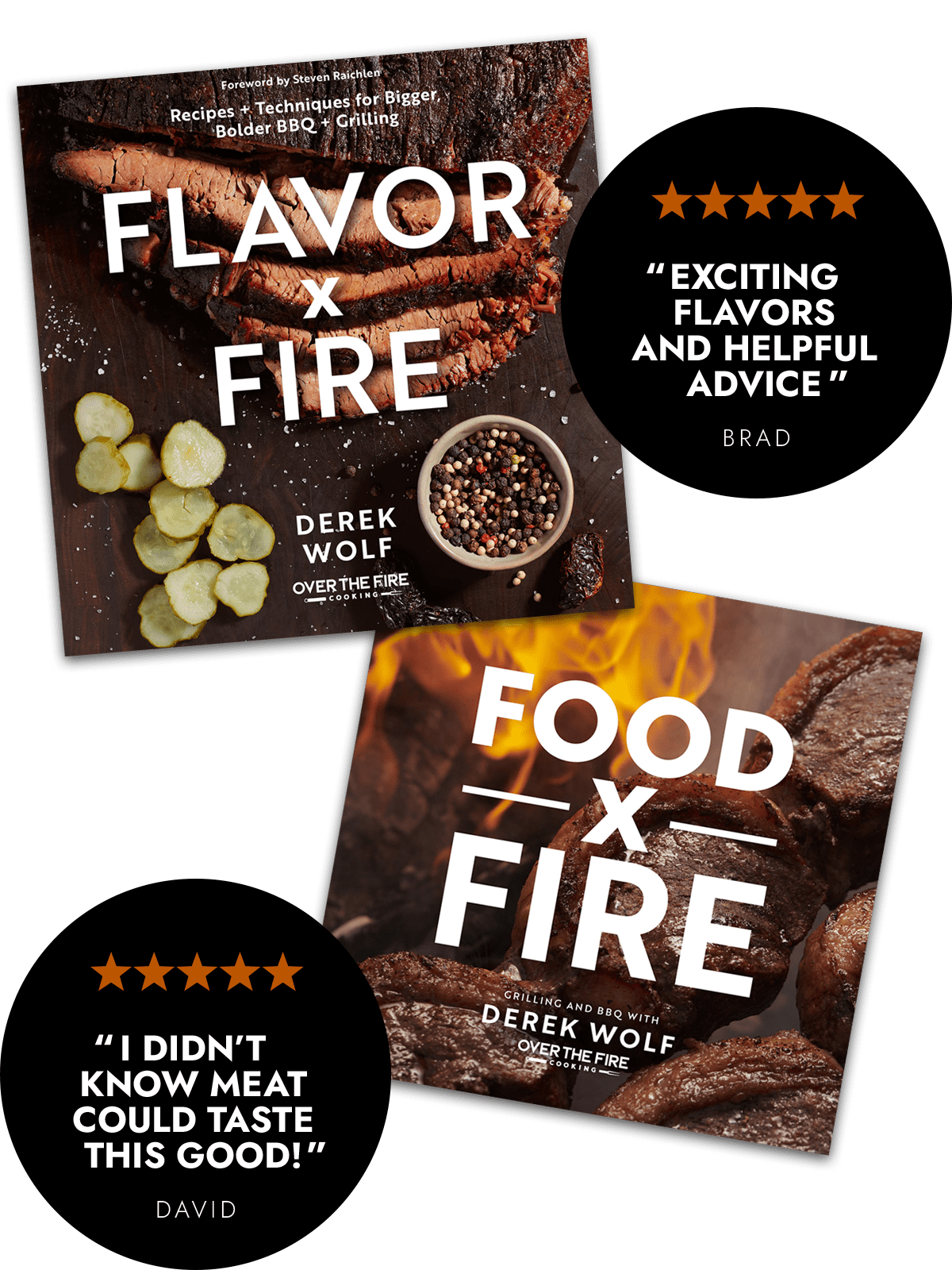 Get The Cookbooks!
Flavor X Fire & FOOD X Fire
All the major tastes—salty, sour, sweet, bitter, and umami—are explored in depth, along with an investigation of other components you should consider when it comes to flavor, such as aroma, heat, and texture.
You can also bring the heat to any meal with my new FYR Hot Sauces! Check them out here.
Candied Bacon
Candied Bacon with a maple bourbon glaze is a tasty treat that is super easy to make in the Oklahoma Joe's Highland Offset Smoker.
Ingredients
Bacon:
12

strips of Bacon

1.5

tbsp

of your Favorite BBQ Seasoning

3

tbsp

of Brown Sugar

Sliced Jalapeños

for garnish
Spicy Maple Glaze:
1

tbsp

of Butter

2.5

tbsp

of Bourbon

1/4

cup

of Maple Syrup

2

tsp

of Chipotle Puree or your favorite Hot Sauce
Instructions
Preheat your Oklahoma Joe Highland Smoker to 275F indirect cooking. Add wood chunks for extra smoke flavor if desired.

In your firebox, add a cast iron skillet to warm. Add the bourbon first and let simmer for 3-4 minutes.

Next, add the remaining glaze ingredients and let simmer, stirring occasionally, until it has thickened. Once done, pull off and let cool for 5 minutes.

Lay your slices of bacon onto a cooking sheet (preferably with a metal baking rack). Coat the tops with the maple syrup glaze, some brown sugar, and BBQ seasoning.

Add the bacon to the smoker and cook for about 25-35 minutes or until the outside has begun to caramelize and the fat begins to render.

Once the bacon is looking crispy, flip each piece over and then lightly coat with the remaining glaze, brown sugar, and BBQ seasoning. Continue cooking for another 25-35 minutes until it has caramelized.

When done, pull the bacon out and let cool for 5-10 minutes (please let cool as it can be very hot!). Top with sliced jalapeños and enjoy!
Nutrition
Serving:
4
servings
|
Calories:
428
kcal
|
Carbohydrates:
27
g
|
Protein:
9
g
|
Fat:
29
g
|
Saturated Fat:
11
g
|
Polyunsaturated Fat:
4
g
|
Monounsaturated Fat:
12
g
|
Trans Fat:
0.2
g
|
Cholesterol:
51
mg
|
Sodium:
518
mg
|
Potassium:
230
mg
|
Fiber:
1
g
|
Sugar:
21
g
|
Vitamin A:
261
IU
|
Vitamin C:
2
mg
|
Calcium:
89
mg
|
Iron:
2
mg