Bourbon Bacon Pecan Salmon for a sweet, savory, and nutty way to enjoy your next salmon filet. This salmon is smoked on top of orange slices, brushed with a Buffalo Trace bourbon glaze, topped with a Bourbon Prime pecan crust and garnished with a bit of parsley. Enjoy all the mouth watering deliciousness in a single bit off this smoked salmon, it'll have you coming back for more and more!
Bourbon Sets Us Up for Immediate Success
We kick things off with our glaze, and let's just say its no plane Jane glaze. It's a bourbon glaze… which naturally makes it a thousand times better. I teamed up with Buffalo Trace for this Bourbon Bacon Pecan Salmon Recipe, so you know that's the secret to the sauce for this one.
For more bourbon infused recipes, check out my Bourbon Bacon Chicken Wings, Bourbon Mushroom Steak Tips, and Maple Bourbon Pork Belly Burnt Ends recipes!
First, I placed a cast iron skillet on my grill grate directly over the flames. Let the skillet preheat before adding in that Buffalo Trace Bourbon. Let this simmer for a bit before adding the remaining bourbon glaze ingredients. The smooth, sweetness of the Buffalo Trace brought such a unique and enhanced taste to this glaze. The way it pairs with the savory Bourbon Prime seasoning and nutty pecans was incredible. So many flavors, yet so balanced. Love it when that happens.
Continue stirring the glaze as it begins to thicken. Then remove it from the heat and set it to the side. Now, it's Bacon Pecan Salmon time.

Bacon Pecan Crust for our Salmon
Before placing the salmon on the grill, we have to do two things. First, move the grill grate to the opposite side of the grill, away from the coals. We want to smoke the salmon slowly, so we'll utilize an indirect style of cooking from this point on. Secondly, we need to lay down our orange slices.
The orange slices do a couple of important things for our Bourbon Bacon Pecan Salmon. The most important role they play is preventing the salmon from sticking to the grill grate. The salmon filet I use has its skin removed and would be impossible to remove from the grill without the orange slices to help hold it all together. The orange slices also provide a slight tangy flavor to the salmon since the meat is sitting directly on top of it while it cooks. You'll notice that I actually added some orange juice to the bourbon glaze to help enhance this flavor.
Bourbon Bacon Pecan Salmon
Alright, now let's set the salmon filet on the orange slices in the grill. Next, mix together all the pecan crust ingredients. Then, brush the salmon with the bourbon glaze and lay a generous layer of the pecan crust on top of the bourbon glaze. Close the lid to the grill and let the salmon bake in this indirect style of cooking for about 30 minutes, or until it reaches an internal temperature of 135F.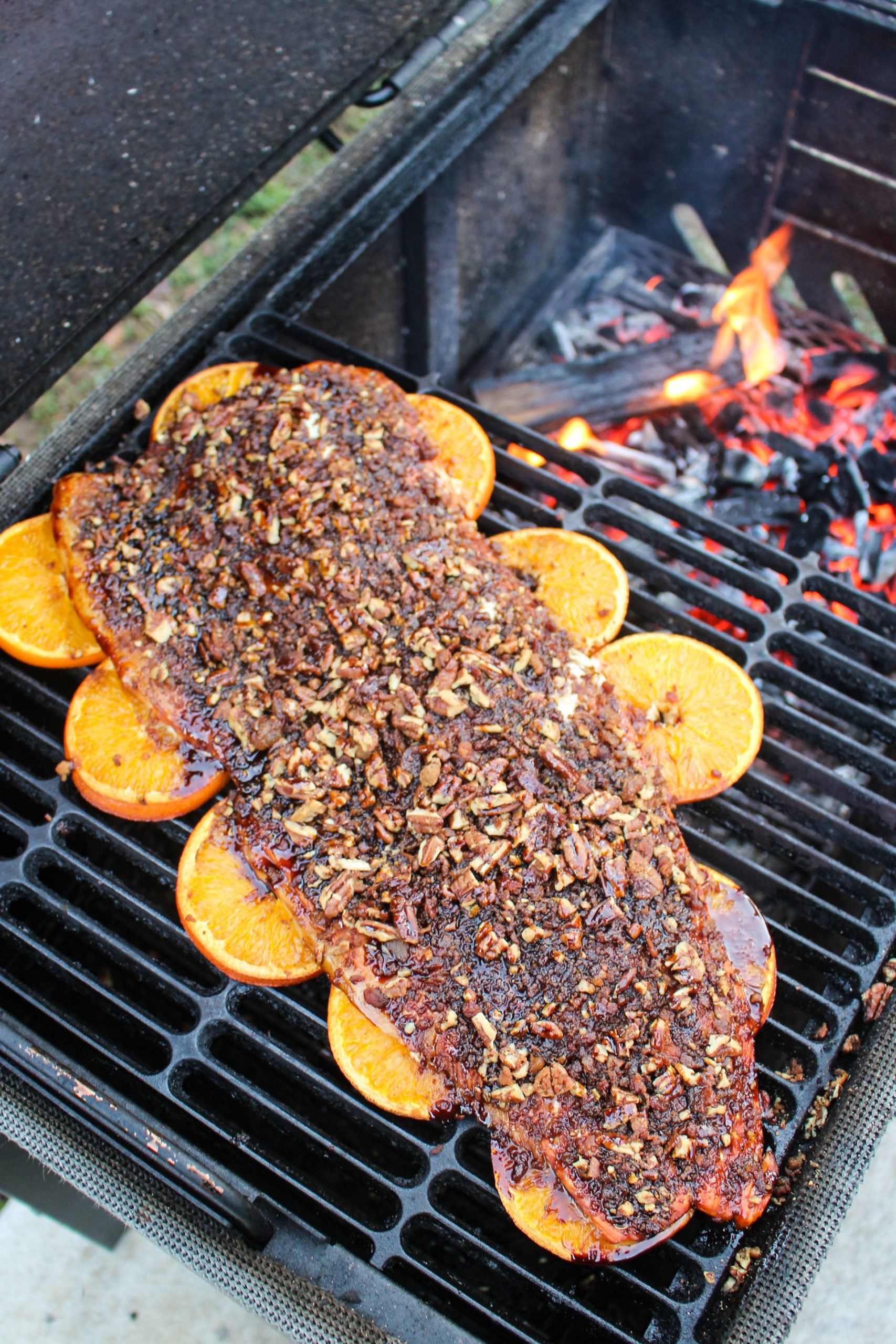 After the salmon is finished cooking, garnish it with some chopped parsley and serve it up! You can either serve the salmon directly from the grill, using a spatula to cut and pull single positions and place it directly on a plate. Otherwise, you'll probably need two spatulas to lift the front and back portions of the filet to remove it from the grill entirely and place it on a serving platter.
For more on salmon, check out my Maple Cajun Salmon Pinwheels, Sweet Pineapple Teriyaki Salmon, and Leaning Salmon with Roasted Garlic Aioli Recipes!
This Bourbon Bacon Pecan Salmon was so tender, literally a melt in your mouth kind of dish. The sweet and nutty bourbon glaze along with the pecan crust was unlike anything I've tried on salmon and I thought all the flavors paired really well together. I hope you'll enjoy it too! Cheers!
For more delicious recipes, check out my cookbook Food X Fire!
Needing more spice in your life? My spice line can help with that. Check them out here.
Print Recipe
Bourbon Bacon Pecan Salmon
Bourbon Bacon Pecan Salmon for all you bourbon lovers out there!
Ingredients
Salmon:
1

Whole Side of Salmon

8-10

Navel Oranges

sliced

Chopped Parsley

for garnish
Bacon Pecan Crust:
1.5

cups

Pecans

roughly chopped

¾

cup

Cooked Bacon

chopped

1

tbsp

Bourbon Prime
Bourbon Glaze:
3

oz

Bourbon

½

cup

Soy Sauce

2.5

tbsp

Brown Sugar

1.5

tbsp

Molasses

1

tsp

Worcestershire

½

Navel Orange

juiced
Instructions
Preheat a two zone medium heat fire (around 325F).

Add a cast iron skillet over the high heat side of the side. Add your bourbon to the skillet and let simmer for 2 minutes. Next, add the rest of the ingredients for the Bourbon Glaze and let simmer over the flames until reduced by half & thickened (about 8-9 minutes). Make sure to stir it often, and pull the skillet off the flames if you see it start to bubble too high. Let it cool, then add it back to the flames and keep stirring. Once the glaze has thickened, pull it off and let cool for 5 minutes.

Add all your sliced oranges to the cool side of the grill to create a "plank" for your salmon to lay on. Place the salmon on top of the oranges and lather it with half of the cooled bourbon glaze. In a bowl, mix together your bacon pecan crust. Thoroughly cover the top of the salmon with the crust. Close your grill lid and cook indirect at 325F for 30 minutes until it reaches 135-145F internal.

About 10 minutes before the salmon is done, drizzle the remaining glaze over the top of the pecan crust and let caramelize. When the salmon is done, pull it off and garnish with chopped parsley. Serve and enjoy!
Nutrition
Calories:
340
kcal
|
Carbohydrates:
29
g
|
Protein:
12
g
|
Fat:
19
g
|
Saturated Fat:
3
g
|
Polyunsaturated Fat:
5
g
|
Monounsaturated Fat:
10
g
|
Trans Fat:
1
g
|
Cholesterol:
22
mg
|
Sodium:
1013
mg
|
Potassium:
577
mg
|
Fiber:
5
g
|
Sugar:
20
g
|
Vitamin A:
391
IU
|
Vitamin C:
88
mg
|
Calcium:
95
mg
|
Iron:
2
mg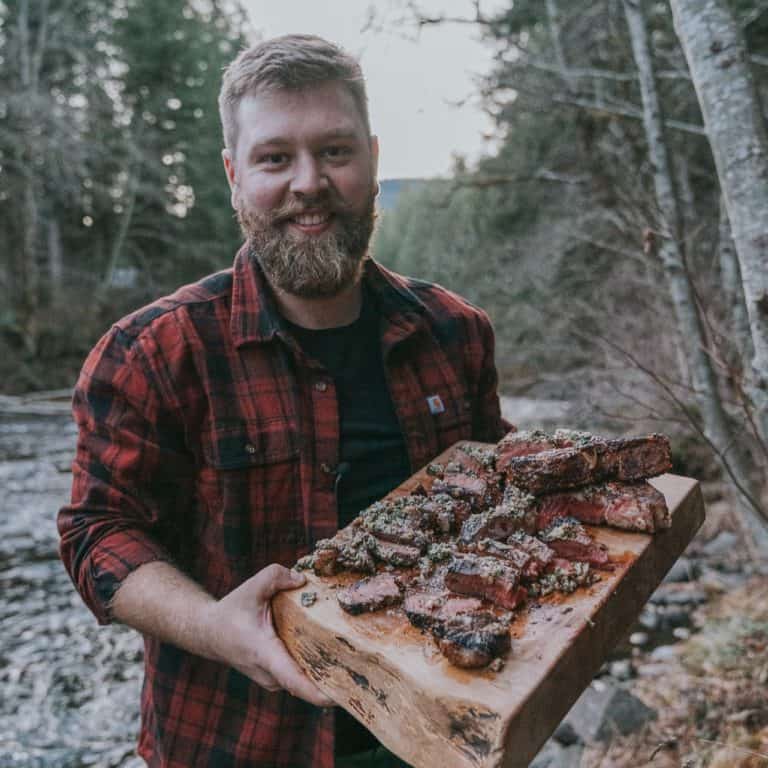 Derek is the driving force behind Over the Fire Cooking. He started cooking with live fire in 2016 and decided to start a social media page so his friends and family could follow the journey. Fast forward to today and Over the Fire Cooking has spread across multiple platforms with millions now following Derek's fire cooking journey. He's a southern fellow who enjoys everything from classic BBQ to Central and South American inspired dishes. Whatever he's cooking up, it's guaranteed to be so freakin' delicious!