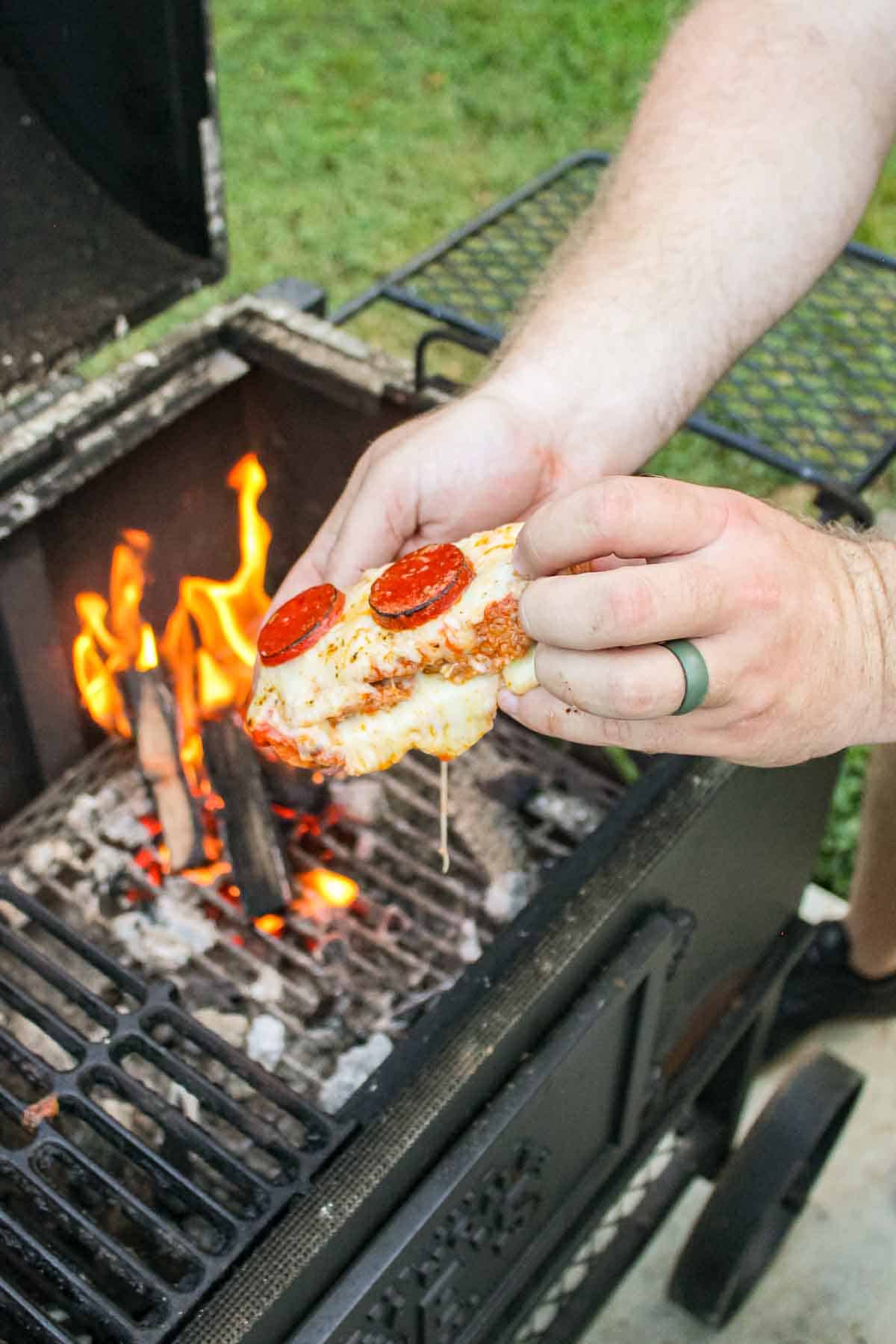 This Pepperoni Pizza Bread is similar to two of my favorites: Cheese Stuffed Choripan and Cheese Stuffed Sausage Sandwich. Because let's be honest. Cheese stuffed anything is the way to go!
Post Sponsored by QALO
This pizza bread is cheese stuffed Italian-style bread filled with spicy Italian sausage, mozzarella cheese, pizza sauce, and pepperoni.
Fair warning. This recipe is pretty hands-on. I'm talking handfuls of meat. Which is why I absolutely love to wear my QALO Q2X ring. It's super durable and made with silicone, so it can withstand the heat of the flames!
Okay, let's get to it.
Stuff It
First thing's first, preheat your grill for two zone cooking at 325ºF. We want it to be hot and ready to go, because the sooner we can eat the better right?
Start your Pepperoni Pizza Bread with a whole loaf of Italian Style Bread. Slice the loaf in half, then separate the top half from the bottom half. Set the top half aside, but don't discard it. You'll use it later! Pull the excess bread out of the bottom halves of the bread to create a divot for stuffing!
Stuff the divots in the bread with shredded mozzarella, then grab a handful of spicy Italian sausage and spread it over the cheese. Make sure it's completely covered, because otherwise the cheese will ooze out as it cooks.
Place the stuffed pizza bread onto a baking sheet and slide it into the fridge for 15-20 minutes. Chilling the bread helps the meat firm up so that it doesn't get crumbly when cooking.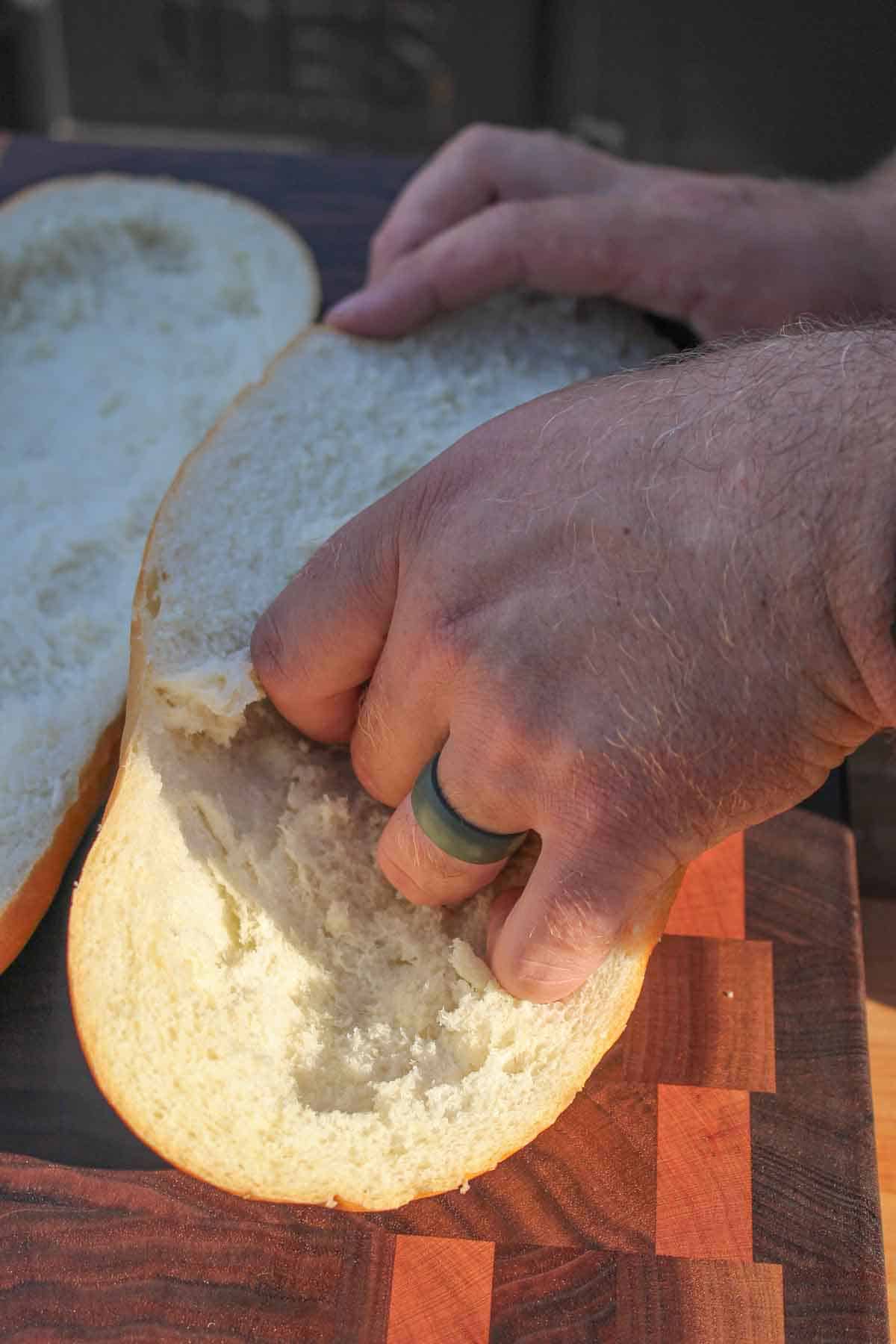 Cook Your Pepperoni Pizza Bread
Okay, now we can cook!
Grab the stuffed bread out of the fridge and place it over the heat. Make sure it's facedown! We want cooked meat, not charred bread. Let the meat cook for 10 minutes. You might get some flare-ups as it cooks. That's fine. Just move it around to prevent it from burning.
After 10 minutes, flip the Pepperoni Pizza Bread over and pull it to the cooler side of the grill to finish cooking and toast the underside. Cook until it reaches an internal temperature of 165ºF.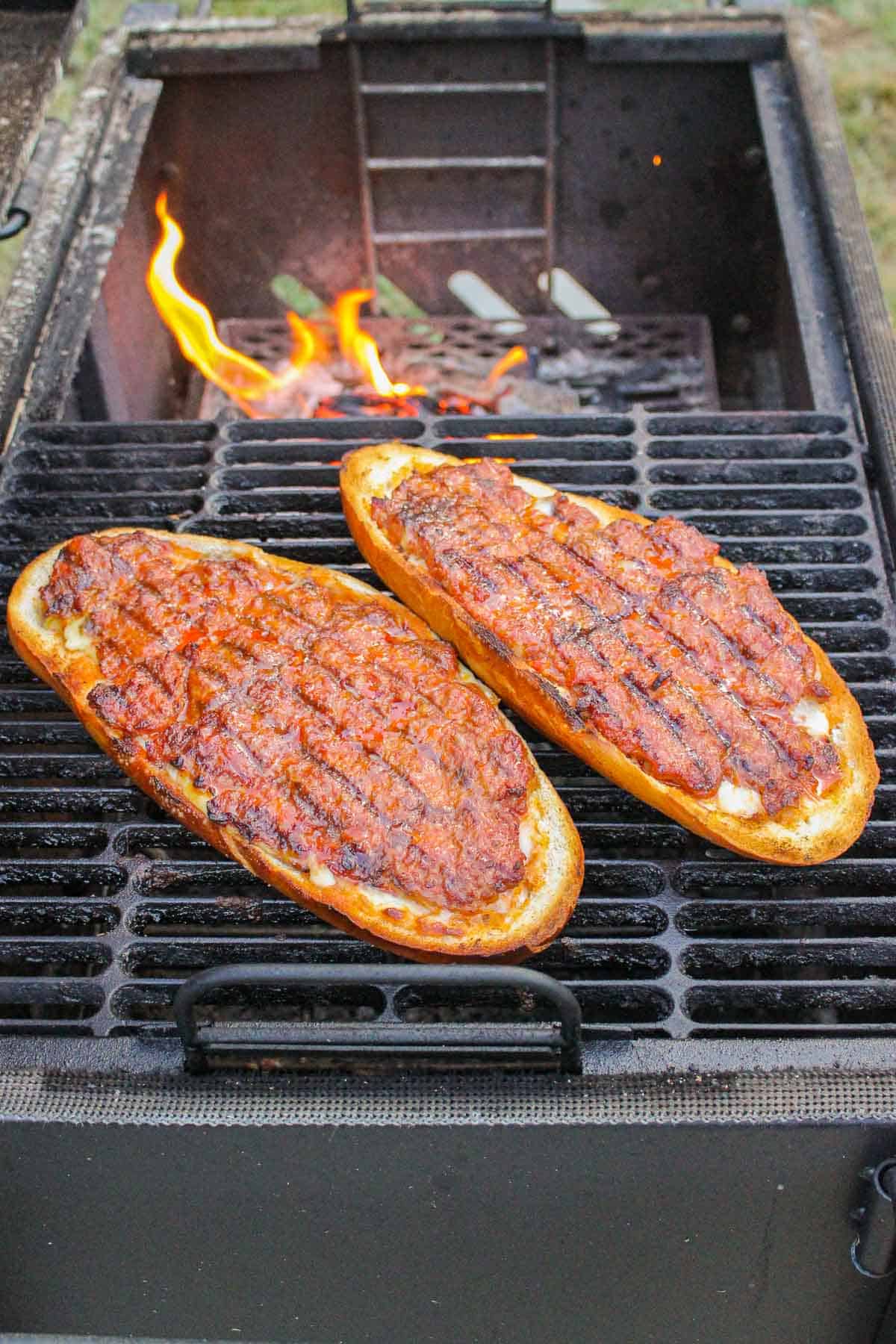 Looking for more pizza-inspired recipes? Try my Pizza Cheesesteak, Skirt Steak Pizza Pinwheels, or Pizza Sausage Skewers!
Make it Cheesy!
Next, let's go ahead and add more cheese, because more cheese is never a bad thing, right? It's Pepperoni Pizza Bread after all!
First, add a couple of spoonfuls of pizza sauce over the cooked sausage, then pile on more shredded mozzarella. Finish with a few slices of pepperoni, then close the grill and let the pizza bread cook for a few minutes so that the cheese can get nice and melty.
Now, you are absolutely not limited to pepperoni in this recipe. Feel free to add on whatever pizza toppings your heart desires. Pepper, onion, olives, jalapeño, pineapple, you name it!
Lastly, add the finishing touch to your Pepperoni Pizza Bread: a drizzle of your favorite local honey! Trust me on this one. That bit of sweetness takes the flavor to the next level!
Now we can eat! Pull the pizza bread off of the grill and let it cool off for a couple minutes. I know it looks good, but it tastes better when your mouth isn't burnt.
Now slice, serve, and enjoy!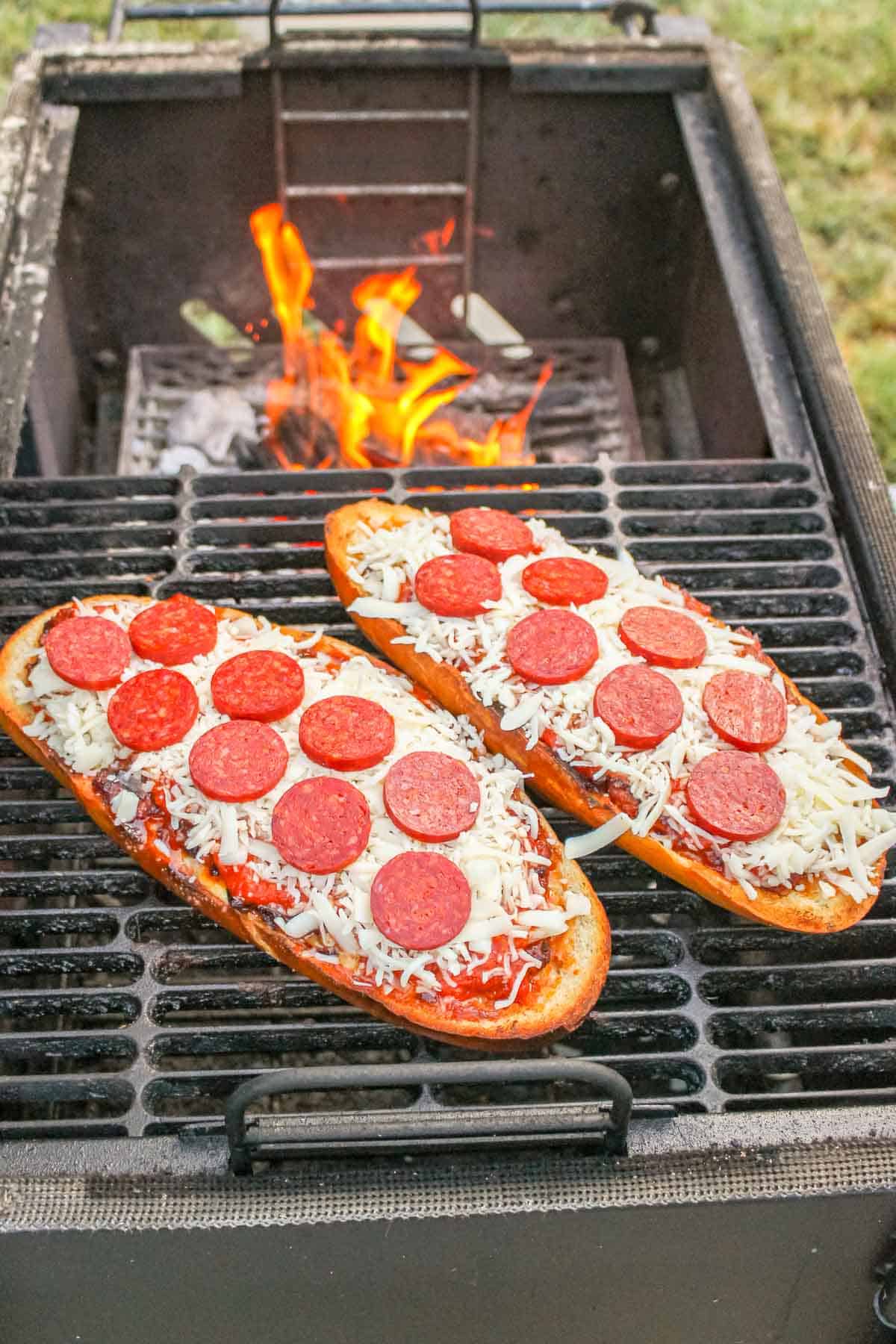 For more delicious recipes, check out my second cookbook Flavor X Fire or my first cookbook Food X Fire!
Needing more spice in your life? My spice line can help with that. Check them out here.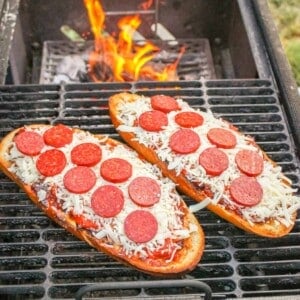 Pepperoni Pizza Bread
This Pepperoni Pizza Bread is Italian-style bread filled with spicy Italian sausage, mozzarella cheese, pizza sauce, and pepperoni.
Ingredients
1

loaf Italian Style Bread

2

cups

Ground Spicy Italian Sausage

2

cups

Mozzarella Cheese

shredded

1

cup

of Pizza Sauce

12-20

Pepperoni Slices

2

tbsp

Local Honey
Instructions
Preheat your grill for two zone cooking at 325F.

Begin by slicing your Italian Style Bread in half and separating the top from the bottom (set the tops to the side to be used later). Next, carefully pull out the excess bread on both halfs from the bottom half so that you create a divot in the bun. Stuff the divot with shredded mozzarella cheese, then take a handful of your ground spicy italian sausage and cover the cheese with it. Make sure to spread out the ground sausage all over the bread so it completely covers the cheese. Once the bread is done, place them in the fridge for 15-20 minutes to firm up.

Take out the bread and place it over the coals with the ground sausage face down. Cook over the heat for about 10 minutes. If you have flare ups, make sure to move the bread around in order to prevent them. After 10 minutes, flip the bread over and pull it over to the cooler side of the grill and cook until it is 165F internal.

When the bread is done, kick up the heat in the grill to 450F while keeping the bread on the indirect side. Add a couple spoonfuls of pizza sauce on top of the cooked sausage then top with more shredded mozzarella cheese and sliced pepperonis. Once both pizza bread are topped, close the grill and let cook until the cheese has melted and the top is bubbly (about 5-7 minutes). Right before it's done, drizzle with some honey all over the Pizza Bread. When it is done, pull off and let cool for 2-3 minutes.

Slice up your Pepperoni Pizza Bread, serve and enjoy!
Nutrition
Calories:
1286
kcal
|
Carbohydrates:
73
g
|
Protein:
40
g
|
Fat:
93
g
|
Saturated Fat:
44
g
|
Polyunsaturated Fat:
13
g
|
Monounsaturated Fat:
31
g
|
Trans Fat:
0.4
g
|
Cholesterol:
140
mg
|
Sodium:
2022
mg
|
Potassium:
791
mg
|
Fiber:
5
g
|
Sugar:
46
g
|
Vitamin A:
644
IU
|
Vitamin C:
7
mg
|
Calcium:
314
mg
|
Iron:
5
mg