Ya'll have probably had a cheesesteak pizza at some point in your life. Sliced steak, peppers, and onions on a pizza.
No big deal, right? But what if we reversed it?
What if we put a pizza on a cheese steak? Some bomb A garlic bread as the sando bread. Marinara, of course. Piled high with the finest sliced steak, peppers, onions, and cheese. So much cheese.
This sando isn't for the casual gourmand. This culinary delight, this culinary fusion, this masterpiece is one for the books.
For other pizza infusion recipes, check out my Skirt Steak Pizza Pinwheels, Matambre A La Pizza, Pizza Sausage Skewers and Flap Steak Pizza.
Meat Selection for our Pizza Cheesesteak
This is a meat dish. As much as it's a handheld, a sandwich, a sando; meat is the star of the show.
There's 2 lbs of meat here. Being the star of the show, this is where you drop the big money, so make the investment and earn the rewards.
Prepackaged "shaved beef" is slightly above the mystery meat that your high school cafeteria served. Like that shoe company says: Just don't do it.
Plus, it's not worthy of this Pizza Cheesesteak!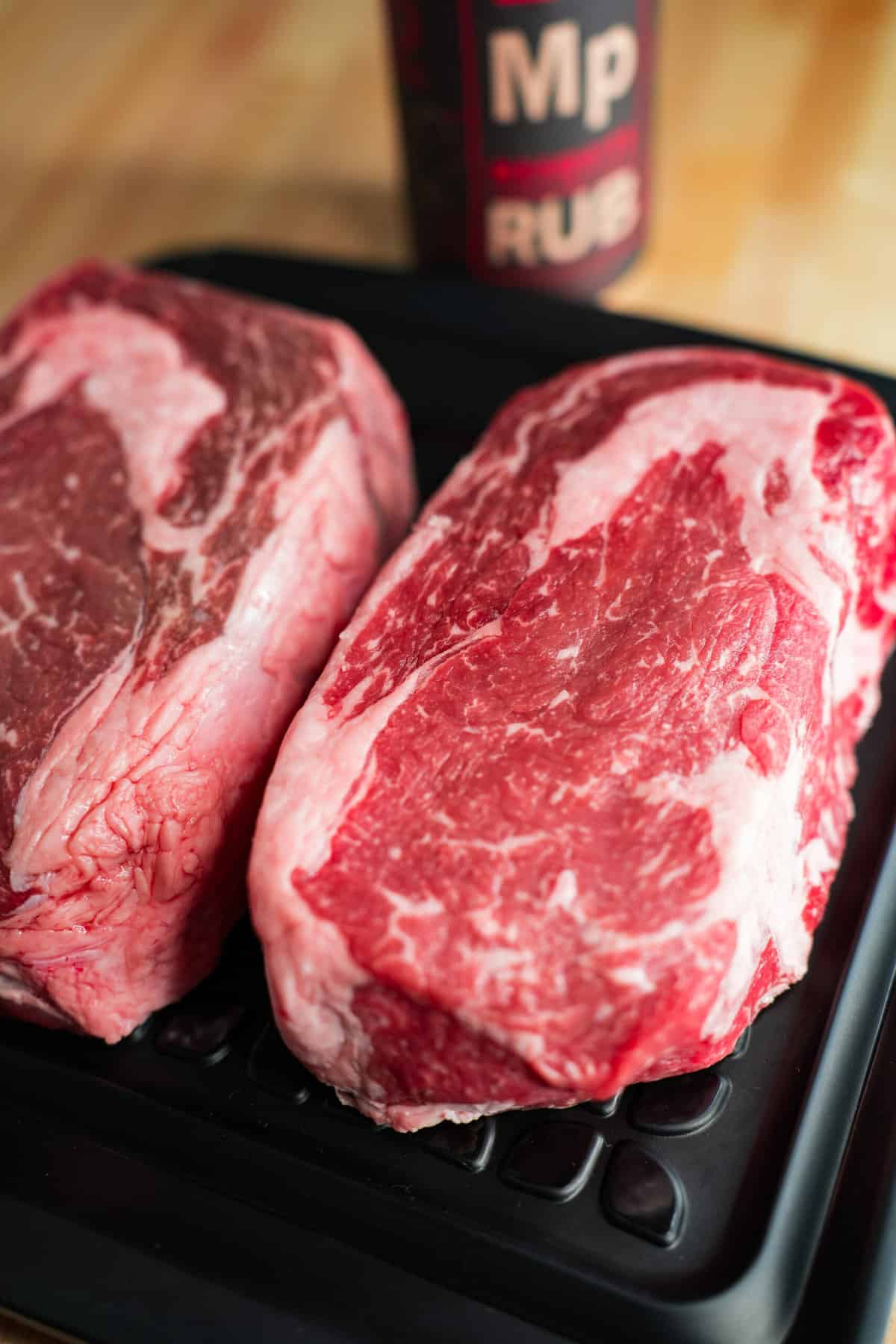 Eye of round is popular for beef sandos, mostly because it's a step above shoe leather.
Makes great jerky. But who's ever had a beef jerky sando? That seems like a bear best not poked.
Sirloin is a beautiful cut. It's one of my favorite steaks because it's flavorful, lean, and great texture.
But maybe too lean for what we're making. But now I really want to go make some picanha.
My money is on ribeye because it packs tons of flavor and is well marbled. Tender as all get out, you don't want to be chewing for days.
It'll give your Pizza Cheesesteak the extra kick in the tookus it needs.
Garlic Bread
The handshake of this dish, what brings it together, is the bread. A cheesesteak has a bun, while a pizza has a crust.
However, using a plain bun or a pizza crust wouldn't perform the voodoo magic we need to bring this sando together.
We need more, we deserve more. Garlic Bread.
Spreading some cheese and garlic powder on a slice of white bread does not make garlic bread (but it does make a clutch struggle meal).
The hero of garlic bread is the garlic, roasted garlic.
Packed tight and roasted until the garlic is tender, flavorful, and spreads like butter. There's truly nothing like it.
Wildly impressive and astonishingly easy to make. And it's perfect for our Pizza Cheesesteak!
Now that's not to say that we're going to ignore our "boosters". Plenty of parmesan cheese, butter, oregano, and flakey salt.
Don't skimp on the good stuff because this garlic bread could be eaten on it's own.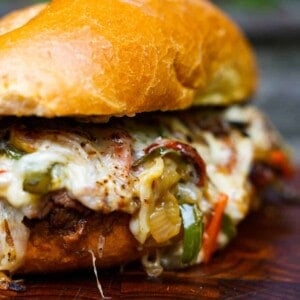 Pizza Cheesesteak
This Pizza Cheesesteak everything we love about a meaty, cheesy cheesesteak sandwich. This time with a pizza flare!
Ingredients
2

Heads of Garlic

Loaf of Italian Bread

8

Tbsp

Butter

4

Oz

Shredded Parmesan

Oregano

Flake Salt

2

Lbs

Ribeye

3

Bell Peppers

2

Sweet Onions

8

Oz

Sliced Mushrooms

3

Cups

Shredded Mozzarella

1

Cup

Marinara
Instructions
Preheat grill to 350 degrees.

Begin by roasting garlic. Cut the top off both heads of garlic. Place on a square of tinfoil; top with evoo and salt. Close tightly in tinfoil. Roast for 1 hour at 350 degrees or until tender.

Slice loaf of Italian bread in half lengthwise. Oil both halves. Spread 4 Tbsp of butter on each half. Spread 1 head of roasted garlic on each half. Top with parmesan cheese, oregano and salt to taste. Bake at 350 degrees for 10 min.

Slice peppers and onions with a wide julienne cut. Sautee mushrooms, onions and pepper in a 12" cast iron pan over medium high heat until tender.

Season ribeye's with Mesquite Peppercorn Lager rub and reverse sear on the grill. Cook indirect to 115 degrees internal, then give a hard sear. Or cook to your desired doneness, as long as that doneness is medium rare. Rest and slice thinly.

Warm the 1 cup of marinara in a small pot.

Sando Assemble!

Garlic bread bottom, marinara, sliced ribeye, sauteed veggies, cheese, more veg, and more cheese. Onto a sheet pan and back on the grill for 5-7 min, or until cheese is melted. Top, cut, and serve!
Nutrition
Calories:
766
kcal
|
Carbohydrates:
19
g
|
Protein:
52
g
|
Fat:
55
g
|
Saturated Fat:
29
g
|
Polyunsaturated Fat:
2
g
|
Monounsaturated Fat:
19
g
|
Trans Fat:
1
g
|
Cholesterol:
193
mg
|
Sodium:
1087
mg
|
Potassium:
989
mg
|
Fiber:
3
g
|
Sugar:
11
g
|
Vitamin A:
3072
IU
|
Vitamin C:
85
mg
|
Calcium:
500
mg
|
Iron:
4
mg