The next time you fire up the grill, elevate your sandwich game with this killer Sausage Sandwich. I'm talking about a toasted hoagie stuffed with melted cheddar cheese and savory Italian sausage. Plus, I'm topping it with crispy fried whole eggs and a homemade chimichurri sauce! This creates a mouthwateringly satisfying bite for yourself or any hungry crowd!
If you're craving a more traditional grilled sandwich with hot Italian sausage links, caramelized onions, green bell peppers and red peppers, a melted cheese slice, and a marinara sauce on brat buns, I won't stop you. It's a classic, and I get it.
However, if you want to try something truly unique and different, my twist on the sausage sandwich recipe does not disappoint! This is one freaking delicious, crazy good sandwich you'll crave time and again.
Why You'll Love a Sausage Sandwich
Packed with a satisfying medley of flavors, aromas, and textures, this savory sausage sandwich is almost guaranteed to get your mouth watering before you even fire up the coals.
Ingredients
Ground Italian Sausage – Good, flavorful pork sausage (either sweet, mild, or spicy) is easy to source from your local supermarket. You can also find a surprising number of gourmet sausage makers selling the best sausages and other meats online.
Shredded Cheddar Cheese – Sharp cheddar from Wisconsin is my all-time favorite cheese to pair with the Italian sausage meat, but feel free to change it up with Pepper Jack or Mozzarella Cheese for a more classic Italian sandwich taste.
Mayonnaise – In the South, Duke's Real Mayonnaise is King, but if you must, there are plenty of alternatives and homemade mayo is another great option.
Small Sandwich Rolls, Hoagie or Baguette – For the bread slices, if you can't source hoagie rolls or French bread, Italian bread or sourdough are definitely good substitutes.
Fresh Eggs – There's nothing like the bright orange pop of color from farm-fresh whole eggs – I use free-range eggs whenever possible in my recipes.
Layering all these complementary ingredients together in one crunchy, savory, and juicy toasted sandwich creates the best experience for your taste buds. After your first bite, chances are, you are never going to think of Italian sausage sandwiches the same way again.
How to Make a Sausage Sandwich
The Prep
Let's get these tasty sandwiches started!
Grab the hoagies, divide them in half, and make wells in the bottom by pulling out excess bread with your fingers (or a fork, if you're fussy). You'll want to then stuff them with a layer of cheddar cheese and a handful of the ground Italian sausage. Make sure to cover the cheese completely. Once all the stuffed rolls are all nicely filled and patted down, stick them in the fridge to set for about 15-20 minutes.
While the sausage and cheese is fusing together in the fridge, make your chimichurri sauce. Into a bowl with the chopped parsley, red wine vinegar, garlic, red chili flakes, oregano, and black pepper, slowly drizzle the olive oil while whisking until you reach your desired consistency (slow drizzling helps the vinegar and oil meld together and not separate). Lastly, add a pinch or two of salt to taste.
The Cook
Fire up your grill to about 325ºF for these sausage sandwiches. Go ahead and place the assembled rolls face down over the coals. Cook them for about 15-17 minutes or until the sausage's internal temperature reaches 165ºF. You'll want to stay close to the fire just in case any flare ups occur, making sure to move the buns around with your tongs to avoid any burning.
Once the sausage is thoroughly cooked, set the stuffed buns aside on a platter or baking tray. Set the top buns on the grill for a few minutes until they turn golden brown and toasty.
Meanwhile, kick the grill's heat up to 375ºF. Grab your cast-iron skillet, drizzle in some more olive oil, and fry those eggs up like a cowboy – one per sandwich will do.
Now, assemble the sandwiches by placing one fried egg on each grilled stuffed bun. Spoon over the desired amounts of chimichurri sauce, mayo, and finally, top with your toasted buns.
Last step? Dig in and take a big bite out of one of the juiciest and tastiest sausage sandwiches you'll ever have!
How to Store Leftovers & Reheat
Allow any leftover sandwiches (if that's even possible!) to cool before wrapping them in plastic wrap or aluminum foil. Store them in the refrigerator for up to 3-4 days, bearing in mind that the bread may get soggy. When you're ready to reheat, set the oven to 350F and heat on a baking pan for about 10-15 minutes.
What to Serve With a Sausage Sandwich
When it comes to serving up a sausage sandwich, there are several tasty side dishes that come to my mind, including sweet potato fries, coleslaw, or corn on the cob grilled alongside your sandwiches.
Sausage Sandwich FAQs
Can I use a different type of sausage?
While the recipe calls for ground Italian sausage, you can definitely experiment with other types. Hot, spicy Italian sausage, venison sausage, chicken sausage, or turkey sausage could all work with this recipe.
Can I make this sandwich vegetarian or vegan?
There are numerous plant-based sausage options available, such as vegan Italian sausages or other meat alternatives. Swap out the meat sausage for your preferred plant-based option. Make sure to also choose vegan cheese and mayo substitutes to maintain a vegan-friendly sandwich.
Can I make the chimichurri sauce in advance?
Yes, you can prepare the chimichurri sauce ahead of time. In fact, allowing the flavors to meld together for a few hours or overnight can enhance the taste. Store the chimichurri in a sealed container in a cool, dry place. Then give it a good stir before smearing on your next sandwich.
More Favorite Sandwich Recipes
When you realize how easy it is to make the best sandwiches, there's no turning back. If you want to step up your grilled sandwiches and leave the boring hot dog in the dust, try any one of these equally killer recipes!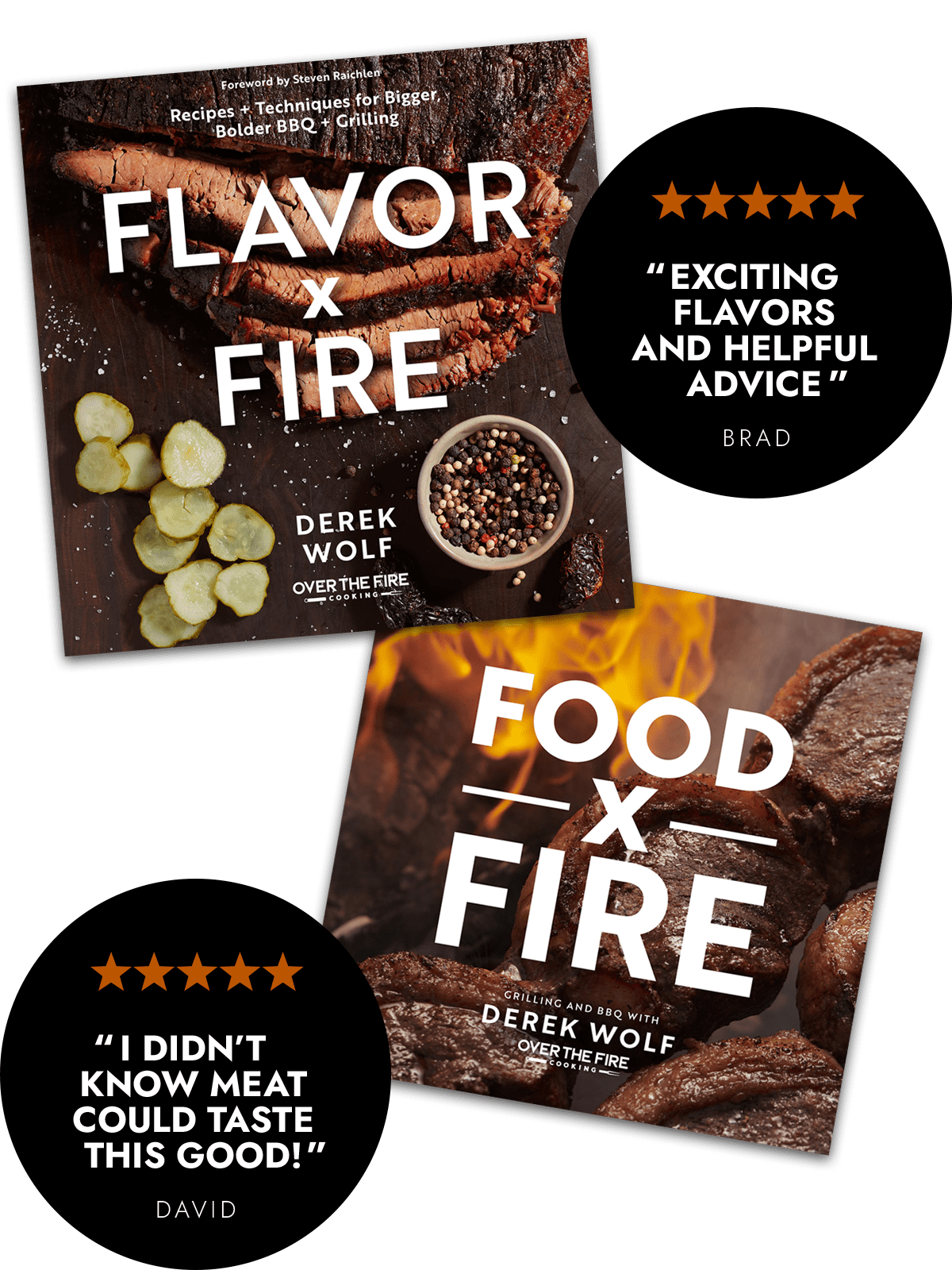 Get The Cookbooks!
Flavor X Fire & FOOD X Fire
All the major tastes—salty, sour, sweet, bitter, and umami—are explored in-depth, along with an investigation of other competent you should consider when it comes to flavors, such as aroma, heat, and texture.
Needing more spice in your life? My spice line can help with that. Check them out here.
Full Length Recipe Video on Facebook!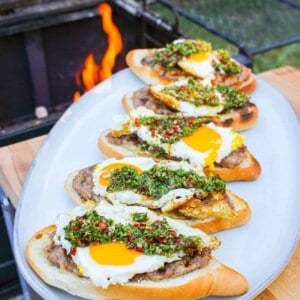 Cheese Stuffed Sausage Sandwich
This Cheese Stuffed Sausage Sandwich is stuffed with gooey cheddar and layered with Italian sausage, a fried egg, and fresh chimichurri.
Ingredients
Ingredients:
2-3

lbs

Ground Italian Sausage

2

cups

Shredded Cheddar Cheese

2

tbsp

Mayonnaise

5-6

Small Sandwich Rolls

hoagie or baguette

5-6

Fresh Eggs
Chimichurri:
½

cup

Parsley chopped

¼

cup

Red Wine Vinegar

4-6

Garlic Cloves

minced

1

tbsp

Red Chili Flakes

1

tbsp

Dried Oregano

1

tsp

Black Pepper

Olive Oil

to desired consistency

Salt

to taste
Instructions
Begin by slicing your small sandwich rolls in half and separating the top from the bottom (set the tops to the side to be used later).

Next, carefully pull out the excess bread from the bottom half so that you create a divot in the bun.

Stuff the divot with shredded cheddar cheese, then take a handful of your ground italian sausage and cover the cheese with it. Make sure to spread out the ground sausage all over the bread so it completely covers the cheese.

Once done, set that to the side and begin working on the next roll until all the rolls are completed.

Once all the rolls are done, place them in the fridge for 15-20 minutes to firm up.

In another bowl, mix together all the ingredients for the chimichurri sauce. Set to the side.

Preheat a medium heat fire (around 325F) for direct grilling.

Take out the bread and place it over the coals with the sausage face down.

Cook over the heat for about 15-17 minutes until the sausage is 165F internal or completely cooked through. If you have flare ups, make sure to move the bread around in order to prevent them.

Once done, pull the sausage bread off and keep warm until ready to use. At this time, add the top buns to the grill and cook till they are nice and golden brown.

When the bread is done cooking, kick up the heat to 375F and add a cast iron skillet with oil to the grill.

Fry up some eggs (one for each sandwich) and cook them to your liking. Once done, pull off and set to the side.

Serve the Cheese Stuffed Sausage Sandwich with a fried egg, some chimichurri, mayonnaise and the top bun. Enjoy!
Nutrition
Serving:
1
Sandwich
|
Calories:
1370
kcal
|
Carbohydrates:
45
g
|
Protein:
60
g
|
Fat:
104
g
|
Saturated Fat:
39
g
|
Polyunsaturated Fat:
15
g
|
Monounsaturated Fat:
41
g
|
Trans Fat:
0.03
g
|
Cholesterol:
436
mg
|
Sodium:
2577
mg
|
Potassium:
892
mg
|
Fiber:
3
g
|
Sugar:
2
g
|
Vitamin A:
2117
IU
|
Vitamin C:
16
mg
|
Calcium:
585
mg
|
Iron:
8
mg