If you want to learn the quick and easy way to make delicious tasting and juicy steaks, then look no further than reverse searing. By cooking indirectly first, you guarantee the internal temp of your steaks is perfect before you sear over high heat and slice. These Reverse Seared Ribeyes with Black Garlic Butter do just that! Guaranteeing you a successful cook with an insanely savory butter on top. Let's dive in!
What is Reverse Searing?
By now, you might have heard of reverse searing before. I do go through the whole process with a FAQ here in this article. But, I will do a quick overview of the process right now.
The idea is to cook your steak on a low temperature inside your smoker so that you can get it to just the right internal temperature. Once it hits your desired temperature, you can pull it off and let it rest for 10-15 minutes while heating up a high heat cooking surface. Sear off the reverse seared steaks on both sides over the high heat for only 1-2 minutes per side just to get a nice crust. After that you have no need to rest it, and you can jump right into slicing it up!
The biggest pros for these Reverse Seared Ribeyes is that you can easily get edge to edge color on your steaks while avoiding large gray bands around the outside of the meat. You are guaranteeing the internal temperature is perfect, and you can cook a lot of steaks all at once. The cons for reverse searing are you do not build as large of a crust on the outside like with traditional grilling, and it will have a distinct smoky flavor that might be overpowering to some.
Reverse searing is very similar to sous vide and other forms of cooking food from the inside out. It is a really good way to guarantee that these Reverse Seared Ribeyes with Black Garlic Butter are perfect.
For more reverse searing recipes, check out my Reverse Seared Steak, Grilled Surf & Turf and Hanging Tomahawk Steaks.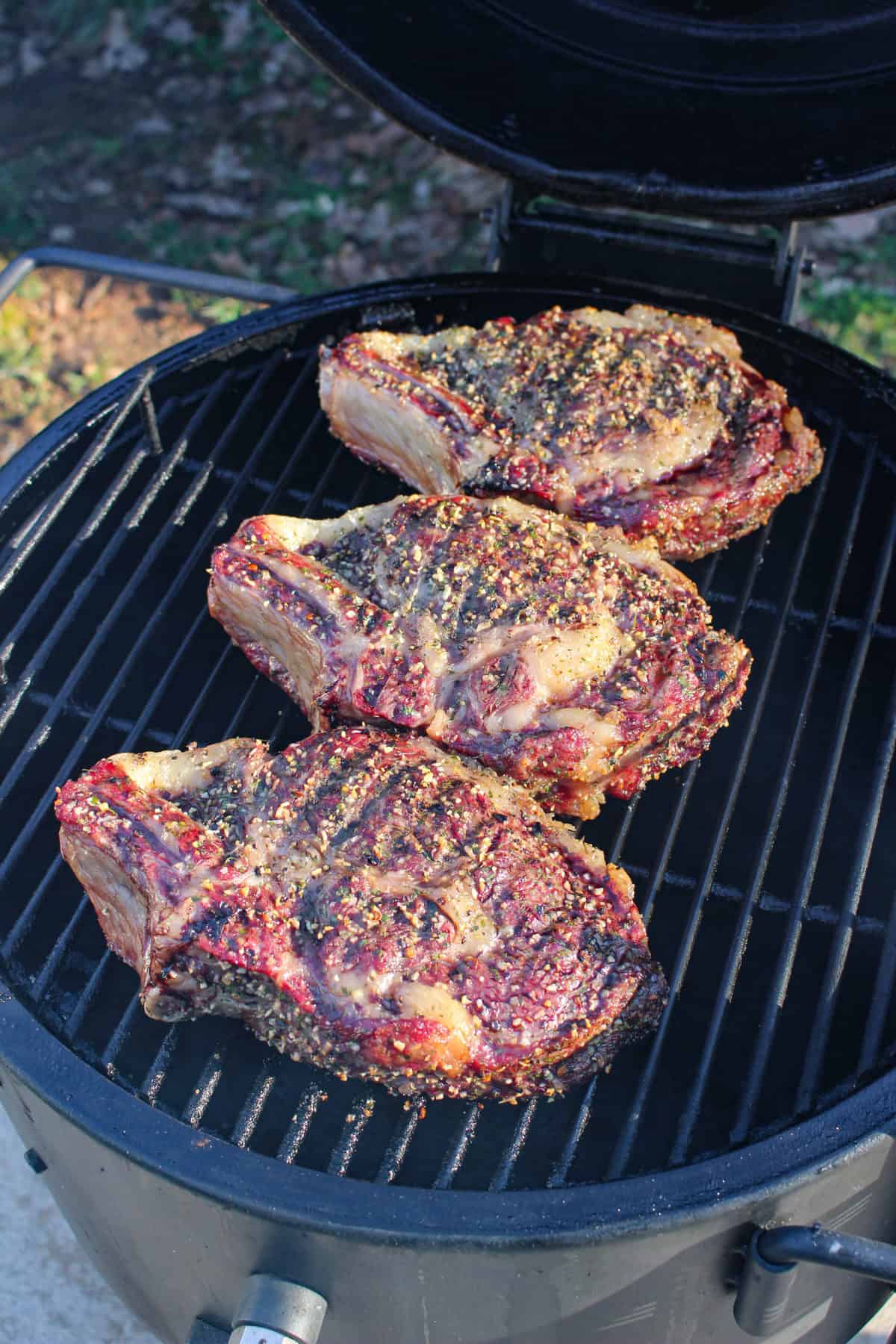 Black Garlic and Reverse Seared Ribeyes?
Now that we get this whole Reverse Seared Ribeyes situation done, what about the black garlic? To get black garlic, we ferment whole garlic cloves until darkened. It can take a long time to get it perfect, but using black garlic can take things to another level.
Black garlic to regular garlic is like dry aged steak to regular steak. Both have specific and "similar" tastes, but they also carry different levels of overall flavor and power. Black garlic tends to be sweet, earthy and packs a large umami punch. Other powerful flavors can over power black garlic, though. With our recipe we want to use a decent amount of it and make it the star of the show. We are combining just a little bit of rosemary and bourbon into the softened butter!
Can't get enough garlic? Check out my grilled cap of ribeye recipe, Garlic Butter Steak and Shrimp, grilled lobster with garlic butter, and Garlic Basted Sirloin Skewers.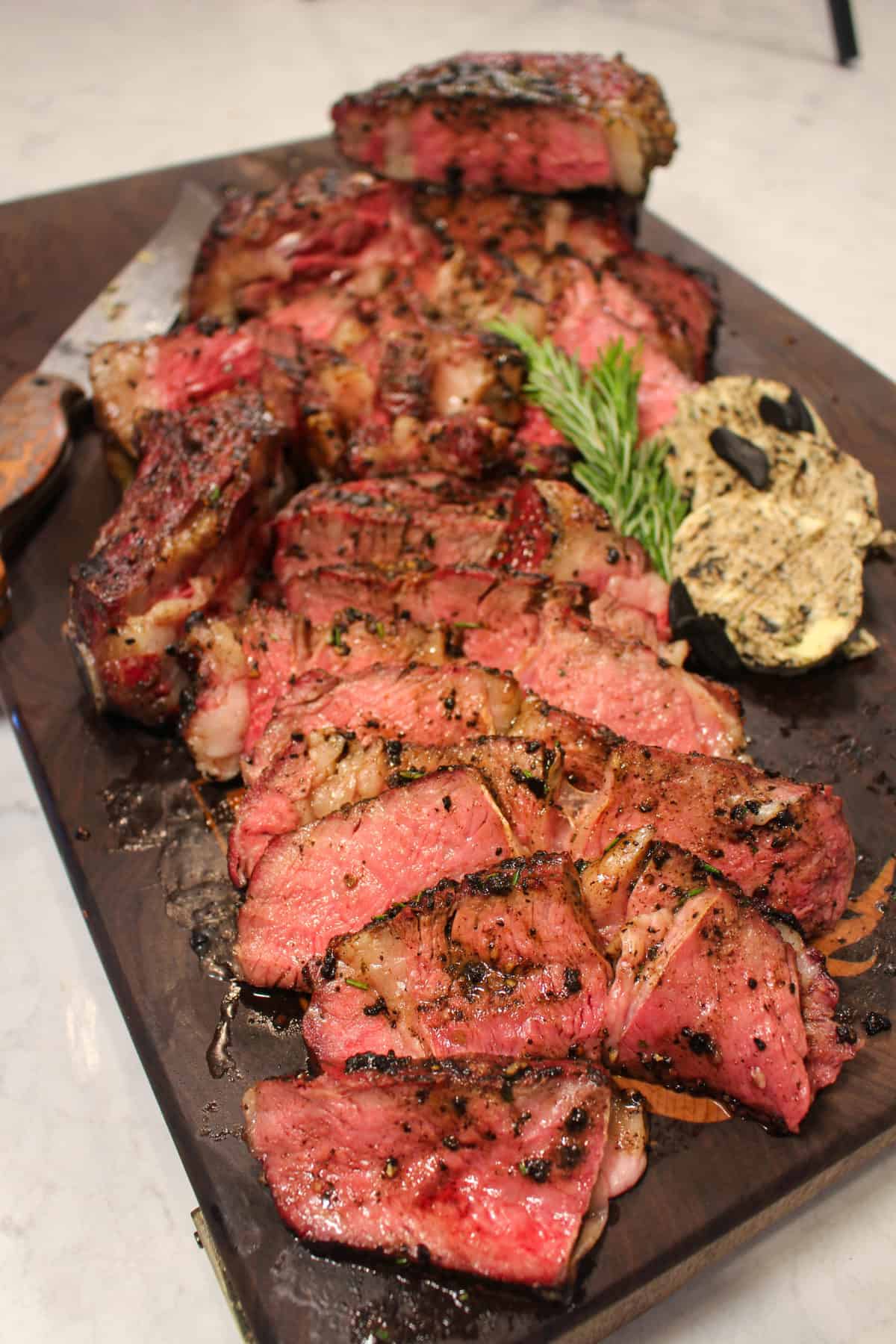 While our Reverse Seared Ribeyes will carry a salty and smoky taste, the black garlic butter will carry a slight bit of sweetness and savoriness to mellow the palate. After being inspired by a recipe from Food & Wine, we developed our own black garlic butter. Serve this recipe with some veggies and rice to really enhance the overall experience.
Time to Eat these Reverse Seared Ribeyes!
Now that the Reverse Seared Ribeyes and Black Garlic Butter are better explained, it is time for you to go cook! Find black garlic at most local grocery stores or asian markets. You can also order it online! Try out this recipe and enjoy!
For more delicious recipes, check out my cookbook Food X Fire!
Needing more spice in your life? My spice line can help with that. Check them out here.
Full Length Recipe Video on YouTube!
Reverse Seared Ribeyes with Black Garlic Butter
These Reverse Seared Ribeyes with Black Garlic Butter are savory, sweet and everything you need to make right now!
Ingredients
Steak:
3

Ribeyes

preferably large

Canola Oil

as needed
Seasoning:
1.5

tbsp

Coarse Salt

1

tbsp

Black Pepper

3/4

tbsp

Dried Minced Garlic

1/2

tbsp

Dried Minced Onion

1

tsp

Dried Parsley

1/2

tsp

Chipotle Flakes
Black Garlic Butter:
6-8

Black Garlic Cloves

1

cup

Unsalted Butter

softened

Salt

to taste
Butter (Additional Ingredients):
1.5

tsp

Rosemary

chopped

1

tsp

Thyme

chopped

1

tsp

Red Chili Flakes

1

oz

Bourbon

(Optional)
Instructions
Begin by adding all the ingredients for the steak seasoning to a bowl and mix thoroughly. Lather your steaks in oil and generously season on all sides. Set them aside for 40 minutes in the fridge to dry brine.

Next, add your black garlic cloves to a bowl or food processor and mash into a paste. Add the softened butter to a bowl along with the black garlic mash and the rest of the butter ingredients (as you desire). Mix thoroughly, then add to wax paper or plastic wrap. Roll into a log and place in the fridge for 1 hour to harden.

Preheat your smoker for an indirect fire around 250F. Add some wood chips or wood chunks for added smoke flavor.

Pull your ribeyes out of the fridge and place them on the smoker to cook. Cook them until they reach 120F internal (around 50-75 minutes). Make sure to flip the steaks over halfway through to get an even cook. Once the steaks have hit temperature, pull them out and let them rest for 15 minutes.

While the steaks rest, preheat a high heat direct cooking fire around 450F. After the steaks have rested, add them to the direct heat to sear for 60-90 seconds per side. After the first flip, top them with 1-2 medallions of the Black Garlic Butter. Pull the steaks off when done and let cool for 1-2 minutes.

Slice up your steaks, serve and enjoy!
Nutrition
Calories:
810
kcal
|
Carbohydrates:
8
g
|
Protein:
36
g
|
Fat:
70
g
|
Saturated Fat:
40
g
|
Polyunsaturated Fat:
3
g
|
Monounsaturated Fat:
23
g
|
Trans Fat:
2
g
|
Cholesterol:
225
mg
|
Sodium:
4489
mg
|
Potassium:
621
mg
|
Fiber:
2
g
|
Sugar:
1
g
|
Vitamin A:
2011
IU
|
Vitamin C:
2
mg
|
Calcium:
62
mg
|
Iron:
4
mg