If you want to learn a quick and easy way to make delicious tasting and juicy steaks, then look no further than reverse searing. Reverse searing refers to a cooking method, and it's what we used today on this Reverse Sear Ribeye Steak with Black Garlic Butter!
By cooking indirectly first, you guarantee the internal temperature of your steaks is perfect before you sear them over high heat and slice them. does just that! Guaranteeing you a successful cook with an insanely savory butter on top. Let's dive in!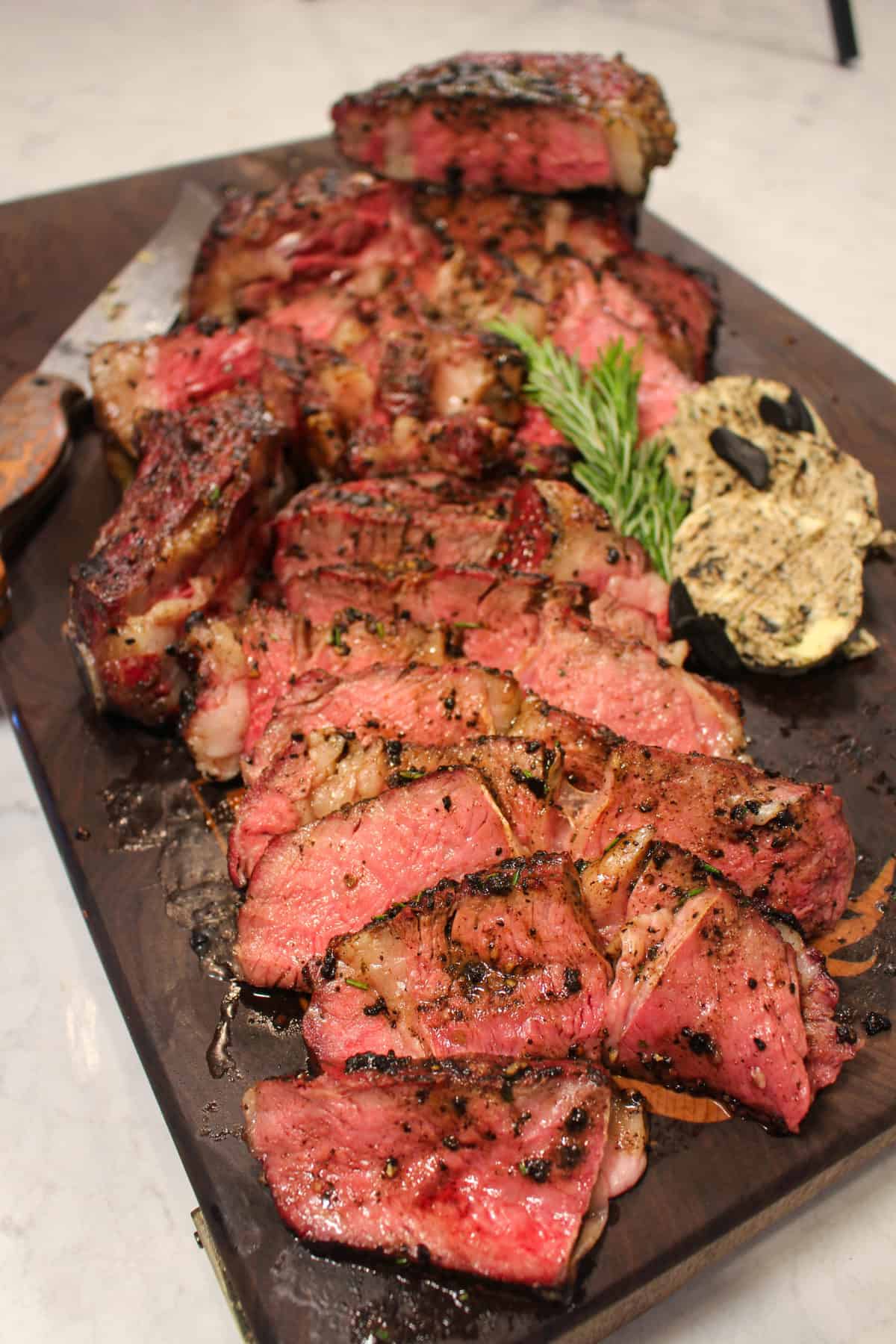 You might have heard of the reverse sear steak method before. I go through the whole process with an FAQ here in this article. But, since you're here, I will do a quick overview of the process right now.
The idea is to cook your steak at a low temperature inside your smoker so that you can get it to just the right internal temperature. Once it hits your desired temperature, you can pull it off and let it rest for 10-15 minutes while heating up a high-heat cooking surface. Sear off the reverse sear ribeye steaks on both sides over high heat for only 1-2 minutes per side just to get a crispy crust. After that, you have no need to rest it, and you can jump right into slicing it up!
For more reverse searing recipes, check out my Reverse Seared Steak, Grilled Surf & Turf, and Hanging Tomahawk Steaks.
BLACK GARLIC AND REVERSE SEAR RIBEYES?
Now that we have discussed this whole reverse sear Ribeye steak situation, what about the black garlic? To get black garlic, we ferment whole garlic cloves until they've darkened. It can take a long time to get it perfect, but using black garlic can take things to another level.
Black garlic to regular garlic is like dry-aged steak to regular steak. Both have specific and "similar" tastes, but they also carry different levels of overall flavor and power. Black garlic tends to be sweet and earthy and also packs a large umami punch. Other strong flavors can overpower black garlic, though. With our recipe, we want to use a decent amount of it and make it the star of the show.
Can't get enough garlic? Check out my grilled cap of ribeye recipe, Garlic Butter Steak and Shrimp, grilled lobster with garlic butter, and Garlic Basted Sirloin Skewers.
While our reverse sear ribeye steak will have a salty and smoky taste, the black garlic butter will have a slight bit of sweetness and savoriness to mellow the palate. After being inspired by a recipe from Food & Wine, we developed our own black garlic butter. Serve this recipe with some veggies and rice to really enhance the overall experience.
Now that the Reverse Sear Ribeye Steaks and Black Garlic Butter are better explained, it is time for you to go cook! You can find black garlic at most local grocery stores or Asian markets. You can also order it online! Try out this recipe and enjoy!
Why You'll Love This Recipe
​This Reverse Sear Steak recipe is the best way to get perfectly juicy steak with a delicate crust. This recipe is also super easy to make, so it's perfect for beginner cooks!
Ingredients
STEAK:
Ribeyes – preferably thick steaks.
Canola Oil, as needed – helps achieve a beautiful sear on the steak, adds a mild flavor, prevents sticking, and ensures even cooking.
SEASONING:
Coarse Salt – enhances the steak's natural flavors.
Black Pepper – adds a peppery kick.
Dried Minced Garlic – enhances the umami flavors in the steak.
Dried Minced Onion – complements the garlic and balances the other flavors in the seasoning.
Dried Parsley – slightly herbal and grassy notes that mellow out the bold flavors from the garlic, onion, and chipotle flakes.
Chipotle Flakes – introduce a subtle smokiness and heat.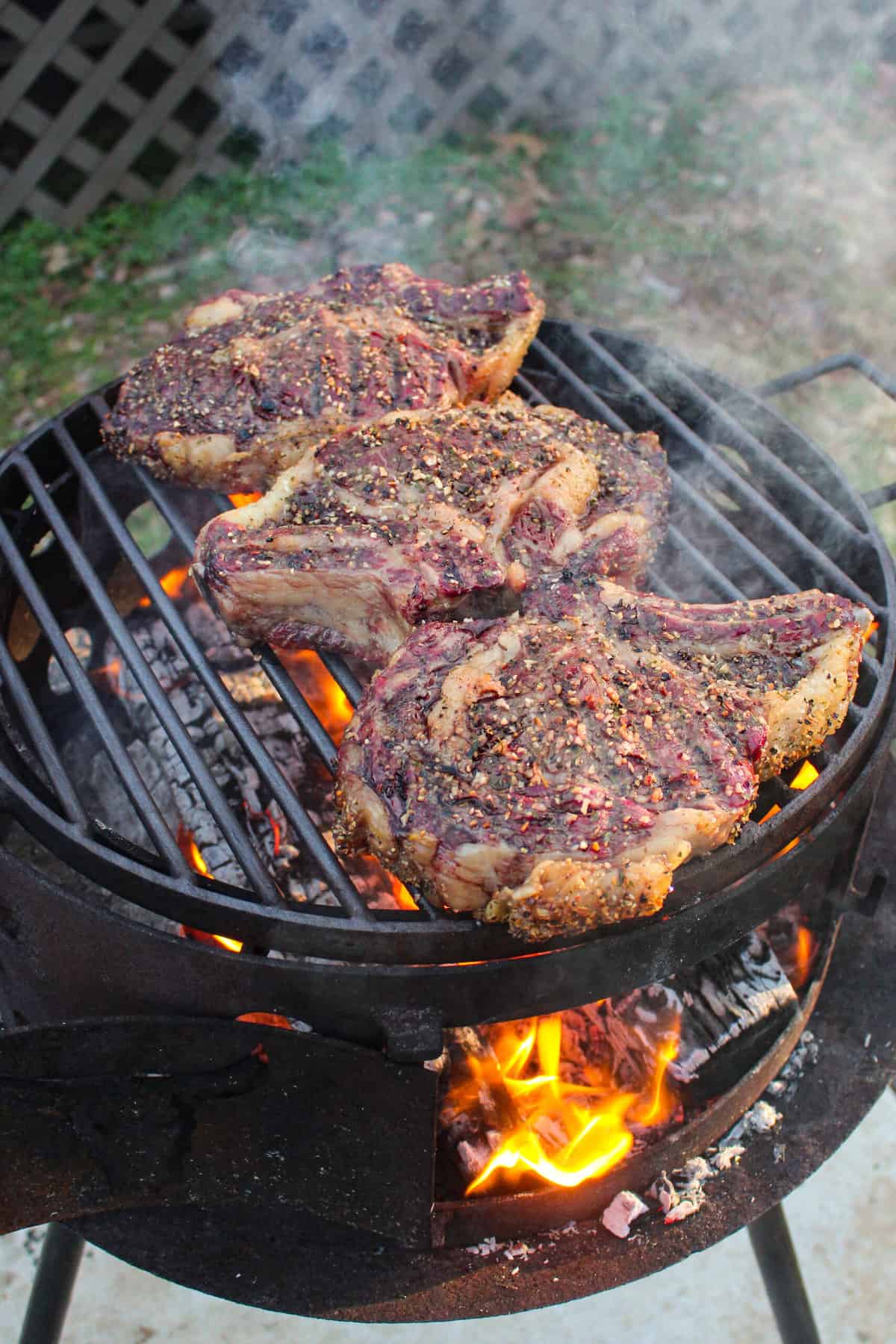 BLACK GARLIC BUTTER:
Black Garlic Cloves – known for their sweet and umami-rich flavor and form the base of a luxurious, savory spread.
Unsalted Butter – mixed with the black garlic cloves and placed on top of the steaks for extra richness.
Salt – to taste.
BUTTER (ADDITIONAL INGREDIENTS):
Rosemary and Thyme – provide bright, herbal notes to the butter, and also perfectly balances the intense flavors from the back garlic cloves.
Red Chili Flakes – offer a touch of heat to the butter.
Bourbon (Optional) – if used, adds complexity with smoky and sweet undertones.
How to Cook a Reverse Sear Ribeye Steaks
Seasoning the Ribeye Steaks
First, grab a bowl and toss in all those delicious ingredients for the steak seasoning. Next, give it a good stir until everything is mixed. Now, take your ribeyes and give them a little massage with some oil.
Then, generously sprinkle that seasoning mix all over those steaks, covering every nook and cranny. Pop them in the fridge for about 40 minutes for a dry brine.
Making Black Garlic Butter
Grab some black garlic cloves and then mash them up into a paste. You can use a bowl or a food processor, whichever floats your boat. Now, toss that softened butter into another bowl along with your black garlic mash. If you're feeling fancy, toss in the rest of the butter ingredients too. Give it all a good mix until everything is nice and creamy.
Roll it up in wax paper or plastic wrap and pop it in the fridge for about an hour to get nice and firm.
Smoke the Steaks
Fire up your smoker and aim for a nice, indirect heat at around 250F. Throw in some wood chips or chunks if you want to jazz it up with some smoky flavor.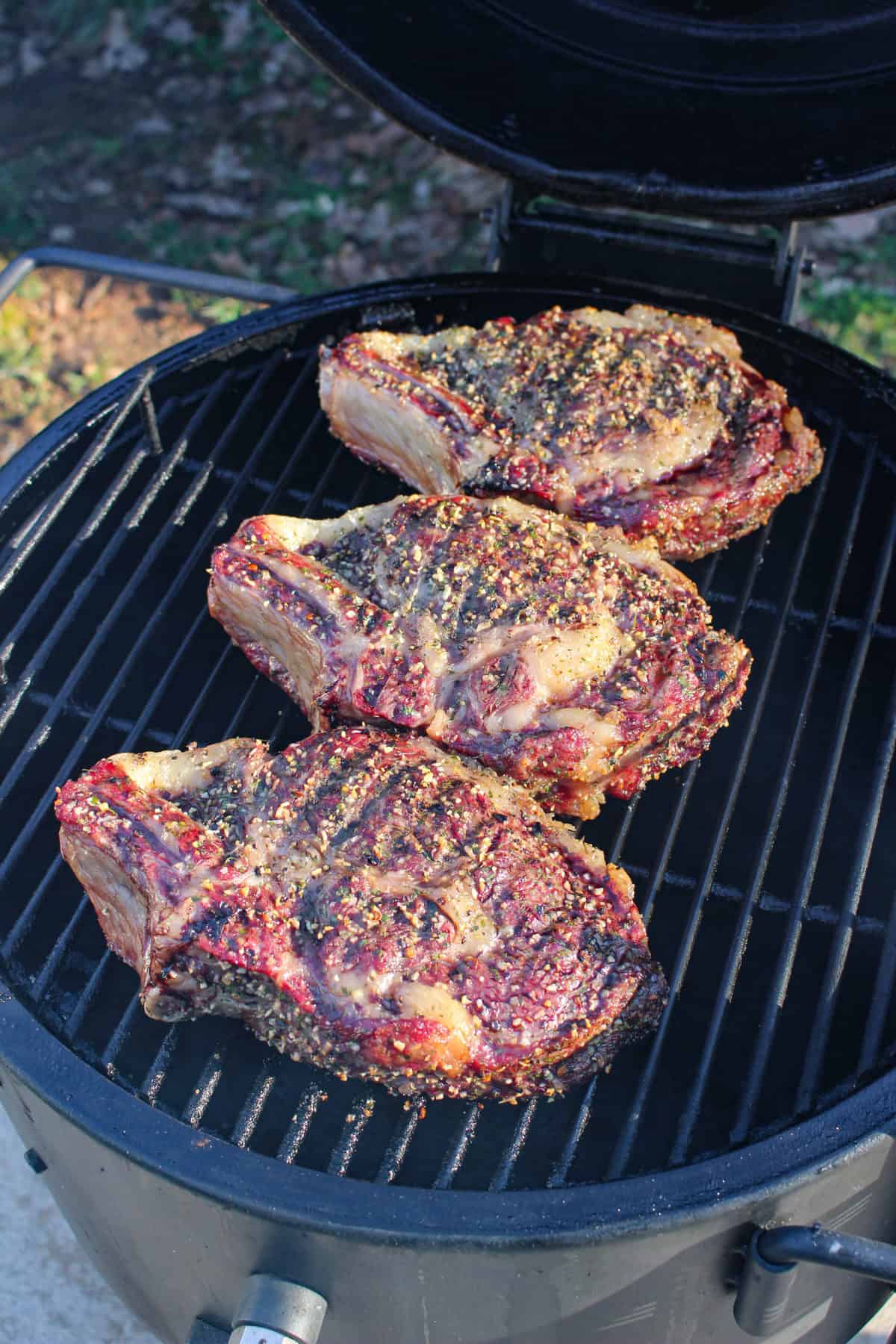 Take those seasoned ribeyes out of the fridge and place them on the smoker to cook indirectly. Let them hang out there until they hit around 120F inside, which should take about 50-75 minutes, depending on the thickness of your steak.
Don't forget to flip those babies over halfway through to make sure both sides of the steak are getting cooked evenly.
Once they've reached 120F, pull them out and let them rest for 15 minutes.
Reverse sear the Steaks
While those steaks are resting, crank up the heat on your grill to around 450F. We're talkin' high heat here. When the steaks are done resting, toss them onto that hot grill for a good sear. About 60-90 seconds for each side of the steak should do the trick to get that perfect crust.
Oh, and don't forget to add a medallion or two of that Black Garlic Butter on top after the first flip.
Once they've got that perfect sear, pull them off and give them a minute or two to cool down.
Serve and Enjoy
Grab a sharp knife and slice up those steaks. Plate, serve, and savor every bite of your juicy steak. Enjoy!
Tips on reverse sear ribeye steak
Use an instant-read thermometer to ensure the internal temperature of the steak reaches at least 120F.
To prevent an overcooked steak, make sure you pull the steaks off at 120F. The steaks will still cook slightly due to carryover cooking.
How to Store Leftovers and Reheat
Store any leftover steak in an airtight container in the fridge for 3-4 days. You can also freeze steak for up to 6 months. But keep in mind that steak can dry out if left in the freezer for too long.
Wondering what to do with leftovers? Make some STEAK SLIDERS WITH BEER CHEESE!
To reheat, you have a few options:
Oven: Turn on your oven to 250F and place your leftover steak on a baking sheet. Let the steak cook for around 20 minutes. The low temperature helps the steak to warm up without becoming overcooked.
Air Fryer: Turn on your air fryer to 360F and pop your cooked steak into the air fryer basket. Cook for 5-6 minutes until the steak is heated. Flip halfway through to ensure both sides are evenly heated.
Microwave: Although microwaving isn't my first choice, it's perfect for those short on time! Grab a damp paper towel, place it over your steak, and then microwave in 30-second intervals for best results. Flip in between intervals also helps to ensure both sides are cooked.
What to Serve with This Reverse Sear Ribeye Steak Recipe
Serve up your tender steak with a baked potato, some roasted veggies, a warm roll, or a fancy salad!
Recipe FAQs
Can you use the reverse sear method on other types of steak?
Absolutely! Reverse searing is the perfect cooking method for several types of thick-cut steak, including a tomahawk steak, New York strip, and filet mignon!
What if I don't have a smoker?
No worries! You can still make the perfect steak on the grill in a cast-iron skillet!
How is reverse searing different from other cooking methods?
The biggest pros for these Reverse Seared Ribeyes is that you can easily get edge-to-edge color on your steaks while avoiding large gray bands around the outside of the meat. You are guaranteeing the internal temperature is perfect, and you can cook a lot of steaks all at once.

The cons for reverse searing are you do not build as large of a crust on the outside as with traditional grilling, and it will have a distinct smoky flavor that might be overpowering to some.

Reverse searing is very similar to sous vide and other forms of cooking food from the inside out. It is a really good way to guarantee that these Reverse Seared Ribeyes with Black Garlic Butter are perfect.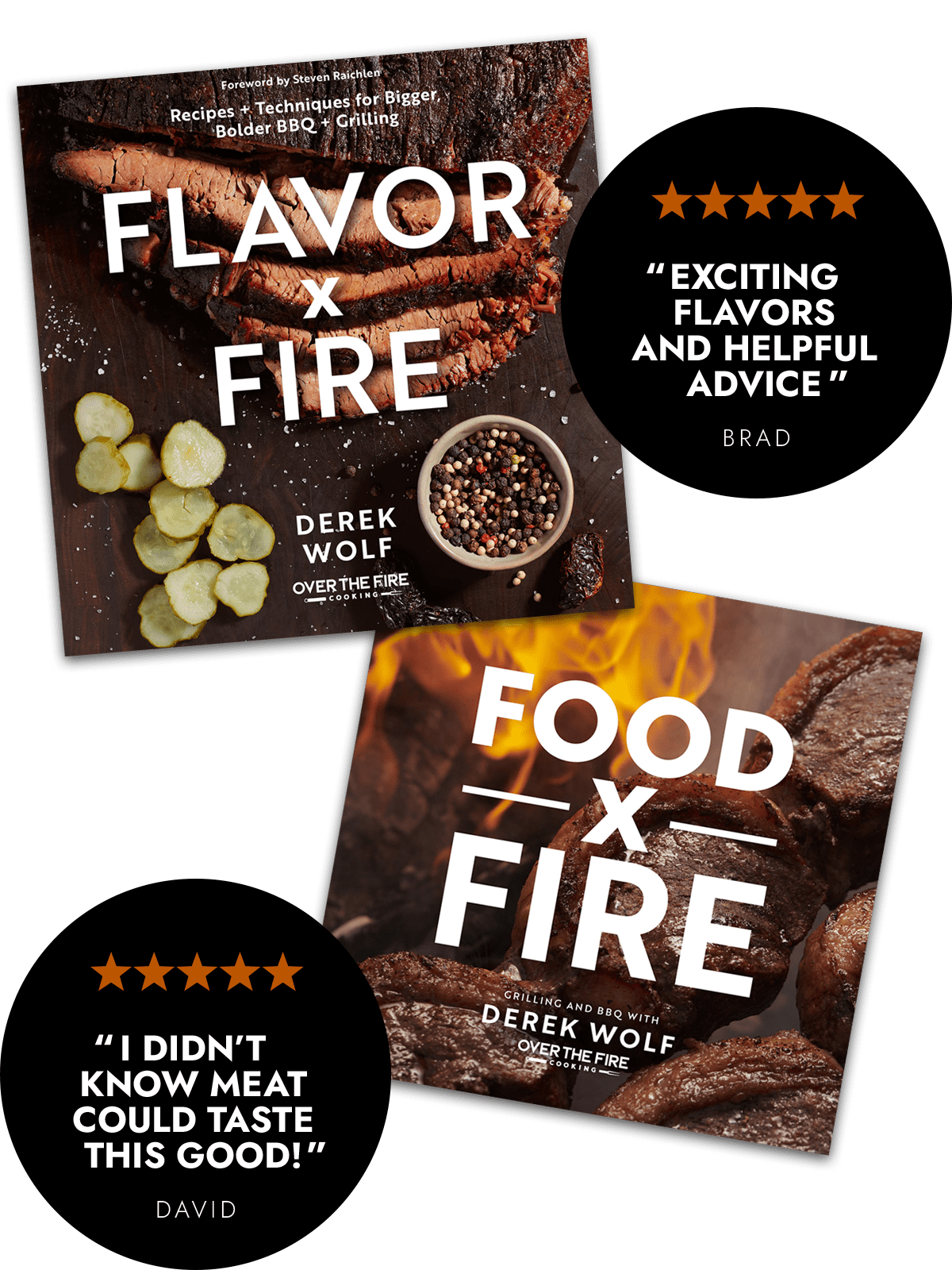 Get The Cookbooks!
Flavor X Fire & FOOD X Fire
All the major tastes—salty, sour, sweet, bitter, and umami—are explored in depth, along with an investigation of other components you should consider when it comes to flavor, such as aroma, heat, and texture.
Needing more spice in your life? My spice line can help with that. Check them out here.
Full Length Recipe Video on YouTube!
Reverse Seared Ribeyes with Black Garlic Butter
These Reverse Seared Ribeyes with Black Garlic Butter are savory, sweet and everything you need to make right now!
Ingredients
Steak:
3

Ribeyes

preferably large

Canola Oil

as needed
Seasoning:
2.5

tbsp

Coarse Salt

2

tbsp

Black Pepper

1.5

tbsp

Dried Minced Garlic

1.25

tbsp

Dried Minced Onion

2

tsp

Dried Parsley

1

tsp

Chipotle Flakes
Black Garlic Butter:
6-8

Black Garlic Cloves

1

cup

Unsalted Butter

softened

Salt

to taste
Butter (Additional Ingredients):
1.5

tsp

Rosemary

chopped

1

tsp

Thyme

chopped

1

tsp

Red Chili Flakes

1

oz

Bourbon

(Optional)
Instructions
Begin by adding all the ingredients for the steak seasoning to a bowl and mix thoroughly.

Lather your steaks in oil and generously season on all sides. Set them aside for 40 minutes in the fridge to dry brine.

Next, add your black garlic cloves to a bowl or food processor with 1 tbsp of neutral oil and mash into a paste.

Add the softened butter to a bowl along with the black garlic mash and the rest of the butter ingredients (as you desire). Mix thoroughly.

Then add to wax paper or plastic wrap. Roll into a log and place in the fridge for 1 hour to harden.

Preheat your smoker for an indirect fire around 250F. Add some wood chips or wood chunks for added smoke flavor.

Pull your ribeyes out of the fridge and place them on the smoker to cook.

Cook them until they reach 120F internal (around 40-60 minutes). Make sure to flip the steaks over halfway through to get an even cook.

Once the steaks have hit temperature, pull them out and let them rest for 10 minutes.

While the steaks rest, preheat a high heat direct cooking fire around 450F.

After the steaks have rested, add them to the direct heat to sear for 60 seconds per side.

After the first flip, top them with 1-2 medallions of the Black Garlic Butter.

Pull the steaks off when done and let cool for 1-2 minutes.

Slice up your steaks, serve and enjoy!
Nutrition
Serving:
4
g
|
Calories:
811
kcal
|
Carbohydrates:
8
g
|
Protein:
36
g
|
Fat:
70
g
|
Saturated Fat:
40
g
|
Polyunsaturated Fat:
3
g
|
Monounsaturated Fat:
23
g
|
Trans Fat:
2
g
|
Cholesterol:
225
mg
|
Sodium:
4487
mg
|
Potassium:
626
mg
|
Fiber:
2
g
|
Sugar:
1
g
|
Vitamin A:
2000
IU
|
Vitamin C:
4
mg
|
Calcium:
65
mg
|
Iron:
4
mg