Ribeye Caps with Horseradish Board Sauce for a slight twist on your classic steak night. Are you bored with your current steak night? If so, the cure to your boredom is here, and it's within the sauce. Turn that bored into board sauce! You won't regret it, and your steak won't either. This horseradish board sauce is delicious on any steak, but for this recipe I reached for three ribeye caps. It was an excellent choice for an excellent meal. Keep reading to make it yours. 
Recipe Ingredients
For the ribeye caps
Ribeye Caps
Coarse Sea Salt
Canola Oil
Basting:
Clarified Butter
Garlic Cloves
Thyme Sprigs
Butter
Horseradish Board Sauce:
Parsley 
Garlic Cloves
Horseradish
Mustard
Red Wine Vinegar
Olive Oil
Step By Step Instructions
I started with the ribeye caps. Now, let's talk about these ribeye caps because they're arguably one of the most delectable cuts of meat out there. We all know the beef tenderloin is the most tender cut of steak while ribeye is arguably the most flavorful. Well, the ribeye cap gives us the best of both worlds: full flavor while remaining extremely tender! The ribeye cap is the outer muscle of a rib roast. It can be separated and served as individual cuts of steaks, or rolled, tied and cooked as a medallion. I opted for the medallions for this Ribeye Caps with Horseradish Board Sauce.
We want the Horseradish Board Sauce to carry the unique flavors for this recipe. That said, I seasoned the ribeye caps with only salt because it's all they really need. I dropped a tear of oil on each steak, lathered it down and then sprinkled salt across the top, bottom and side of each ribeye cap.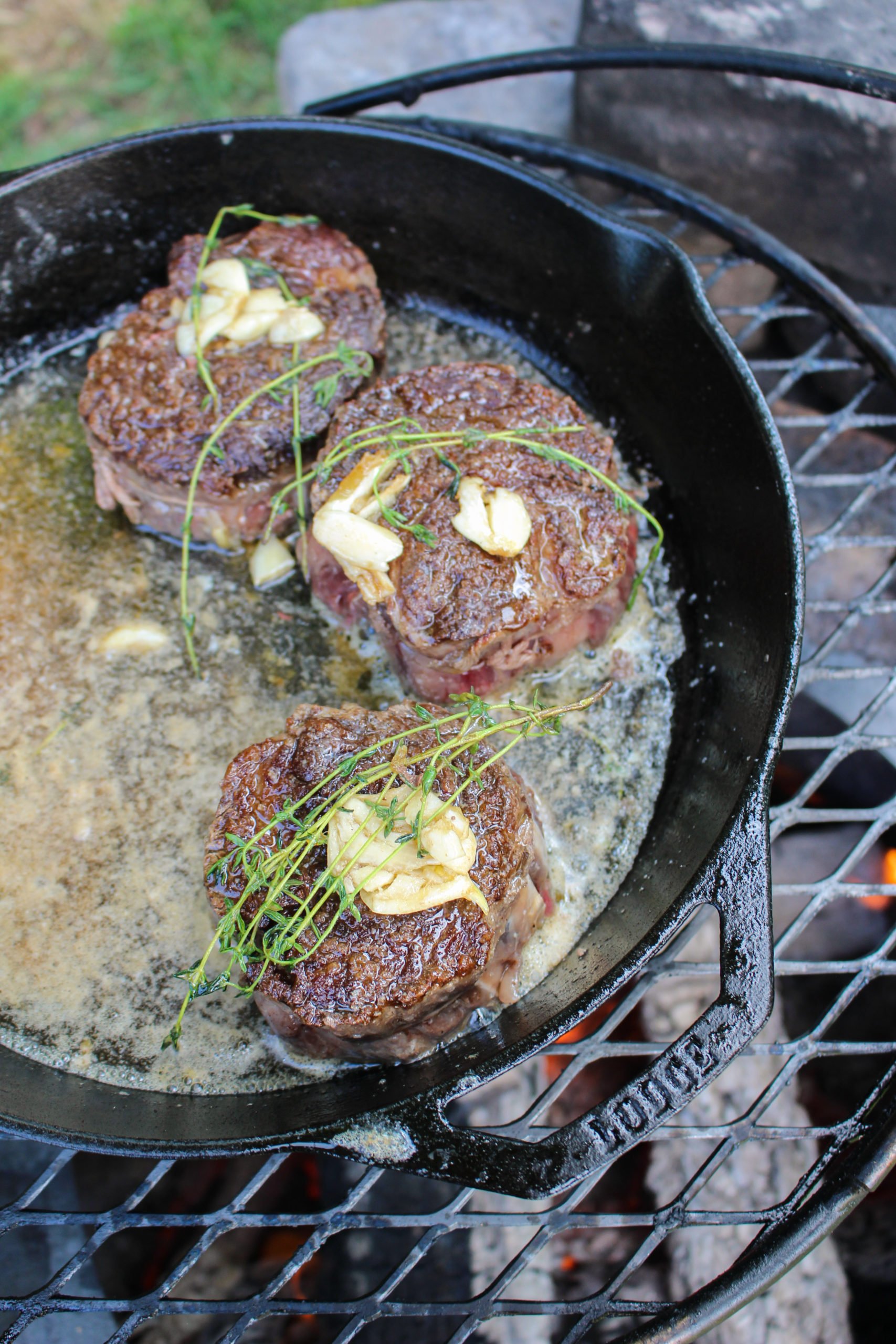 Next comes the star: the Horseradish Board Sauce. The process for making this sauce is really easy. Simply take all your ingredients and mix them together in a medium sized bowl. Set this to the side for now. We'll go cook the steaks and then come back for it.
 How To Grill Ribeye Cap Steak
Now comes the time where we get to play with fire. I got some logs going within my Breeo and let them coal up. We want to utilize a high heat for this first part of cooking as we're going to be searing the outside of these ribeye caps. Now, toss a spoonful of clarified butter into a preheated cast iron skillet. Then, place each ribeye cap onto the skillet and let it form a crust. Flip each ribeye cap after the crust forms on the bottom of the steak. Lastly, you will sear each side of the steak. Flip and turn as needed to do this.
After each ribeye cap is seared on all sides, pull the steaks to the side of the fire. I did this by swivelling the Outpost grill grate. We will finish the steaks by basting them with butter over a medium heat. You can remove wood, or spread some of the coals out to help decrease the temperature of the fire. Then, add in the butter, garlic and thyme. Once the butter melts, start basting each steak in the butter with a spoon. I flipped the steaks a couple times throughout this basting process to ensure even cooking. Pull the steaks from the skillet once they reach your desired level of cooking. I prefer a medium rare steak, and cooked these ribeye caps until they reached an internal temperature of 120F.
How To Make Horseradish Board Sauce
While the steaks rest, we can prep our board with the horseradish board sauce. Simply grab a cutting board and spoon the sauce onto the board. Spread the horseradish board sauce across the board, making sure to create an even layer. Note, you don't have to cover the entire surface of the cutting board. Only spread it across enough surface area for the steaks to sit.
How To Serve This Recipe
Now, place each rested ribeye cap on top of the horseradish board sauce. I like to place one side of the steak down and then flip it. This will result in the transfer of some of the sauce on top of each steak. Then, cut the cooking string from around each ribeye cap and serve. Best enjoyed with friends and family. Cheers!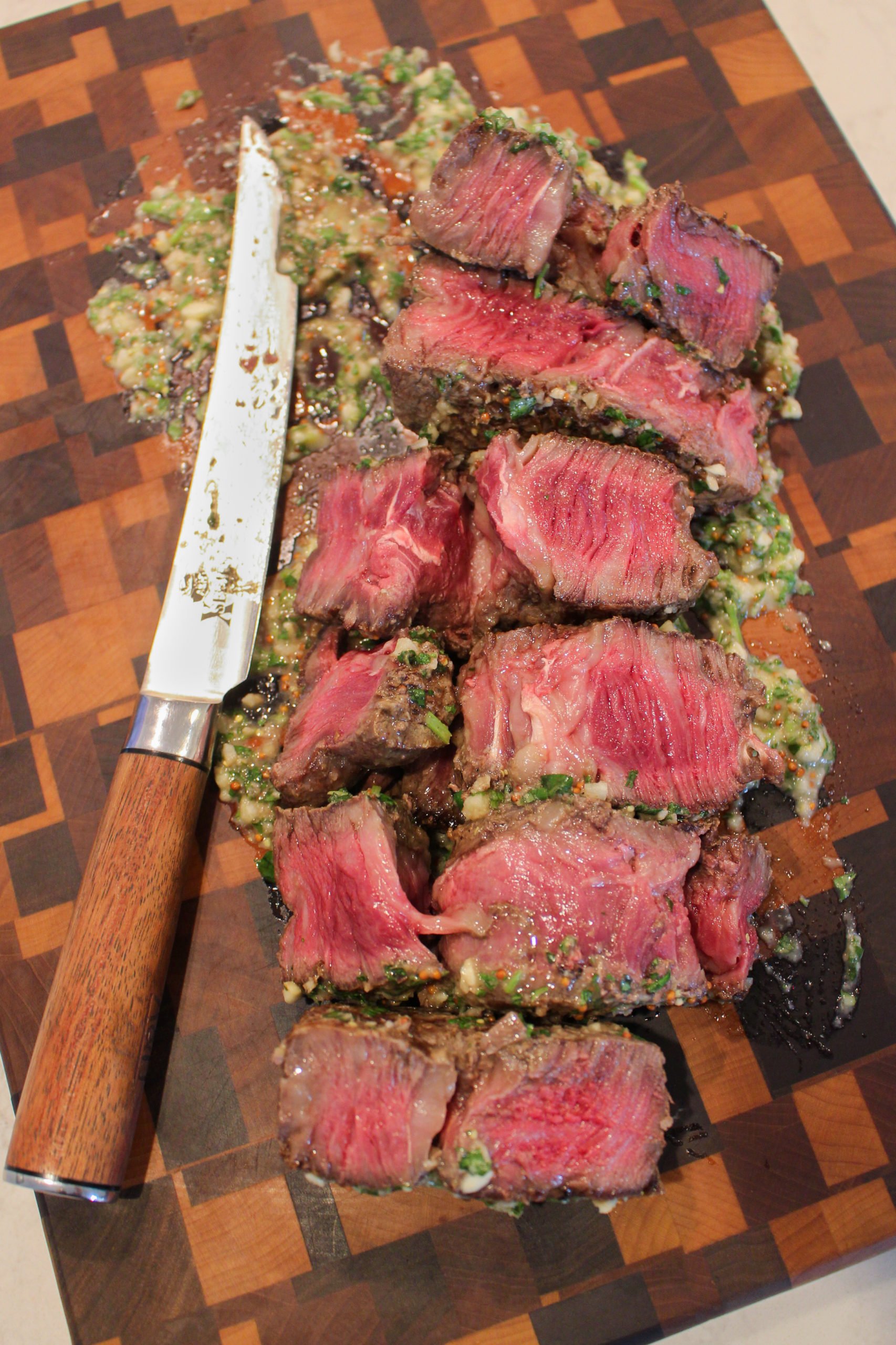 Recipe FAQs
What Is Board Sauce?
I first saw the concept of a board sauce from Chef Adam Perry Lang. Naturally, I thought it was a brilliant idea and started creating my own versions of a board sauce. Check out my other board sauce recipe, generously titled Grilled Steaks with Board Sauce. The idea here is to create a sauce that the steak sits on when it's served. It is bold in flavor since only a small amount of it covers the steak as you take each bite. The same holds true to this Ribeye Cap with Horseradish Board Sauce recipe. 
How Long Do You Cook A Ribeye On Each Side For Medium-Rare?

Is Ribeye Cap Better Than Ribeye?
The ribeye cap is simply the top part of the ribeye steak, the spinalis dorsi, removed from the overall cut. Some consider it to be a more tender cut of beef.
Is This An Expensive Cut Of Steak?
Just like the ribeye steak, this well marbled delicious cut is not as inexpensive as others. It would be considered a more expensive cut.
Can I Use A Different Cut Of Meat?
You could make this recipe with any steak you have on hand! All of them go great over the horseradish sauce.
What To Serve With This Recipe
Really, these steaks and horseradish sauce go great with whatever you like to pair your beef with!
Print Recipe
Ribeye Cap Recipe
Ribeye Caps with Horseradish Board Sauce for dinner. Are you bored with your current steak night? Turn that bored into a board sauce!
Ingredients
Ribeye Caps:
3-4

Ribeye Caps

tied

Coarse Sea Salt

to taste

1

tbsp

of Canola Oil
Basting:
2

tbsp

of Clarified Butter or Canola Oil

3-4

Smashed Garlic Cloves

5-6

Thyme Sprigs

4

tbsp

of Butter
Horseradish Board Sauce:
3

tbsp

of Parsley

chopped

4

Garlic Cloves

minced

2

tbsp

of Prepared Horseradish

2

tsp

of Whole Grain Mustard

1.5

tsp

of Red Wine Vinegar

1

tsp

of Olive Oil
Instructions
Lightly lather your steaks with canola oil, then thoroughly season with coarse sea salt to your liking. Set the steaks aside to rest while you prep your Board Sauce. Mix all the ingredients for the Horseradish Board Sauce and set aside.

Preheat your fire to a medium high heat (aroubt 350F). Add a cast iron skillet 2 minutes before cooking to preheat with some clarified butter or canola oil.

Once the skillet is hot, sear off your steaks for 2 minutes a side. Once you have a well developed crust, sear the outer edges. Pull the steak away from the hot fire to let the skillet cool to a medium-low heat. Try to keep this temperature by moving the skillet over the heat and pulling off, or moving the skillet to a medium-low heat part of the grill.

Add the butter, crushed garlic and thyme to the skillet. Let the butter melt, then place the steaks on the far side of the skillet away from the handle. Using a large spoon, angle the skillet and begin basting with the butter over the top on the skillet. Baste the steaks for about 5-6 minutes, flipping the steaks over about halfway through for an even cook. Feel free to add the garlic and thyme on top of the steaks to get that extra flavor. Try to keep the heat lower so that butter does not burn. Once the steaks hit 120F internal, pull off the grill and bring inside.

Take your board sauce and spread it out over a clean cutting board. Place your hot steaks right on top of the board sauce making sure to get it all over the steaks. Let the steaks rest on the board for 5-6 minutes. Once rested, slice the steaks up (make sure to remove the trussing string if used). Serve and enjoy!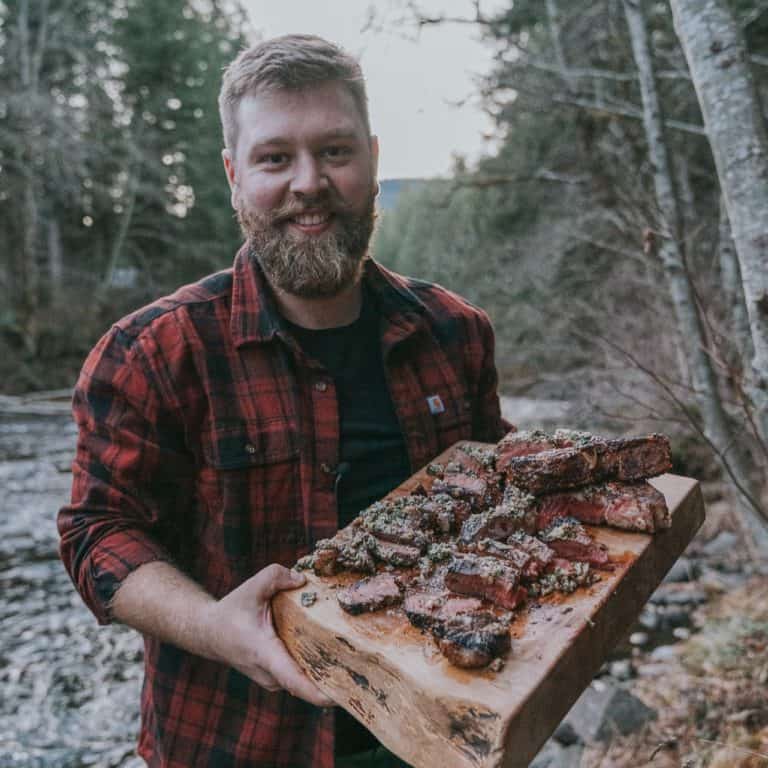 Derek is the driving force behind Over the Fire Cooking. He started cooking with live fire in 2016 and decided to start a social media page so his friends and family could follow the journey. Fast forward to today and Over the Fire Cooking has spread across multiple platforms with millions now following Derek's fire cooking journey. He's a southern fellow who enjoys everything from classic BBQ to Central and South American inspired dishes. Whatever he's cooking up, it's guaranteed to be so freakin' delicious!