What's up guys?! Today we're coming at you with a Rotisserie Chicken and Spicy Cilantro Mayo Recipe! Cooking chicken over the fire is hands down my favorite way to have chicken. Grill it, hang it or rotisserie it, if it's done over some coals I'm happy. Paired it up with a spicy cilantro mayo to give it a nice crisp citrus kick at the end. Time to break out those rotisseries because you're definitely going to want to try this.
Rotisserie Chicken Marinade
I started the prep on this Rotisserie Chicken with Spicy Cilantro Mayo the night before by marinating the chicken. I love marinating chicken because it brings about a dept of flavor you can't get otherwise. It also helps tenderize meat and gives it an additional juiciness. A personal benefit is that the cooking process for the following day is also simplified since all you have to do is pull the meat from the fridge.
I started by mixing together all the marinade ingredients in a blender until smooth. Then I grabbed a small dish and poured some of the marinade into it and set it aside. I wanted to use some marinade as a baste for the Rotisserie Chicken with Spicy Cilantro Mayo while it cooks, so it's important to save some that hasn't touched the raw meat. Then I poured the rest of the marinade over the chicken in a plastic bag. Lastly, I sealed the bag and worked the marinade around the chicken to ensure it was covered entirely.
Preorder my new cookbook Food X Fire today!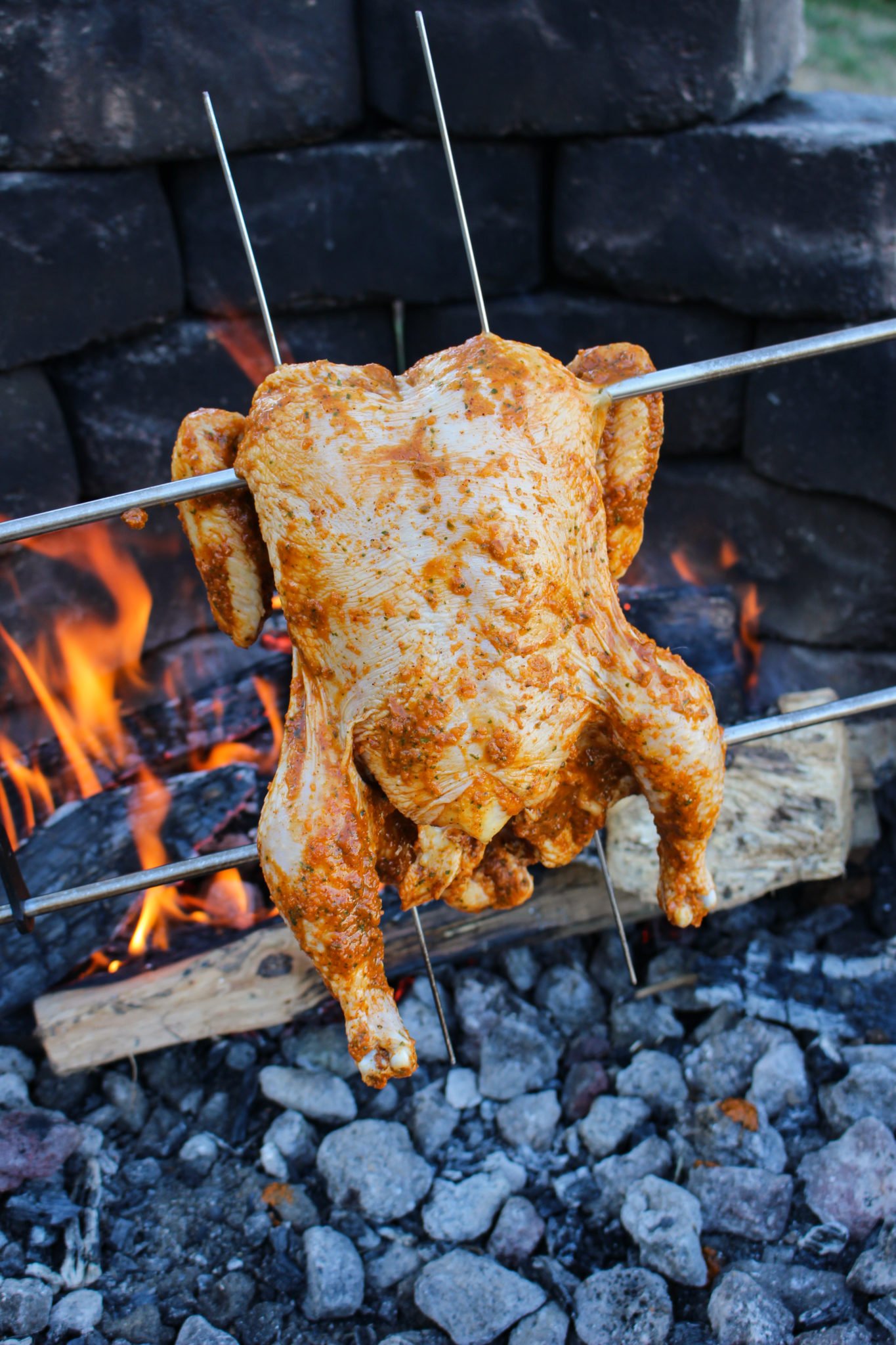 Maybe you noticed, but I threw some aji amarillo and aji panca paste in the chicken marinade along with my Adobo Honey rub. You might be really excited about that because you love those flavorings. You might also be wondering what the heck they are, so let me explain. Aji amarillo is a yellow chili pepper from Peru and is known for its fruity flavor with a kick of heat. Aji panca is a red chili pepper also native to Peru. It's actually sweeter in flavor than the aji amarillo and has a bit berry and smoky flavoring. All in all, they were awesome additions to this Rotisserie Chicken with Spicy Cilantro Mayo.
Aji Amarrilo and Spinning Chicken
The next day, I skewer the chicken onto the rotisserie. I build a fire against the wall of my firepit and set the chicken over the pit to start cooking. Now, we watch and wait. The cook time for this Rotisserie Chicken with Spicy Cilantro Mayo is anywhere from 3-4 hours. Although it does take a bit to cook, I promise it'll be worth it!
In the last thirty minutes of the cook, I grabbed the extra marinade that I had saved. I warmed it by the fire and then started to baste the chicken with a brush as it turned on the rotisserie. This helps us to get a deeper crush on the outside of the chicken. It will be nice and crispy on the outside, but tender and juicy on the inside!
Spicy Cilantro Mayo for Serving
Since you'll hopefully have some free time while the chicken is cooking, let's make the Spicy Cilantro Mayo. In a blender, blend the serrano pepper, cilantro, garlic, white wine vinegar and oil until smooth. Then, take that mixture and add it to the mayo and buttermilk. Hand stir this mixture until it's smooth. You can keep this mixture in a bowl for dipping, or place it in a squeeze bottle to give the chicken a drizzle overtop when it's done. Either way, place it in the fridge to rest while we wait on the chicken to finish cooking.
I un-skewer the chicken once done. You can carve the Rotisserie Chicken with Spicy Cilantro Mayo however you'd like. I opted to cut it in halve and drizzle the spicy cilantro mayo overtop. I then garnished with some chopped cilantro and served it up! Best enjoyed with friends and family. Cheers!
Preorder my new cookbook Food X Fire today!
Rotisserie Chicken with Spicy Cilantro Mayo
Today we got a Rotisserie Chicken with Spicy Cilantro Mayo! Marinated in Peruvian peppers and paired with mayo for a citrus kick at the end.
Ingredients
Marinade:
1.5

tbsp

of Aji Amarillo Paste

1.5

tbsp

of Aji Panca Paste

2

tbsp

of White Wine Vinegar

2

tbsp

of Scallions

1.5

tbsp

of Cilantro

1.5

tbsp

of Adobo Honey Rub

1

tbsp

of Chipotle Puree

½

of a Red Onion

8

Garlic Cloves

2

tsp

of Honey

2

Limes

Juiced

1

tbsp

of Oil
Spicy Cilantro Mayo:
2

tbsp

of Cilantro

6

Garlic Cloves

1

whole Serrano Pepper

1.5

tbsp

of White Wine Vinegar

¼

cup

of Mayonnaise

2

tbsp

of Buttermilk
Instructions
In a blender, mix together the ingredients for the marinade. Add your whole chicken to a food safe bowl or plastic bag. Pour out a little of the marinade into a bowl for basting later. Pour the rest of the marinade onto the chicken and mix thoroughly. Let marinate for at least 4 hours but ideally overnight. Place reserve marinade in the fridge as well.

Preheat your fire the next day for an indirect rotisserie setup (2 zone or 3 zone depending on what you have). Heat should be around 325-350F for cooking.

Pull out your chicken and discard the excess marinade. Skewer chicken and truss with string if needed.

Add the chicken to your rotisserie and cook for 3-4 hours until the breast is 165F and the dark meat is 170-175F internal. Make sure to maintain temperature the whole time. Move the chicken away from the heat as needed to prevent burning.

About 30 minutes before the chicken is done, heat up your reserve marinade. Begin basting the chicken every few minutes with the marinade to add additional crust and flavor to the meat. Once the chicken is done, pull it off and let it rest for 7-8 minutes.

As the chicken rests, add the cilantro, garlic cloves, serrano pepper and white wine vinegar to a food processor and blend until smooth. Add the mixture to a bowl with the mayonnaise and buttermilk. Mix together until smooth.

Slice up your chicken, top with the Spicy Cilantro Mayo and garnish with chopped cilantro. Serve and enjoy!