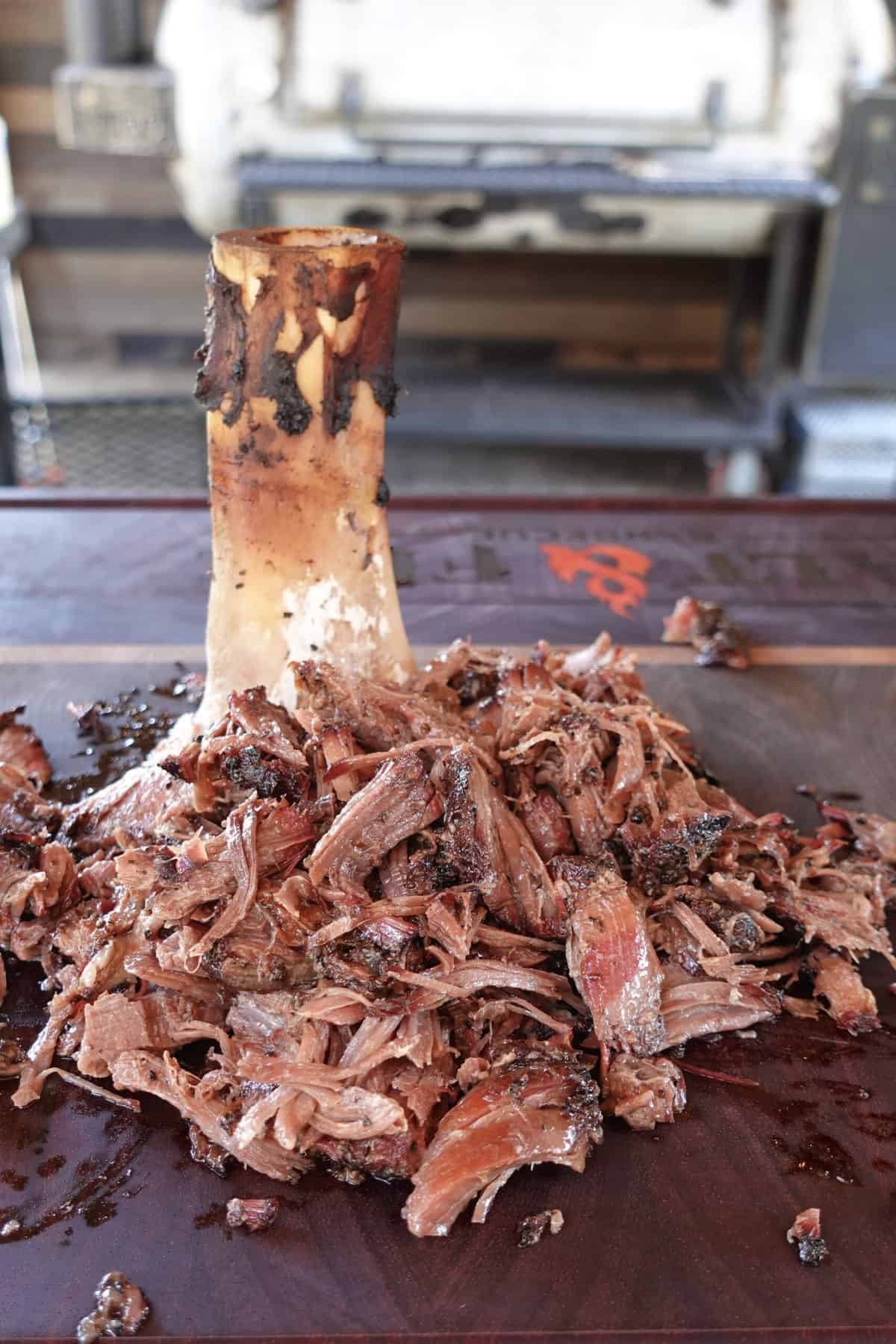 If you've never grabbed a huge beef shank by the bone and pretended you were holding Thor's Hammer, you are 100% missing out. Grab you're super suit because this Smoked Beef Shank is not something you want to miss out on!
Beef Shank – What is it?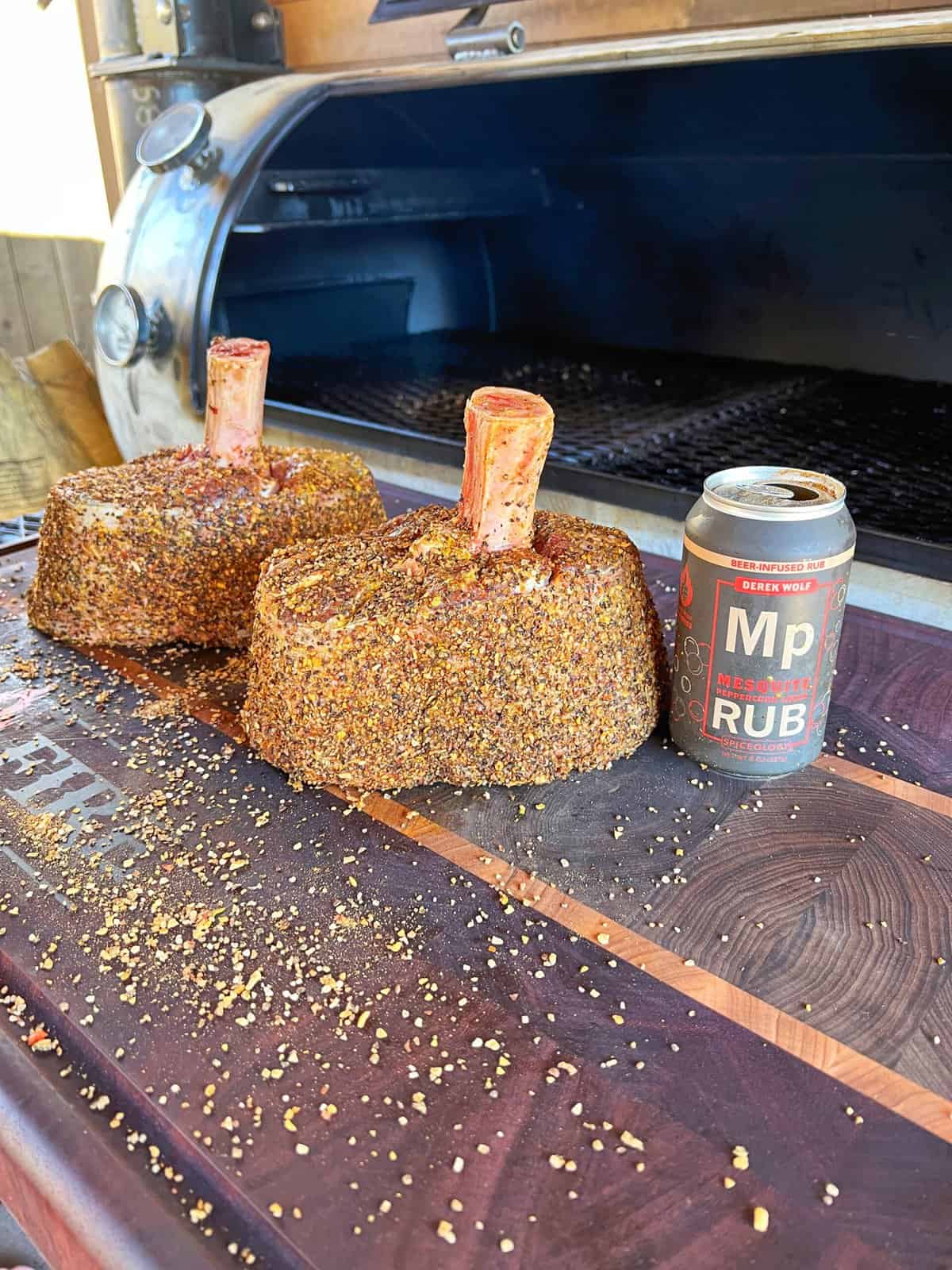 The beef shank is the very lowest part of a cow's leg just above the hoof. It's basically the calf of the animal. It's one of the most heavily used muscles on the cow's body. Therefore it is also one of the toughest pieces of meat.
It's often overlooked as something that should be ground up for hamburger.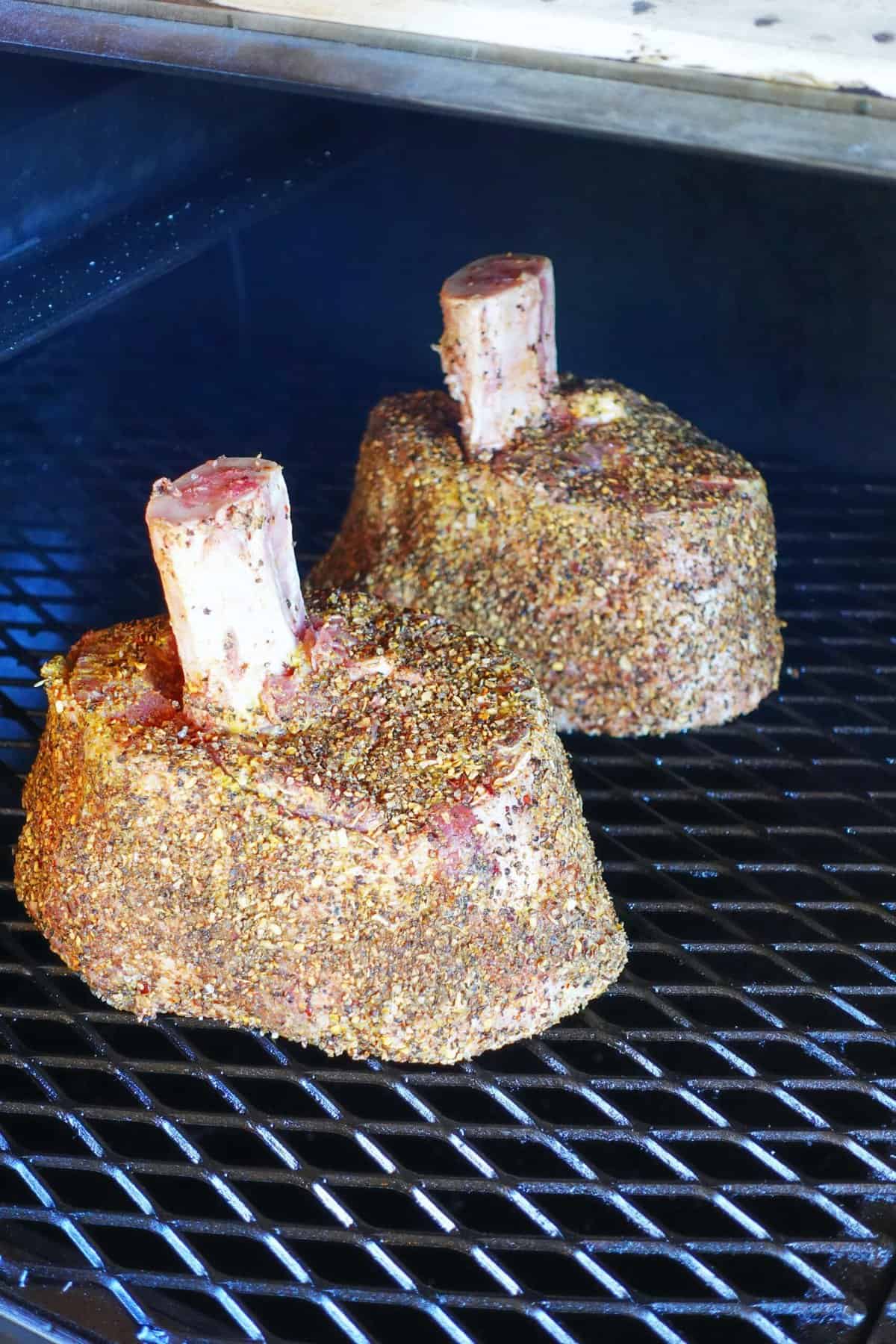 However, when you apply the appropriate amount of low temp heat and time, you end up with one of the most silky, beefy, tender, shredded morsels you've ever had the pleasure of putting in your mouth.
Smoked Beef Shank Secrets
The key is low temp heat and time. But, there is a third secret that is generally required if you want to maximize the tenderness of the finished product. That is some type of liquid you use to braise the meat in.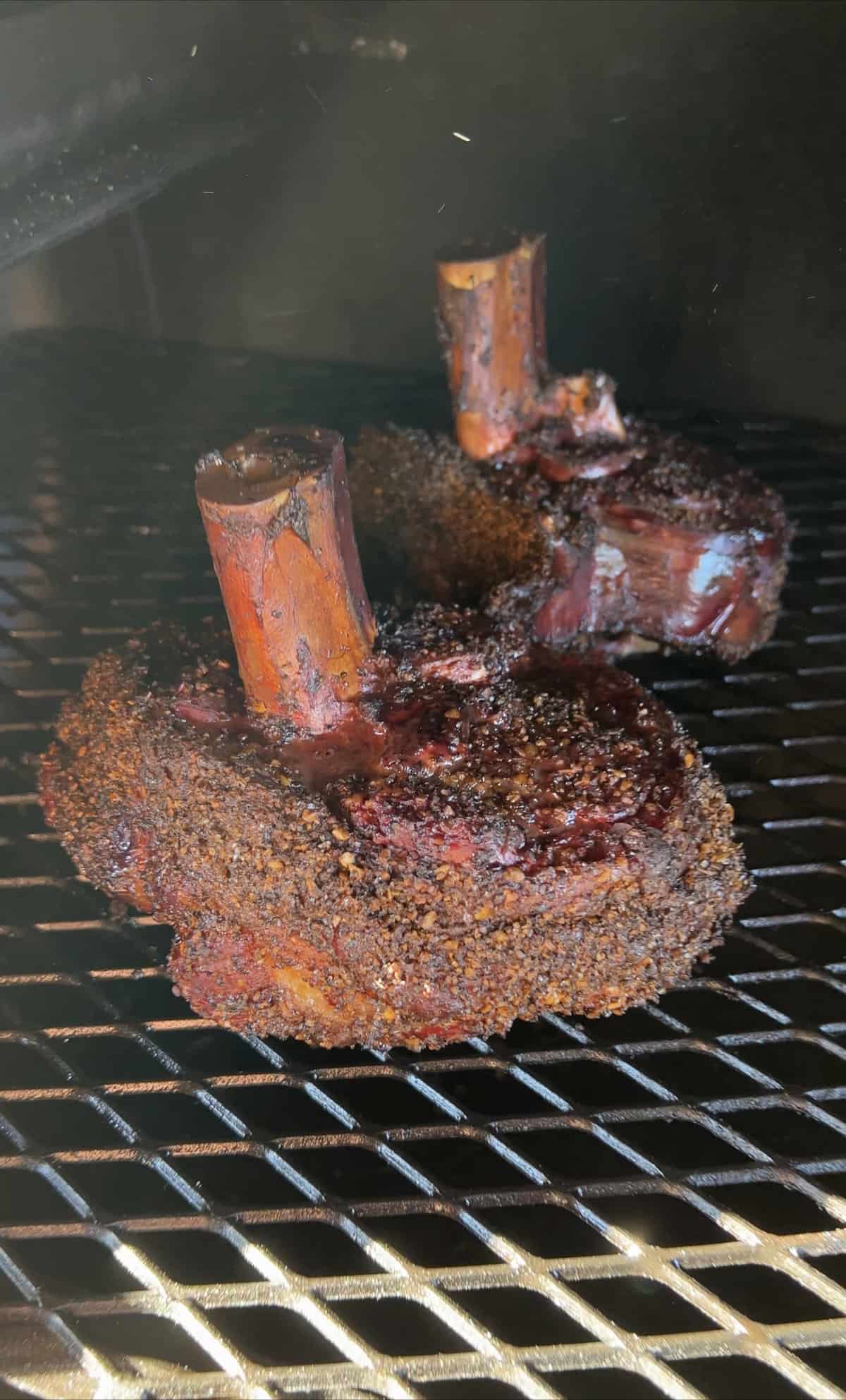 However, I took this one step further to ensure that you end up with the ultimate tenderness. I decided to confit them in beef fat.
That's right… I fully submerged them in beef tallow.
Confit Uncovered
Confit by definition is "to cook slowly in its own fat".
This accomplishes a few things. The first thing it accomplishes is preserving the bark created by a low and slow smoke on the beef shanks.
Because it is cooking in fat and not something water based, it preserves the bark by creating an environment completely void of steam, which is a bark killer.
The second thing it accomplishes is that the fat reduces the amount of evaporation, leaving more moisture in the meat.
This is different than braising in a dutch oven, or even a pressure cooker. The dutch over and/or pressure cooker will cause moisture to evaporate out of the meat. The braising liquid absorbs that moisture.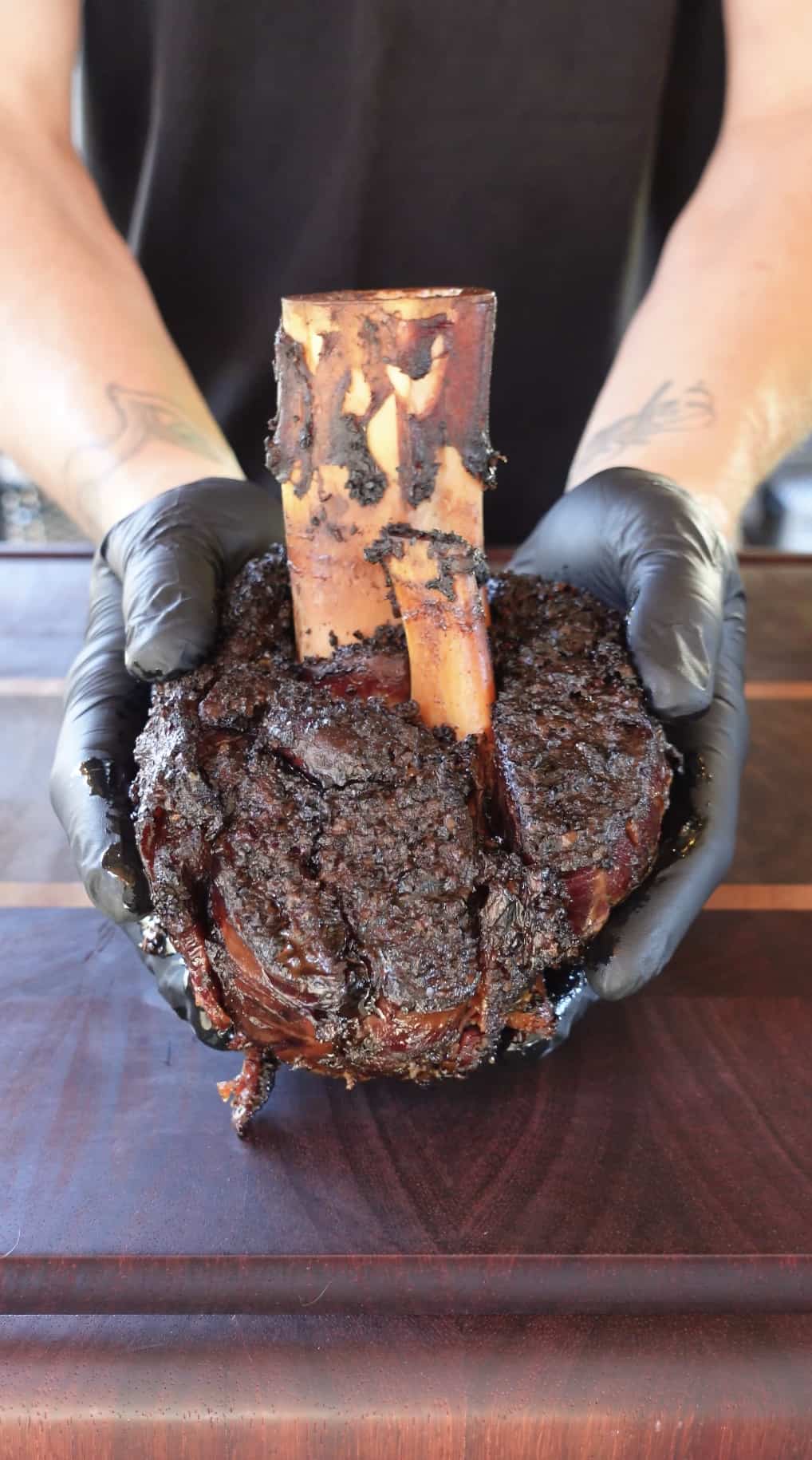 While braising meat will make it tender, it will still likely have a dry mouth feel.
Lastly, because the beef shank had no ability to evaporate any internal juices, I was able to cook this for a much longer period of time and at a lower temp.
This liquifies the collagen and connective tissue without the issue of the muscle fibers contracting and releasing moisture (which happens at higher temps).
The result was absolutely heavenly! Not only was it extremely tender, but was also still very moist. I absolutely suggest giving this Smoked Beef Shank a try! 
Check out my Steaks in a Butter Bath recipe for another fun option of cooking meat submerged in fat!
Where to Find Beef Shank
First things first and that is you need to find a beef shank. While it can be tricky, often times they can be sourced online with relative ease or you can often ask your favorite butcher if they can special cut it for you.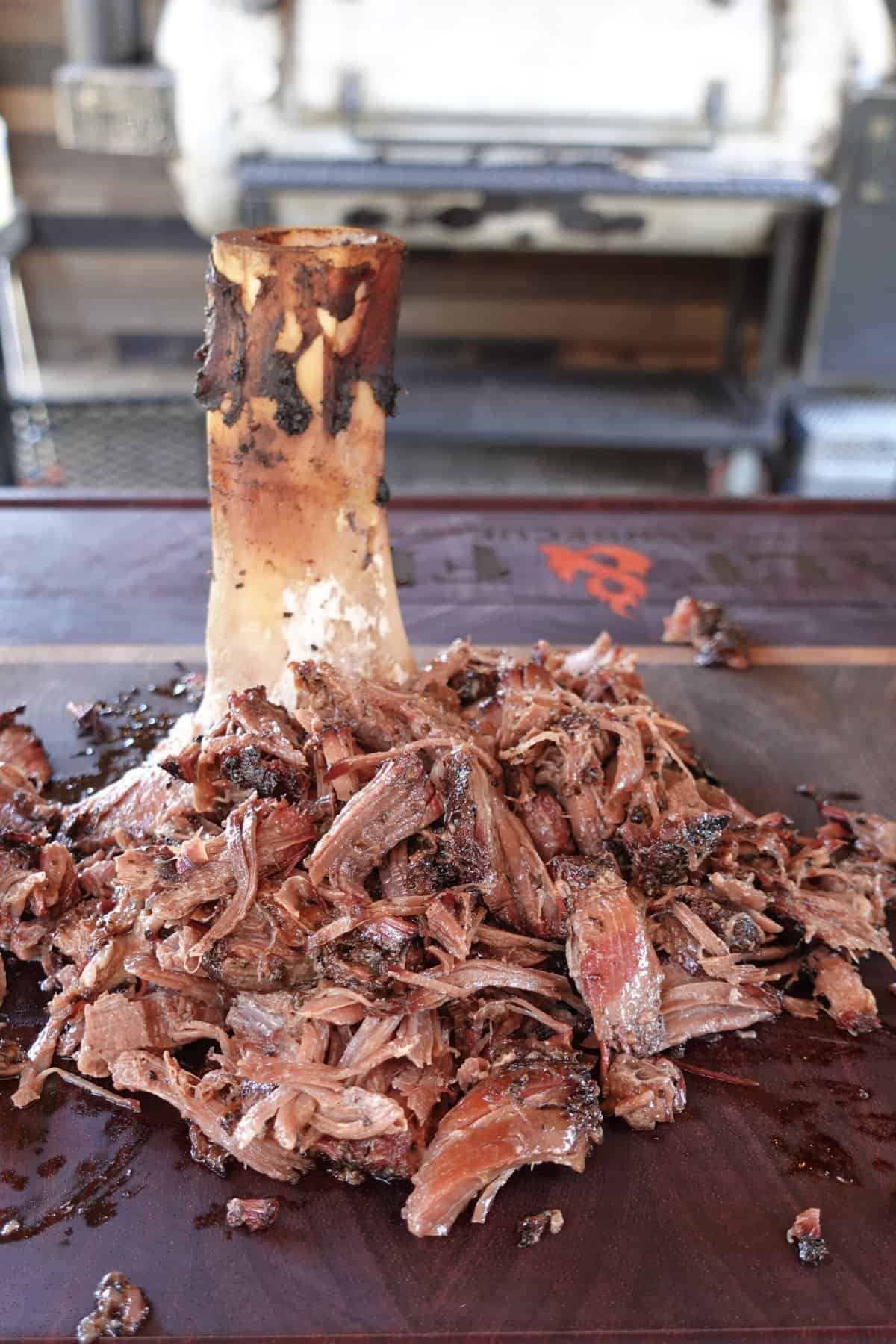 It goes by several names, Thor's Hammer, volcano cut beef shank, or simply beef shank with the top half of the bone cleaned.
There shouldn't be much prep work before cooking them but if there are any pieces of dangling fat or meat, be sure to cut it off.
There is no need to remove the outer layer of fat or any exposed connective tissue as all of this renders down and creates the silky texture you are looking for.
Check out my Beer and Herb Braised Lamb Shanks Recipe for another take on cooking shanks.
Smoked Beef Shank – Let's Cook It!
Preheat your smoker to 250-275 degrees. I suggest using yellow mustard as a binder as it imparts no flavor but does help develop a really nice bark.
Season the shank liberally with your favorite BBQ beef rub. Put it in the smoker for 5-7 hours until the internal temp is between 160-180 degrees F. Once you have reached your desired temperature, it's time for the fat bath.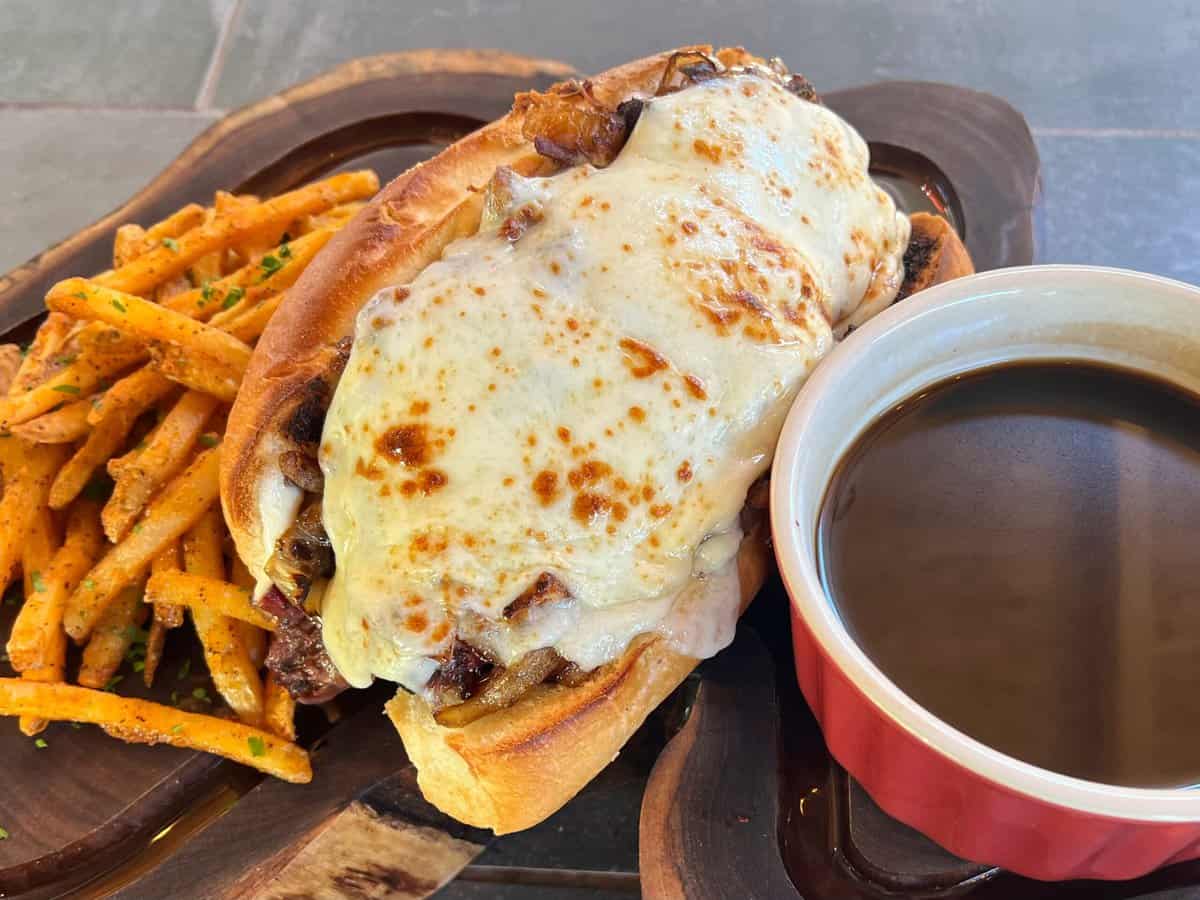 You will want to find a non-reactive container that is just barely larger than the shank. This will help reduce the amount of tallow needed. Still be prepared to use quite a bit. It will be around one quart to ensure the meat fully submerged.
The larger the container, the more tallow you will need.
Place the beef shank in the container and pour liquid beef tallow until the meat is fully submerged. Cover tightly and seal well with tinfoil and cook at 200 degrees F for 12 hours.
You can use your smoker, but since we aren't trying to impart any additional smoke, the oven will also work just fine.
Be sure to put a baking sheet under the pan incase there is spillage.
Turning into a Sandwich
After 12 hours, remove from the oven let cool on the counter for about 30 mins.
Dump the tallow in a food safe container while gently holding the meat from falling out. You will want to be careful as the meat will be extremely tender and could fall apart easily.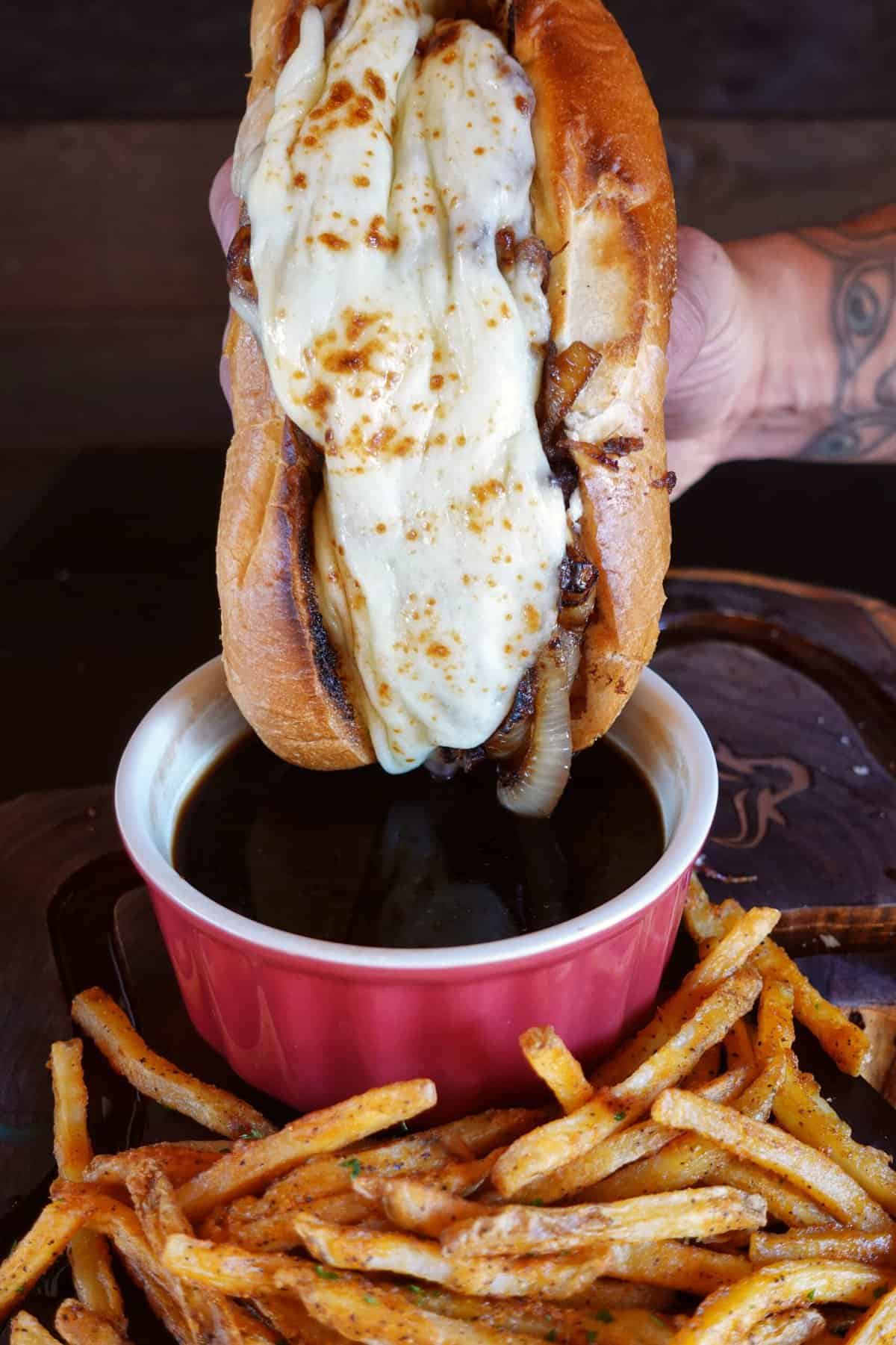 Remove the beef shank from the container and place on a wired baking rack for another 20 mins to cool and drain the excess tallow off the surface.
The beef tallow can be strained and separated and used again if kept in the freezer.
After the meat has cooled, you will be able to pull the meat apart with ease. It will be like butter between your fingertips.
I made a simple French Dip sandwich by using some good French rolls, melted provolone cheese, caramelized onions and some beef au jus.
Absolutely freaking delicious.
For other, fall of the bone recipes, check out my Chipotle BBQ Pulled Pork Sandwich, Pulled Beef Chuck Roast and Smoked Pulled Ham Sandwiches.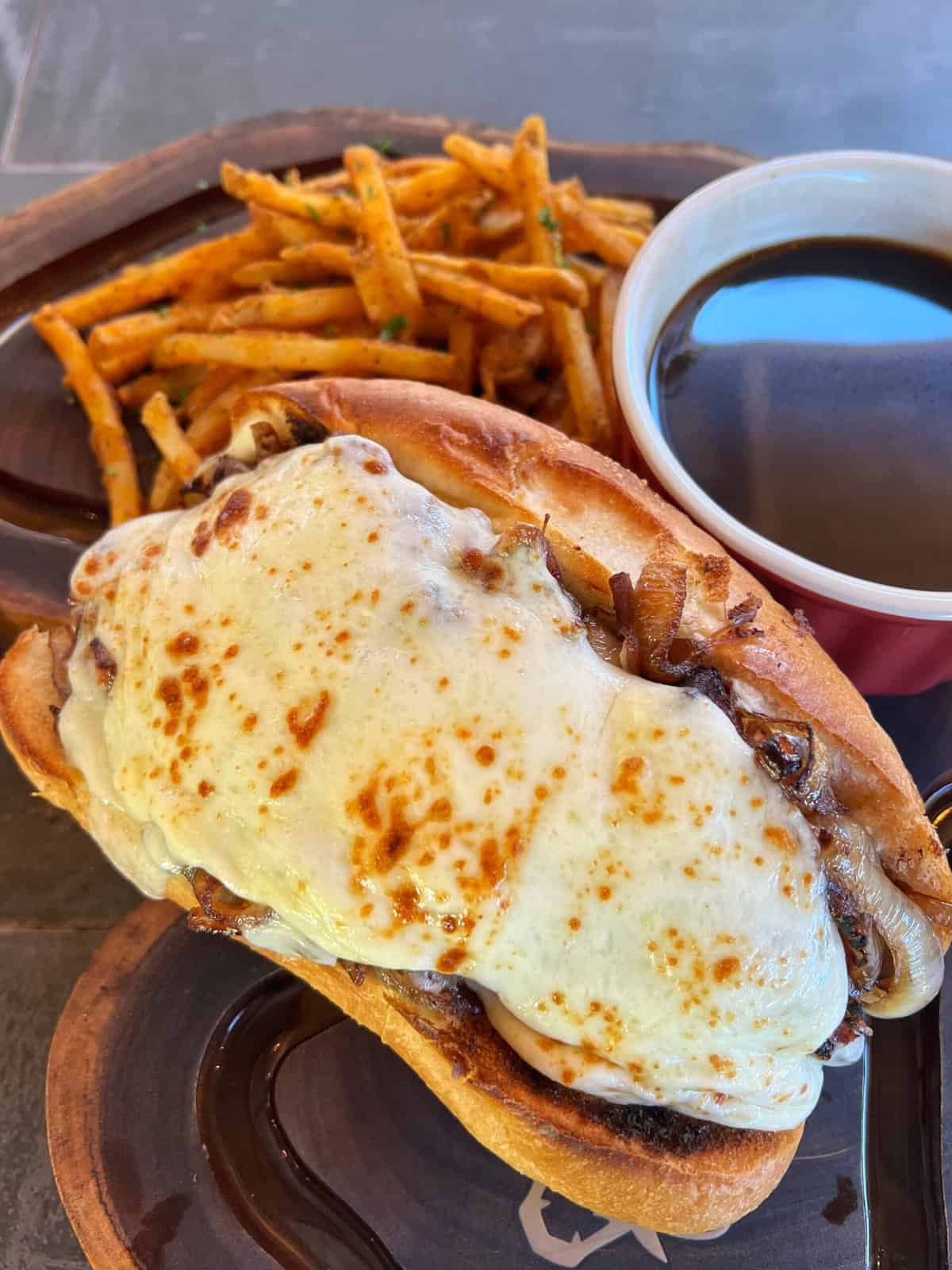 Smoked Beef Shank
Smoked Beef Shank is tender meat that's full of flavor and falls right off the bone.
Ingredients
1 4-6

lb

bone in volcano cut beef shank

Yellow Mustard

¼ – ½

cup

Your Favorite BBQ Rub

1

quart

melted beef tallow

allow for more if needed

8

slices

provolone cheese

4

hoagie or French rolls

1 ½

cups

beef au jus

Caramelized onions

optional Horseradish cream sauce
Instructions
Preheat smoker to 250-275 degrees.

Trim off any loose pieces of meat or fat from the beef shank but keep the main outer layer of fat and connective tissue intact.

Apply a thin layer of yellow mustard to the entire surface of the meat, careful to leave the exposed bone clean.

Liberally apply your favorite bbq rub coating all surfaces of the meat.

Place the shank in the smoker for 5-7 hours until the internal temp hits between 160-180 degrees.

Remove the shank from the smoker and prepare a non-reactive, oven safe container just barely large enough to hold the shank.

Place the shank in the container and pour the liquified beef tallow over the meat until it is completely submerged.

Cover very tightly with heavy duty tin foil ensuring you do not poke any holes from the bone. Place the container on a baking sheet into a 200 degree oven or smoker for 12 hours or overnight.

Remove from the oven and let rest on the counter for 30 mins.

Then remove the tin foil and gently pour out the beef tallow ensuring the meat does not fall out. It will be very tender so an extra hand couldn't hurt (you can reuse the tallow by straining it and separating any liquid from the fat and storing in the freezer).

Gently remove the shank from the container and place on a wire baking rack for at least 20 mins to cool and drain the excess tallow off the surface of the meat.

Remove the bone and using a kitchen utensil or your hands, shred the meat apart. Remove any large pieces of fat you desire and cover in foil to keep warm until served.

For the sandwiches. Add a thin layer of butter or mayo to your rolls and toast them in a cast iron skillet until golden brown.

Add a hefty portion of the meat, 2 slices of provolone cheese and some caramelized onions and place under your oven broiler until golden brown.

Serve with some beef au jus and horseradish cream and enjoy one the best sandwiches you will ever have. Now lets dig in!
Nutrition
Calories:
1099
kcal
|
Carbohydrates:
62
g
|
Protein:
130
g
|
Fat:
35
g
|
Saturated Fat:
16
g
|
Polyunsaturated Fat:
2
g
|
Monounsaturated Fat:
13
g
|
Trans Fat:
0.01
g
|
Cholesterol:
168
mg
|
Sodium:
57743
mg
|
Potassium:
2512
mg
|
Fiber:
3
g
|
Sugar:
37
g
|
Vitamin A:
727
IU
|
Vitamin C:
2
mg
|
Calcium:
685
mg
|
Iron:
20
mg