With St. Patrick's Day tomorrow, I have been finding myself scrambling for some Irish inspired food. Something that warms the heart and soul in moments when things might feel out of control. When that is the case, I like to make these Beer and Herb Braised Lamb Shanks over hot Cowboy Charcoal and Pit Wood.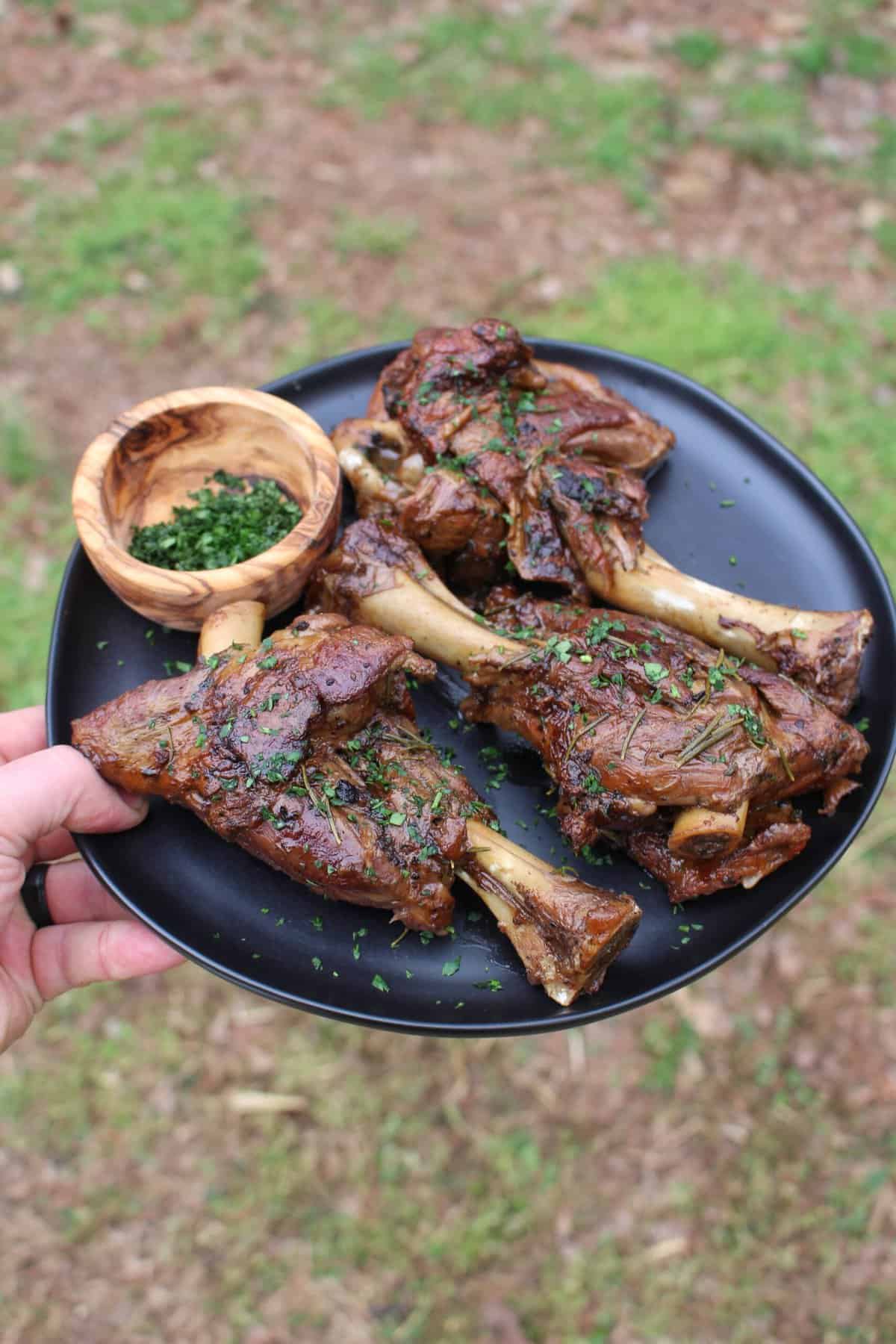 Ireland has always made me think of warm and cozy. While my wife and I have visited there many times, it always makes me feel at home because the people there are friendly, the drinks are classic and the food is hearty.
I have had my fair share of braised foods while on the Emerald Isle, and nothing really compares to braised lamb shank. Now, what is braising you might ask?
What is Braising?
Braising is the act of cooking something quickly first to sear it then slowly over time in an enclosed simmering sauce. Most often, this is a style of cooking used on meat that would typically take a very long time to cook. I have done this with beef ribs before, and now with lamb shanks.
What are Lamb Shanks?
Lamb shanks are a classic meat for braising. This piece of meat comes from the lower part of legs on the lamb. It is a very tough muscle as it is used often, and therefore is very difficult to cook by simply grilling.
By braising these lamb shanks, we are able to allow slow heat and moisture to work for us. This will create a tender and juicy piece of meat that will basically fall right off the bone. At least, that is what we are hoping for in these Beer and Herb Braised Lamb Shanks.
Lamb Shanks and Lump Charcoal
But, how do we maintain even heat and flavor if we have to cook these lamb shanks for multiple hours?
The answer is Cowboy Charcoal and Cowboy Pit Wood. Lump charcoal from Cowboy is an amazing way to keep that dutch oven simmering for multiple hours on these Beer and Herb Braised Lamb Shanks. Since the charcoal is easy to light, we will be adding the pit wood first to make a big fire then surrounding it with a whole bag of Cowboy Charcoal.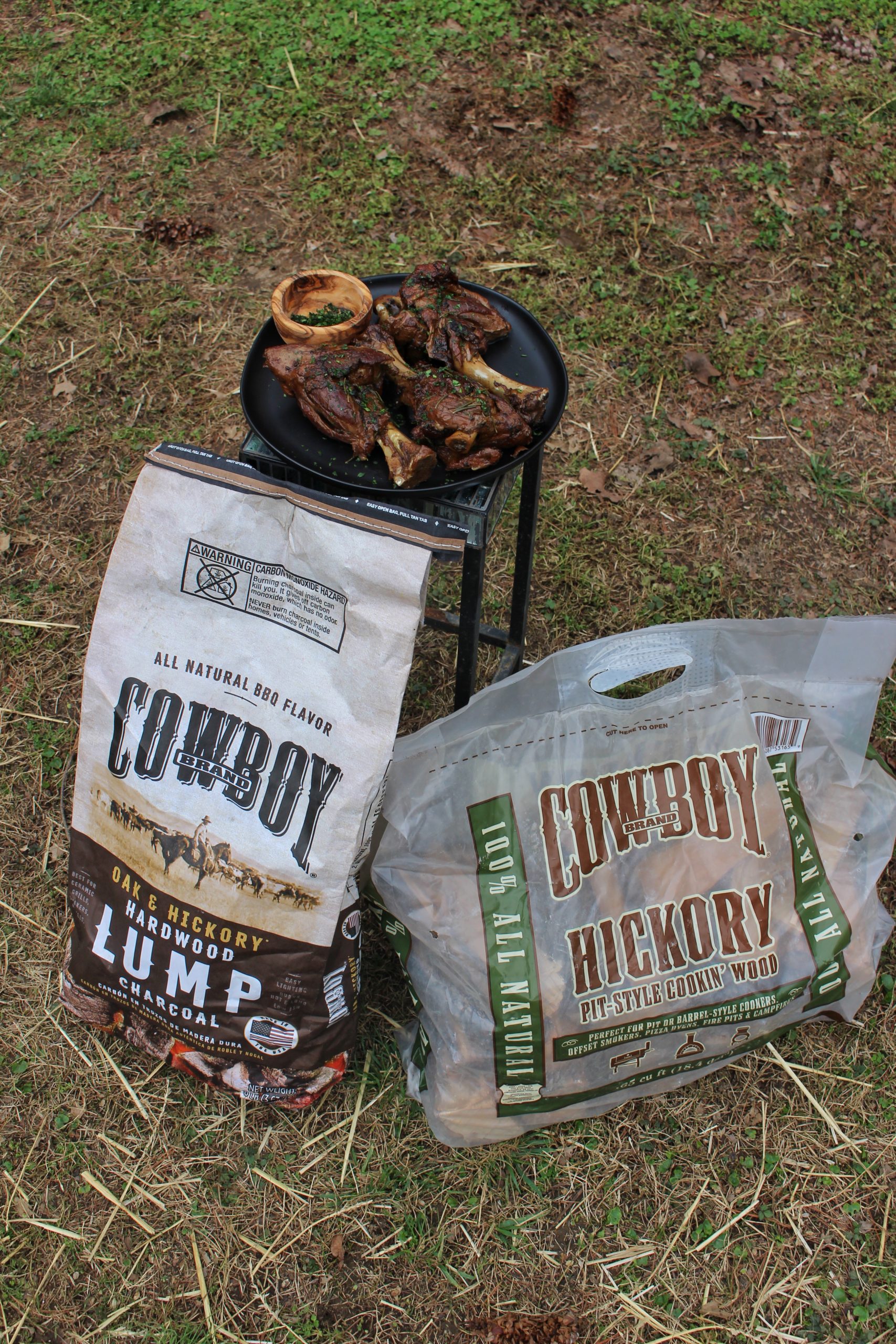 This will be a perfect setup because the wood will burn from the inside of the fire ring all the way to the outside with all the coals. Overtime, the coals will light and maintain that even heat that we need.
Let's Try these Beer and Herb Braised Lamb Shanks?
These Beer and Herb Braised Lamb Shanks are the ticket for St. Patrick's Day this year. Grab yourself a couple bags of Cowboy Charcoal and Cowboy Pit Wood, and you are ready to go! Cheers!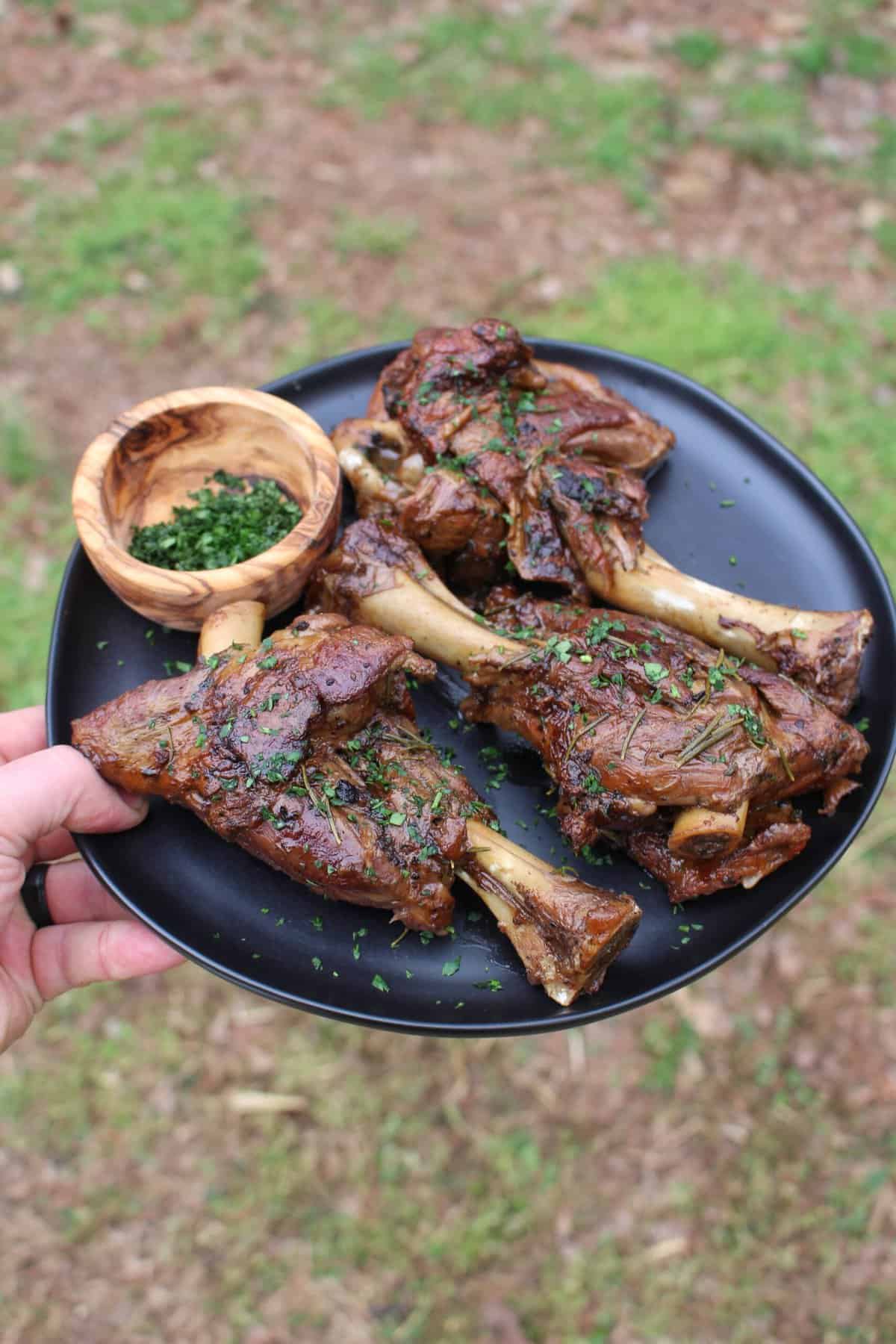 This article does contain affiliate links to products that we personally use and support. Purchasing an affiliate product does make us a small commission at no cost to you. This helps us continue creating for our website. All words and opinions are our own, and we appreciate your support!
Beer and Herb Braised Lamb Shanks
Need something that will comfort you during this time of uncertainty? These Beer and Herb Braised Lamb Shanks cooked with Cowboy Charcoal are it!
Ingredients
Lamb Shank Ingredients:
3-4

Lamb Shanks

2

tbsp

of Mustard

1.5

tsp

of Sea Salt

1.5

tsp

of Black Pepper

1

tbsp

of Olive Oil

2

tbsp

of Butter
Braising Ingredients
8-10

cloves

of Garlic

2

cups

of Beef Broth

½

cup

of Red Wine Vinegar

32

oz

of Stout Beer

4

sprigs of Thyme

4

sprigs of Rosemary

1-2

Lemons

Parsley

for garnish
Instructions
Lather the lamb shanks in oil then season with mustard, sea salt and black pepper. Place in the fridge and let it sit for 1 hour.

Using Cowboy Charcoal and Cowboy Pit Wood, create a medium-high temperature fire.

Set up your dutch oven over fire, and preheat until nice and hot. Add butter into dutch oven and let it melt. Add seasoned lamb shanks and sear the outside thoroughly (about 2-3 minutes). Once seared, pull out of dutch oven and set aside.

Add garlic to dutch oven and let it brown (about 1 minute). Once browned, carefully add the rest of the braising ingredients. Place the lamb shanks back into the dutch oven and close. Simmer over a medium-high fire for about 3 hours or until the meat almost falls off the bone (between 2.5 to 3 hours).

Once lamb is done, pull out cast iron and top with braising juice. Garnish with chopped parsley and enjoy!