Spicy Mexican Street Shrimp is a crossover between two of my favorite Mexican dishes. Those two dishes would be Mexican Diablo Shrimp and Mexican Street corn. Both dishes are fantastic on their own, but for this recipe I decided to adapt the two and wrap it all into one recipe. All it takes is a quick marinade, hot fire, some garnishes and that's it! One platter full of spicy, citrusy and delicious shrimp. Let's dive into all the details below.
Spicy Mexican Shrimp Marinade
As mentioned, this recipe starts with a marinade. The marinade and cooking technique for this Spicy Mexican Street Shrimp are inspired by the Mexican Diablo piece of this recipe. Mexican Diablo is a fiery shrimp dish that typically consists of shrimp marinated in a chili paste and tomato sauce mixture. This marinade makes the shrimp dark red in color and they're then cooked very quickly over high heat. For my spicy Mexican shrimp, I used chipotle purée. Chipotle is just something I gravitate too because I love the flavor of Chipotle. It's spicy, but not so hot that my wife won't eat it. Ha! The savory, smoky flavor is another
I started with all my peeled and deveined shrimp in a large bowl. Then I lathered them with oil before adding in the salt, pepper, and garlic seasonings. Up next, the chipotle purée. I used a pretty generous amount of chipotle purée just to make sure each shrimp received max flavor. Before the final mix, I squeezed the juice of two lime into the bowl. Now, we mix. Once all Spicy Mexican Street Shrimp have received an even coating of marinade, set them in the fridge and go start the fire.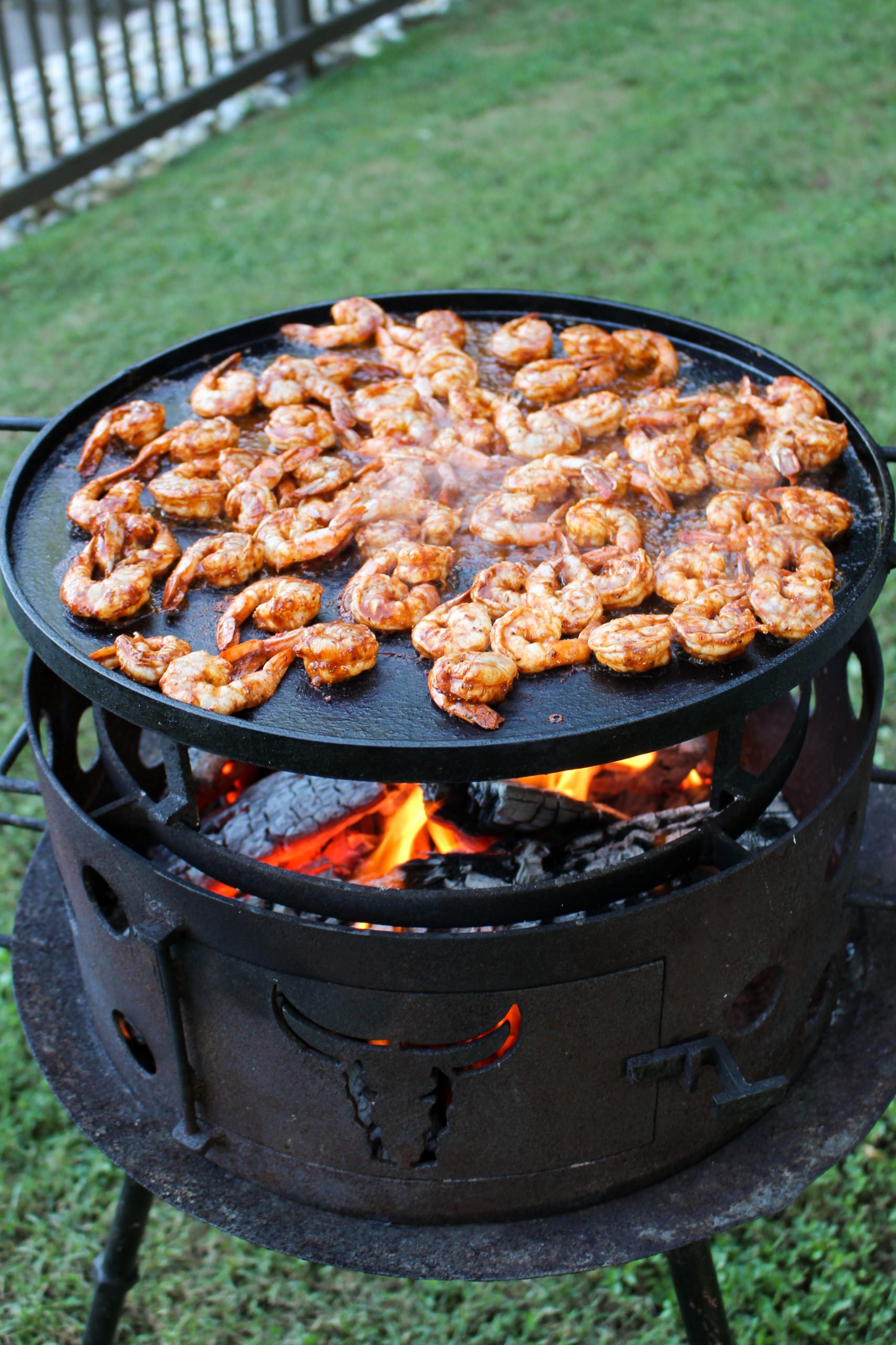 The Street Part of this Shrimp
While we wait for the logs of our fire to coal up, let's get to work on the Mexican Street Corn aspect of this recipe. First, let me just say if you haven't tried my Mexican Street Corn recipe… Run, don't walk, to give it a try here. I love Mexican Street Corn so much I wrote my own recipe on it!
My favorite Mexican Street corn consists of an ear of corn covered in mayonnaise, sour cream, some variation of a chili spice, a squeeze of lime juice and is topped with crushed chile con limon. Yum! Although this recipe doesn't use any corn, we are going to use most of the other street corn ingredients. To make the second half of this recipe run smoothly, I went ahead and prepped final ingredients. Mexican crema served as my white sauce for the shrimp. I then chopped some cilantro and cut some lime wedges to achieve a crispy, tangy flare. My new Smoked Chipotle Mezcal seasoning is the final ingredient. This smoked and peppery seasoning is perfect for a final dusting over the Spicy Mexican Street Shrimp.
Bring it All Together
Alright, now that our fire has had time to break down and we've prepared all the final ingredients let's bring this recipe together. Grab your shrimp from the fridge and toss them on your preheated plancha. The fire should be at high heat, so they'll cook quickly. Flip as needed to achieve an even cook on all sides.
Once the shrimp are cooked and are no longer translucent, pull them from the fire. I placed mine on a large serving dish and then reached for all the Mexican street corn ingredients. I started with a drizzle of Mexican Crema all across the plate of shrimp. Then I garnished with the chopped cilantro and sprinkled it all with my Smoked Chipotle Mezcal seasoning. Finally, I placed my lime wedges throughout the dish and then it was ready for eating. Best enjoyed with friends and family. Cheers!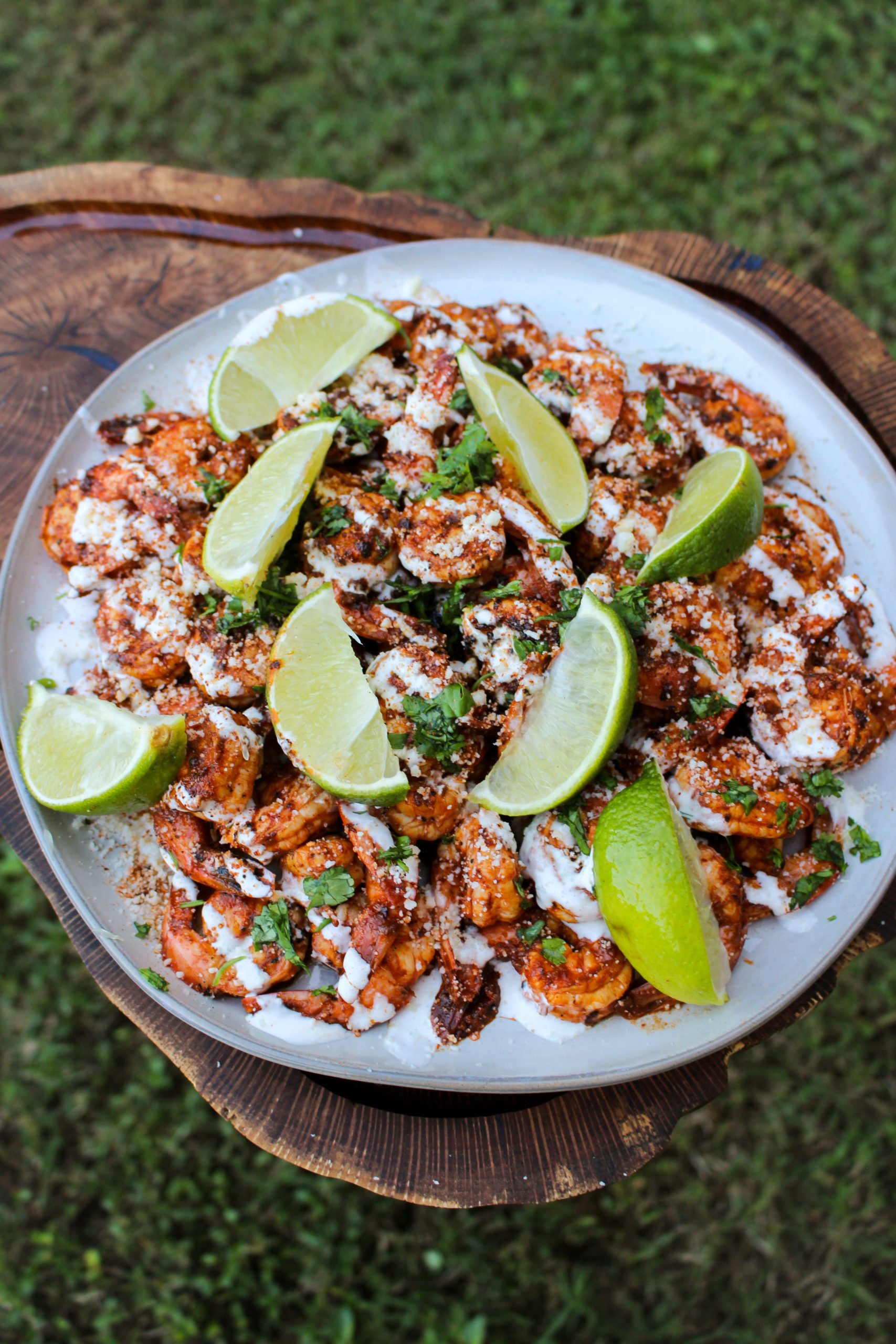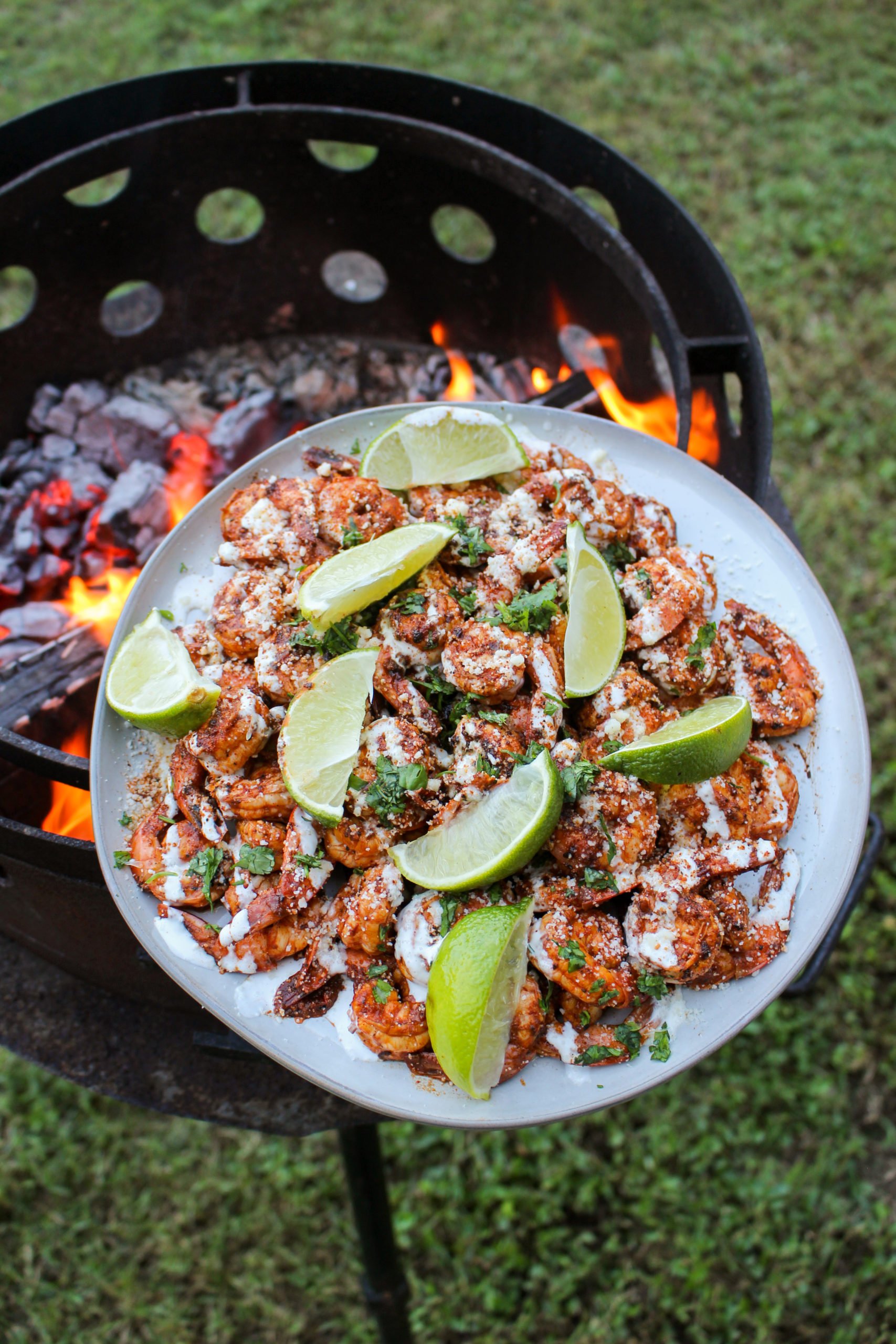 Spicy Mexican Street Shrimp
Spicy Mexican Street Shrimp is a crossover between two delicious Mexican dishes; yet, one platter full of spicy, citrusy and delicious shrimp.
Ingredients
Shrimp:
1.5

lbs

of Shrimp

¼

cup

of Chipotle Puree

1

tsp

of Garlic Powder

1

tsp

of Kosher Salt

1

tsp

of Black Pepper

2

medium Limes

juiced

1

tbsp

of Canola Oil
Toppings:
Mexican Crema

or sour cream & lime juice mixed

Smoked Chipotle Mezcal or Chile con Limon

Tajin

Grated Cotija Cheese

Chopped Cilantro

Lime Wedges
Instructions
In a bowl, add your shrimp, chipotle puree, garlic, salt, pepper, lime juice and oil. Mix thoroughly, then place in the fridge for 15 minutes to quickly marinate.

As the shrimp is marinating, preheat a high heat fire (around 400F) for direct cooking. Add a cast iron skillet/plancha over the fire about 2 minutes before cooking with 2 tbsp of oil.

Pull the shrimp out of the fridge and let them come to room temp (about 5 minutes). Discard the excess marinade and place the shrimp on the skillet. Cook for about 1.5-2 minutes per side or until they are no longer translucent but opaque white. When the shrimp are done, pull them off and place them directly onto the serving place for garnishing.

Drizzle some Mexican Crema over top of the shrimp and garnish with cotija, cilantro, lime wedges and a dusting of Smoked Chipotle Mezcal or Chile con Limon. Serve and enjoy!