Need to throw together a quick dinner? Togarashi Seared Tuna with Wasabi Avocado Sauce to the rescue! These days it seems we all are searching for meals that we can put together quickly. While I enjoy the change of pace fire cooking normally brings, today's recipe is one that doesn't take very long to cook but isn't lacking in any flavor. Let me tell you why this recipe will knock your socks off! 
Tow – gr – aa – shee
So, what is togarashi? It is a Japanese spice that combines chili powder, sesame seeds, seaweed, orange peel and some ginger. It has a sweet spiciness that I knew would pair perfectly with my tuna and wasabi avocado sauce. Luckly, Spiceology sells a togarashi seasoning, so I pulled out my bottle and was ready to go. However, don't stray if you don't have a premade togarashi seasoning. As mentioned above, it's only a handful of ingredients and you can make your own right at home!
Preorder my cookbook Food by Fire now!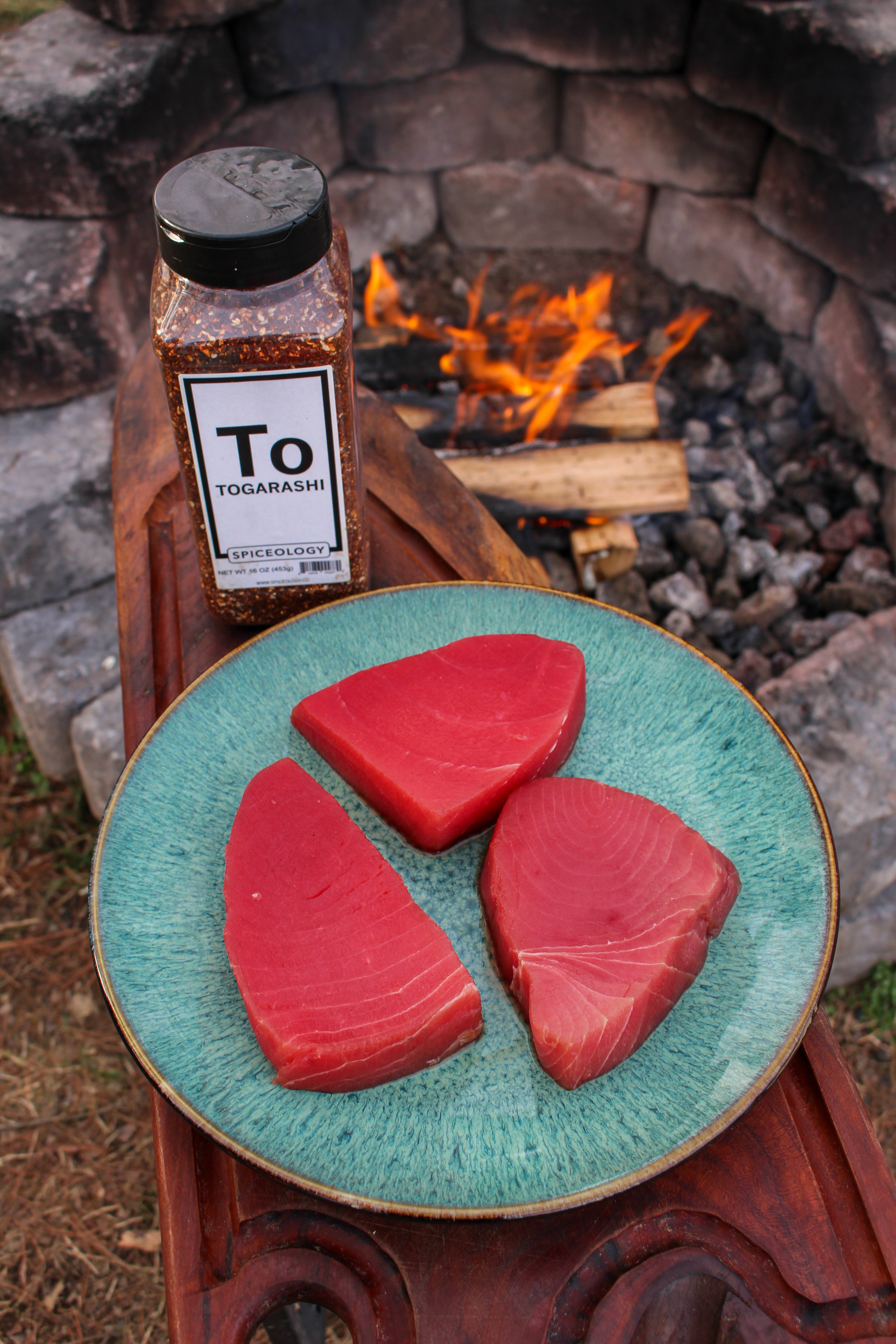 Talk Togarashi Seared Tuna to Me 
Another great thing about this recipe, the tuna. Does anyone else think that tuna is just all around amazing? Between it's bright pink color and its ability to be eaten cooked or raw, like this tuna tataki, this has to be one of the most versatile proteins. I picked up some tuna steaks for this recipe and cooked them in my favorite way: a quick sear on each side. 
There are a couple reasons I love cooking tuna this way. First, it creates an incredible crust on the top and bottom of the steaks, but maintains the integrity of a tuna's bright pink color in the center. Second, a quick sear only means 30 seconds of cooking per side. Ergo, our delicious togarashi seared tuna with wasabi avocado sauce meal only takes minutes to prep and cook! How could it get any better than that?!
What about the Wasabi Avocado Sauce? 
If you know me, you know I'm all about the sauce. Every superhero needs a sidekick; but more, this wasabi avocado sauce only makes our togarashi seared tuna that much better. Surprisingly, my wife (who is not a big fan of spicy food) loves wasabi. I actually think half the reason she eats any Japanese style food is for the wasabi. As you can imagine, she was all about this wasabi avocado sauce. 
Preorder my cookbook Food by Fire now!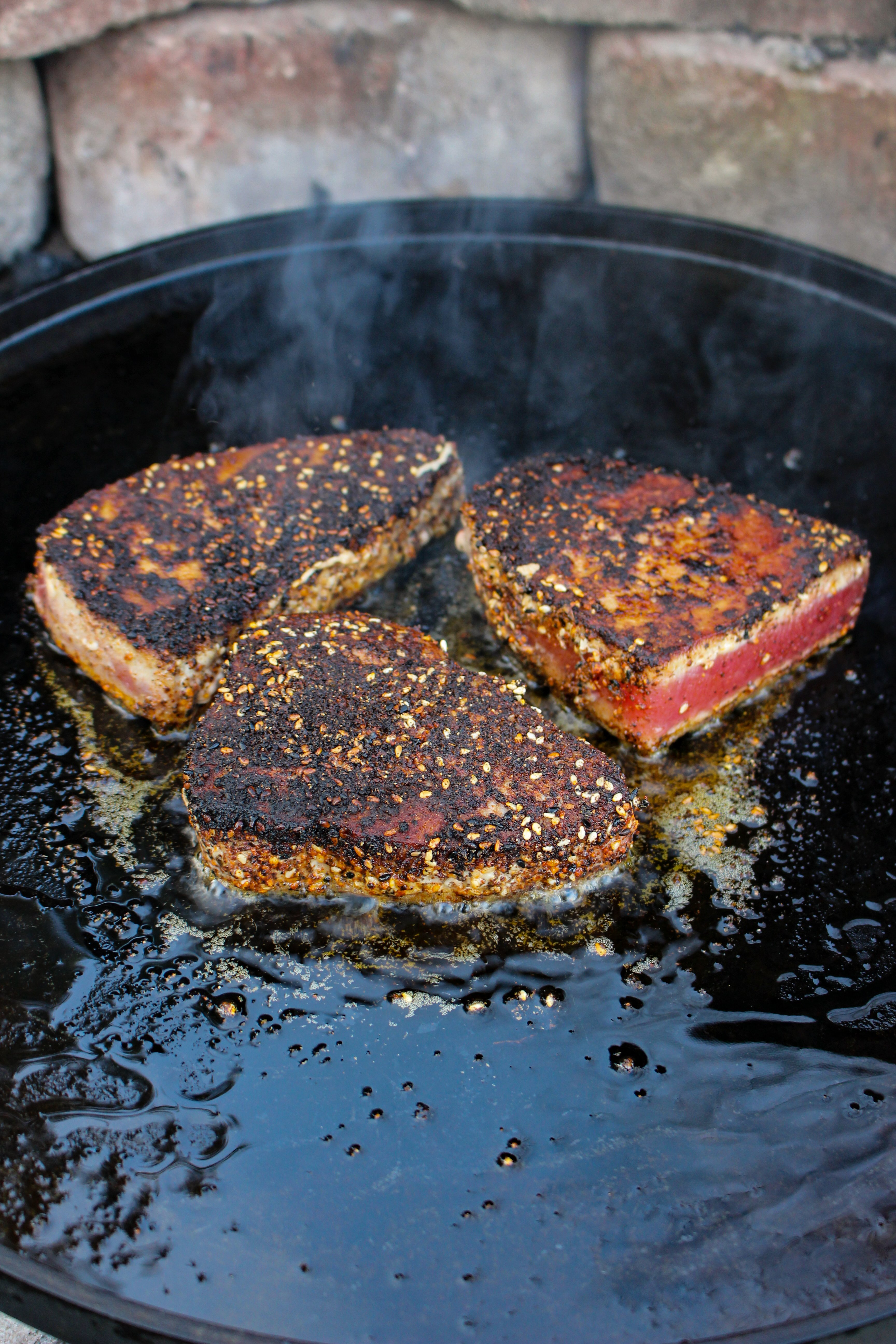 The process for making this sauce is super easy. All you have to do is throw all the ingredients into a blender and boom! Sauce is done. Pro tip: blend until the sauce is a very smooth consistency. I put the sauce in a squeeze bottle and then constructed a wide, zig zag strip down the center of a serving plate. 
Green and Pink Doesn't Always Mean Watermelon but Togarashi Seared Tuna
In our case it means togarashi seared tuna with wasabi avocado sauce! Slice each tuna steak into about pencil thick strips. As I mentioned earlier, I laid down a layer of the wasabi avocado sauce on the plate first. Then I laid the sliced tuna right on top of it! From there I garnished with a dusting of more togarashi seasoning and some scallions. It was beautiful, and you know what they say… You eat with your eyes first! As always, best enjoyed with friends and family. Cheers!
Togarashi Seared Tuna with Wasabi Avocado Sauce
It seems we all are searching for meals that we can put together quickly. Togarashi Seared Tuna with Wasabi Avocado Sauce to the rescue!
Ingredients
Tuna:
3-4

Ahi Tuna Steaks

2

tbsp

of Togarashi Seasoning

2

tbsp

of Canola Oil

Chopped Scallions

for garnish
Wasabi Avocado Sauce:
½

of an Avocado

2.5

tbsp

of Buttermilk

2

tbsp

of Fresh Cilantro

8

Garlic Cloves

1.5

tbsp

of Rice Wine Vinegar

2

tsp

of Wasabi Paste

½

tsp

of Sesame Seed Oil

½

tsp

of Sea Salt

½

tsp

of Black Pepper

½

of a Lemon

squeezed
Instructions
In a food processor, blend all the ingredients for the Wasabi Avocado Sauce until completely smooth. Place in a bowl or a bottle and place in the fridge till ready to use.

Season your Ahi Tuna with the Togarashi seasoning thoroughly. Let set for 5 minutes while you build your fire.

Build a high heat fire (around 400F) for direct skillet cooking. Add your skillet/plancha one minute before cooking along with some canola oil.

Add your tuna steaks to cook for 30 seconds per side. Once done, pull them off and rest for 1 minutes.

Add a drizzle of the Wasabi Avocado Sauce to a place with the Togarashi Seared Tuna on top. Garnish with chopped scallions and more togarashi seasoning if desired. Enjoy!