I love Seared Tuna Tataki and am actually surprised I haven't done this recipe yet. Inspired by some Japanese cuisine that I have been eating lately, I wanted to make this dish over the fire. Seared the tuna over hot fire then splashed with a citrus and soy sauce blend for the perfect dinner!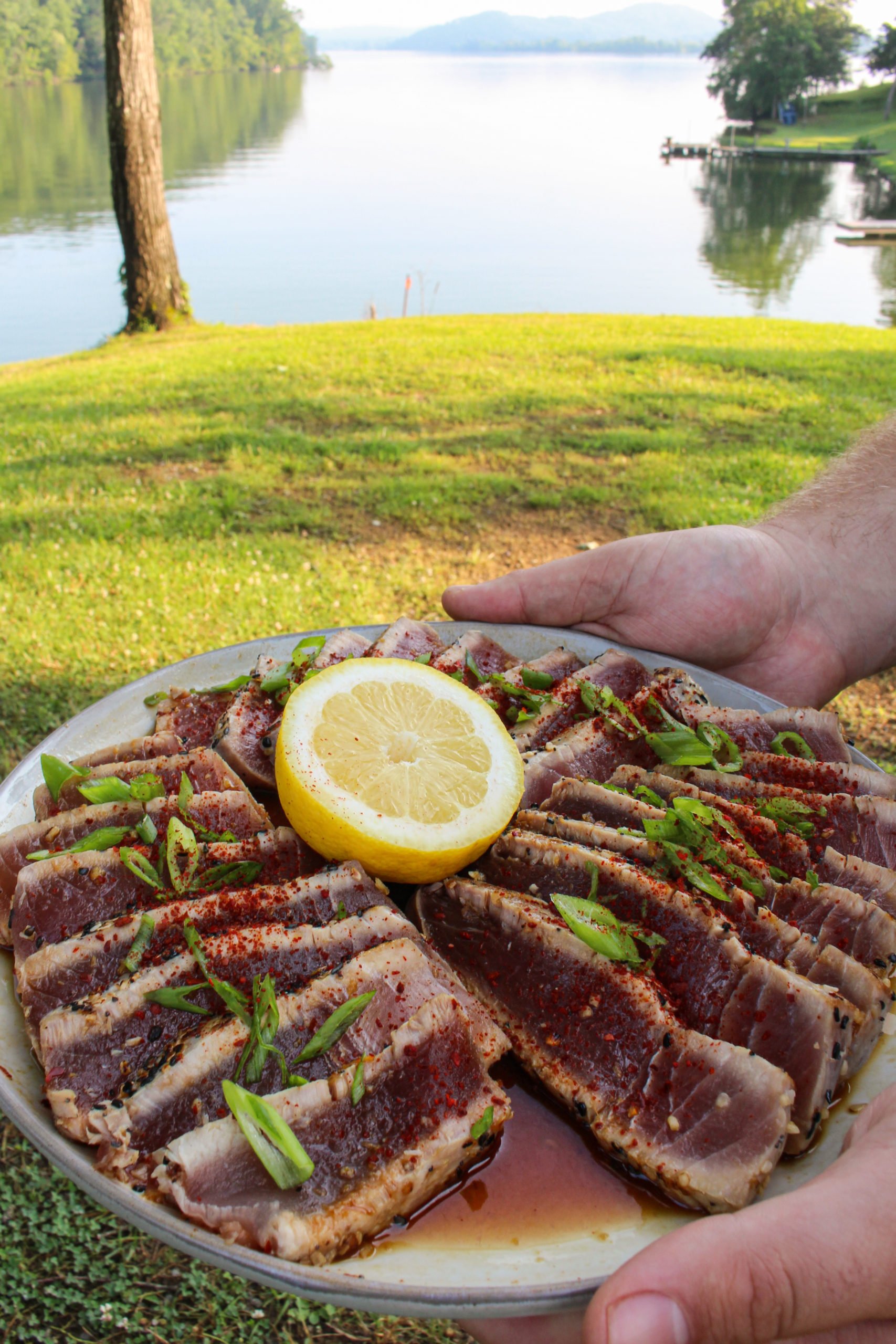 What Is Tataki?
Tataki is when something is quickly seared on a hot surface to caramelize the outside but leave the inside raw.
Recipe Ingredients
For the seared tuna:
Fresh Tuna Steaks
Korean Chili Flakes
Scallions, aka green onions
For the seasoning:
Flakey Salt
Black Sesame Seeds
White Sesame Seeds
Dried Minced Garlic
Dried Minced Onion
Poppy Seeds
For the dipping sauce:
Soy Sauce
Ponzu Sauce
Spicy Honey
Ginger Paste
Lemon
Step By Step Instructions
We start this Seared Tuna Tataki recipe with three shashimi grade tuna filets. Set them on a plate and then gather all the ingredients for the tuna seasoning. Mix those ingredients together in a bowl and then lather the three filets with it. For this seasoning I used black and white sesame seeds, dried minced garlic, dried minced onion, poppy seeds and coarse salt. I love this mix up because it brings some color and texture to the tuna. The poppy and sesame seeds have a great, almost nutty flavor that pairs perfectly with the citrus/soy sauce mix that we use to finish the dish. 
Speaking of sauce, let's get to work on it. Since the Seared Tuna Tataki will cook so quickly, it's nice to already have the sauce prepared. The sauce itself is pretty simple to make. The most difficult part is probably grating the ginger. Pro tip: start by peeling your ginger with a spoon. Using a spoon makes it so easy to peel ginger and doesn't leave you cutting away more ginger than needed (like you would with a small knife). I peeled the ginger and grated it really fast. Then I tossed it into the bowl along with the other sauce ingredients. Whisk everything together, and set in the fridge until your tuna is ready for it.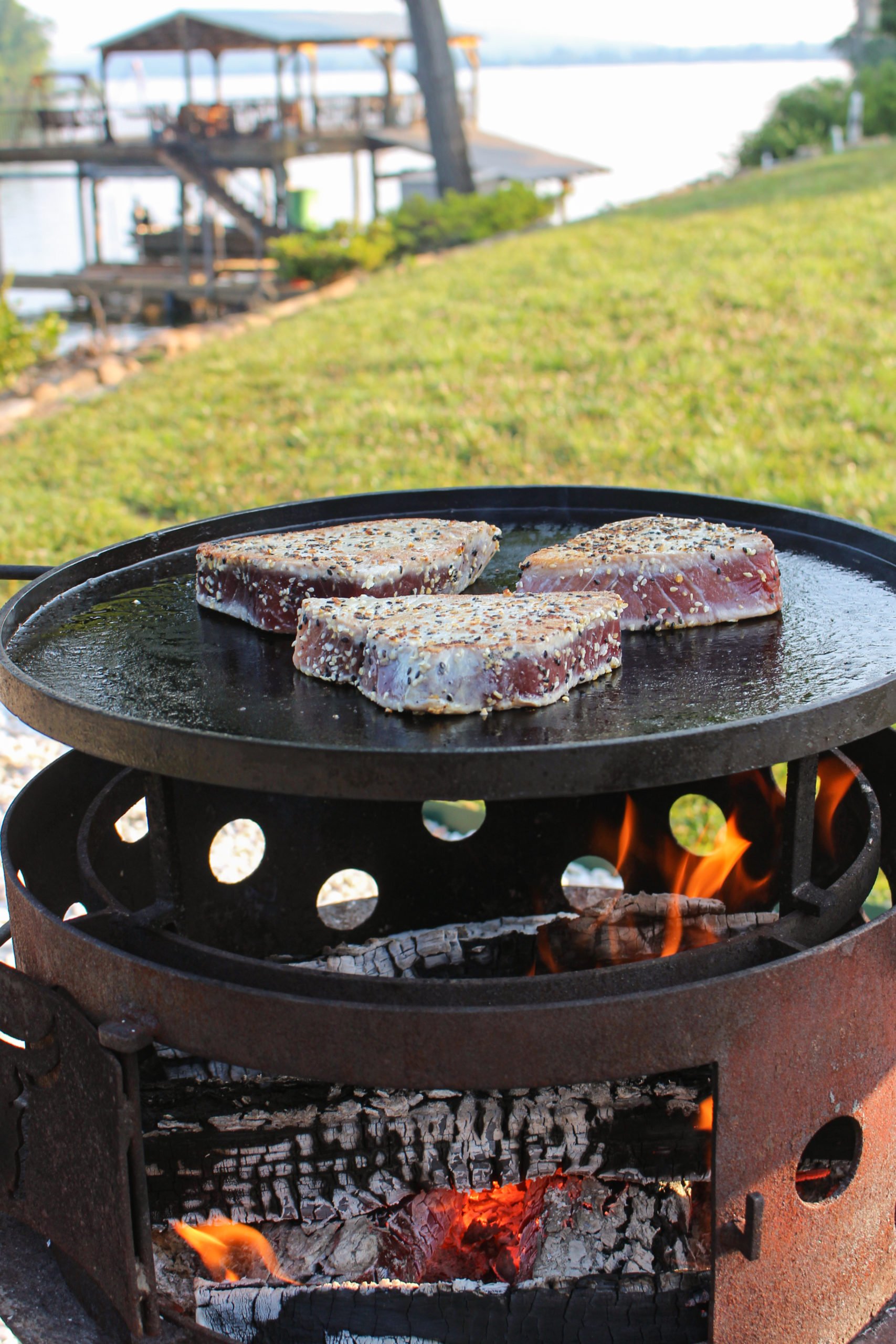 Before placing the tuna on the grill, it's important to ensure that the grill and the skillet are properly heated. The tataki style of cooking uses a really hot grill to sear the outside of the protein. The inside of the meat stays rare or raw. Basically, it's a flash sear, which you won't be able to achieve if the grill, skillet, plancha, or whatever you're using to cook isn't very hot. I used my plancha for this Seared Tuna Tataki and also poured a bit of oil down to ensure the tuna didn't stick.
Have your spatula close by as you set the tuna on the grill for their initial sear. As you see the first millimeter or so of meat become cooked, flip the tuna and watch for the same to happen on the other side. Once that happens you can quickly sear the edges of the tuna and then remove it from the grill. Just like that, your Seared Tuna Tataki is ready for slicing.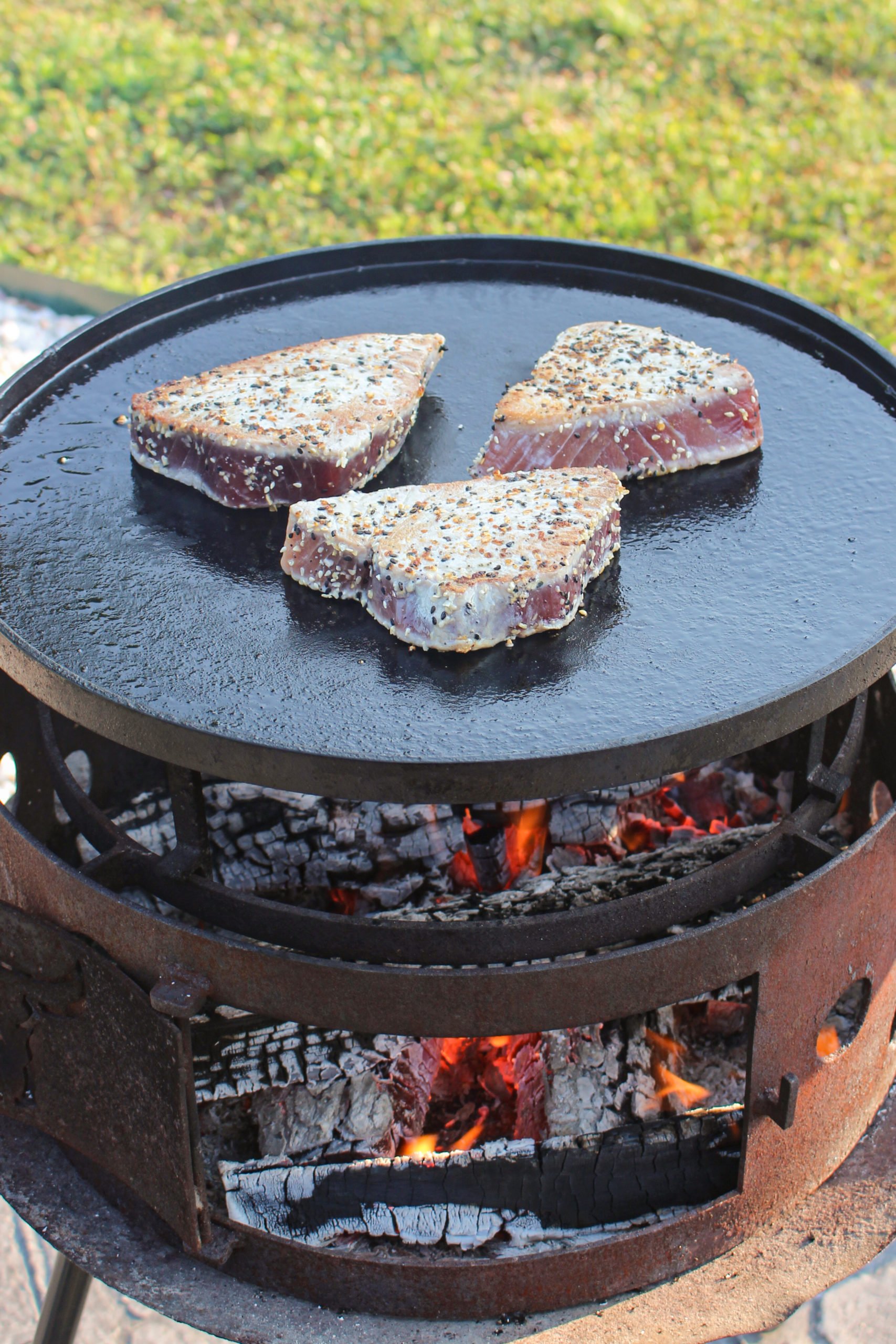 Create long, bitesize strips as you thinly slice into the Seared Tuna Tataki. Then, transfer over to a serving dish. Now, the garnish. This is where the recipe comes to life. I started by using a spoon to spread our homemade sauce all across each sliced filet. I kept adding the sauce until there was a very shallow lining of it across the bottom of the dish. Then, I sprinkled on chopped scallions for a bit of crunch and some Korean chili flakes for a slight kick of heat. Here comes the best part, time to dig in! Best enjoyed with friends and family. Cheers!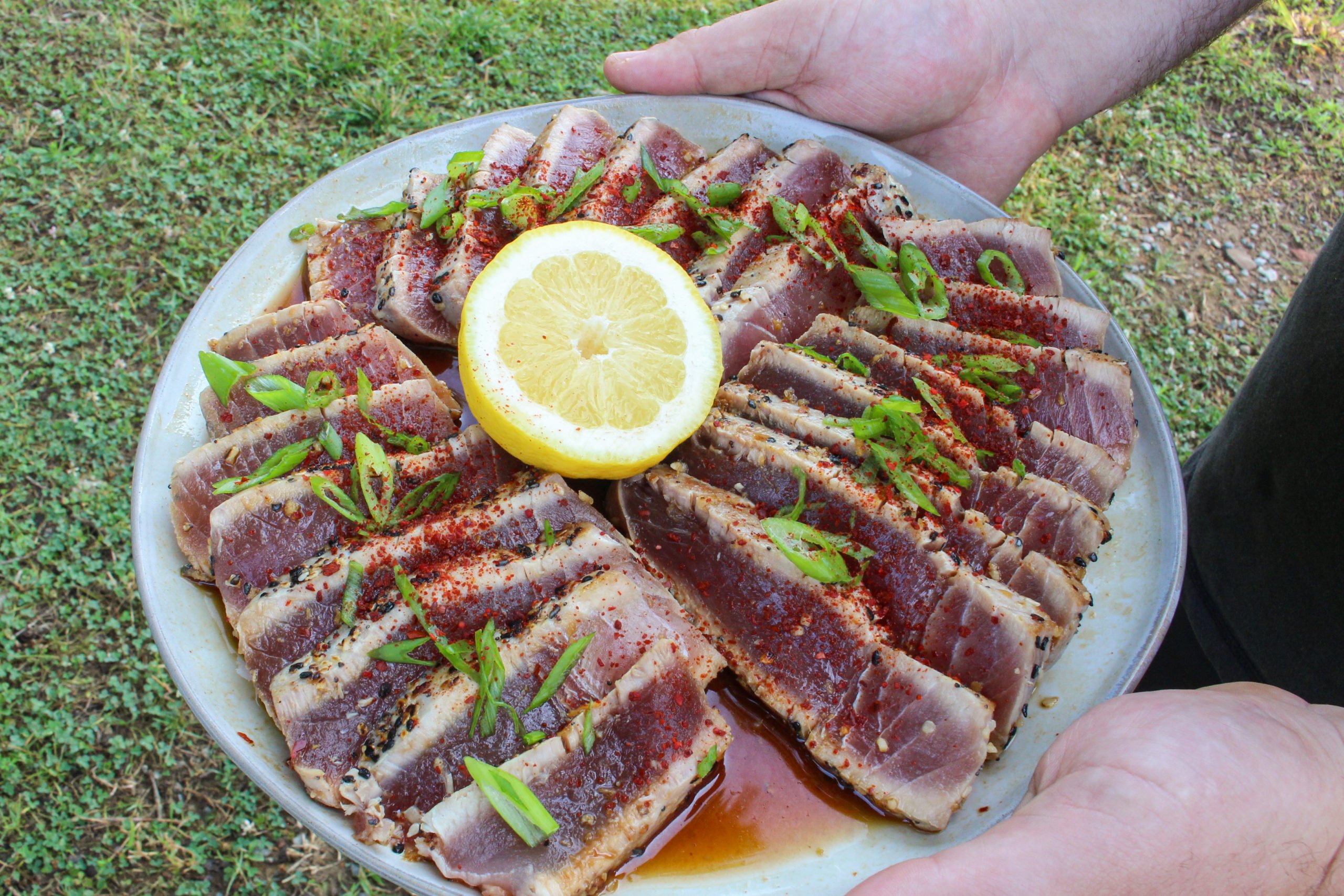 For more delicious recipes, check out my cookbook Food X Fire!
Print Recipe
Tuna Tataki Recipe
Seared Tuna Tataki swimming it's way onto our feed today! Finished with a citrus and soy sauce blend for the perfect dinner!
Ingredients
Tuna:
3-4

Fresh Tuna Steaks

Korean Chili Flakes

for garnish

Sliced Scallions

for garnish
Seasoning:
1.5

tsp

of Flakey Salt

1.5

tsp

of Black Sesame Seeds

1.5

tsp

of White Sesame Seeds

1

tsp

of Dried Minced Garlic

1

tsp

of Dried Minced Onion

1/2

tsp

of Poppy's Seeds
Sauce:
1/4

cup

of Soy Sauce

1/8

cup

of Ponzu Sauce

1.5

tbsp

of Spicy Honey

2

tsp

of Ginger Paste

1

Lemon

juiced
Instructions
In a bowl, mix together all the ingredients for the seasoning. Pat your tuna steaks dry then season generously on all sides. Set the tuna aside.

In a bowl, mix all the ingredients for the Tataki Sauce. Set aside.

Preheat a high heat fire with a skillet/plancha to 400F. Add a little canola oil to the skillet too.

Add the tuna to the skillet and sear both sides for only 30 seconds. Once done, pull off the grill.

Slice your turn against the grain, spoon the Tataki sauce over top of each sliced tuna and garnish with scallions and Korean Chili Flakes. Serve and enjoy!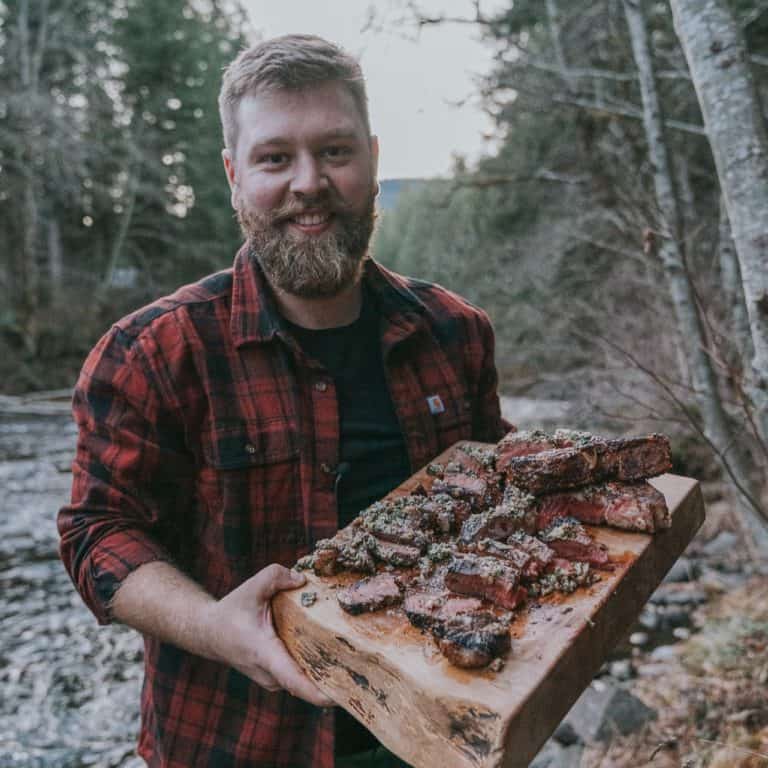 Derek is the driving force behind Over the Fire Cooking. He started cooking with live fire in 2016 and decided to start a social media page so his friends and family could follow the journey. Fast forward to today and Over the Fire Cooking has spread across multiple platforms with millions now following Derek's fire cooking journey. He's a southern fellow who enjoys everything from classic BBQ to Central and South American inspired dishes. Whatever he's cooking up, it's guaranteed to be so freakin' delicious!