This Cheesy Patty Melt is a true handheld delight! It's made up of juicy, perfectly crispy homemade burger patties topped with three types of melty cheese, caramelized onions, bacon, and diner sauce using the new Primal Kitchen Squeeze Ketchup!
Serve with a side of fries for the perfect burger lover's meal!
Prep the Beef Patties for Your Cheesy Patty Melt
First, we need to form our beef patties. Portion your ground beef out into 1/3 pound sections, then use your hands to loosely form them into squares.
Place the formed patties onto a tray and set them in the fridge for about 30 minutes. We want to give them a little bit of time to set up so they don't just fall apart when you cook them. No one likes crumbly burger patties!
Topping Time
Now is a great time to prep your Cheesy Patty Melt toppings!
First, the diner sauce. We have Primal Kitchen to thank for this incredible sauce. We're using Primal Kitchen Squeeze Bottle Ketchup, Primal Kitchen Dijon Mustard, and Primal Kitchen Mayonnaise which all come together to create a sweet, spicy, and rich Cheesy Patty Melt sauce. Then, we're finishing the sauce off with diced pickled jalapeños and a drizzle of hot sauce, because who doesn't love some extra spice?!
Next, the bacon and onions! First, preheat your grill to medium-high heat around 350ºF. Add on a cast-iron skillet or plancha and allow it to preheat for a couple of minutes. Add the bacon onto the skillet and cook until crisped to your liking. Pull it off and let it cool for a few minutes.
Big bacon lover? Check out my Bacon Stuffed Lobster Tails, Bacon Wrapped Shrimp Skewers, or Bourbon Bacon Chicken Wings!
In the same skillet, add the sliced white onion. Sauté for 25-30 minutes or until softened and browned with a slightly crisped edge. I know. Half an hour is a bit of a wait, but perfectly caramelized onions take this Cheesy Patty Melt to the next level, so be patient. It's worth it.
Cook the Patties
Now that all of your Cheesy Patty Melt toppings are ready to go and the patties are chilled, it's time to cook the burger patties.
So, add the patties into the hot skillet on the grill. Let them cook for a couple of minutes just until they begin to caramelize. Next, flip the patties over and gently "chop" the meat. The goal here is not to actually slice up the burger patties. We're merely creating a larger surface area on the patties so you get an overall crispier texture all around. Cook the patties for another couple of minutes, then flip them back over.
Lastly, to finish off the patties for the Cheesy Patty Melt, top them off with some of the sautéed onions followed by the shredded cheddar, gouda, and jack cheese. Do this before you pull them off the grill to kickstart the melting of the cheese. It is a patty melt, so we want it to, well, melt!
Looking for more killer burger recipes? Check out my Steakhouse Smash Burger, Chorizo Smash Burgers, or Surf and Turf Butter Burger!
Assemble Your Cheesy Patty Melt
Pull the cooked patties off of the skillet and let them cool for a couple of minutes.
While they cool, slather a few slices of thick-cut bread with the Primal Kitchen Mayonnaise. Place the bread over the flames to toast them enough so they turn golden-brown and slightly crispy.
Finally, assemble your Cheesy Patty Melts! Top one side of toasted bread with a spoonful of Diner Sauce. Layer on one or two patties, a couple of bacon slices, an extra drizzle of sauce if desired, then the top piece of toast.
And it's ready to go!
For more delicious recipes, check out my second cookbook Flavor X Fire or my first cookbook Food X Fire!
Needing more spice in your life? My spice line can help with that. Check them out here.
Full Length Recipe Video on Facebook!
Cheesy Patty Melt
This Cheesy Patty Melt is made up of juicy, crispy burger patties, three types of cheese, caramelized onions, bacon, and diner sauce. 
Total Time
1
hour
20
minutes
Ingredients
Beef:
3

lbs

Ground Beef

80/20

1

lb

of Sliced Bacon

1

cup

Shredded Cheddar Cheese

1

cup

Shredded Gouda Cheese

1

cup

Shredded Jack Cheese

1.5

tbsp

Kosher Salt

1.5

tbsp

Black Pepper

1.5

tbsp

Garlic Powder
Onions:
1

White Onion large

thinly sliced

1

tsp

Kosher Salt

1

tsp

Black Pepper

½

tsp

Garlic Powder
Diner Sauce:
2

tbsp

Primal Kitchen Ketchup

2

tbsp

Primal Kitchen Dijon Mustard

2

tbsp

Primal Kitchen Mayonnaise

1

tbsp

Pickled Jalapeños

diced

1.5

tsp

Hot Sauce
Sandwich:
6-8

slices

Thick Cut Bread

2

tbsp

Primal Kitchen Mayonnaise

Fries

for serving
Instructions
Begin by loosely forming ⅓ lb squares of ground beef, set onto a tray and place in the fridge to firm for 30 minutes. In another bowl, mix together all the ingredients (making sure to use those Primal Kitchen sauces) for your Diner Sauce and set that in the fridge until you are ready.

Preheat your grill to medium high heat (around 350F) adding a cast iron skillet/plancha to the grill 2 minutes before cooking.

First, add your bacon to cook on the skillet. Cook until done to your liking, then pull off and let cool. Next, add the thinly sliced white onions. Saute the onions for 25-30 minutes until they become crispy, browned and soft. Pull the onions off once done and set to the side.

Next, pull your burger patties out of the fridge and add to the skillet. Cook for 2 minutes on the first side or until they begin to caramelize. Flip the patties over and gently "chop" the meat so that the ground beef patties loosen up and get a larger surface area. Cook for 2 minutes, then flip the patties back over. Mix together your three types of cheeses, top each patty with some onions, cover with a handful of cheese and let melt. Pull the patties off and let cook for 2 minutes. While the patties cool, add some Primal Kitchen Mayonnaise to each side of your toast, then cook your bread over the flames to a nice golden brown.

Start assembling your patty melt with a spoonful of the Diner Sauce on the bottom piece of, 1-2 patties, bacon slices and more sauce for the top piece of toast. Serve and enjoy!
Recipe Video
Nutrition Facts
Cheesy Patty Melt
Amount Per Serving
Calories 2021
Calories from Fat 1440
% Daily Value*
Fat 160g246%
Cholesterol 443mg148%
Sodium 5538mg241%
Potassium 1478mg42%
Carbohydrates 33g11%
Protein 107g214%
Vitamin A 990IU20%
Vitamin C 4mg5%
Calcium 975mg98%
Iron 10mg56%
* Percent Daily Values are based on a 2000 calorie diet. Nutrition Disclaimer: We are not dietitians or nutritionist. Nutritional information on overthefirecooking.com comes from online calculators. While we attempt to make this information accurate, it should only been viewed as an estimate.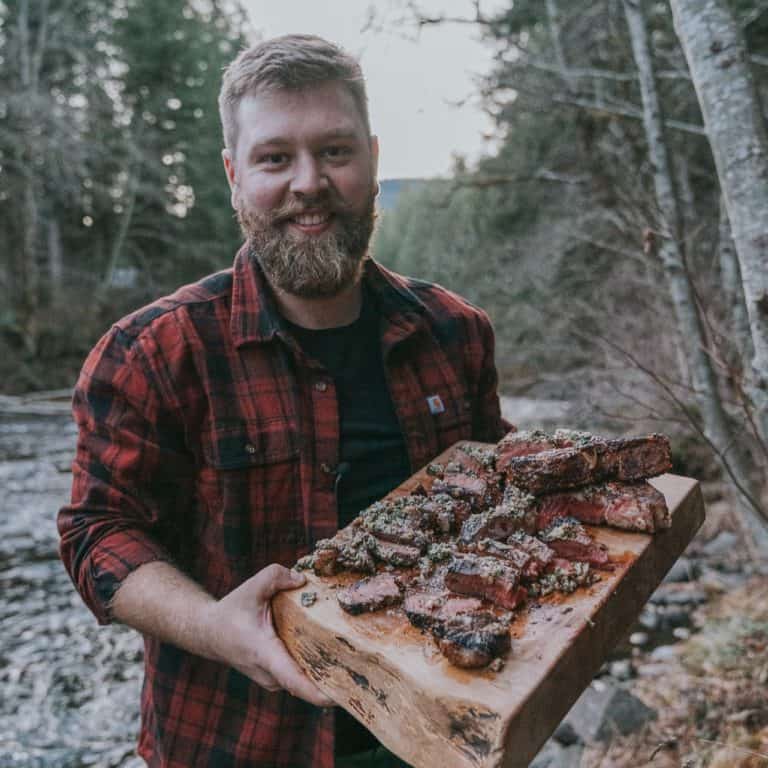 Derek is the driving force behind Over the Fire Cooking. He started cooking with live fire in 2016 and decided to start a social media page so his friends and family could follow the journey. Fast forward to today and Over the Fire Cooking has spread across multiple platforms with millions now following Derek's fire cooking journey. He's a southern fellow who enjoys everything from classic BBQ to Central and South American inspired dishes. Whatever he's cooking up, it's guaranteed to be so freakin' delicious!