Getting out into the great outdoors for some grilling is all you need in life. A beautiful sunny day with nothing but local food, kiln dried wood and a massive grill to cook on sounds right up my alley! So why not make that happen in Southern California with a BBQ Bootcamp?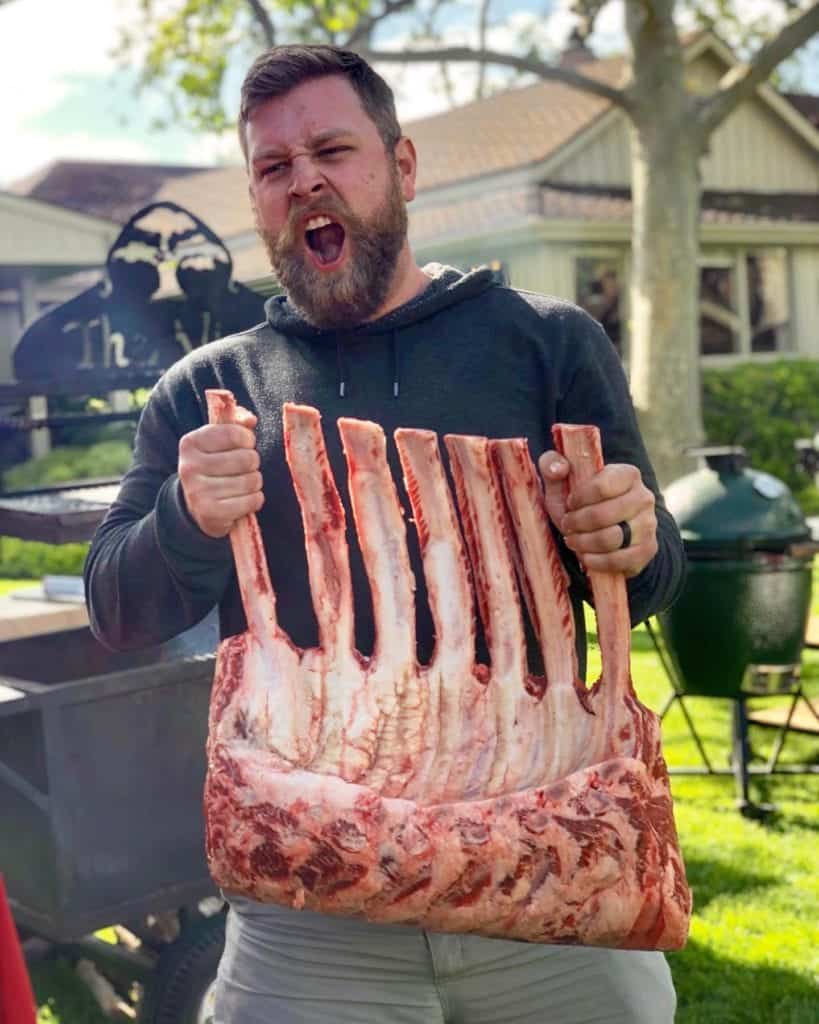 I had the privilege of attending BBQ Bootcamp 2019 at the Alisal Guest Ranch & Resort a couple of weeks ago. While the name of the event is a bootcamp, the only thing getting a workout is your brain and stomach! This event is jam packed with tons of great information and moments. From learning to cook with the legendary Frank Ostini of Hitching Post II to the 4 massive Santa Maria styled grills at the event, you are constantly bombarded with food, beverages and entertainment.
About the Venue
Alisal Ranch has specialized in grilling in Southern California for over 60 years. Nestled right in the heart of Santa Barbara wine country, this dude ranch and resort is home to epic scenery, horseback rides and amazing food.
Head Chef Anthony Endy runs the day to day food operation of the ranch. His team creates massive grill outs at the nearby lake, located on the property, to feed over 300 people at once on a Saturday afternoon. It is only natural that he leads the charge on teaching those at the ranch how to properly cook on a barbecue.
BBQ Bootcamp 2019
After arriving in LA, I drove north into the mountains to get to Alisal for the Bootcamp. The dude ranch is absolutely just that, a ranch that a dude like me wants to chill at all the time.
After getting into my room, I headed out to explore the setup for the event. Met up with Head Chef Anthony Endy who showed me around the 4 Santa Maria grills as they preheated for the start of cooking.
What is a Santa Maria Grill?
The Santa Maria style of grilling centers on two main of things: a specific grill & a specific wood.
A native style of cooking combined between the Native Americans found in the region and the Spanish, Santa Maria grilling uses a grill with an enclosed box on the bottom and a grill grate that is able to be pulled up or down depending on the heat level required. The grills vary from backyard cookers to massive trailers in size.
In the end, they all cook fantastic food over the preferred wood choice: red oak. This wood is specifically used because it is dense; therefore, it will hold heat longer than other traditional woods.
Back to the Camp…
After meeting with Chef Endy, I connected with some BBQ friends like Christie Vanover from Girls Can Grill to sit down and enjoy the start of the Bootcamp. From there, it was a whirlwind.
We spent the next 48 hours eating, breathing and living the outdoor cooking lifestyle. We learned how to cook tri-tip, ribs, shrimp, oysters, artichoke, potatoes and more. They feed us constantly! We had a seasoning class where we created our own blends of spices and rubs to take home. We learned how to cook brisket with Burt Bakman from Trudys Underground Barbecue.
It is a jam pack adventure with amazing information for every grilling, barbecue and live fire cook to learn something. To cap it all off, it is a perfect place to connect with people who have a shared love for open fire cooking.
And if that was not enough, the final morning we took a horseback ride through the mountains to have breakfast near an old Adobe house on the property. It was amazing.
The truth is…
Everyone should go to this. And, I am not just saying that! There are tons of reasons why BBQ Bootcamp at Alisal Ranch is amazing: great food, people, environment, and education. Every skill level walks out with a new found appreciation for the art of outdoor cooking. So make sure to sign up for the next BBQ Bootcamp! You won't want to miss it.